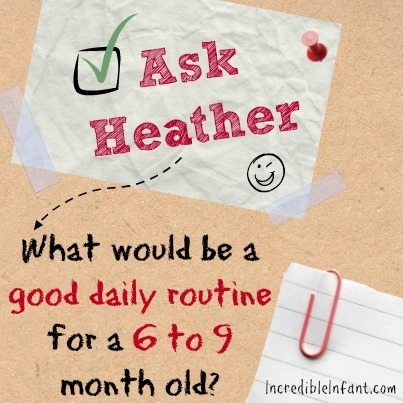 Do you ever just wish you could just ask someone a simple question and…
Poof!
…get the exact answer you needed, sans the  opinionated mumbo jumbo?
Starting right now
…Wait…
NOW
…I'm launching a special "Ask Heather!" segment on Incredible Infant.
I will take one of  my beloved subscriber's questions and lift it up (kinda like Simba) and display it for the entire of  central Africa cyberspace to read.
The lucky reader this month is……..
*rolling the bingo ball cage*
Lida!
Lida wanted see the daily rhythm for her baby's age group (6-9 month olds).
Since I live to serve (and drink coffee), I boldly poured a  massive cup of God's Favorite Bean (sorry, cocoa) and dug up this answer.
This article is a sibling to two other scheduling posts I've written.  One is for newborns and the other is for 2-3 month olds.
The Funny Thing About a Baby Schedule…
They are incredibly unreliable.
As in, Continental Airlines unreliable.  The one thing you can count on is that your baby is going to be late for 50% , early for 25%, and skip the other 25% altogether.
So why in the #%!@$! should you follow this schedule in the first place?
Because, although your baby may not follow the exact time schedule, the routine is essential.
Babies need predictability. 
She will be happier, healthier, and more rested when you create a predictable routine.
This means, for the time being, your daily schedule of tasks and errands needs to be structured around your baby's waking/sleeping patterns, and NOT the other way around.  (This "baby's schedule is first" theme isn't forever, don't worry.)
The more predictable your baby's day, with a steady rhythm of sleeping and eating, the better everyone's sleeping at night.
Oh, and btw, if your baby snacks all day, she's going to snack all night too.
Notice the pattern in the routine below, and then use your baby's cues to recreate your own daily rhythm.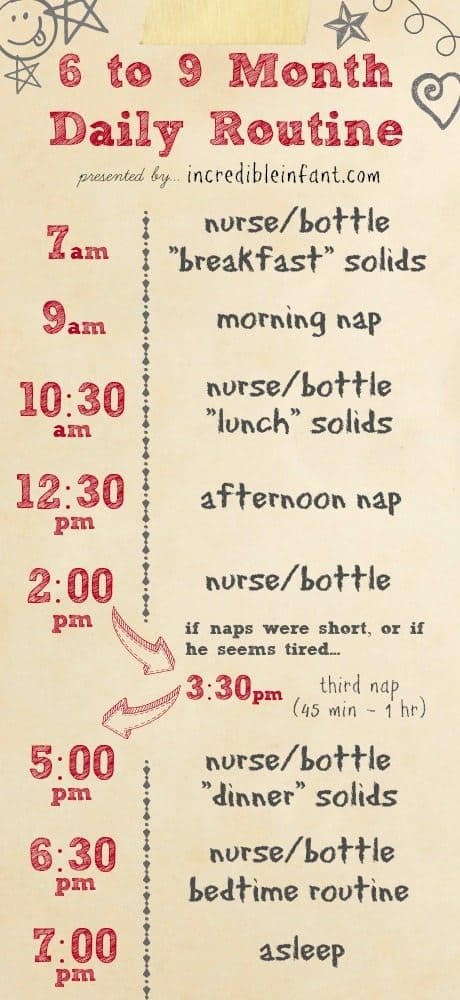 How To Adjust This Routine
If your baby doesn't follow this exact pattern (which is highly likely), the best way to adjust this is to look at the pattern and then rely on your baby's cues to tell you when to move to the next activity.
For example, after waking in the morning, the rest of the day will follow this pattern:
So on, and so forth, until the end of the day, when you go directly from eating to sleeping.
Try your best to keep bedtime between 7pm and 8pm.  If she finishes her last nap in the afternoon, she's going to be pretty tired by 7-8.  If you wait longer, she will get overtired and you'll have a hard time getting her down, and keep her sleeping all night through.

What does your baby's daily routine look like?
Comments