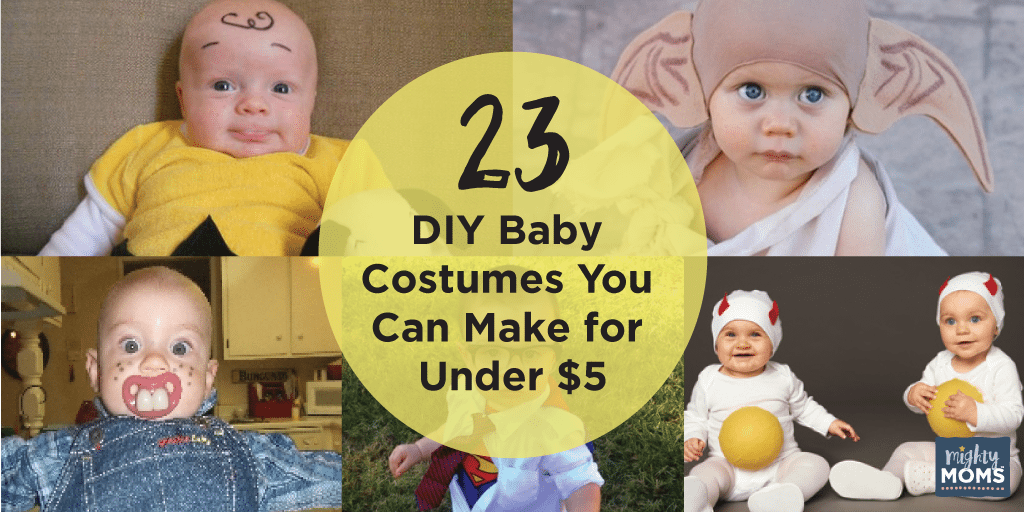 The scariest thing about Halloween is how it creeps up on you. There I am. Minding my own business and crusin' pleasantly through October when, WHAM!
A costume headline hits my eyes in the checkout line and panic sets in.  What the what?  I thought I had two weeks to figure this out?  Thus begins a mad-scrambled towards creative costumes that will stay true to my personal Say NO to the Sew Campaign.
I'll take a wild guess and throw out that I don't think I'm the only procrastinating semi-panicked Mamasita out there.  So, in an effort to help my bleary-eyed, get-through-tonight fellow parents, here's a list of 23 of the easiest DIY baby costumes ever invented. You can make all of these costumes using stuff you have around your house and a few basic craft supplies.
#1: Farmer Brown
What you'll need:
A straw hat
A flannel shirt
Overalls or jeans
A bandanna of some kind
A kid-sized rake or garden utensil (try the Dollar Store)
Eyeliner for freckles
If you're using a wagon, line it with straw and let him bring along his favorite stuffed farm animals.
The final, perfect touch: the Jim-Bob Pacifier.
Watch closely to make sure he doesn't try to eat the straw!
#2: Carl from Up
What you'll need:
PVC Pipe to make a three-sided square (or a cane made out of a stick with tin foil on the top)
Tennis balls
Pants with a cardigan sweater and a bowtie
Glasses from The Dollar Store
#3: Superbaby
What you'll need:
A superman shirt (pajama top perhaps?)
A white button down shirt, black pants
A clip-on necktie
Glasses from The Dollar Store
#4: Stick Figure
What you'll need:
White pants and shirt
Electrical Tape
A paper plate
Scissors (to cut out eye holes)
Snap picture fast, since I give him about 10 seconds before he rips off that mask.  
Also hilarious as a toddling glo-stick figure!
#5: Mario & Luigi
What you'll need:
Jean overalls
Yellow felt circles
Black fabric marker
A red shirt and a green shirt
Eyeliner pen or a mustachioed pacifier.
Red and green trucker hats from a craft store
White felt circles
#6: Lil' Pumpkin
What you'll need:
Bigger-sized orange shirt
Black and green felt
Small pillow to stuff in the pants
Black pants
Elastic band
Cardboard
Green pipe cleaners
Self-stick craft foam to attach
Here's the how-to video from Dollar Store Crafts.
#7: Pillsbury Doughboy
What you'll need:
White outfit
White hankerchief to tie around the shoulders
Kid cooking utensils
White chef's hat (check the Dollar Store)
Blue felt circle
White fabric marker
Superglue or iron-on adhesive
#8: Million Dollar Baby
What you'll need:
White pillow case
Black electrical tape or iron-on fabric with heat-and-bond
Green tulle
Monopoly money
#9: Baby Nerd
What you'll need:
White button-down shirt
Bowtie
Suspenders
Box of crayons (pocket protector)
Glasses from The Dollar Store
#10: Charlie Brown
What you'll need:
Yellow shirt or yellow onesie
Black pants
Black felt with heat-and-bond or black electrical tape for zigzag
Eyeliner for hair and eyebrows
Stuffed Snoopy
#11:  Sushi
What you'll need:
White baby onesie
Orange, light pink, and black felt
Iron-on adhesive
Hot glue gun
The 1-2-3 steps to recreate this DIY baby costume can be found at She Knows.
#12: Hungry Hungry Hobo
What you'll need:
Jeans (the rattier the better)
Flannel plaid shirt (or something that looks worn)
Eyeliner (for a 5 o-clock shadow)
Cardboard and marker
String
I would put the sign around his neck only for pictures, and then let it sit beside him while you trick-or-treat.  It's a choking hazard.
#13: Dwight Schrute
What you'll need:
Short-sleeved button up shirt (yellow is best)
Clip on tie
Navy pants
Hair parted down the center
Grandma's old glasses
Nametag
#14: Cotton Candy
What you'll need:
Pink shirt and pants
Cotton filler from the craft store
Pink spray paint
White paper, taped into a cone
Elastic band
#15: Dragon Baby
What you'll need:
Bodysuit
Matching pilot's cap
Green sponges, cut into triangles
Hot glue
Safety pin (to attach the tail)
A thick ribbon (to glue the triangles on for the tail)
#16: Your Little Burrito
What you'll need:
Brown or tan blanket
Brown or tan hat
Green tissue paper shredded or cut into strips 

Hot glue (attach strips to hat)
What carefully to make sure he doesn't try to eat the tissue paper!
#17: Little Frida
What you'll need:
Colorful dress
Colorful shawl
Fake flowers
Wide Headband
Super Glue
Eyeliner to create the unibrow and mustache
Glue the flowers all over the headband.
#18: Baby Dobby
What you'll need:
A torn tan sheet
Tan jersey fabric (tie behind the head for the hat)
Four large pieces of heavy felt (two for each ear)
Fabric marker to draw in the ears
Hot glue
#19: Deviled Eggs
What you'l l need:
Red felt
Hot glue gun
Long-sleeved onesie and tights
White hat
Foam ball
Yellow jersey fabric
Follow these easy instructions at Woman's Day.
#20: No. 1 Football Fan
What you'll need:
Brown onesie
White grosgrain ribbon
Iron-0n adhesive (with iron of course)
Scissors
You can see the specific steps at She Knows.
#21: Sweet Sheep
What you'll need:
Black shirt and pants
3-4 bags of cotton balls
Glue gun
Pay close attention to make sure none of the cotton balls end up in her mouth!
#22: Cutie Cannoli
What you'll need:
White onesie
Large piece of tan felt
Iron-on adhesive
Dark felt, cut into chips
#23: Top Chef
What you'll need:
White onesie
Black and red fabric markers
Red scarf or strip of fabric
Mini utensils
 Worst Case Scenario…
If worst comes to worst, and you have only seconds before having to present your baby to the in-laws in pristine photo-condition, let me present two of the World's Simplest Costumes.
The Baseball – white onesie, red marker, as conceived by the fine ladies at Rookie Moms.
Baby Einstein – white onesie with E=mc2, crazy gel hair.  Brilliance found at Parent Hacks.
Are you making a DIY baby costume this year?  
We ♥  honesty!  This post contains affiliate links that provide extra money for our mutual coffee habits addictions. Click here to learn more.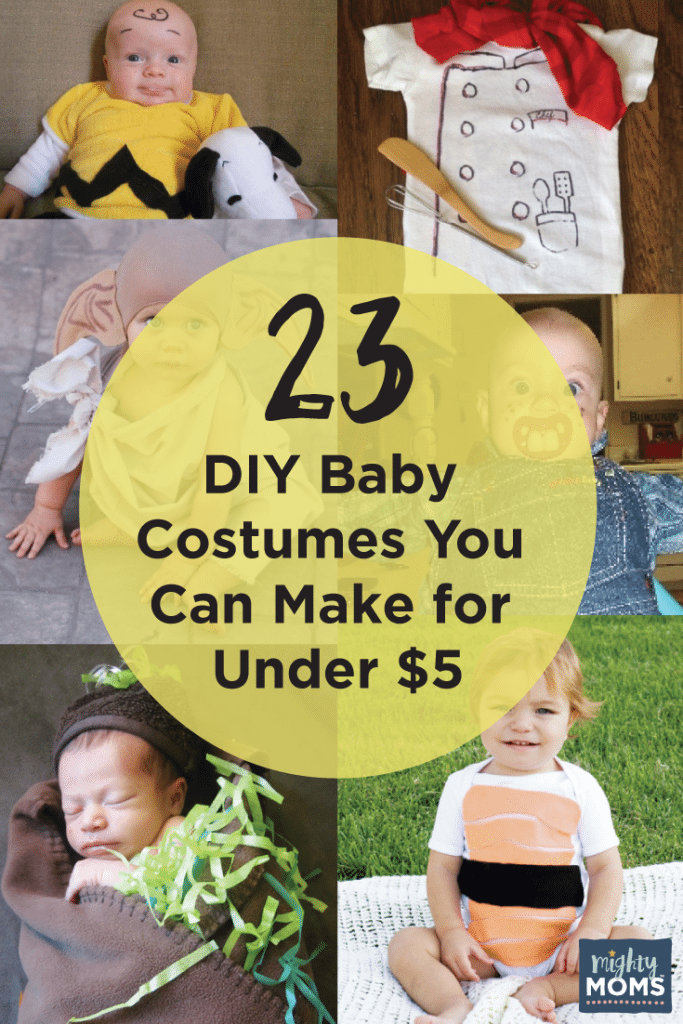 Comments