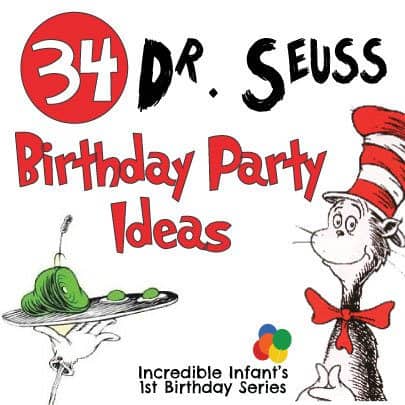 Last month the kids and I discovered an entirely new giggle-worthy Dr. Seuss book called Bartholomew and the Oobleck.  (We were surprise, surprise making an oobleck.)
Every child needs at least one Dr. Seuss book on the nursery shelf.  He's an icon of childhood.
Reading those books to your baby is like a creativity christening.
The good doctor would have turned 110 on March 2nd, so in honor of his great legacy, I though it would be appropriate to focus this month's first birthday planning post on all his incredible characters.
So gather up your Zizzer Zazzer Zuzz, Wocket, a few Whos, a reluctant Grinch, and even your Quimney to enjoy some schlopp* and celebrate your baby's first year of life!
*In Seussville, schlopp is an ice-cream-like confection with a cherry on top. 
Warning! Not ALL these ideas are baby-safe! Some are for older kids and some are probably going to be liked best by the adults (like the Roast Beast Sandwiches).  Use your parental magic powers for discernment.
Lorax Nutter Butters ~

 

Brilliance is from Embrace My Space
Cupcakes, Meet Blueberries ~ Recipe at Epicurious
Layered Birthday Cake ~ Idea from Kara's Party Ideas, don't forget the red-striped straws 
Lorax Truffula Tree Toppers ~ You just need a little cotton candy on striped tree trunks! (Idea via Pinterest.)
Valentine's Cat in the Hat Jello ~ Enjoy the recipe at Food Librarian
One Fish, Two Fish Snacks ~ Creatively designed by Simple Girl
Thing One, Thing Two Cupcakes ~ Instructions at Kitchen DoughDough
Swirly Lollipops ~

Perfect for Seussical whimsy 

World's Easiest Turtle Clusters ~ Entertaining explanation at Jamie Cooks It Up
Hop on Popcorn Bar ~ Designed by Simply Styled Home

Oh, the Places You'll Gogurt ~ Clever idea from We Heart Parties
Cat in the Hat Fruit Skewers ~ Healthy snack from Delicate Construction
Tasty Green Eggs ~ Miraculously good at So Wonderful, So Marvelous
Wocket Pockets ~ Giada's awesomeness at The Food Network
Pink Ink ~ Sips of heaven from Our Reflection  
Colored Goldfish ~ From Kara's Party Ideas; try this homemade whole-wheat version from Smitten Kitchen!  
 Sneetch Treats ~ Idea from Erin Farrell Photography; slim things down with a healthier homemade version from Skinny Taste.
Roast Beast Sandwiches ~ Gourmet deliciousness from Derek's Kitchen


Removable Wall Stickers ~ Adding realism to your make-believe 
Cat in the Hat Hair Clip ~ Unbelievably cute from Sweet Tangerine Boutique  
Decorated Suessy Buffet ~ Designed by Dixie Delights, red and blue balloons found here.
Silverware Display ~ Idea found at Followpics, don't forget the red napkins and blue forks
The Entire Shabang ~ Puts your baby's sweet face on all your party decorations and invitations

Red & White Tablescape ~ Found at Kara's Party Ideas; you'll need red circle lanterns and white pompoms

Dr. Seuss Bib ~ Not only adorable, it's functionally perfect for cake-throwing
Fish in a Bowl ~ No Dr. Seuss birthday party would be complete without Fish. (Idea from Pinterest)
From Here to There… ~ Awesome idea from Annie's Eats
Teal & Red Tablescape ~ Design idea from Catch My Party; Match with teal pompoms and red pompoms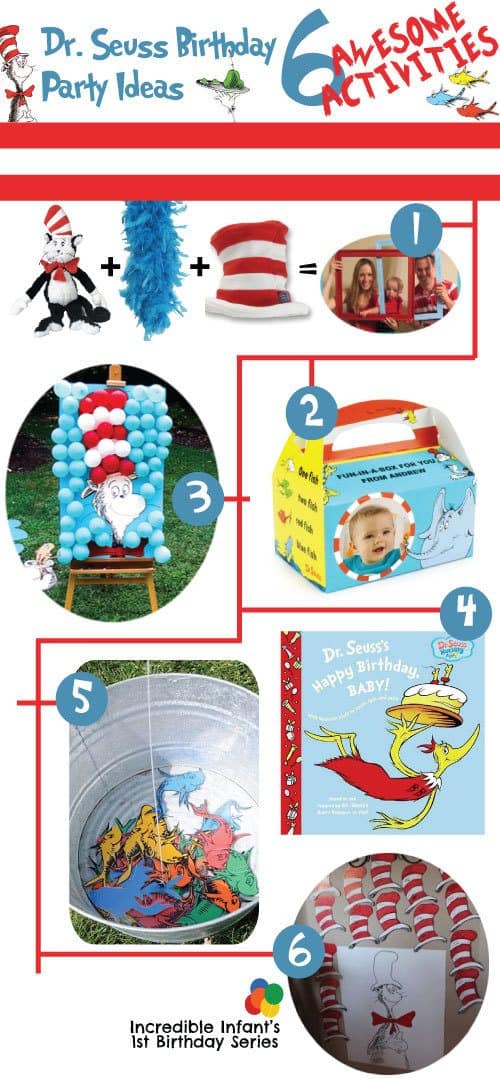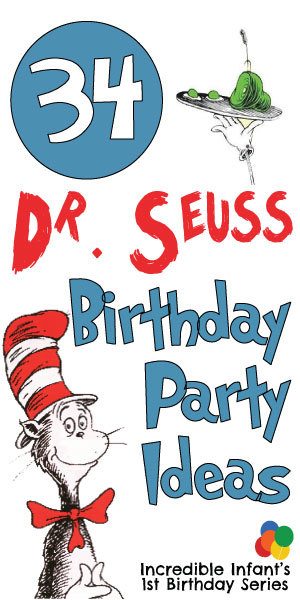 We ♥  honesty!  This post contains affiliate links that provide extra money for our mutual coffee habits addictions. Click here to learn more.
Comments