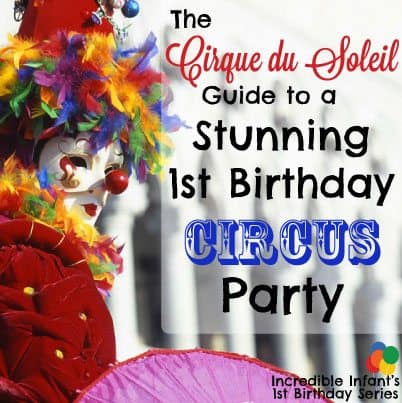 There are your standard first birthday circus parties.
…and then there are your Cirque du Soleil first birthday circus parties.  Unique.  Amazing.  FUN.
This first birthday is an achievement!
You have suffered together, struggled together, snuggled together…and now he is off and toddling and those sleepless nights are behind you forever. *fingers crossed*
Not so sure about his sleeping habits? Add some of my sleeping tricks to your parenting toolbox.

It's time to celebrate.  One difficult-yet-rewarding year down, seventeen glorious years to come.
In fact, I think that this birthday marks a major parenting milestone:  NEWBIE NO LONGER!
Since that first birthday is so important, I will be dedicating a comprehensive post  every month to a different theme, starting with this one: the first birthday circus party.
Your Baby: A Potential Party Pooper
Firstly, let me help you enjoy this first birthday circus party by correcting a common misconception:  your baby may not enjoy his first birthday.
Your 12-month-old baby is still a baby.
Don't be disappointed if they aren't as "HOORAY! A PARTY FOR ME!" as you would like.
Avoid the birthday sads by having healthy party expectations.
Your baby may be a party animal, ready to stuff his face with cake and pose for adorable pictures all day long.
But he may also suddenly be Mr. McCrabby Pants:  overwhelmed by all the people, hating the cake, and refusing to open a single package.
That's okay.  
It's his party and he can cry if he wants to.  (You knew that was coming…)
Put him down for a quiet time/nap and then enjoy your friends and family, taking plenty of pictures for him to enjoy when he's older.
Heather's Don't Panic Party Disclaimer
I'm about to throw out 47 different ideas and inspiration for a first birthday circus party. Don't be overwhelmed.
If you are the Grumpy Cat of Party Planning, steal the simplest tricks and invite the grandparents over.
Or, if you're more like Martha Stewart's Love Child, send out your invitations and linger over dozens of these inspirational ideas.
I want to make this first birthday circus party as enjoyable and STRESS-FREE as possible. 
By NO MEANS are you lowering the "Mom Bar" if you don't do these things.  Remember my Good Mom Pep Talk?  Your value as a mother is not linked to the types of birthday parties you throw. 🙂
8 Creative First Birthday
Circus Party Invitations
You know another reason I love living in the 21st century?  (Besides French Vanilla Lattes.)
The choices.
Gone are the days of fill in the blank party invitations.  The name of the game these days is customization.
Remember your little one will experience this first birthday circus party mostly in the future through videos, photos, and other paper goods you can save.  Choose something special that will last in the memory box forever.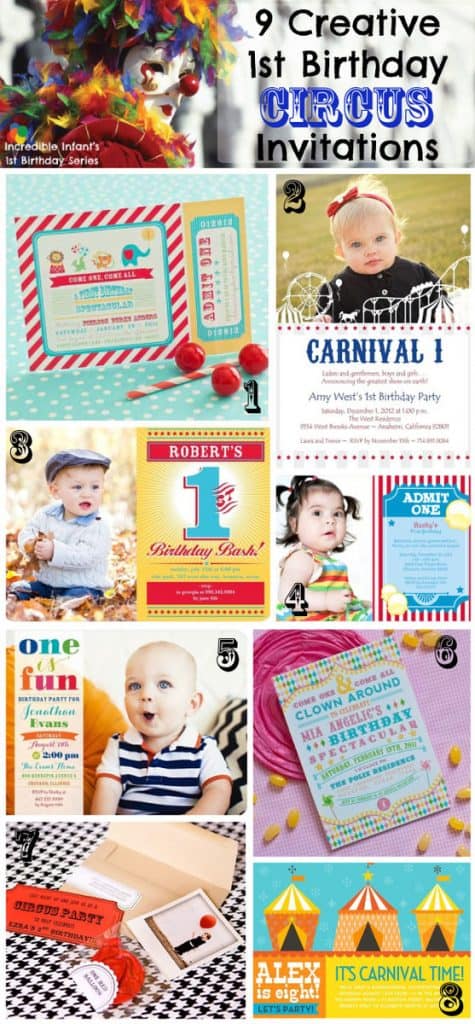 No. 1:  Tearaway Ticket Invitation ~ This interactive invitation from Anders Ruff can be either printed at home (cheap, yay!) or ordered for someone else to print (convenience, yay!).  Guests can cut the ticket portion off and present it at the party door for entrance.  Very fun! 
No. 2:  Fun at the Carnival ~ I love the whimsical carnival shadow on this invitation.  Also comes with green accents at Storkie.
No. 3:  Main Event ~ This invitation is created by you, addressed, and MAILED all automatically through Tiny Prints.  Guests can even RSVP online for free. Has a pink/purple version for girls with matching thank you and address label stationary.  You can also change the layout to include more cute photos!

No. 4: Circus Ticket ~ These custom first birthday circus invitations from Storkie come in red/blue, red/green, and red/gray.  Love the giant brag photo!

No. 5: Happiest Around ~ This invitation has an avant garde approach to "Circus" with the bright colors and fonts giving a carnivalesque feel.  This is another "3-Clicks and It's Mailed" design from Tiny Prints.
No. 6:  Vintage Carnival ~ A pinkified harlequin design from Anders Ruff (love the yellow!) can be printed off at home or ordered for delivery.  Also available in traditional red and blue diamonds.
No. 7: DIY Tutorial ~ Armelle Blog teaches you how to make your own custom first birthday circus invitations.  I especially loved the "secret password" she wrote on the balloon that gives away a special prize at the party.  Brilliant!
No. 8: Circus Tents ~ I love the sweet little circus tents on this invitation.  If you're not a fan of the orange and aqua, they have pink/green and orange/gray combinations with different layouts and styles. 
11 Mouth-Watering First Birthday Circus Cakes & Sweets
Being a wannabe food blogger (my photography curse forbids it), planning the food is one of my favorite things about entertaining.
Once again, as you start coming up with your first birthday circus food plan, don't forget your baby is still a baby. 
Assign someone to watch over your baby at all times (because you'll be running around) and avoid giving him chokeable foods like popcorn and hard circus candy.
Obviously I'm not suggesting you use all these sweets at your first birthday circus party.  (You'll NEVER get him to sleep!)
Pick a few of your sweet favorites and pair them with healthier circus snacks below. (No oxymoron intended!)

No. 1: Rainbow Cupcakes ~ These are the simplest cupcakes in the world to make, but look like you are a Baker Extraordinaire.  I dropped spoonfuls instead of straight lines, and the effect was little bubbles and clouds of rainbow color!  Get the recipe at The Girl Who Ate Everything.
No. 2: Cotton Candy ~ My first taste of the forbidden treat "cotton candy" was at a circus, forever linking the two in my mind.  Buy the cotton candy at Sams and then use The Partiologist's labels.

No. 3: Trix Crispies ~ Begone boring rice crispy treat! Hello crispy bubbles!  Adds some posh to your party!  (You may want to make these "older kid" treats, since little round objects and babies don't mix well. )  Learn how to make them at Cravings of a Lunatic.
No. 4: "Popcorn" Cupcakes ~ Mini-marshmallows on top of your standard cupcakes make these look like cute little circus popcorn buckets!  Juneberry Lane has the directions, along with the free printable bucket labels that tie it all together.
No. 5: Fabric Bunting Decoration ~ Isn't this hand-sewn fabric little mini-bunting gorgeous?  It sophisticates any layer cake!  Made by A Fete Beckons on Etsy.
No. 6: Rainbow Layer Cake ~ Talk about a show-stopper, this stunning rainbow layer cake will surprise everyone the moment you cut into it.  Get the how-to over at Whisk Kid.

No. 7: Circus Fondant Cake Toppers ~ Not the best cake decorator? Do what I do: CHEAT.  Let Letty do all the work, while you bask in all the compliments!
No. 8: Animal Cupcakes ~ This video on Betty Crocker shows how to create your own circus animal cupcakes like these.
No. 9: Homemade Snow Cones ~ Canadian Jill at Meet the Dubiens is hardcore and uses real snow!  This Wisconsinite approves.  Hint: Yellow snow is Nature's own recipe.  AVOID.
No. 10: Circus Animal Truffles ~ I love how The Cookin' Cowgirl takes ho-hum circus cookies and transforms them into a fancy-pants truffles.  Pinkies up, Ladies! 

No. 11: Snickers & Caramel Salted Popcorn ~ Another deceptively easy but jaw-droppingly impressive recipe!  I found this drool-worthy recipe at Smart School House.  (This is really best for older guests.  Besides, you didn't want to share these anyway…)
9 Savory First Birthday Circus Snacks
I couldn't list all those sweet things and not include regular yummy circus snacks like warm pretzels and fruit kabobs!
The best part about these is, with a little prepping that your baby can eat all of them!  Just take the corndog off the stick and dice it up and peel the apples before you slice them.
Have you met my Baby Food Schedule?  No?  Let me introduce you…

No. 1: Homemade Soft Pretzel Bites ~ These delicious bites from Seeded at the Table take a little tender loving care but, man, they are SO WORTH IT.  Annie's Schmannies.
No. 2: Rainbow Fish Crackers ~ Buy a carton of every child's favorite finger cracker and then wrap them in paper cones with printables from Anders Ruff. 
No. 3: Caramel Apple Nachos ~ I love this simple twist on a carnival favorite: the caramel apple.  Get this recipe at Real Mom Kitchen.
No. 4: Fruit Pops ~ Annie's Eats made the fruit kabobs, then pierced them in an empty gift box so they would stand up straight.  Such a smart trick!
No. 5: Homemade Corn Dogs ~ These corn dogs from A Cozy Kitchen are delicious, and if you get the oil temperature correct they won't taste greasy.

No. 6: Refreshing Lemonade ~ Two liters of Countrytime Lemonade + one quart of sliced fresh strawberries = refreshing awesomeness.  Class it up with these lemonade stand tips from One Charming Party.
No. 7: Veggie Carrot Pizza ~ Hungry Happenings created these for Easter, but I think they are the perfect playful vessel to slip veggies into a first birthday circus party.  Sneaky moms unite!

No. 8: Barnum Animal Crackers ~ A box of circus animal crackers is the ideal take-home favor for a first birthday circus party.  Don't forget to attach print-at-home personalized circus tags.
No. 9: Water Bottles ~ Don't forget water!  Add an extra themed touch to pint-size (and adult size) water bottles with matching party labels.  These are in the Pink/Yellow Carnival Collection.
13 Impressive First Birthday
Circus Decorations
What sets the Cirque du Soleil circus so far above all the other circuses?
Clue: It's not the stunts.  (Even though those are amazing.)
It's the spectacle.  The never-seen-before outlandish costumes.  The surprising stage changes.  The props.
It's the entire atmosphere of the event.  When you go to a Cirque show, you are no longer sitting inside a circus tent.
You  are in another world where anything is possible.
It's magic.
A well-laid table can give the same experience.
You are no longer having dinner with friends.  You are sitting with them in a hidden garden grotto.  Or at the top of a high-rise.  Or at a 5-star restaurant where no one gets a bill.  Or at the World's Greatest Circus.
It's magic. 

No. 1: Strong Man Mustaches ~ These are a MUST for any first birthday circus party. (Think of the pictures!) There's a great DIY on how to do this (with a printable template) at Seakettle.  You can find paper straws on Amazon. 
No. 2: Decorative Candy Bouquets ~  Add different heights and interesting shapes to your display table with unique candy bouquets. Decorate with the green chevron with sticklettes, the blue chevron with lollipops and the red chevron with frooties. 
No. 3: Indoor Circus Tent ~ Bring the Big Top indoors by alternating white and red plastic tablecloths around a hoop and suspending it from the ceiling.  Such an innovative idea!
No. 4: Cupcake Decorations ~ Print these gorgeous customized circus labels from home on cardstock and glue on toothpicks for personalized and unique cupcake decorations.
No. 5: Bow Birthday Dress ~ This is the perfect first birthday circus party dress!  Handmade by The Naptime Project, you can save 15% off your order with coupon code INCREDIBLE15.  A birthday bonus!  Use the savings to treat yourself to a Starbucks after the guests leave.  (You totally earned it.)
No. 6:  High Chair Throne ~ I love the birthday banners that turn a regular high chair into a BIRTHDAY THRONE!  This unique design by A Petite Soriee is made of fabric strips.
No. 7:  Vintage Window with Photos ~ See how she uses an old window pane to frame photos that span the past year.  Copy this tablescape with your own vintage circus printables. 
No. 8:  Ferris Wheel Cupcake Holder ~ Isn't this just so adorable!  Found it on Amazon.  *highfive*
No. 9:  Big Pom-Poms and Balloons ~ You really can't pull off a circus theme without them.  See how Senn & Son's decorated with them and then pick up your own kit at Big Dot of Happiness.
No. 10: Rainbow Clown Eyelashes ~ Who says clowns have to be freaky and frumpy?  Be a clown with class.  I love how she clipped these rainbow falsies into dramatic triangles!

No. 11:  Feathery Centerpieces ~ Proof that feathers from Hobby Lobby, popcorn cups from the Dollar Tree, and some creative printable crafts can make gorgeous centerpieces.
No. 12: Big Top Pennant ~ Boxers, Cleats, & Me designed this whimsical circus canopy from a handmade paper pennant and tablecloths.

No. 13: Lollipop Flowers ~ Stick swirly lollipops in a window box with fake grass for an indoor candy garden.  You can find this solid-gold idea and others at the Donald Duck County Fair.
Don't Forget the First Birthday Circus Activities!
What would be a fancy-schmancy first birthday circus party without games?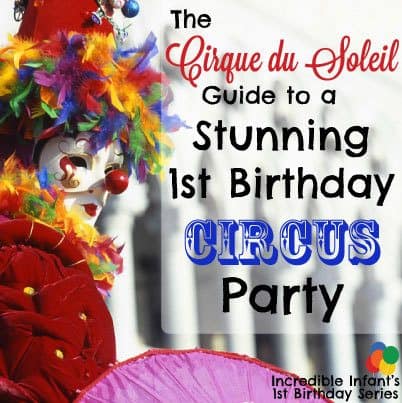 Boring.  That's what.
Using a roll of tickets, create some fun booth games for guests to play and earn little party prizes (read: plastic dollar store junk).
Try some fun activities like…
Poor Man's Photo Booth: Hang up some bright fabric (or a clean sheet), add a chair, and a basket of props like funny hats, clown noses, wigs, and bow ties.  Give tickets for "Best Impersonation of Grandpa or "Best Use of Props", etc.

Big-Boy Ball Toss:  A great opportunity for him to practice his growing eye-hand coordination!  Pick one up at Amazon or make your own.
Face Painting: My girls' favorite part of every party.  Snazaroo puts everything you need in a single painting kit.  Nice.
Mystery Box: This idea comes from Ish and Chi.  Wrap a box, leaving a hole in the side.  Then put a toy for them to guess inside!
Professional Help:

Hire someone who does incredible balloon work (I saw a man make a miniature car with driver! Waaaay above the standard "giraffes".) or does amusing magic tricks, or rent an inflatable bouncy house.

Coloring Contest:

Search the internet for fun carnival circus pictures and then let kids wow the adults with their artistic ability!  Learning to color is a fine motor skill, so it's good for the Birthday Boy to practice.
The Secret to an Unforgettable
First Birthday Circus Party
Ever been to a party where the hostess is tense, running around and stressed?
Those are the parties where I leave early.  Ain't nobody got time for that.

The secret to a truly amazing party is to stay flexible and HAVE FUN.  Yes, YOU: The hostess with the mostess.  Don't get so caught up with "the perfect party" that you ruin it for everyone else!
Things may not (and probably won't) go as planned, but that's okay.  Heck, there's a strong chance that The Little Man will be so pooped out he needs a nap halfway in and misses the presents!
This first birthday circus party isn't really about your table designs, or the food, or even the number of people who showed up.
It's about you, your baby, and your family.
It's about looking back at the year you've had and marveling at the years you have yet ahead.
You've come a long way, baby!
Which of these first birthday circus ideas do you like the most?
We ♥  honesty!  This post contains affiliate links that provide extra money for our mutual coffee habits addictions. Click here to learn more.
Comments