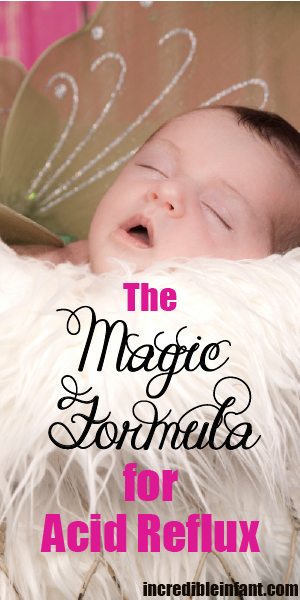 There are two types of parents desperately searching the Internet right now, looking for a formula for acid reflux.
Parents whose baby has been diagnosed with either silent or acid reflux.
and…
Parents whose baby has NOT been diagnosed, but the constant spitting-up is kinda freaking them out.
If you're one of those two, allow me to sprinkle you with happy sun-beams of encouragement.
Encouragements that I will whisk into the giant cauldron I keep in the basement for emergencies:
Double, double, toil and trouble;
Fire burn, and caldron bubble.
Fillet of a fenny snake,
In the caldron boil and bake;*
*Fifty "cool parent points" if you can name this source!
The magic formulas presented here are specifically centered on helping your baby keep his meal down.  If your baby spits up more than five times every day, these formulas may be your saving grace.

If you suspect a milk allergy or intolerance (fussy, gassy, cramping, etc.) is making your infant miserable, you need to use my formula allergy checklist first.
If you suspect colic, (your infant screams for hours for no reason) let me introduce your new hero.
First…What Defines Reflux?
There are four main kinds of reflux that affect infants.  Here's what I call them (along with their proper fancy-pants medical term.)
Regular Reflux: GER
Impress the Doctor Term:  Gastro Esophageal Reflux, (reflux or GER)
GER is very common in babies, basically it means the baby spits up once in a while. It's not that serious so start with allergy-sensitive formulas first.  Give it a a week to see if things improve.
The Crappy Reflux: GERD
Impress the Doctor Term:  Gastroesophageal Reflux Disease (GERD)
This type of acid reflux is not as common (1 in 300 babies) but is much more serious.  These babies will struggle to grow, hate to eat, seem to have constant colds, and may wheeze or show other breathing problems.
Talk your doctor if you suspect this.  Your little suffering infant will mostly likely need medication. I would also discuss switching to one of the formulas below, as they have been shown to help with GERD.
The Sneaky Reflux: Silent GERD
Impress the Doctor Term:  Silent GERD or GER
This type of reflux is by far the crappiest because it's silent.  Your sad-faced little guy re-swallows the spit-up so you never see it. This causes twice the damage, since the bile burns on the way up and on the way down.  Poor baby!
Silent reflux is hard to diagnose.  Look for him to be Mr. Cranky Pants, hate the sight of a bottle, and cry more after meals than at other times during the day. Call your doctor for an analysis and see if using one of these formulas for reflux can help.
What Can Help a Baby with Reflux?
The reason babies struggle so much with reflux is because their tiny little esophagus isn't 100% fully formed.  This means that the flap of skin (my technical term…) that keeps foods down in the stomach isn't quite ready to play Bouncer and keep breakfast's milk from trying to join the party going on in the mouth.
Here are a few things that tend to help babies with acid reflux.
Medications: Zantac or Prevacid
The two most common medications in treating acid reflux in the US are Zantac and Prevacid.  Zantac doesn't actually reduce the amount of acid in your baby's tummy, it just makes it less acid-y (another technical term from yours truly).  For this reason, babies can be on Zantac for longer periods of time. It can take several weeks, however to kick in and make a difference.
Prevacid actually reduces the amount of bile in that tiny tum-tum.  This is okay for short durations, but can cause damage if used for long periods of time.  For that reason, most doctors will choose to hold this option back as a Trump card, waiting to see if you can see improvement on just Zantac.  If your baby is reaching the peak time (4-5 months) and doesn't seem to be improving, using Prevacid for a week or two may help you get over the hump.
Sleeping On an Incline
Gravity can help keep supper down where it belongs.  (This baby bean bag is helpful for this. Don't use in the crib, though.  This is best for non-squirming newborns under mom's watchful eye.)
Using Baby Probiotics
Recent studies have shown that giving your baby a probiotic can help babies struggling with acid reflux.  Here are the highest rated baby probiotics on Amazon.


Using Hypoallergenic or Pre-Thickened Formulas
Recent studies have also shown the using a hypoallergenic formula can help babies with acid reflux. That said, the hypoallergenic formulas mentioned below are SUPER expensive.  So before you write a check and place an order, I recommend testing a different type of formula first.  (With your doctor's permission, of course!)
A formula that has been slightly thickened so it's heavier in the tummy, making it harder for your baby to reflux. Most parents do that by either mixing the formula by hand at home, or buying a pre-thickened baby formula.
The Non-Magic Formula for Acid Reflux:
Trying to Thicken It At Home
Here's how most parents thicken their infant formula at home:
Throw a tablespoon of rice cereal into a warm bottle of formula.
Shake vigorously.
What's the magical result? 
Nada.  No spark…no twinkle…not even a glimmer. Why isn't this magic potion working?  Let me present three reasons why the homemade option seldom works: 
Newborns Struggle Digesting Rice Cereal
The younger your infant, the less "magical" the result of adding rice cereal by hand is going to be.  This is because their tiny systems aren't ready for solids.  If you really want to try the homemade option, look for rice starch instead of rice cereal. It's already partially broken down, making it that much easier for your baby's stomach to digest.
Shaking = A Bubble Frenzy in the Tummy
No matter how hard you try, mixing in cereal by hand is going to create bubbles.  (That or raw chunks.  Yum!)  Those bubbles travel down into your infant's tummy.  So instead of having an infant screaming because of reflux, you have an infant screaming because of gas.  Huzzah!
The Nipple Nightmare: It's Stuck and Won't Come Out
Now that you've thickened the formula by hand, you have to make sure your baby can actually drink it…without using the hollow-cheeks method of sucking that leaves her really torked off and sore.
To avoid all that, you'll have to try a variety of nipples to find the right flow. (Or improvise with a scissors, creating a mess and a new choking hazard.)
You can do better.
Use a formula that is specially designed for reflux babies.  These are formulas that have been pre-thickened. You will avoid all those cramps, gas, and flow problems!
The Formula for Acid Reflux
You've Been Waiting For
There are only three thickened formulas on the market (as of this writing).  Talk to your doctor on which one to start with. Not only will Doc have some great insight, he may just have a freebie or two to throw your way to test with first.
Depending on what formula your baby is currently using, you may need to follow these suggestions to slowly wean your infant on the new formula.  Plan on slowly switching if…
Your baby is currently on a Soy-Based Formula.
Your baby is currently using a regular brand of formula and you want to try a Hypoallergenic brand below instead.
Your baby is currently on a Hypoallergenic and you want to try a pre-thickened formula instead. (Make sure you have your doctor's approval before doing this.)
Remember, every baby is different and will react to formulas differently.  Just because so-and-so's baby did AWESOME on Enfamil A.R. doesn't mean yours will, and vice versa. You'll need to have a mindset of experimentation.  Try a formula for a week (minimum) and see how things go.  If you're not seeing the results you're hoping for, talk to your doctor about the next one to try.
A Note About Poopies:  Some parents have complained that using an acid reflux formula like one of these can cause constipation.   If your baby's poops are thicker than peanut butter (always a better indicator than frequency), use these anti-constipation suggestions to keep the pipes clean and movin'.
Enfamil A. R. (Pre-Thickened)
Enfamil A.R. uses rice carbohydrates instead of cereal, so it flows easily through the nipple, yet settles solidly in your baby's tummy.  It's a fully-fortified formula for acid reflux, including DHA & ARA and immunity boosters.  You can purchase it in powder form or in premixed containers and nipple-ready bottles.
Similac Sensitive for Spit Up (Pre-Thickened)
Similac Sensitive for Spit Up uses the same "Early Shield" formulations as the normal Similac formulas. Lutein, DHA, ARA, nucelotides for immunity, prebiotics, and an exclusive palm olein-oil blend for growing bones are all bubbled together with rice starch to create a formula for acid reflux your baby can keep down.  After mixing, let it sit for 10-15 minutes to thicken up evenly.  Yes, it will look a little grainy.  (That's normal.)
Pregestimil (Hypoallergenic)
Pregestimil is a hypoallergenic and lactose-free formula that's usually used for colicky symptoms, but may be a good back up plan as a formula for acid reflux. 55% of it's fat content comes from a special blend of fats (called MCT), designed to help babies who struggle digesting fats.
It comes in powder form or in Nursette bottles.  These special bottles have the colic formula premixed, so all you have to do is attach a standard nipple.
Alimentium Expert Care
Alimentum Expert Care is made by Similac. The dairy-protein particles are so teeny-tiny that most babies ignore them, which is why it's so effective with allergy-suffering babies. Infants who struggle with colic or have severe skin rashes due to a protein sensitivity may find final relief with this allergy. You can find it in the powder or premixed form.


Hype? or Holy-Cow?
Call me nosey, but I'd love to hear whether or not a formula for acid reflux like these helped your infant.
How quickly could you tell a difference?
Comments