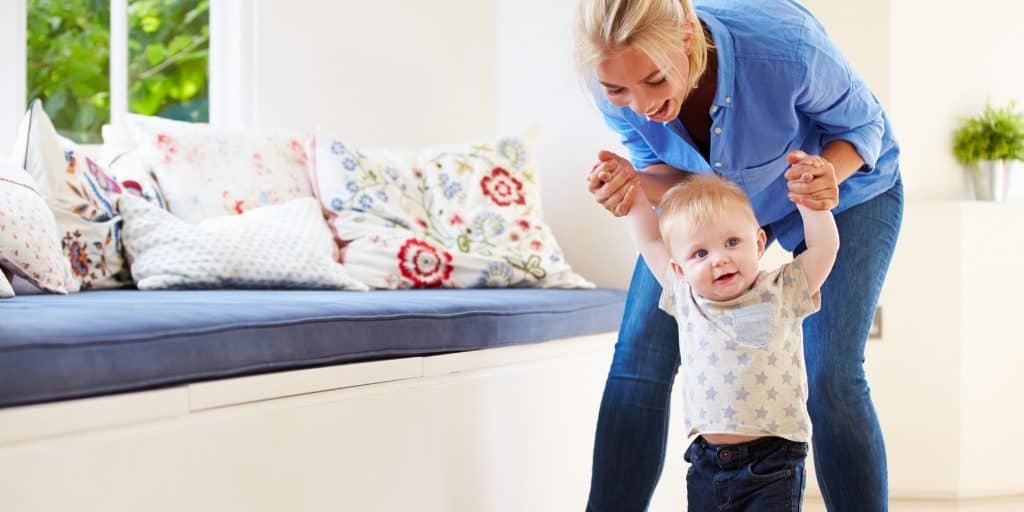 It is every mother's worst nightmare: what if your baby just isn't growing like he should be?
Those butterflies are fluttering around, making you worried you don't know enough about baby development to tell if he needs more help. Your next well baby appointment isn't for a long time. Do you want to sit on those butterflies until then?
I have something that can help. Actually, let me rephrase that. I have several somethings that can help.
Something #1:
A Baby Developmental Milestones Tracker
Your baby is going to conquer a lot of new skills in the next year, and there's a certain pattern that your doctor is going to be looking for as that happens. She's going to want to see how your child is doing with his communication skills, gross motor skills, fine motor skills, relational skills, and sleeping skills.
There are few things as humiliating as a parent as being asked a slew of questions by your doctor and not knowing the answers. When did he start rolling over? Has he discovered his toes yet? Has he smiled at you?
Uh… You're a good parent, so why do you suddenly feel like you're back in 8th grade math class?
Give Yourself Plenty of Grace
Don't worry. I know why you're suddenly stammering with awkwardness and shame under the grilling of the pediatrician.
You haven't slept in more than 3 hour spurts. You can barely remember your husband's cell phone number, let alone exactly how old your baby was when he giggled for the first time.
You'll need to write these things down. Unfortunately, the paper towels you grabbed to jot down that milestone are not a good long-term solution. You need something else. Something that has everything together in one place…
The Milestone Marker: Memory Tracker not only will list out ALL of the baby developmental milestones you should be looking for every month, but will give you ideas to help prompt that baby development to happen in the first place, and a space to jot down a few memories (or a date) of when it happened.
You need a system to snag those precious baby memories before they flutter out of your brain like a drunk butterfly.
"My husband is insisting we do this together. (I'm pleasantly shocked.) I'm super thrilled to have him involved. Thank YOU!"
Tracey Gauthier
Something #2:
A Baby Growth Chart
The second thing your doctor is going to want to keep eye is your child's physical growth. Is he gaining weight regularly? What about height? Is his head circumference showing steady growth? (This helps measure brain growth.)
You may have seen some fancy-schmancy charts at the doctor's office to track your child's physical growth on an arc. The Milestone Marker: Growth Tracker provides all of those charts, along with some crazy-simple instructions on how to use them.
You will feel so much better knowing that your child is eating enough to be gaining steady weight and meeting all his growth goals (which are also included, btw!).
"I love this ebook! The book is simply darling in its design and is so easy to use. My only question is, why didn't I have this helpful tool a year ago? I already started entering things from the 1-2 year milestones and plotted his last two height measurements on the baby growth chart. Love, love, love."
Sarah Conlin
Something #3:
Your Not-to-Panic Place
Besides a crazy useful baby development chart, The Milestone Marker also contains informative worksheets to tell your feeler to calm down.
It lets you know when to give the doctor a call if your child doesn't reach certain milestones at certain times.
The ebook series shows you how to determine your premature baby's adjusted age, so you aren't accidentally expecting the wrong milestones. (Just because his body is 3 months, doesn't mean his premature brain has caught up yet!)
It goes through all the early signs of autism, so you know what to watch for. Autism is best treated when caught young, so knowledge here can make a big difference!
Every child (and gender) develops at different rate, so I've worked hard to make sure that filling out the worksheets in The Milestone Marker reflects that. We want to celebrate your baby's development, not agonize over it!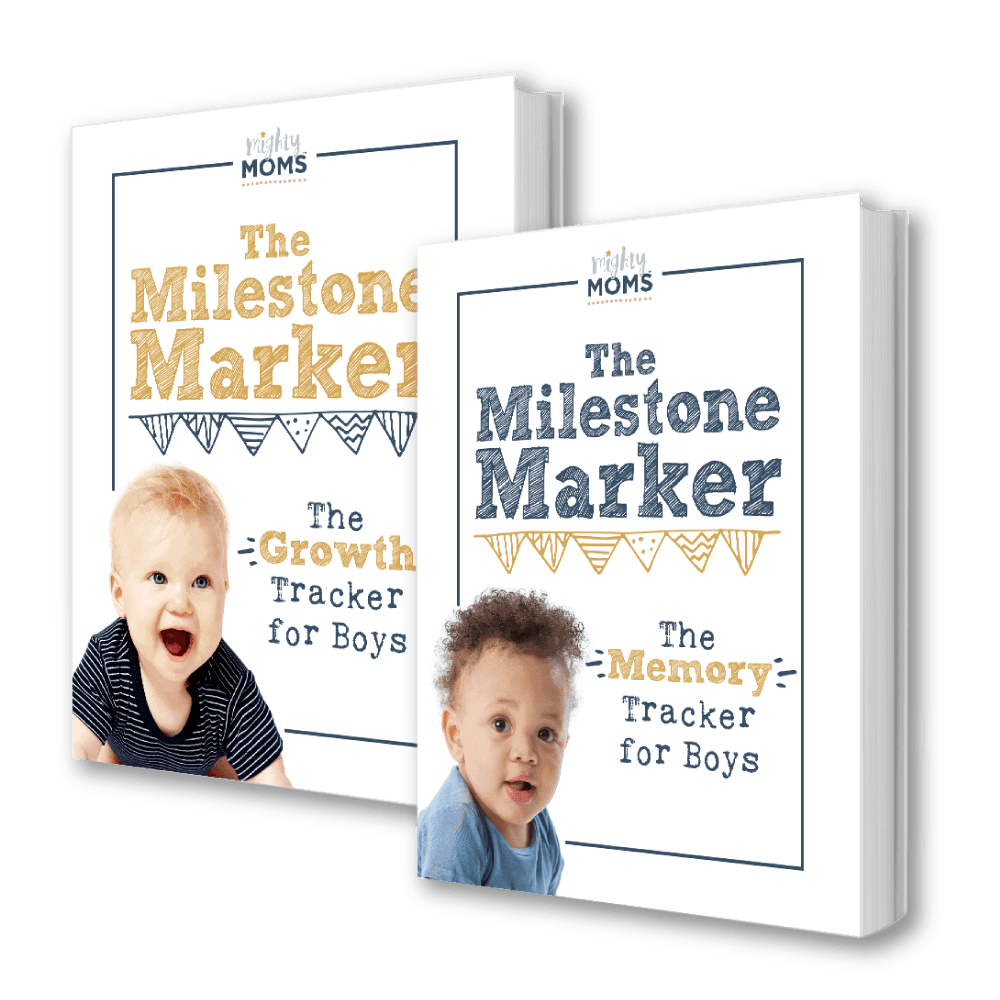 Give Yourself Peace of Mind
The Milestone Marker includes TWO workbooks for the price of ONE. It also comes in versions for both genders, since boys and girls reach milestones at different rates.
Download These Workbooks
Protected by Stripe — PayPal Verified — PCI Compliant
Want to Speed Things Up?
Play These Baby Development Games!
Let's be honest for a second.
Sometimes it's challenging to feel like you're really connecting with your baby. (Especially at the beginning.) Eventually the endless games of peek-a-boo and staring contests begin to feel a little stale.
It's easy to feel a little lost when it comes to playing with your baby. The problem is, though, you know that having a Play Plan is really good for both of you!
Having a Play Plan will make you feel more confident in interacting with your baby.
A solid Play Plan helps Dad get more involved in baby care. These activities will let him start making sweet memories from the very beginning.
Specifically chosen activities will provide your baby with an opportunity to practice specific tasks to speed up baby developmental milestones.
How 'bout that! I just happen to have a year's worth of baby activities right here!
Add 24 Magical Games for $7 (That's 50% Off)
Since (I'm hoping) you've already decided to pick up a copy of The Milestone Marker, why not give yourself a year's worth of fun activities to practice those skills together and save 50%?
Each month gives you two activities to play together, using items I'm confident you have around the house. Remember, at this age, repetition is key!
You don't want a wide variety of activities—you want to focus on doing the same activities over and over again to help your baby strengthen those new neural pathways!
I Guarantee You're Going to Love These
These are NOT the types of baby games you've heard of before. I have delved into the dustiest, most boring baby development books ever shelved on the top shelves of university libraries. (You're welcome.) I've even included a few that I created for my babies out of my own noggin.
In fact, if you aren't blown away and excited to try the activities you find inside, just email me back (you'll get a confirmation email after your purchase) and I'll refund your money, no questions asked.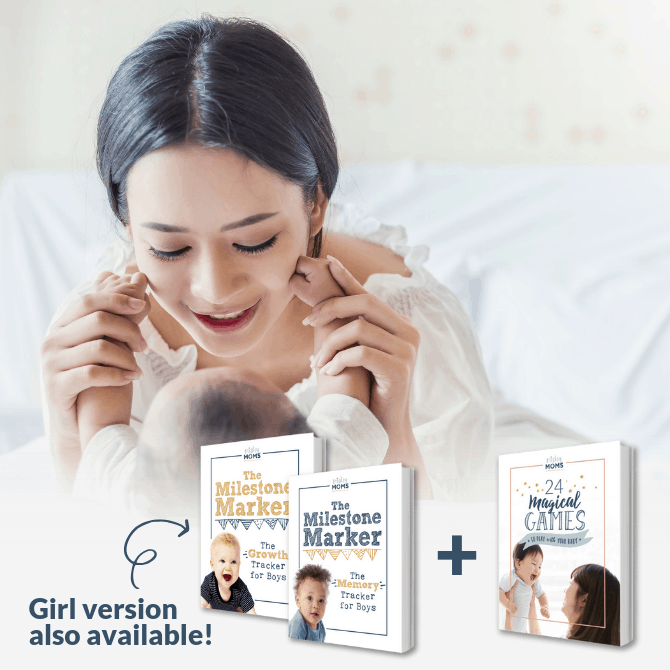 Add a Year's Worth of Magical Baby Games for Only $7
If you purchase The Milestone Marker with Magical Baby Games you can get the activity ebook for 50% of its regular price. (This is only offered here, btw.)
Give Me Knowledge AND Fun!
Protected by Stripe — PayPal Verified — PCI Compliant
"I've read through and studied your book in preparation for this little bundle of joy I'm waiting on. I'm so thankful I came across it because it has taught me that being a mother is more than taking care of needs…it's capturing the little moments and making them matter. VERY IMPRESSED!"
Kristin Aldridge
Captain Quirk of the Parenting Universe
So this is awkward…This is where I'm supposed to tell you all this cool stuff about myself so you can feel more confident about purchasing this thing I've spent YEARS working on. It feels a little braggy to me, but I'll do my best.
Let me provide 2.5 points that demonstrate that I do, in fact, know what I'm talking about in the Milestone Marker eBook Series.
I graduated from Taylor University with a BA in Social Work, which required me to spend a LOT of time studying child development and psychology.
In 2014, I received my certification in Gentle Sleep Coaching from Kim West's prestigious (and expensive) GSC program. This requires additional study every year in the realm of baby development.
I'm a veteran mama with three (growing way to fast) children. Why is this only worth a half a point? My kids are my kids, not yours. Yes, I know more about "general mothering" than a first-time mama, but I will know ZIP about your unique child. You're the true expert in that arena!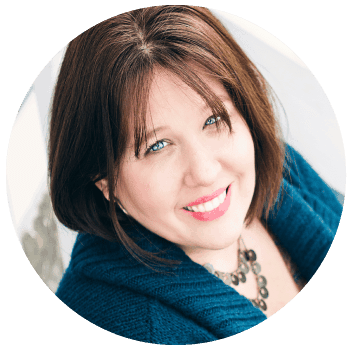 Heather Taylor
Certified Gentle Sleep Coach
Chief Encouragement Officer at MightyMoms.club
Mom of Three Beautiful Daughters
Strongly Anti-Spider, but Pro-Caterpillar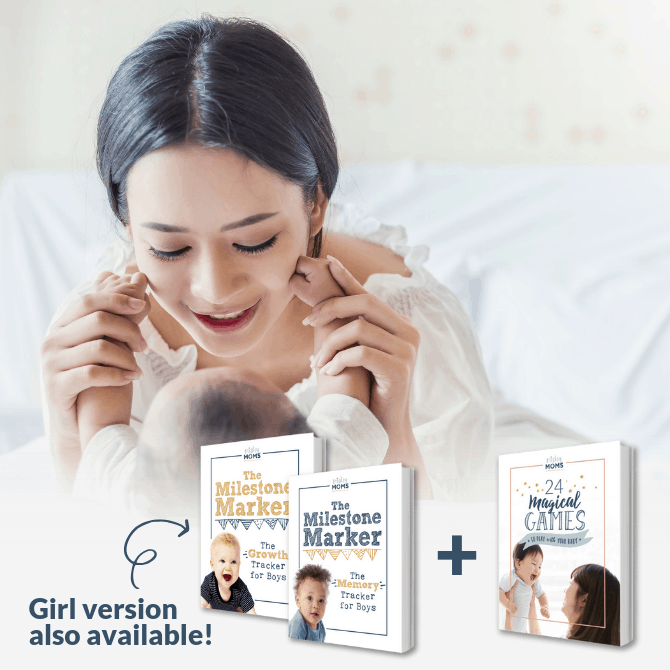 Get All Three Baby Development eBooks at a Discount
The Milestone Marker and Magical Baby Games go together like tummy raspberries and giggles. Honestly, can you really have one without the other?
Buy Both and Get the Games Half-Off
Protected by Stripe — PayPal Verified — PCI Compliant