This post is sponsored.  This means we were asked to review or try something new, and then remunerated to share those thoughts.  Since you are reading this post, it ALSO means that we enjoyed the experience. Friends don't let friends make false recommendations!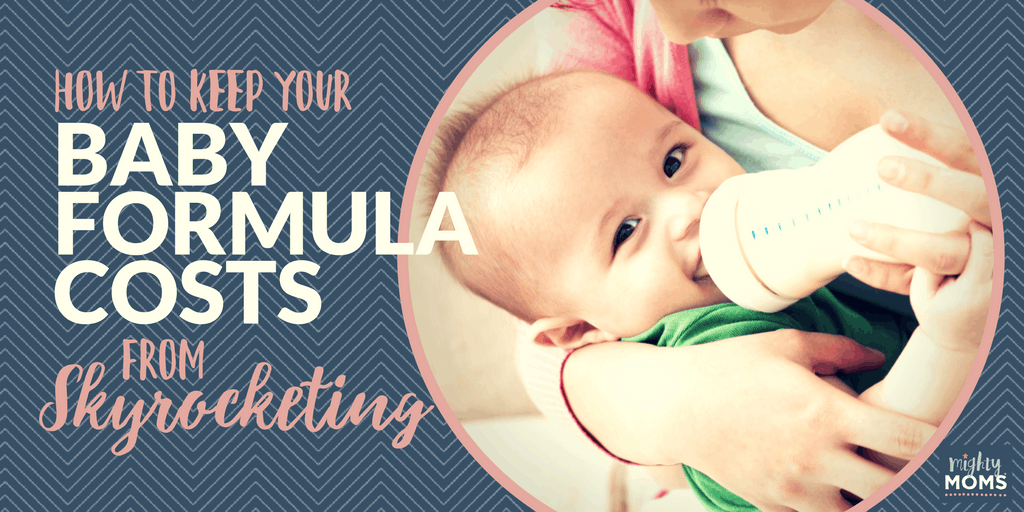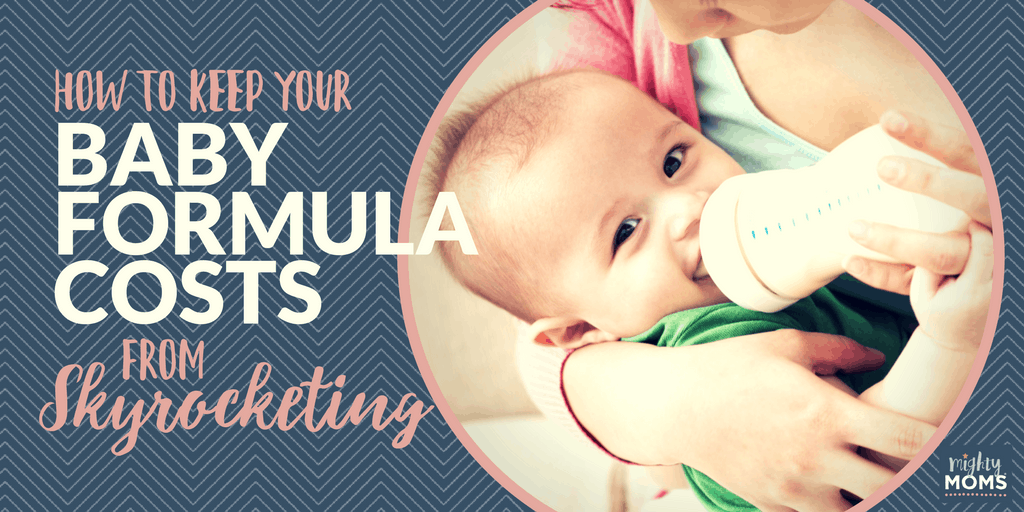 You know what? You rock.
Yes, you – sitting there reading this while you feed your baby.
You're kinda amazing.
You are taking the time to nourish that little person, giving those extra hugs and smiles that make your baby's day. You've chosen to set yourself aside (your list, your sleep, etc.) and feed your favorite little baby.
That's something. (As a former social worker, I know a lot of parents who didn't make that choice, so don't take it for granted!)
I've spent time in other articles talking about the difficult decision to breastfeed or use formula (or use both). One of the major CONS of using formula is the price factor.
Unlike breastmilk, baby formula doesn't just magically appear after birth. You have to pay for it. Today, friend, we are going to concentrate on how to make that cost as low as possible, starting with these 12 little baby formula cost reducing secrets! Secrets you really should share with all your friends. This is gold, ladies, GOLD.
12 Ways to Lower
Your Baby Formula Costs
You know how financial websites will often post "How much does it cost to have a baby?" shock articles every year?
Yeah…ignore those. They are complete hooey. Balderdash. Drivel…with a large side of bull plop. 
Honestly, it's a miracle ANYONE takes the plunge and becomes a parent. According to their numbers, Cameron and I still shouldn't have any kids, despite the fact that we are managing to feed, clothe, and entertain all three.
Before all my hypoallergenic-formula-purchasing-parents click away in disgust, let me reassure you that I'm not saying formula can't get expensive.  It's an expense, and it can get expensive. After all, it's not as though you can NOT purchase it. If you're not breastfeeding, formula is a non-negotiable.
You're going to have to pony up the cash to buy that powdery-gold. The question, though, is how much? Is there a way to keep that "donation" as low as possible? 
Abso-tootly. That's right. I just said abso-tootly. 
Start Doing These Things & Reduce Your Baby Formula Costs:
Purchase powdered formula, not ready-to-feed (RTF) and liquid concentrate baby formulas.
If you are still doing nighttime feedings, purchase a storage container like this one to pre-mix and store the formula inside the fridge, so all you have to do is pour. (Perhaps it's just me, but when I was preparing a 3am bottle, the next morning I was always shocked to see all the wasted formula I had spilled all over.)
If you purchase Parent's Choice baby formula, you can encourage your pediatrician to go here and sign up to give yourself (and other parents) $2o formula rebate cards.
If you're traveling, use these special baggies to pre-measure your formula and avoid wasting it (or worse, accidentally having it fall out of your diaper bag and spill all over the pavement. #beentheredonethat).
Sign up for formula coupons here. (Coupons are better than samples because you can get them immediately, rather than having to wait 3 weeks.)
Pick up a small sample of formula to try first and see how your child does before spending a lot of money. You can try Parent's Choice here for less than $9.
A formula based on cow's milk (instead of goat's milk or soy) tends to be less expensive.
Purchase Parent's Choice formula on Amazon and sign up for Dash buttons. When you start scraping the bottom of the formula can, just push the button and they will automatically send you a new batch!
Check to see if you meet the eligibility requirements to get free baby formula from WIC (Women, Infants, and Children).
Local food banks can sometimes carry extra baby formula for families in need. Click here to find a food bank near you.
Sign up for the Baby Formula Sweepstakes and be entered to win $160 worth of baby formula each month.
Purchase your formula in bulk! You can significantly reduce your per-bottle-price by purchasing a month's worth at a time.
If your doctor requires you put your baby on a specific formula (like a hypoallergenic), be sure to run this cost by your insurance companies. More and more companies are allowing these formulas as a medical cost to be covered!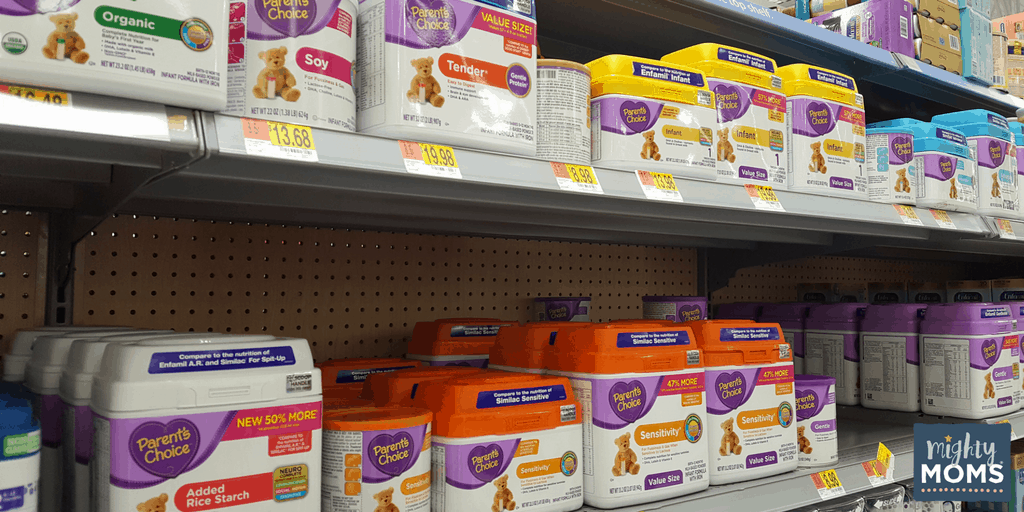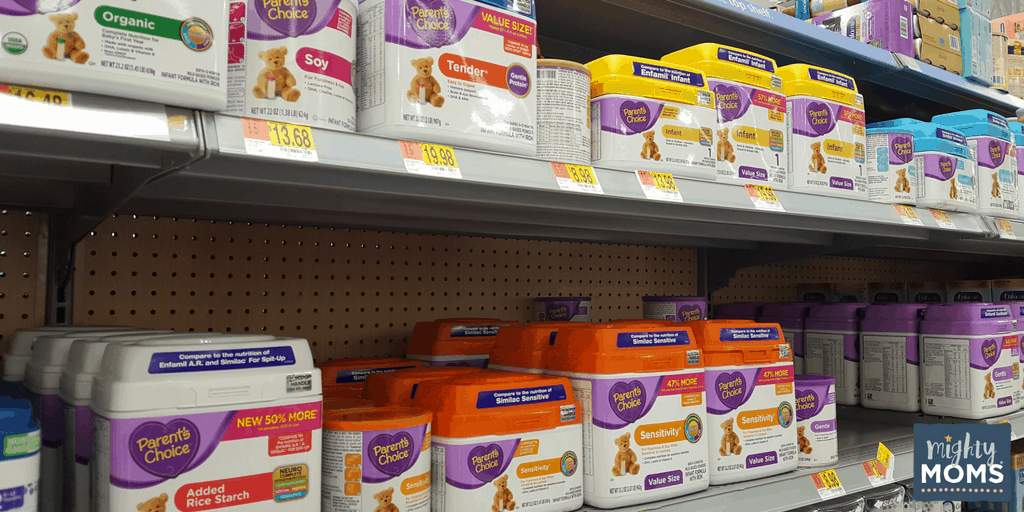 What You Don't Know About Parent's Choice
(And How It Can
The first thing people think of when they hear of a store-brand baby formula is CHEAP.
That's true, sort of. A study in 2016 showed parents can reduce their baby formula costs and save up to $600 a year when they purchase store-branded formula.
The problem is, most parents think cheap equals poor quality. Well, I guess that's true…unless you have the Food and Drug Administration breathing down your back, ready to hand out hefty fines.
Here are some "Fun Facts" about Walmart's Parent's Choice formula that will redefine the word "cheap":
They are required to meet all FDA formula standards (just like the big guys).
The formula is manufactured in FDA-inspected facilities (just like the big guys).
This study showed that Parent's Choice is just as well-tolerated by tiny tummies as the brand-named formulas.
If you compare the nutritional labels between Parent's Choice and the big guys, you'll see the same quantities of vitamins, minerals, and nutrients. (That's because of #1, remember?)
They are certified kosher by the Orthodox Union (OU).
Their team conducts more than 20,000 tests per month to make sure every batch of infant formula produced follows not only the FDA's quality guidelines by the Safe Quality Food Program's rules as well.
Who Makes Parent's Choice Formula, Anyway?
Well, it's not Walmart. 🙂  Just like how Old Navy didn't make your favorite sweatshirt.
Parent's Choice is made by Perrigo Nutritionals, which produces the formulas in Ohio and Vermont from dairy farms in the US, Canada, and New Zealand. (Probably from their famous Hobbit farms. #thatsmystory #stickingtoit)
In fact, their factory was the first infant formula manufacturing facility with Safe Quality Foods Institute (SQF 2000 Level 3) and International Organization for Standards (ISO-9001:2008) certifications.  (I really hope you wrote those numbers down. You know, for the test later.)
Check this out:
March 2006: They created the first organic milk-based infant formula with DHA and ARA that also contains organic whey, nonfat milk, and lactose.
May 2007: They created a vanilla-flavored toddler formula two years before Enfamil launched a similar product.
July 2008: They were the first formula manufacturer to receive FDA approval of (deep breath here) fructooligosaccharides as a prebiotic ingredient.
In other words, Parent's Choice formula is continually innovating and pushing the formula boundaries for infant nutrition.
So why not save yourself two-fistfulls of twenty dollar bills and try one out?
Which Parent's Choice Formula
Should You Try First?
As you can see from my fantabulous photo above (such talent!) there are a LOT of formulas to choose from. So many, in fact, that I would be a poor friend by ending this with a quick "thanks for reading" send off.
No sirree-bob. That's not how we do things around here. 
Let me run through the differences between the main four Parent's Choice formulas, so you can send your husband to the store and avoid a panicked phone call. 🙂 
Reducing Baby Formula Costs with Parent's Choice Premium
Based on cow's milk
For babies 0 – 12 months.
Contains DHA and ARA, nutrients found in breast milk, iron for brain development, calcium for strong bones, nucleotides for digestive health, and prebiotics for baby's immune system.
The least expensive of the Parent's Choice infant formulas.
Reducing Baby Formula Costs with Parent's Choice Sensitivity
Has all the good stuff that the regular Premium Formula has above.
Not lactose-free, but has 95% less lactose than a regular baby formula.
Designed to help babies who struggle with gassiness, or are suspected to have a gut-sensitivity to lactose (the sugar in milk).
The brand-name equivalent to this formula would be Similac Sensitive, so this makes an excellent choice to lower your baby formula costs!
Reducing Baby Formula Costs with Parent's Choice Advantage
For babies 0-12 months.
Has a few more "extra" nutritional goodies than the Parent's Choice Infant Formula: DHA (an omega-3 fatty acid that helps with mental and visual development), Lutein (for vision), and Vitamins A, C, E and Zinc (for immune support).
This baby formula is designed to be a less-expensive comparison to Similac's Advantage milk-based formula, but at 50% of the yearly cost. (Watch those baby formula costs sink to the floor!)
Reducing Baby Formula Costs with Parent's Choice Gentle
This infant formula has all the great stuff listed above for the Advantage infant formula,
Compares  to Enfamil's Gentlease formula, so if your baby is on that it may be a great alternative to lower your baby formula costs!
Where the Sensitivity formula has less lactose, Gentle goes one step further by partially breaking down the whey proteins to make digestion even easier for your baby.
A great choice for babies who have tried Parent's Choice Sensitivity formula, but are still struggling with fussiness and gas.
Isn't It Worth Trying
Parent's Choice to Save $600?
Maybe you are totally happy with your baby's formula choice.
Awesomesauce. Stick with it. But what if you're rather meh about the brand and pretty YES! about saving money for a larger house, or a vacation, or perhaps just a date night?
It may be worth it to give the less-expensive Parent's Choice formulas a try. Fortunately, a recent study has shown that most babies switch from brand to off-brand pretty easily, with minimal tummy disruptions!
If your baby doesn't mind…
And your baby's health doesn't mind…
And your fatter wallet doesn't mind…
What do you have to lose?
🙂
Have You Read These Yet?
This post was sponsored by Parent's Choice. This means that I was paid to develop the topic of this post and do the helpful research parents need in order to better consider their formula options. Although the time was paid for, my opinions and thoughts are not. (I'm pretty stubborn that way.)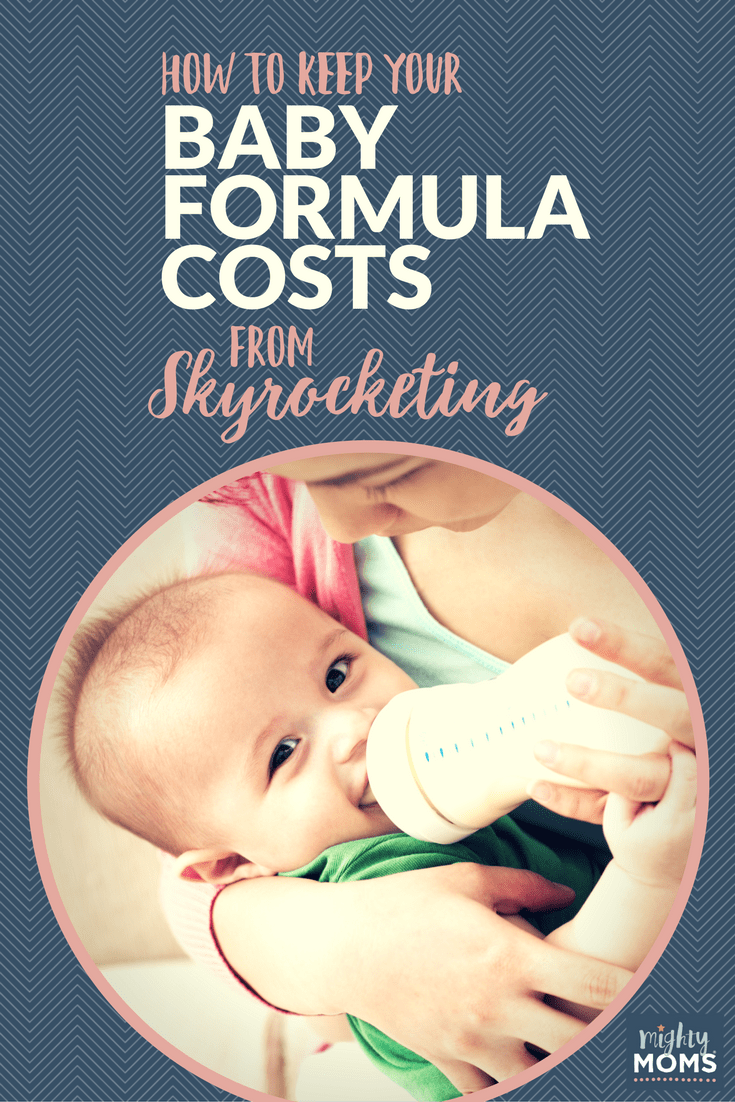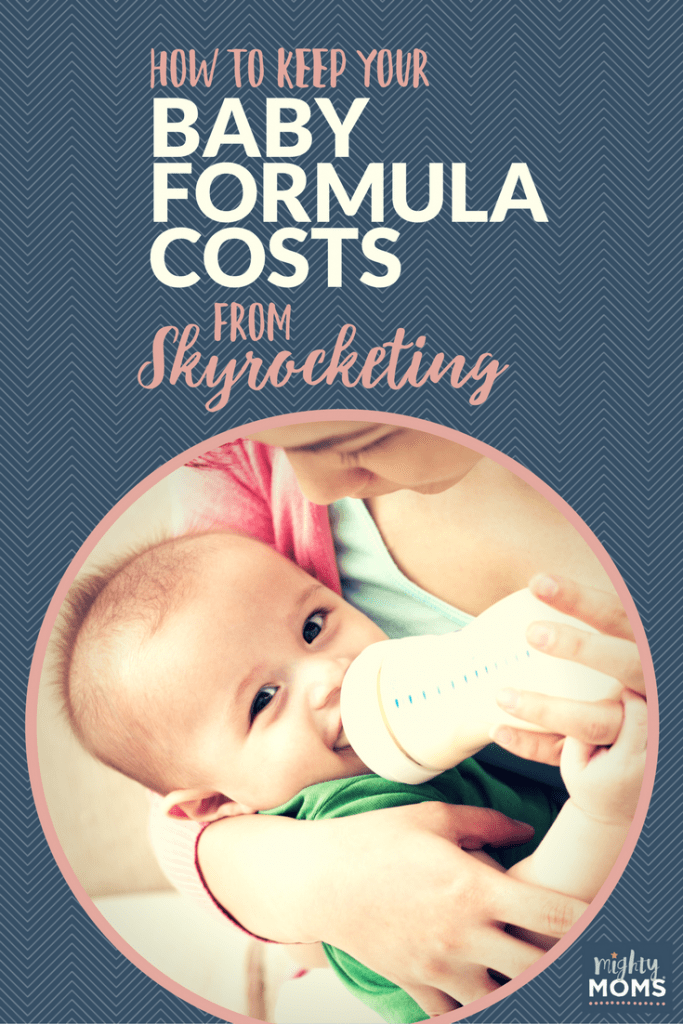 We ♥ Citations
Baby Formula Coupons. StoreBrandFormula.com
Baby Formula Savings Calculator.StoreBrandFormula.com
How to Get Cash Back on Your Walmart Purchases with Ebates. Waffal.com
The Best Baby Formula. BabyBargains.com
Looking for Parent's Choice Formula Samples? ParentsChoiceFormula.com
About Store Brand Formulas. StoreBrandFormula.com
How to Save Money on Infant Formula. MedlinePlus.gov
Study: Switching from Name Brand to Store Brand Formula is Equally Nutritions, More Cost Effective. PerrigoNutritionals.com