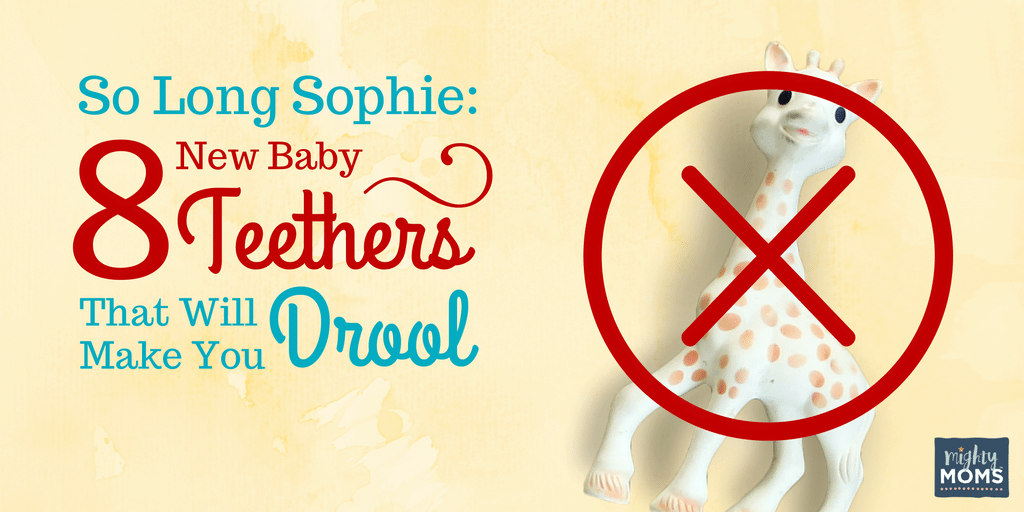 Ah, Queen Sophie.  Undisputed ruler of Teethington.
She's been reigning the baby teether market for decades.  (Seriously.  Do you know even ONE person who doesn't own her?)  That crown though….it may be slipping!  There are some new up-and-commers eyeing the throne.  
Doth thou hear the drums of an approaching battle?  Is it thou possible a civil war is lingering on the horizon? Which side commands your loyalties?  
Are you in the Sophie is My Baby's Best Friend camp?
Or perhaps you're entrenched on the Sophie Looks Like a Dog Toy side of the fighting line.
If you're in the first camp, you can stop reading.  You've found your baby's holy grail of baby teethers and you risk treason even thinking about a different teether.
If you're in the second camp, go ahead and stretch out your scrolling finger.  You're going to be clickity clicking like mad here in a few seconds.
The 8 New Baby Teethers
You Should Check Out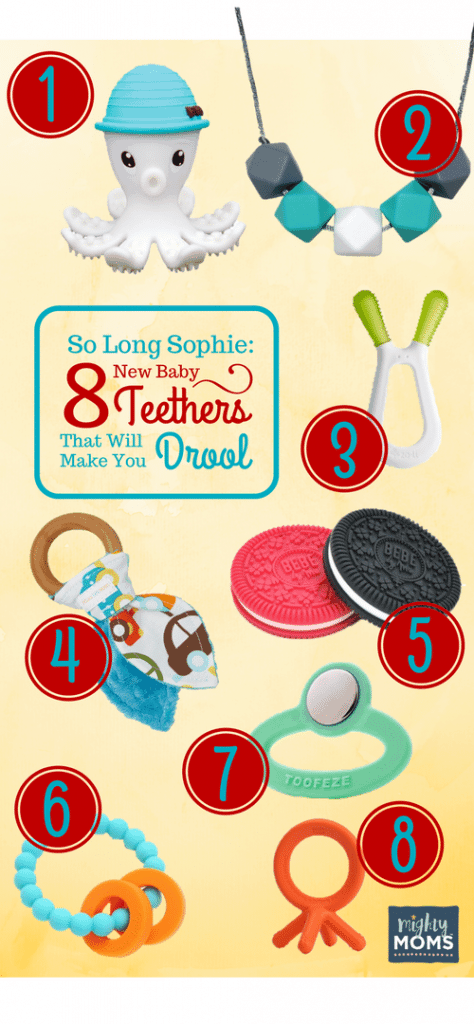 #1.  Mombella Octopus Teether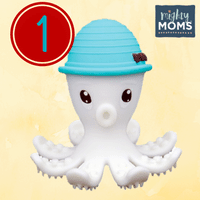 Someday, when I'm 97 and no longer have my pearly whites.  I think I'm going to hide this in one of the nursery  home drawers.
Don't those little legs with the pointy thingy's just look like they would feel good on sore tender gums?  (They do.)  Now you know what to buy me for my birthday in 2075.
It's made of silicone, a positive if you like clean teething toys, since you can toss it in the dishwasher without fear of melting chemicals.
Lead free, latex free, 100% organic.
The hat and the body have different hardness levels, so babies of different ages can still find it soothing to chew on.
Can be used as a first toothbrush.
Can be folded up into a ball shape, perfect for chubby hands to carry around the house.
See the Mombella Octopus Teether.
#2.  Trendy Teethers Necklace for Moms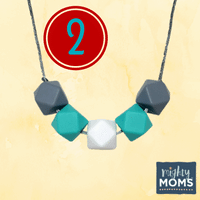 I love the idea of teething necklaces for moms.
If baby is going to be slobbering all over your necklace anyway (and let's be honest, he will), why not pick a necklace that won't poke and prod those sensitive gums in not-so-pleasant ways?
Comes in a variety of colors and styles, from chunky squares (like the one pictured here) to delicate circles and ovals.
Wonderful for breastfeeding moms with babies who need a light distraction to stay put and eat!
Food grade silicone that's non-toxic, BPA-free, Phthalate free, pretty much everything-bad-free.
Given 5 stars by 92% of reviewers.
See the Trendy Teether Necklace for Mom.
#3.  ZoLi Bunny Teether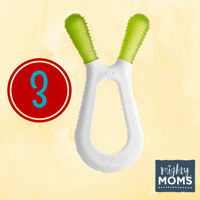 I love how retro this teether looks.  Like something straight out of the future.
Something the Jetson's used when their kids were teething.  If you like pulling unique items out of the diaper bag, this is the teether for you.
Oval design makes it easy for older babies to grip and carry.
Extending "ears" aren't too long, where they can kick in the gag reflex, but just long enough to help your baby get to those painful back molars coming through.
Comes in futuristic neon green and orange colors.
BPA and Phthalate free
Over 200 parents reviewed and recommended this teether
#4.  Maple Wooden Bunny Ears Teether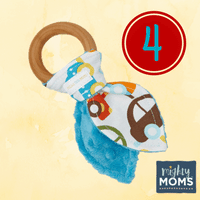 Evidently bunnies are "in" with teethers this year (and giraffes are "out"??).
This teether is not only a great soother for teething, the little "ears" have a lovely texture your baby will love to rub together.
In other words, it's a great way for baby to self-soothe before falling asleep on his own!
Has a natural maple hardwood ring, finished with beeswax for happy chomping.
The ears are 100% cotton backed with polyester minky (and are machine washable).
Comes in a variety of fabrics and colors.
See the Maple Wooden Bunny Ears Teether.
#5. Biscuit Teethers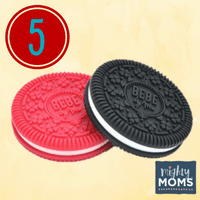 Aren't these little Oreos cookies adorable?? (Yes, I'm squealing.  Sorry.)
Two different teethers – one hard for older babies, one softer for starters.
Special ridges give your baby many different textures and senses to explore with his mouth.
Has a lifetime warranty.
Toxin and BPA-free
Freezer-friendly and machine washable
#6.  Chewbeads Mulberry Teether
Babies find the bumpy bead texture fascinating to gum and chew on.  They come in bright colors that will catch your baby's eyes, but not overwhelm yours.
A few other things to consider…
No BPA or other chemicals.
They can fit around mom's wrist, or be carried around the house in baby's grip.
Large beads, can be a hair-magnet if your house has pets.
84% of reviewing parents would recommend this teether.
Dishwasher safe for easy sanitization.
See the Chewbeads Mulberry Teether. 
#7.  Toofeeze Baby Teether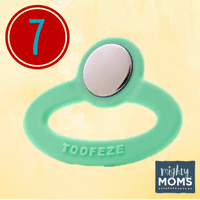 Besides having my favorite name (Toofeeze? Sounds just how a baby would say it!), this teether is like the swiss army of baby teethers.
Evidently the people at Creative Child agree, since they gave it a gold seal of awesomeness this year.  A few of the cool factors…
Chill the tootheeze down under cold water before handing to your teething baby, and it will reduce the inflammation of the gums instantly.
The stainless steel disk satisfies babies' innate craving for cold smooth objects.
Babies enjoy the reflection of lights and faces in the stainless steel.
Recommended by pediatricians.
Easy for baby to grip, with the steel disc reinforced so it cannot come off, no matter how hard your baby bangs it on the table.
#8.  Comotomo Baby Teether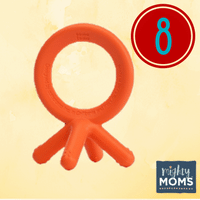 Yes, this looks weird.  Until you look at it like your baby looks at it.  Then it makes perfect sense.  Here's why:
Large circle, screaming to be gripped and carried.
Little nubs to grip or nibble on (reminds him of your fingers!).
Nubs are long-enough for molar teething, short enough not to cause accidental gagging.
Those might be the reason he likes it so much, but you'll like it because it's BPA-free, phthalate-free, and non-toxic.
You'll LOVE it because you can stick it in a sterilizer, dishwasher, or microwave without fear of chemical leakage or melting.
Are You Still
Searching for "The One"?
So how's your search for the Ultimate Baby Teether feel now?  Feeling a little more hopeful?
Like you might have a least a few more teething relief options to try?  If so, here are 57 other teething remedy suggestions to try as well.  You're welcome. 
Have you used any of these other teethers before?  Which do you think you'll try first?
We ♥  honesty!  This post contains affiliate links that provide extra money for our mutual coffee habits addictions. Click here to learn more.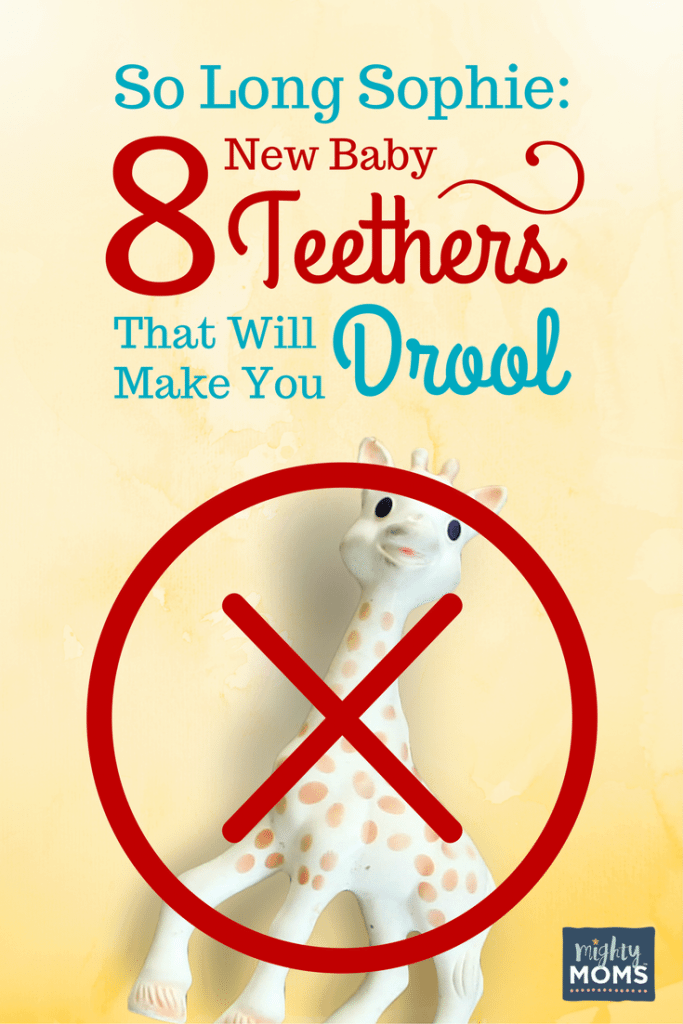 Comments