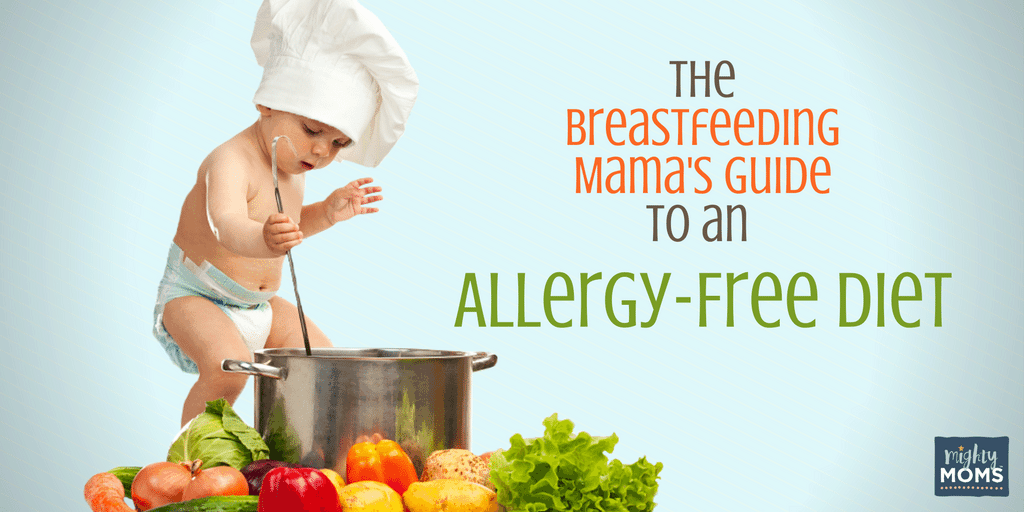 Do you suck at dieting?
Me too.
Except for this ONE diet.  That diet I rocked, mostly because the stakes were so great.
When I found out my baby had milk allergies, I went on an allergy-free diet and never looked back.
Do you suspect your baby has allergies? Are you considering switching to an allergy-free diet so you can continue to breastfeed?
If you answered yes, then this guide is for you.
After I survived an allergy-free diet, my inbox began to fill up with questions from mamas like you who were looking for help with nutritional labels, meal plans and eating out.
This post is the culmination of all those late night Facebook chats.
The Breastfeeding Mama's Guide to an Allergy-Free Diet.
And I won't even charge you a monthly fee 😉
Do I Need To Start an Allergy-Free Diet?
Before you eliminate any foods from your diet, you'll want to consult with your pediatrician and make sure that a change in diet is justified and safe for baby.
Some moms jump to food allergies when the real problem may be something else entirely.  Your pediatrician should be able to run a simple stool test to determine if allergies are the likely culprit.
If she suspects allergies, she'll likely suggest that you cut out all milk and soy from your diet for two full weeks (the amount of time it takes for your body to get rid of remnant allergens).
In the meantime, she may want you to pump and dump for a few days and instead use a hypoallergenic formula like Alimentum to see if things clear up.  If your baby's symptoms go away, then you can be almost certain you're dealing with allergies.
In most cases, cutting milk and soy from your diet will be the fix.  In more severe cases, however, you may need to cut out additional foods like wheat, eggs, tree nuts, fish, shellfish, and peanuts.
Why milk AND soy?  When your baby reacts to something in your milk, he's actually reacting to the proteins.  Milk and soy proteins are very similar, and your baby's body can't tell the difference.
If eliminating these foods still doesn't seem to be helping, your pediatrician may advise you switch to an amino-acid formula like Elecare …and that's okay.  Our #1 goal is a happy, healthy baby (and mama)!
Speaking of mama, don't forget to call YOUR doctor before you make any adjustments to your diet.  Tell doc what you're thinking of cutting and come up with a plan for getting the nutrients you need.
What Exactly Should I Cut?
It would be great if you could just look for the words "milk" and "soy" on nutritional labels and call it a day.
But that wouldn't be any fun, now would it?
So instead, the powers-that-be came up with a list of over 50 foods and ingredients that contain milk and soy proteins so you can play "I Spy the Allergen" at the grocery store.
And just to take it up a notch, they've also included some "gotcha" words like "soy lecithin" and "soybean oil" which are completely safe and merely designed to throw you off your game.  *face palm*
Thankfully, we found this handy cheat sheet from UW Health.
Do yourself a favor, and print it out right now. You'll thank me in aisle 7.
How Do I Make a Family Meal Plan?
There are two types of cooks: those who follow recipes and those who don't (ahem).
For the recipe followers…thank the Google gods because the Internet is full of allergy-free recipes.  Do a quick search for soy/dairy free, Milk Soy Protein Intolerance (MSPI), or paleo recipes and you'll be amazed at what pops up.  Here are a few resources to get you started:
You might also want to consider a meal-planning service like eMeals.  Choose the option that best suits your dietary needs (probably paleo), and they'll not only send you a list of recipes but a handy grocery list of everything you'll need to make those recipes.
Heather here!  I had to interrupt and shout "HEAR HEAR" to what Chelsea just said.  eMeals is amazing.  I can't imagine trying to feed my family without it.  Click here to try eMeals for free.
If recipes aren't your thing, just stick to the basics and make some slight adjustments.
Here are some simple breakfast ideas:
Oatmeal
Chex cereal
Fresh fruit
Toasted Italian bread
French toast (made with almond milk)
Omelettes
BACON!
And my go-to lunches:
Salad loaded with protein
Hummus platter
Tuna salad (mayo is dairy free!)
Tortilla chips topped with avocado, salsa, chicken, and veggies
Peanut butter and banana on toast
The key to making dinner is finding something that everyone enjoys and that mama can tweak.
My own mama had a formula for nights when she wasn't using a recipe: Meat + Starch + Veggie = Dinner.  In my experience, this works really well for allergy-free cooking.
Here are a few examples:
Chicken breast (cooked in olive oil) + Baked sweet potato (topped with Earth Balance spead) + Roasted green beans (seasoned with olive oil, salt and pepper) = Winner, winner, chicken dinner!
Ground beef + Tortillas (corn tortilla chips for you) + Taco fixins (Mama substitutes avocado for cheese) = Taco Tuesday!
Italian sausage + Pasta + Homemade spaghetti sauce with mushrooms and olives (plus parmesan for the family) = Spaghetti Night!
Do You Recommend Any Products?
Aside from fruits, veggies and proteins, there are lots of great allergy-free products out there! Here are ten of my favorites:
Earth Balance Soy Free Buttery Spread (red container) – My #1 can't-live-without-it product.  You can find it in the dairy aisle next to the margarine.
Canned tuna in water
Italian sliced breads – Most don't contain milk, so just look for the red, green and white packaging.
Lay's potato chips
Hershey's chocolate syrup
Silk Almond Milk – Great for cereal and baking.
So Delicious Coconut Ice cream
Enjoy Life chocolate chips (also check for cheaper store brands that are soy/dairy free)
El Milagro tortilla chips
Ronzoni pasta (if you have to cut wheat)
Can I Still Eat Out?
Restaurants are becoming more allergy-friendly.  Many chains like Red Robin, Chilis, and Applebees now have allergy menus readily available.
If a restaurant doesn't have an allergy menu, chances are you can still eat! Some restaurants will send the chef to your table to discuss your dietary needs.
You can also request made-to-order items.  Order a garden salad and dress it with oil and vinegar.  Ask for a steak cooked with no dairy or soy products.  Get a side of roasted veggies or a baked potato with olive oil.
You may not be able to get your favorite dish, but hey, you won't have to cook.  That's something, right?
What Should I Do at a Dinner Party?
I know it's tempting to decline invitations because of the "hassle", but you should go! Friend, you can't allow your diet to dictate who you spend time with. Your friends and family love you and your baby…crazy diet and all. Just politely make the host aware of your restrictions and offer to bring your own meal if it'll make things easier.
If your host insists on cooking an allergy-free meal, feel free to offer some suggestions or recipes. You can also offer to bring a side dish that you CAN eat, like a big salad or a loaf of garlic bread made with your special spread.
You've Got This!
It's hard, mama.  I know.  But take it from someone who has crossed the finish line…it's also doable and completely worth it.
You have the best motivation in the world: a happy, healthy baby!  So make a plan, take it one step at a time, and enjoy the insane amount of steak you're in for.
You deserve it 😉
How about you?  Are you or have you been on an allergy-free diet?  What tips can you share with your fellow feeders?
Have You Read These Yet?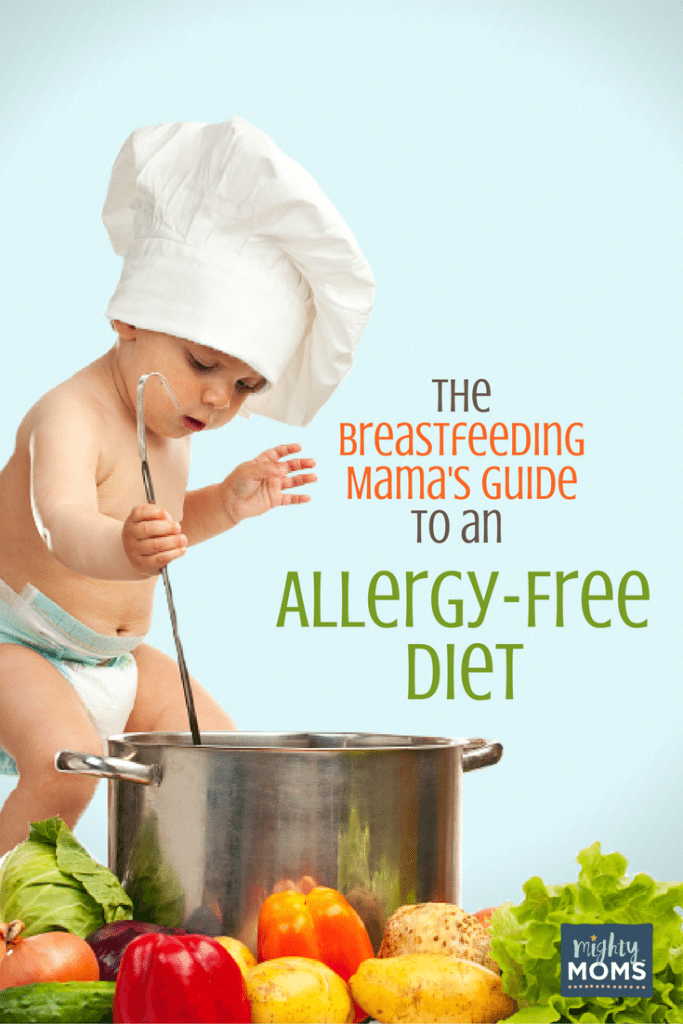 We ♥  honesty!  This post contains affiliate links that provide extra money for our mutual coffee habits addictions. Click here to learn more.
Citations
http://www.uwhealth.org/healthfacts/nutrition/580.pdf
http://www.choa.org/Child-Health-Glossary/~/media/CHOA/Documents/Child-Health-A-Z/Special-Diets/milk-soy-protein-intolerance.pdf
http://www.hellobee.com/2012/06/04/beyond-colic-milksoy-protein-intolerance/
Comments