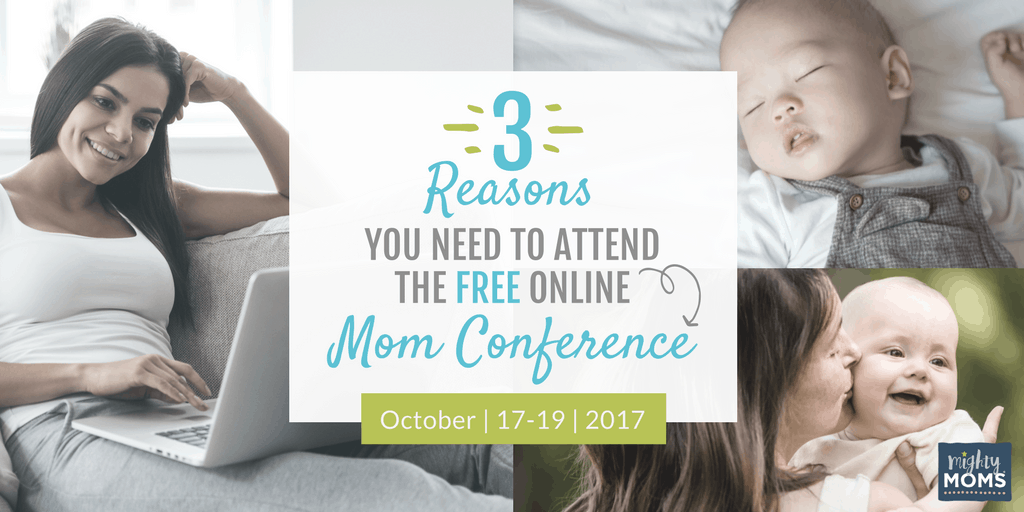 I will be honest with you. I'm not usually a huge fan of conferences.
They cost a lot of money (traveling there, sleeping there, eating there…).
Usually the break-out sessions I'm most excited about are at the same time, which means I have to choose one or the other.
After making my choice, I can't nag the feeling that I chose poorly. That surely that OTHER session was more helpful than the one I picked, but too-bad-so-sad, it's over and I can't go back.
I leave with a lot of free junk (yay! another squishy ball with someone's logo on it!), but a lot fewer practical tips and suggestions than I was hoping for.
In other words, conferences frustrate me. It's a lot of time, money, effort for a pathetically small payout.
So I stopped going to them. 
Until last year, when someone told me about the free online Mom Conference.
Online? Now we're intrigued…
Let me share with you three reasons I've done an about-face and am eating my "I hate conferences" hat.
In fact, I've even gone as far as volunteering my time to teach in one of the sessions. (Which means I'm making sure that my class is full of valuable practical tips. No one is leaving without having encouraging to-do steps on MY WATCH!)
You Should Attend the Mom Conference Because…
It's Convenient.
Picture this:
You.
In your pajamas.
On your comfiest couch (or, in my case, in my favorite rocking chair).
No makeup.
Bra optional.
Sipping a warm beverage.
Resting in the fact the kids are sleeping, or with Dad, or at Grandma's and you get the next hour or so all to yourself.
Listening (or watching, if you prefer) to some really amazing women talk about the daily struggles we have as mothers, and the tiny easy things we can do to make life easier.
Now THAT is a conference I can rally behind.
Or, perhaps, you don't have the luxury of lounging in a rocking chair for an hour. Why not listen to it in the car while running errands? Or as you're folding laundry? Or while you're making lunch?
The best thing about the Mom Conference is that you can fit these helpful talks around the rest of your life. It's a hassle-free game-changer.
You Should Attend the Mom Conference Because…
It's Actually USEFUL.
Are you struggling with kids who bicker and fight all day long? BAM! There's a talk on how to overcome sibling rivalry.
Do you feel isolated and alone in your marriage? BAM! There's a talk focused on bringing you both back together.
Are you frustrated with repeating yourself ten zillion times a day and wished your kids would listen better? BAM! There's a talk centered around practical ways to help your children learn to obey.
Do you feel frustrated that your baby is still struggling to sleep through the night? BAM!  There's an AH-MAZING speaker *coughcough* who will walk you through various strategies to avoid the most common sleep training mistakes parents make. (Really, she's amazing. She should have a website called Mighty Moms or something…)
You don't have to pick and choose the various talks, and then miss out on some of the best ones. You can listen to every. single. one.
Click here to see the Mom Conference speakers and topics. They are all there to share their encouraging wisdom and practical (but not necessarily common-sense) tips, in a format that is as easy as possible for busy Moms like us to absorb.
You Should Attend the Mom Conference Because…
It's FREE.
Okay, my last favorite reason you really need to register or the Mom Conference is because you can listen to all these shoulder-strengthening talks for free. 
All you have to do is make sure you sign up here to get on their email list. On the mornings of October 17th, 18th, and 19th, you will get an email that shares all the talks that are available for that day.  You will have 24 hours to listen to those talks completely for free.
If you need more time, or you want to listen to a talk again, you can upgrade to a Basic Package to get unlimited access to all the talks, but it's not required. It is completely possible you could sit and listen through the conference without spending a penny (well, at least not a penny more than that Pumpkin Spice Latte you're sipping).
Where else can you do that?
Yep. Nowhere. 
The Option to Upgrade and Save $50 – $60
Like I said before, you can absolutely watch the Mom Conference for free on October 17 – 19th. That said, there are priced packages for those mamas who want a little more convenience and a little more practical how-to help.
The Basic Package allows you to download all the talks and listen to them at any time (not just during the conference) and as often as you want. If you purchase this package before the conference begins, you can save $50 off the regular post-conference price.
The Premium Package allows you not only to download all the talks, but also includes multiple special worksheets and other speaker-bonuses that help you implement and use the suggestions given during the talk.
Both packages are perfect if you'd like to listen and absorb all the speakers, but don't want to be glued to a specific time frame and want the benefits of the extra workbooks and tools that come with an upgrade.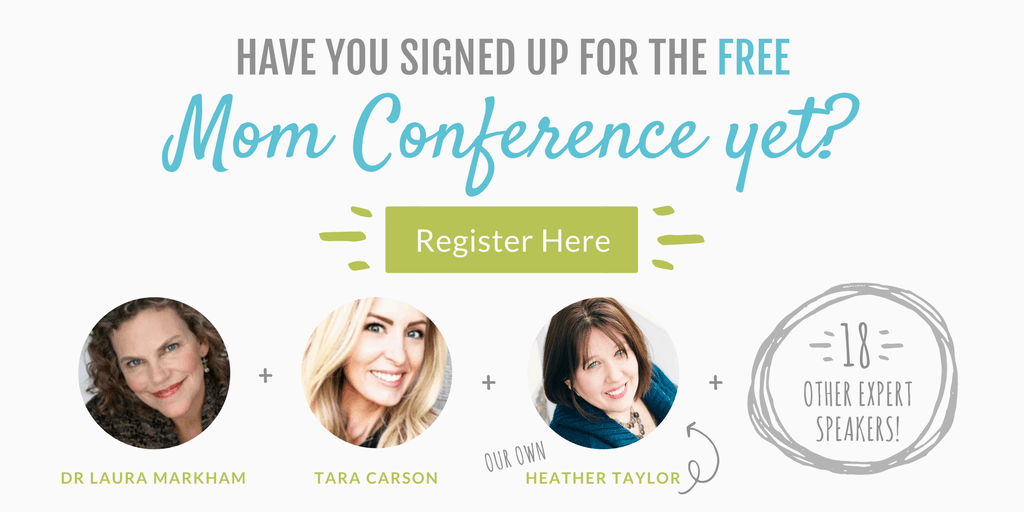 Strength for Your Weary Shoulders
One of the greatest strengths we have as mothers is each other. Just listening to the creative solutions other Moms and Dads have used to fix the endless parade of struggles that seem to come from our offspring can be a HUGE morale booster for the weeks and months ahead.
Honestly, doesn't it feel good to just know that other moms have faced these same struggles and overcome them? That they have kids that fight, marriages that take work, and babies who don't sleep too?
That's what the Mom Conference does best, I think. It provides a community of problem-solvers, for free, in your living room.
There's a reason, though, this event only happens once a year. It's designed to be GOOD. And good things take time to grow. The perfect speakers have to be found. The best topics have to be chosen.
Don't miss this year's Mom Conference because you forgot to sign up and get the email reminders. (That would totally stink.)
Sign up here and have the Mom Conference emailed to you the moment the virtual doors open. 
I will see you there!
*wink*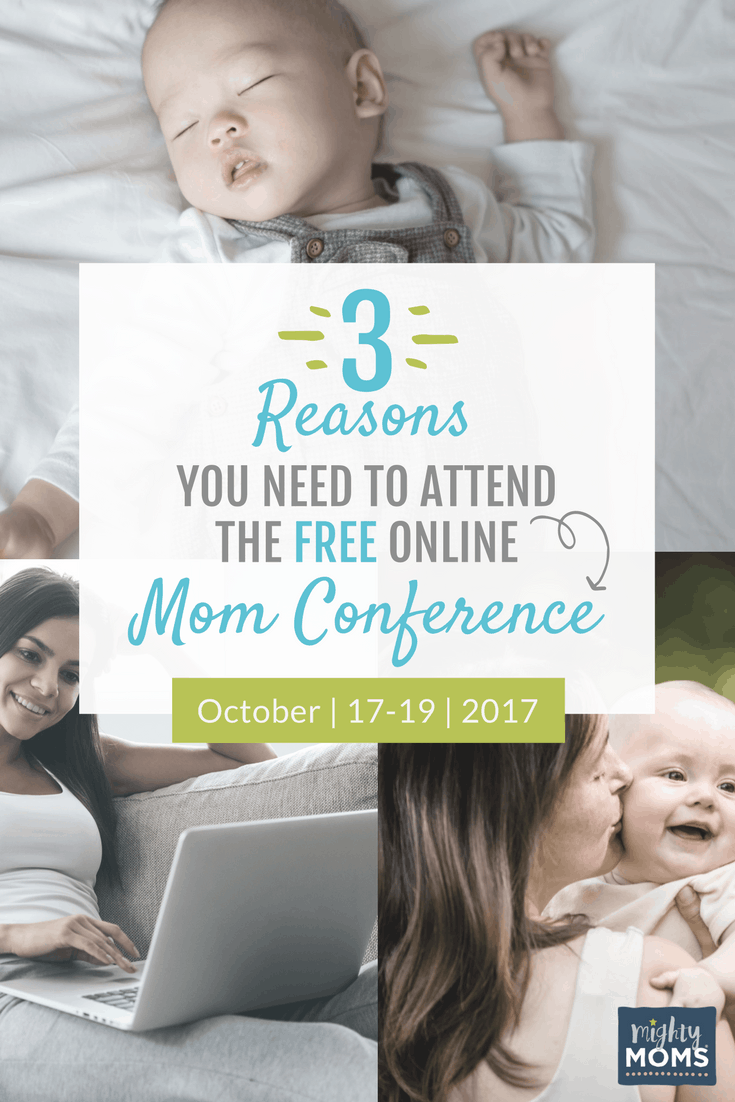 We ♥  honesty!  This post contains affiliate links that provide extra money for our mutual coffee habits addictions. Click here to learn more.