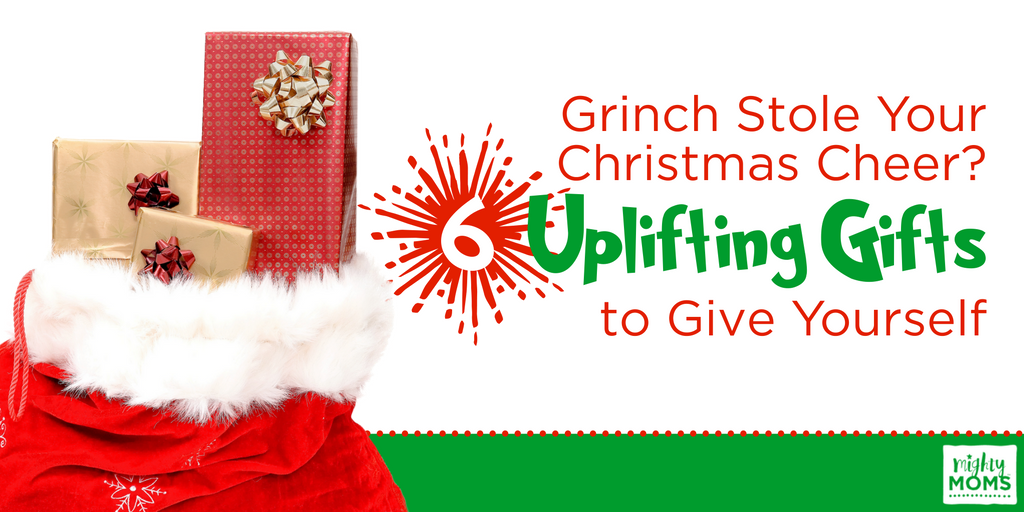 What's your current Christmas Cheer quotient?
Is your merry heart singing Joy to the World? Or has the Grinch stolen all your joy?
Mama, if you're feeling like a Grinch, you are not alone!
The holiday season has a way of squeezing a mama's heart with all the pressures of the ideal Christmas:
A perfectly clean house
Yummy food from scratch—all the time
Extra fun Christmas activities for the kids
Gifts so beautifully wrapped you don't want to open them
Not offending anyone in the extended family
Making an appearance at all the parties
Looking ah-mazing for all those parties
The list could go on—and all of this is on top of the normal stresses of everyday life: work, parenthood, relationships…
That Grinch is a nasty one.
His two-sizes-too-small heart offers no mercy!
He will steal all the joy out of your Christmas and turn your Christmas Cheer into a Christmas Sneer any way he can.
He'll plant tiny seeds of discontentment in the garden of your heart…
When you see your happy Instagram friends and their perfect Christmas trees and mugs of cocoa while you are microwaving your coffee for the eighth time while telling your toddler—AGAIN— that No, he may not climb the (still-bare) Christmas tree… and he'd better not even think about throwing grandma's gift into the—splash!…. toilet. 
When you see all of those shiny, pretty things while shopping, the things you really can't afford, Grinch will take that eye twinkle and turn it into a heart snarl that won't rest until it has it's precious prize.
When you are so busy buying gifts for—wait, whose name is this on the gift list? I think Winifred is my… third cousin? Twice removed? Why do we still exchange gifts again?—that you are left with zero energy for enjoying the reason for the season.
When you feel guilty about all the big crafts and baking exchanges you're NOT doing, causing you to forget the little things that mean most of all: the books read, the spontaneous walks, letting the kids stay up 10 extra minutes for hot chocolate, or driving an extra block to see the lights.
See? I told you. NASTY, that Grinch.
But there's still time! It doesn't have to be this way.
I want to help you avoid having your heart squeezed and shrunk under the pressures of the holidays.
Here are six gifts that will get your heart as joyful as a Who in Whoville (minus the incoherent singing).
The Gift of CONTENTMENT
Don't be a Grinch:
But, whatever the reason, his heart or his shoes,
He stood there on Christmas Eve hating the Whos,
Staring down from his cave with a sour, Grinchy frown
At the warm lighted windows below in their town…
One of the major factors in the Grinch's… well, Grinchiness… was a discontented heart.
He sat there watching other people be happy instead of making his own happiness! That is surely a recipe for the Christmas grumpies. So, before we look at any of the other gifts, let's remember:
Don't compare! Comparing yourself to other people will only make you see the areas where your life seems to be lacking.
Enjoy what you have. Choose to count your blessings instead of focusing on the imperfections.
Let me give you a few real-life examples of what I'm talking about – right out of my living room.  Don't worry, you won't be impressed, I promise. Prepare to feel like a sister.
Example #1: The Real-World Christmas Tree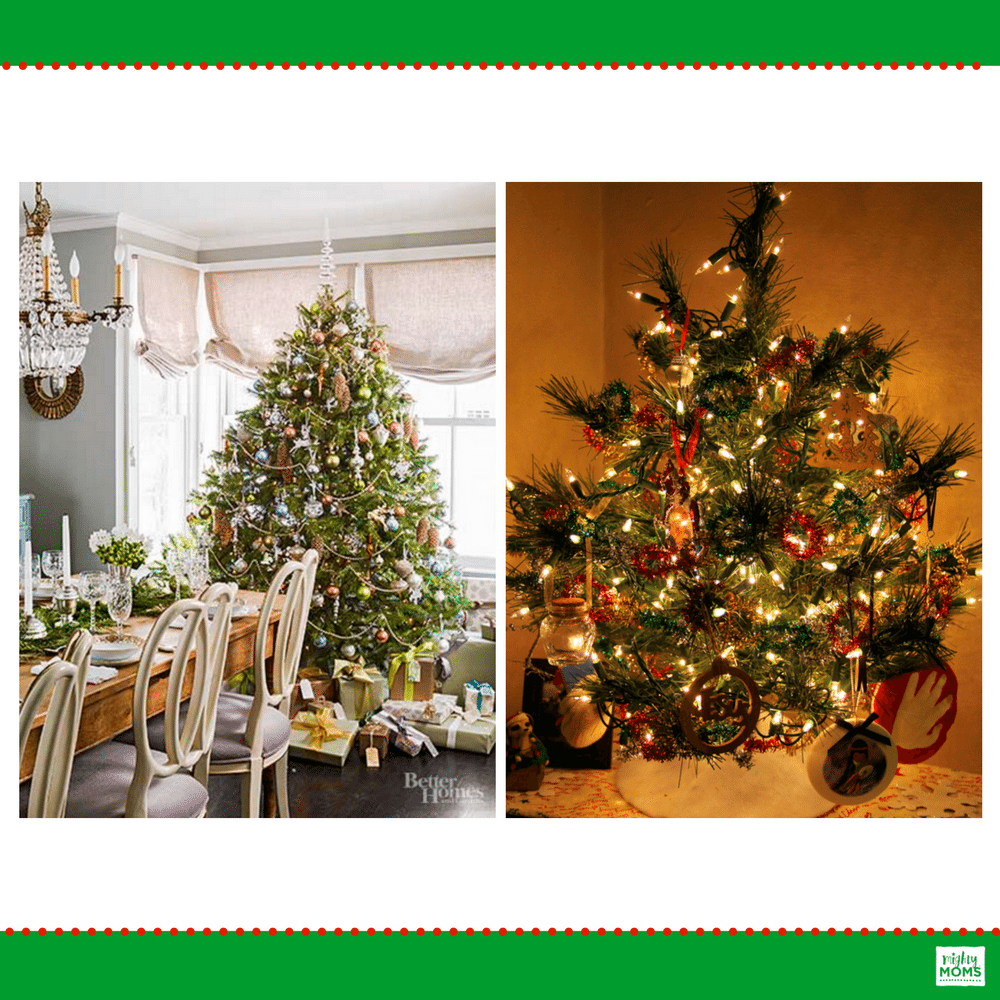 On the left, the perfect Better Homes and Gardens Christmas tree.
On the right, the tree we had up last year.  It's two-feet tall, placed high on a shelf, protected from tiny hands, but decorated by tiny hands.  And don't miss the festive meerkat placed randomly in the bottom corner—for good measure.
Example #2: The Real-World Nativity Set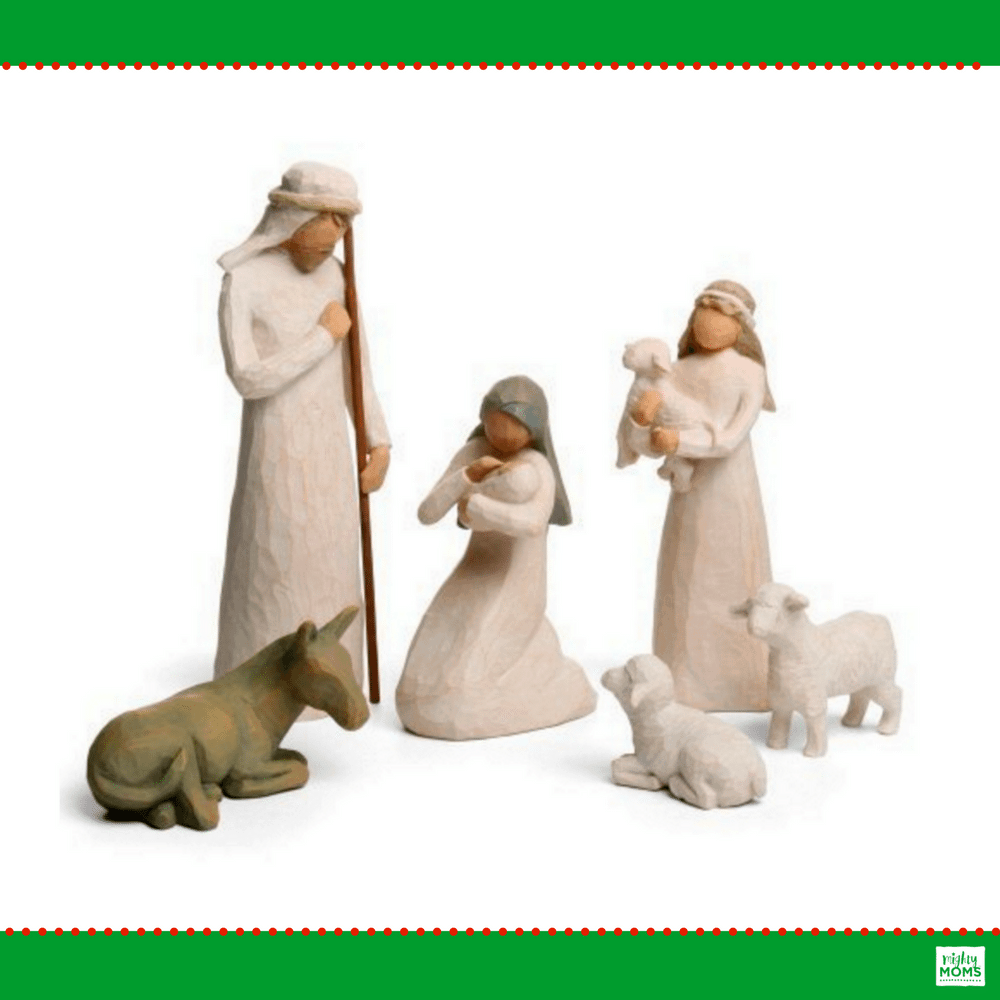 Or take the ideal Christmas nativity scene: a minimalistic wooden depiction of Christ's birth.  Just gorgeous, right? (BTW, you can find it here.)
Now compare that amazing piece of artwork with our various nativity scenes from the past four Christmases: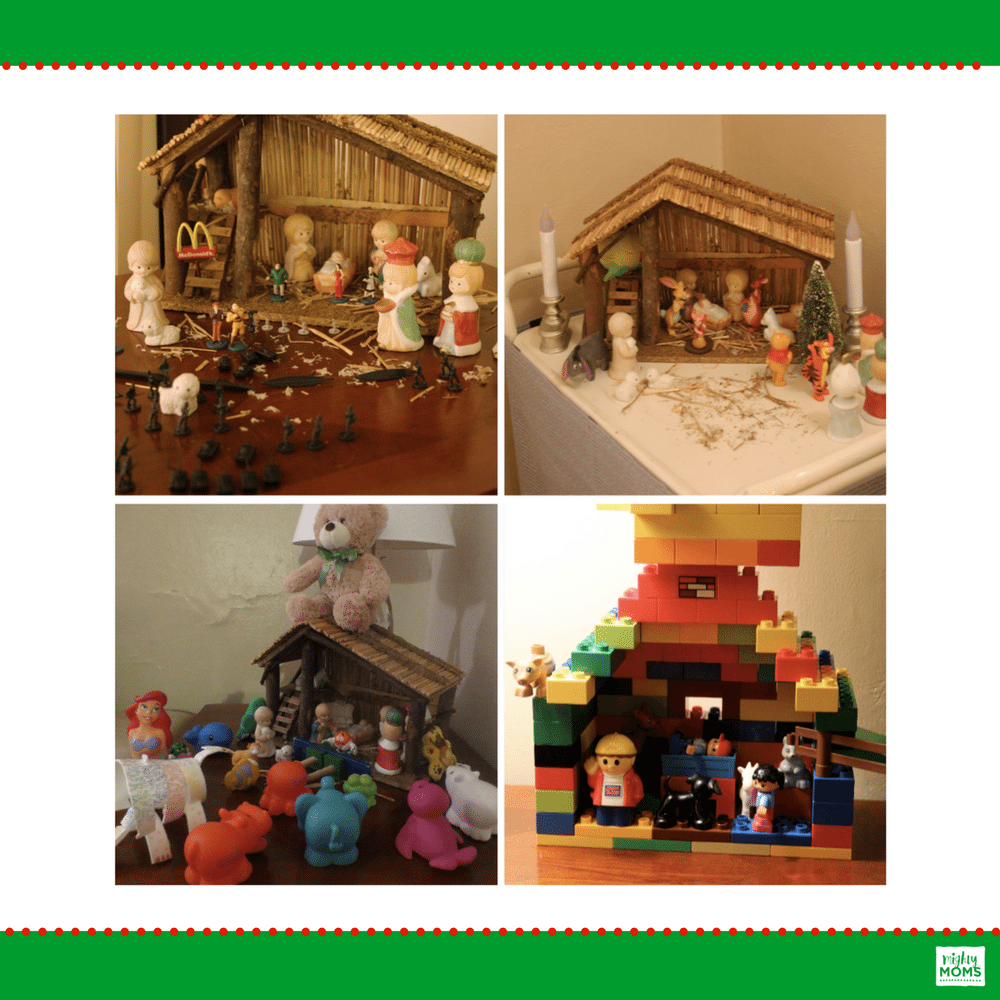 If you think the children did this, you are WRONG. Do you know who did this? My husband.
My husband, people.
And I love him for it.
He helps make this uptight mama a little more loose. I've learned to enjoy this fun new Nativity tradition instead of allowing my type-A tendencies to ruin all my joy over these outrageous creative nativities.
Ladies, flexibility is key.
When your family Christmas photo shoot looks more like the outtake reel, enjoy the funny faces!
When your toddler wants to help wrap the gifts, forget what people think of the final product. Make a memory.
When the roast beast gets a bit burnt (or the Grinch steals it), thank God for takeout and have a good laugh (and another one of those chocolate mint truffles that, hallelujah, turned out okay).
Every detail about your Christmas season absolutely will not be perfect. Guaranteed.
Choose contentment anyway.
The Gift of TIME
Don't be a Grinch:
And the more the Grinch thought of this Who Christmas Sing,
The more the Grinch thought, "I must stop this whole thing!
Why for fifty-three years I've put up with it now!
I must stop Christmas from coming! But how?"
Wait, what?!?
The Grinch spent 53 YEARS agonizing over how much he hates Christmas. But he didn't start doing something about it until the night before.
Procrastinate much?
So, for starters, don't wait till the night before Christmas to start your shopping, cooking, and decorating.
And, when you begin to feel overwhelmed by all that the holiday season entails, it may be time to call in the Christmas Cavalry:
You don't have to do it all! Buy back some of your time this holiday season so you can enjoy the fun parts.
The Gift of RELAXATION
Don't be a Grinch:
Then he growled, with his Grinch fingers nervously drumming,
"I must find some way to keep Christmas from coming!"
Then the Grinch said "Giddyap!" and the sleigh started down
Toward the homes where the Whos lay a-snooze in their town.
All their windows were dark. No one knew he was there.
All the Whos were all dreaming sweet dreams without care
When he came to the first little house of the square.
Mr. Grinch, what are you doing?! Everyone else is sleeping, and here you are, angrily riding around town all night long!
Seriously, man. R-E-L-A-X!
Do you need a little relaxation to bring back your Christmas cheer? Try sprinkling some of this glitter into your schedule (or onto your wish list):

Learn how to give (and receive) great massages with Melt Couples Massage courses.
Pamper those tired feet with a foot spa.
Try out this pedicure kit I've loved using for years!
Wood Wick Candles sound—and smell—like you're basking by the fireplace. All you need now is a mug of Ghirardelli hot cocoa!
Relax your muscles with guilt-free bubble bath—sans chemicals.
Or throw a bath bomb into the tub (preferably one recently cleaned by that maid).
Diffuse a calming blend of essential oils.
Another way to make your house smell (and taste) AH-MAZING: simmer some cider on the stove with these mulling spices.
One word: chocolate.
I don't know about you, but I feel relaxed just reading this list.  Isn't it nice to know these options actually exist?! Now we just have to choose to do a little pampering and actually DO them! 🙂
The Gift of FUN
Don't be a Grinch:
For, tomorrow, I know all the Who girls and boys
Will wake bright and early. They'll rush for their toys!
And then! Oh, the noise! Oh, the noise! Noise! Noise! Noise!
There's one thing I hate! All the NOISE! NOISE! NOISE! NOISE!
Now that you're relaxed, embrace the noise!
What kind of fun can you put on your family's Christmas wish list?
Sign up for dance classes with your man.
Take a family trip to the nearest Great Wolf Lodge or other indoor waterpark.
Get artistic. Try a new coloring book or SLR camera.
Do a Christmas craft (like this felt Christmas tree) with the kids.
Go on a dinner and sleigh ride date night out—without kids. Three cheers for babysitters!
Get a pass to the nearest zoo, museum, state park, botanic garden, amusement park, or historical society, and enjoy it year-round
Make memories that will last!
The Gift of GIVING
Don't be a Grinch:
Then he slithered and slunk, with a smile most unpleasant,
Around the whole room, and he took every present!
Part of the Grinch's problem was that he forgot that Christmas is a season of giving.
Here are some ideas to get you thinking about how you can help make Christmas a bit merrier for those who are truly in need.
Bonus: You can use these outreach opportunities to teach your children what selfless love looks like—and have fun doing it!
Maybe you'll even end up starting a new tradition!
The Gift of PURPOSE
Don't be a Grinch:
The Grinch hated Christmas! The whole Christmas season!
Now, please don't ask why. No one quite knows the reason.
It could be, perhaps, that his shoes were too tight.
It could be his head wasn't screwed on just right.
But I think that the most likely reason of all
May have been that his heart was two sizes too small.
Why do you celebrate Christmas? What is your purpose in the holiday season? Ok, besides having an opportunity to watch Elf for the 43rd time.
We all know that Christmas is not supposed to be about stress. Or about getting stuff. Or about making your home spotless to impress people.
As a Christian, my purpose in celebrating Christmas is to remember the day over 2,000 years ago that God came to earth as a man to rescue His people. We celebrate that by giving to others, doing activities to remember Jesus' birth, and spending time with our family and dearest friends.
Take some time to think about WHY you celebrate Christmas.
And then be Very Brave and Daring: Let go of anything that doesn't fit with your purpose during the holidays. Find your inner Elsa and let it go.
Some of the best times I've experienced at Christmas have been a direct result of keeping things that help me focus on my purpose, and letting go of things that don't:
In an effort to carry on a holiday tradition, my mom and sister and I get together for a Saturday every year to make Bohemian Christmas houska (an all-day affair worth every delicious bite). We used to try to do this before Christmas. But when we realized this turned us into Grinches, we've now made it an early January tradition! And it gives us something to look forward to after Christmas is over.
Every year, I like to ring in the Christmas Music Listening Season by listening to my Behold the Lamb of God album. It helps me focus my mind on the reason I celebrate Christmas.
One Christmas, 70% of my family was sick. So we postponed it. Yep. Who said Christmas has to be on December 25? That's not even the day Jesus was born, anyway.
Last year, I created Kim's DIY Advent Calendar for my daughter. It's a great opportunity to do crafts and read books that teach her about Christmas. She loves it.
I used to help decorate for an annual Christmas party. One day it dawned on me that it had become another item to cross off the to-do list. So I've put that on the back burner for a season when I'm not chasing toddlers and the kids can help me decorate instead!
Even the Grinch learned that there is something more to Christmas. Let's see what happened once he found PURPOSE in his Christmas:
It came without ribbons! It came without tags!
It came without packages, boxes, or bags!
He puzzled and puzzled till his puzzler was sore.
Then the Grinch thought of something he hadn't before.
Maybe Christmas, he thought, doesn't come from a store.
Maybe Christmas, perhaps, means a little bit more!
And what happened then? Well, in Whoville they say
That the Grinch's small heart grew three sizes that day!
And then the true meaning of Christmas came through,
And the Grinch found the strength of ten Grinches, plus two!
Allow your heart to grow three sizes this holiday season.  Give yourself…
The gift of CONTENTMENT
The gift of TIME
The gift of RELAXATION
The gift of FUN
The gift of GIVING
The gift of PURPOSE
What are some of your favorite ways to cope with holiday stress and avoid turning into a Grinch?
Comments