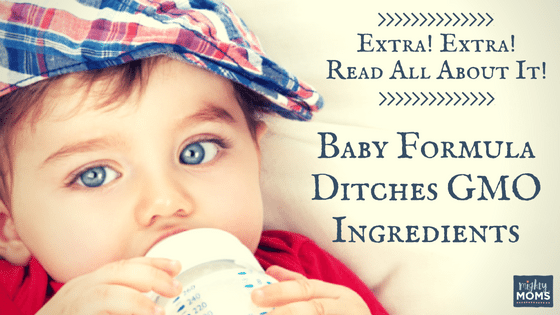 Options. A beautiful thing, really.
It's nice to be able to gloss over the yellow gown (which makes me look like a sickly vampire) and choose the vintage flirty blue dress instead.
It's relieving to skip out on fashion trends like the hula hoop purse, and select something more practical.  Something I can squeeze into an armpit while juggling offspring, perhaps.
I know it doesn't seem like a big thing, but can you imagine a life where we didn't have options?  Where everyone had to do the exact same thing?
Here at Mighty Moms, giving options is one of things I obsess about.  My goal, with every post I write, is to present parents with a buffet of options that might suit them and their family best.
I hunt up options about everything.
So when I heard about a new option for formula feeding parents, I knew I HAD to share it with you, or risk the destruction of the entire universe as we know it.  #dramaticnever
It's a new formula option for parents who aren't fans of GMO.
What is a Non-GMO Baby Formula?
GMO stands for genetically modified organisms.
Basically, scientists copy a plant or organism's gene and then use it in another plant.
Why all the hocus pocus gene-mixing?
Well, they may do it to increase a crop's yield (more wheat grains on a single stalk, for example), or perhaps to make it more nutritious, or perhaps to make it resistant to droughts or insects.  (A great bonus in third-world nations.)
Or, for a more culturally-relevant example, it's the plot of Jurassic World... only without the deadly terror and (most unfortunately) without Chris Pratt.
And I do mean "without the deadly terror".  GMO's have been declared as safe by the U.S. Food and Drug Administration and World Health Organization. So, to boil it all down to a simple explanation, a non-GMO baby formula is one that is created using 100% non-GMO ingredients.
(I know.  My brilliance stuns.)
Similac Advance is the first and only leading infant formula brand labeled non-GMO in the U.S.  *tipping my hat*
It's another choice for parents using formula to feed their baby.  If your parental instincts make you wary of GMO ingredients, this should sound like Christmas.
You finally have a non-GMO formula option!
Good Formula News!
(And Bad Formula News…)
The good news first, because I'm an optimist.
You can try the new non-GMO formula without risk.  
Similac has something called the Tummy Care Guarantee, and it's wonderful.
Basically, if your baby rejects a Similac formula, they will refund your cost and let you try another one for free.  So honestly, if this non-GMO formula sounds like something you'd like to try, you can switch and know your costs are covered.
A sweet deal.  Especially for babies with opinions.  (Been there, friend…)
Even better, if you purchase this formula in bulk, you can find some serious wallet-happy savings. Click here to check Amazon's pricing. (Don't forget to put it on your Subscribe & Save account for more discounts and automatic shipping so you never run out!)
What do you think about this new non-GMO formula?
Will you give it a try? I'd love to hear how your baby does on it!
Have You Read These Yet?
A quick note on commenting…
The whole GMO thing can be somewhat heated, and the purpose of this article was certainly not to enter into that debate arena, but rather to share this new formula opportunity for parents to try.  I always welcome comments, but would ask that you make sure your comments follow these two basic rules:
Please make sure that if you are making a claim, you include the citation.  

Politeness always wins the day.  Name calling, inflammatory language, and disrespect isn't something I will publish.  Ever. I'm all about the good 'ole days when people could have disagreements and still be friends.  If you are going to use those tactics, don't waste your time submitting a comment that I won't approve.
We ♥ Citations
http://www.fda.gov/Food/FoodScienceResearch/Biotechnology/ucm346030.htm
http://www.who.int/foodsafety/areas_work/food-technology/faq-genetically-modified-food/en/
http://factsaboutgmos.org/
https://static.abbottnutrition.com/cms-prod/similac.com/img/SIM-PDF-NON-GMO-FAQ.pdf
http://www.abbott.com/newsroom/news/new-non-gmo-formula-for-us-parents.html
Comments