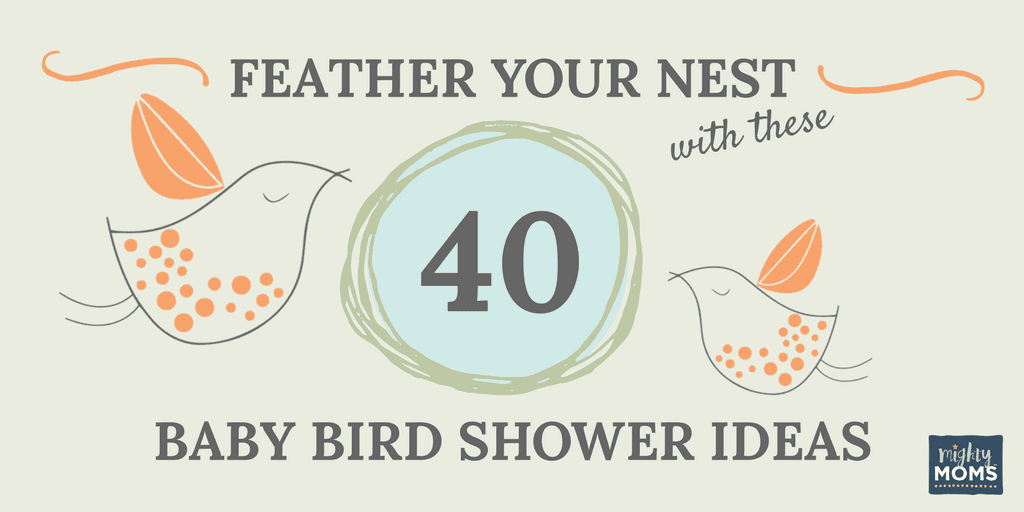 Have you ever been to a really good baby shower?
You know, one that was just so well done you felt like YOU were the one being pampered and fussed over? There is something so satisfying to throwing a baby shower you know everyone will be talking about for years to come.
That's exactly what's going to happen when you used these baby bird shower ideas. Your guests are going to walk into the room and gasp with excitement and wonder at all the girlish fun we're about to have.
It's like having Christmas, but at random times for people who thought they were attending an obligation, but really end up having had the best 3 hours they've had in a long, LONG, time.
And you, my pregnant friend, will be right smack-in-the-middle of that memory. *wink*
You know, if "baby bird shower ideas" aren't really your thing, check out these other baby shower theme ideas! They are just as sure to impress!
Baby Bird Shower Ideas:
6 Inspiring Invitations
Throwing a memorable baby shower starts by receiving a memorable baby shower invitation! These designs are so beautifully precious, your guests will have them tossing them aside when the party is over! (Bonus: They will look beautiful tapped into your baby's journal!)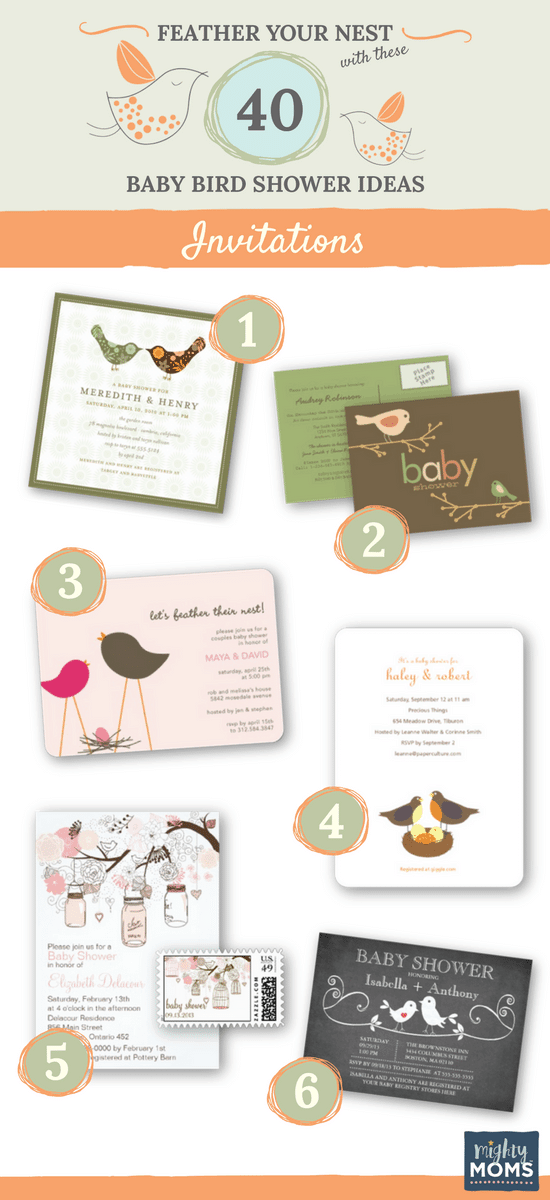 1.  Pattern Peck ~ this is a great gender neutral option. 
2.  Mod Birds ~ a charming modern design.
3.  Bare Nest Chenille ~ a couples shower invitation.
4.  Nesting Robins ~ an exclusive orange polkadot design.
5.  Mason Jar Love Birds ~ love this whimsical baby shower invite.  Don't forget the matching stamps!
6.  Vintage Chalkboard ~ another clever couples baby shower invitation.
Baby Bird Shower Ideas:
7 Delectable Desserts
When it comes to making a good Wowzers impression on party goers, sweet little "spoiling" treats take a standard occasion and transform it into the stuff of legends.Here are 7 ideas to get your salivary glands going.

1.  Mini-Bird's Nest Cupcakes ~ These probably aren't the best choice if the words "fondant" and "chocolate mold" make you nervous. That said, if you're a baking fiend, dive right in! Cakegirls gives you the supplies and step-by-step instructions to recreate these showstoppers in your own kitchen.  
2.  Strawberry Cupcakes with Toppers ~ Adding a swirl of frosting, coconut, and a fancy cupcake topper is a fast way to style-up a standard (or boxed-mixed) cupcake. Idea and photo from Project Nursery. 
3.  Bluebirds in a Nest Cupcakes ~ Of course Martha Stewart has to have a cute design for this! I would have been grossly disappointed if she didn't have something here for me to link to.  
4.  Adorably Easy Jordan Birdies ~ This is what happens when you love Jordan Almonds and have a creative mind like Sweet Sugar Belle.   
5.  Bluebird Brownie Pops ~ Finally something for brownie lovers.  (Yes, some people really do prefer brownies over cake.  Or so I hear…) Get the full recipe and steps for this at The Decorated Cookie.  
6.  Springtime Fizzy Drink ~ Mix Sprite with pink lemonade and some fresh blueberries for a fresh fizzy spring drink (inspired by Pinterest). Don't forget, of course, the striped straws for a polished finish.
7.  Little Birdie Told Me About This Sugar Cooke ~ Yes, these are as difficult as they look on The Bearfoot Baker.  BUT!  Really, if you had these sugar cookie cutters and a royal icing recipe (gotta go with Alton's recipe), your flock of cookies will look more eccentric than "homemade". A win-win! 
Baby Bird Shower Ideas:
4 Edible Nests
I realize these should have included in the round-up photo above…but there were so many amazing ideas when it comes to edible nests, that I felt it would have been doing them an injustice. They deserve to be set apart.
These are all smaller, individual edible nests.  If you're looking for a show-stopping singular centerpiece, check out this Mega Cookie Nest. A lot of work, but my GOSH, no one will ever forget it!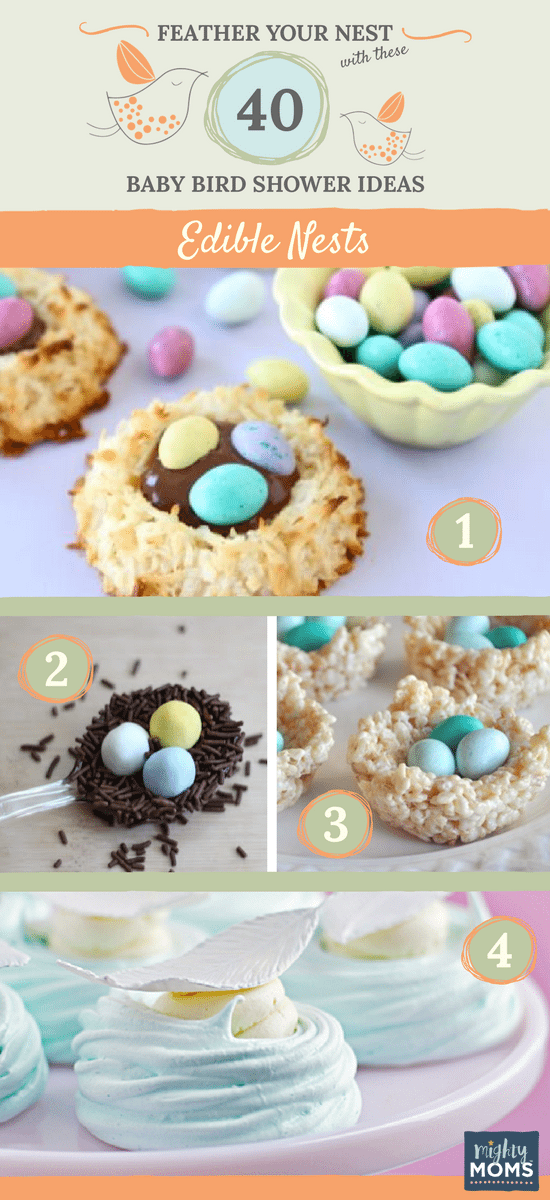 1.  Coconut Macaroon Nutella Nests ~ Technically these are little cookies, with a schmear of Nutella deliciousness and mini-eggs.  Twenty minutes, tops, and you've done something that looks like it was a lot of work. Get the recipe.
2.  A Spoonful of Sugar Candy Eggs ~  Attention all Non-Cooks!  If you can push buttons on a microwave, you can make these little nest spoons.  Want to make it look more polished?  Ditched the plastic spoons for regular silverware – or (even better) these adorable appetizer spoons.  
3.  Rice Krispie Nests ~ This is another fast (yet impressive) dessert option for those feeling a time crunch.  Who doesn't like the crunchy/chewy awesomeness of a Rice Crispie treat?  Just don't forget the candy eggs, or they will look like sad, smashed bars.  
4.  Pastel Meringue Nests ~ I love serving meringues at parties because they look sooooo impressive, but really are brain-dead simple.  They are the epitome of "special".  After all, who says, "I'm just going to whip up some meringues,"?  No.  If you're making meringues, it's for an exciting reason. Feels like fine dining, only you're in the living room with all your closest friends. 🙂 Follow the recipe at Sweetapolita.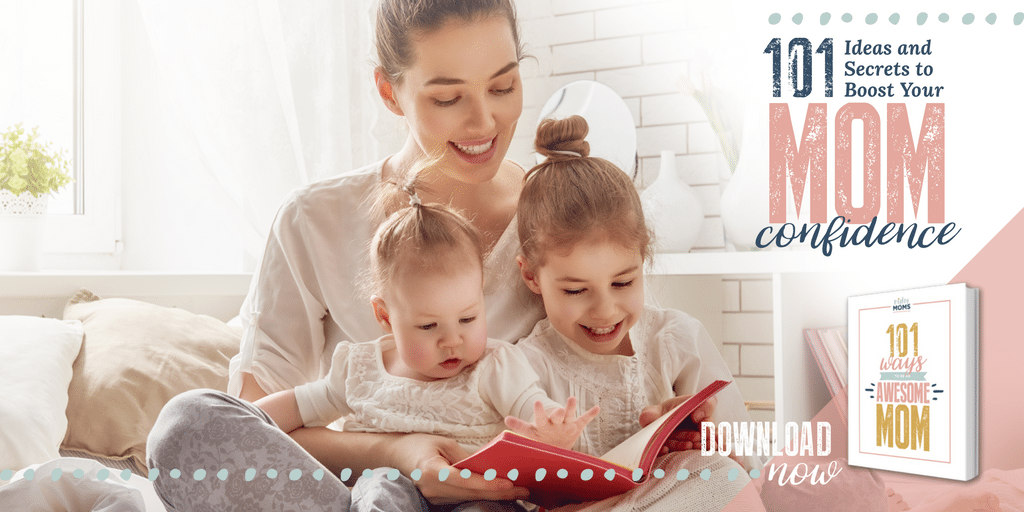 Baby Bird Shower Ideas:
5 Adorable Table Complements
Got your menu set? Great! Don't ruin the awesome ambiance you've got going here by pulling out a plastic tablecloth.  After all, you slaved over that food.  (Well, maybe not…but it LOOKS like you did, so let's keep that "You did so much work!" deception going, shall we?)
Use these suggestions to decorate the dessert table, without A) spending a lot of money and B) using a lot of effort.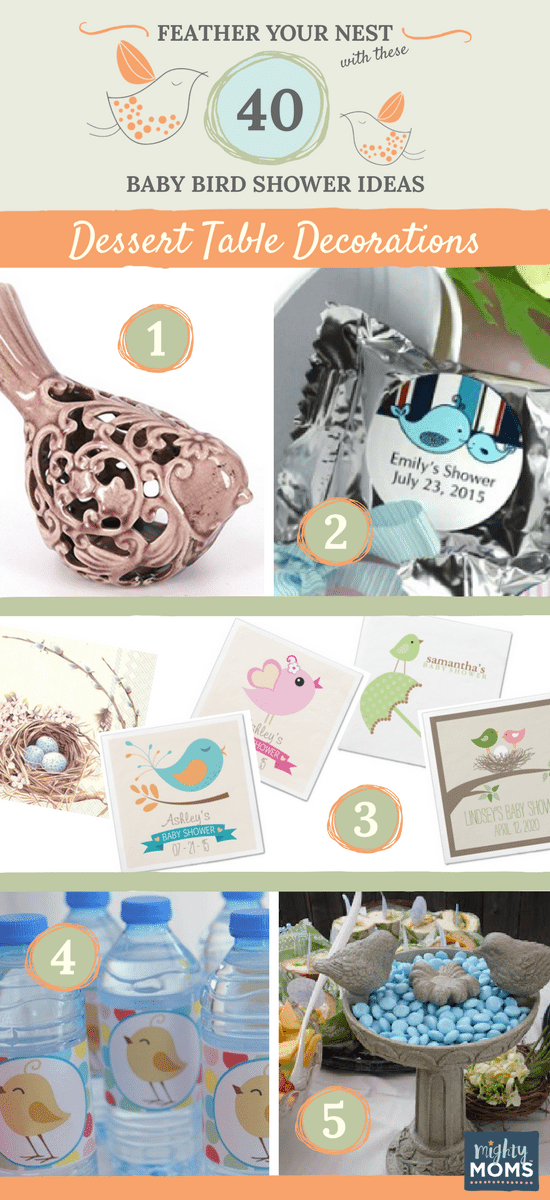 1.  Antiqued Bird Tea Light Candles ~ I love these. They not only are adorable on your baby shower tables, if the lights are dim, the swirly pattern creates a soft gentle glow around the room. Even better, they can be used for lots of future spring or Easter occasions!
2.  Personalized York Mints ~ Perhaps it's just me, but I'm always scrounging in my purse for an after-meal mint. You can personalize these and send them home in favor bags (see below) if they don't match the tablescape.  
3.  Bird-Themed Napkins ~ I draw the line at making my parties "special" with cloth napkins.  I can't do it.  After all, it's more laundry and laundry and I are bitter enemies.  It's paper napkins for me, all the way. You don't have to go all "matchy matchy" with everything.  Pick one that fits the feel of your party.  
4.  Water Bottle Labels ~ Yes, you can purchase a 24-pack of bottled water and arrange it in a nice metal cooler on the table.  But $3.13 buys you a cute printable label design to cut and tape on yourself.  Very cheap.  Very nice. 
5.  Bird Bath Serving Containers ~ Cottage in the Making shared this idea from her bird-themed baby shower, and it's so great I had to share it.  Pick up a little birdie bath like this one and fill it with Jordan almonds, or M&Ms, and place it on the table to add interest and height to your display.  
Baby Bird Shower Ideas:
8 Gorgeous Tablescapes to Copy
You have at least two tables to decorate: one for gifts (yah!), and one for food. Use these baby bird shower ideas to weave the theme into both tables, tying the whole party together with a big beautiful bow!

1. Themed Bunting Banner ~ Drape this in front of the buffet table, or the gift table, or above the window.  Available for a boy or for a girl.
2.  Authentic Bird's Nest ~ Picture this laying gracefully over every plate.  Or around the gift table.  Or in the living room next to a scented candle.  At $2.23, these are an incredible steal.  
3.  Decorative Metal Jute Spool ~ A nice accent touch to a gift table that the Mom-to-Be can take home and display as a decoration in her home when the party is over, reminding her of this very special event!  
4.  A Vintage Bird Cage ~ Oh It's Perfect shared this suggestion on their blog – using a vintage bird cage in the themed shower.  You could use it to hold gift cards or suggestions for the new mom.  
5.  Egg-Filled Centerpiece ~ Yes, this is really an Easter centerpiece idea, but I won't tell if you don't. Stay away from those florescent plastic eggs though (and don't use real ones, ick!) Use these realistic (looking!) eggs instead. So much better….
6.  Forest of Birds Wall Decal ~ Wall decals have come a long way from the so-called stickers that were available when Lauren was a baby.  These are peel-and-stick, so she could use them again in the nursery!
7.  Glittered Nest ~ This is a blinged-out nest for those of you who get a vision and then create something I'd pay $100 for. (Crafty, I am not.)  
8.  Bird-Themed Diaper Cake ~ It felt strange to do a post on baby shower ideas and not offer a diaper cake.  So I went out and dug up MsPerks on Etsy, who actually does an amazing job.  (My diaper cakes involve duct tape.  Did you read #7?  CRAFTY I AM NOT.) 
I seriously could have added ten more ideas on this list, but my clicking finger was getting tired.  *working through the pain*
However, *working through the pain* I do want to offer just ONE more suggestion, in case any of you are scrapbookers. I thought this idea from Catch My Party was really creative.
Isn't that such a tweet idea?  And she can take those notes home and cherish them forever – especially at 2am when she's exhausted and needs some encouragement!
Baby Bird Shower Ideas:
6 Take-Home Treats to Cherish
Your guests are heading out the door, all bitterly disappointed that your epically awesome Bird Baby Shower is over. 
Sure, you could shake hands and hug and send them on their way with nothing but a memory and an invitation…but why not give them one last little surprise? It's a little payback for the years of friendship, love, and care.  (And a down payment for future babysitting???  hmmmm….)
You'll be surprised at how affordable these little memories are, especially when you're buying them in bulk!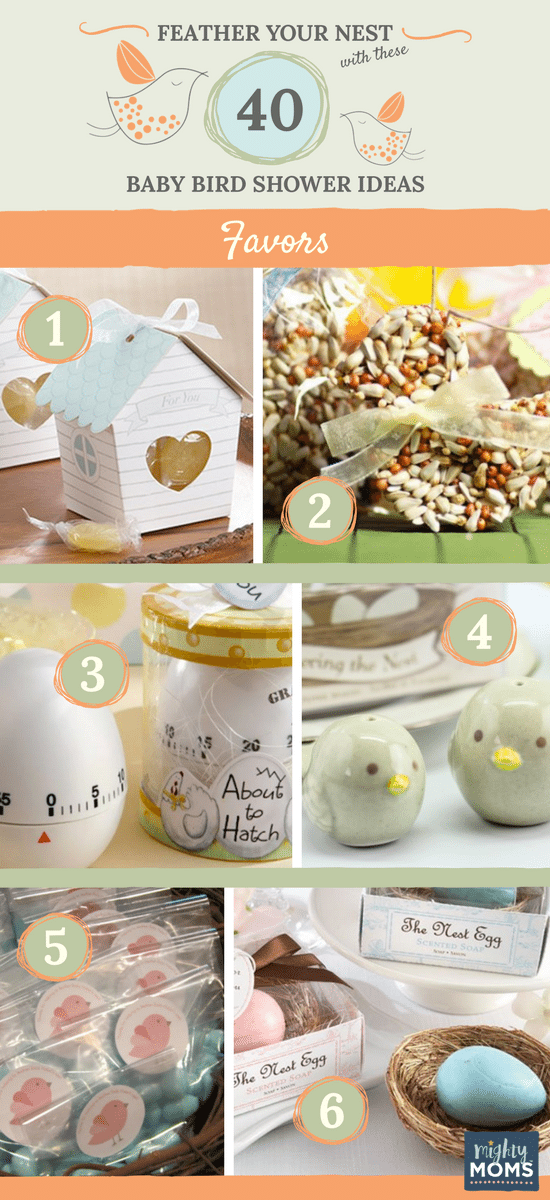 1.   Bird House Gift Boxes ~ These are such a cute little take home box for mints, candies, bird seed favors (below) and other little surprises you're sending home with them.  (Plus, if they have little girls, it's an instant doll house!)  
2.  Bird Seed Hanging Favor ~ A unique favor they can hang out side the window to coax little birds to come out and play.  (Nothing says "the weather is changing" like watching little finches through my window!)
3.  About to Hatch Timer ~ I'm sorry, but this is just too clever.  It's a pun lovers favor-of-choice.  (About to Hatch! Get it???)  It will get all KINDS of use in the years to come.  Time outs…iPad sharing…hug-your-sister-athons… Timers are a parent's secret weapon!
4.  Bird Salt and Pepper Shakers ~ My guess is that most of your guests are using the $1 IKEA shakers at their dinner table.  Imagine how happy they will be to get something this adorable to pass around at supper time!
5.  Grown-Up Candy Bags ~ I love this sophisticated (and inexpensive) favor idea.  Purchase some clear gift bags, toss in a few Jordan Almonds, mini candy eggs, or other favorite candy, and seal it with a "thanks for coming" bird baby shower sticker.  Done!  
6.  The Nest Egg Hand Soap ~ Such a sweet idea!  Send guests home with egg-shaped hand soap for the guest bathroom.
Speaking of Gifts…
If the mom-to-be has family stretched all over the nation, I would encourage you to take a look at the Amazon Baby Registry.
It's the easiest way for long distance relatives to join in the fun (and get this family well-supplied for the months to come!)
Let the Nesting Begin!
Did I go overboard a little with all the bird baby shower ideas?
Probably.
But man, was it fun. I'd do it all over again. (How about now, actually?)
Which idea did you like the most? Do you have any suggestions to add?  
Let's keep this good thing going!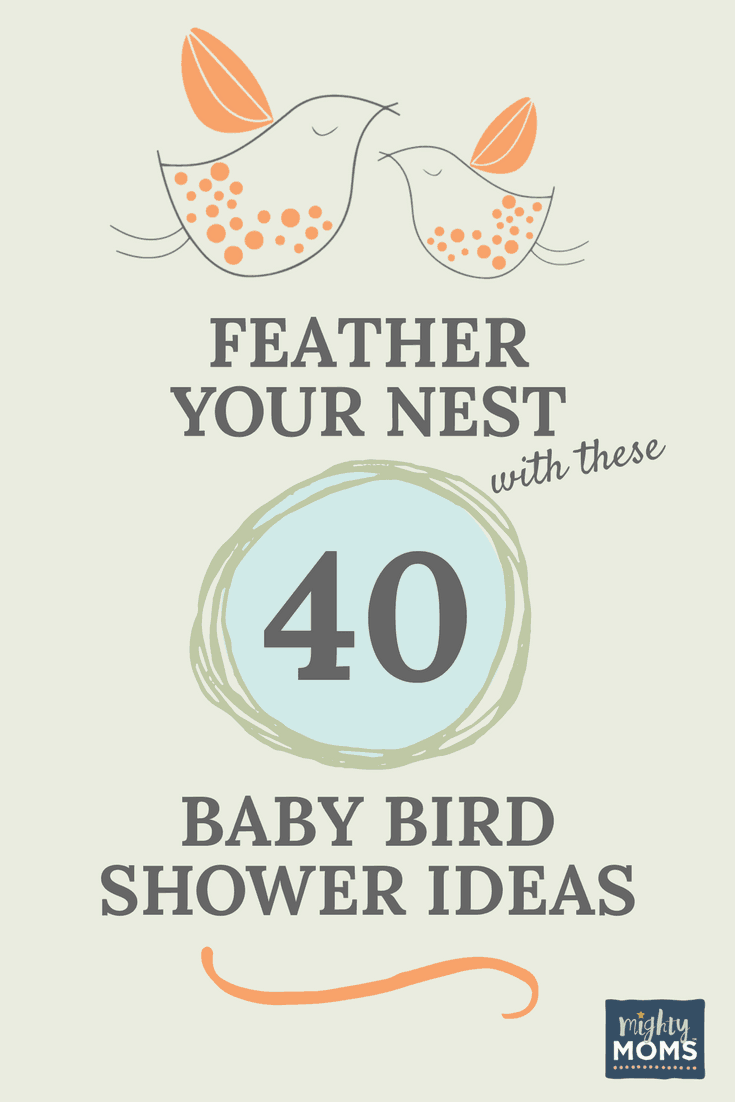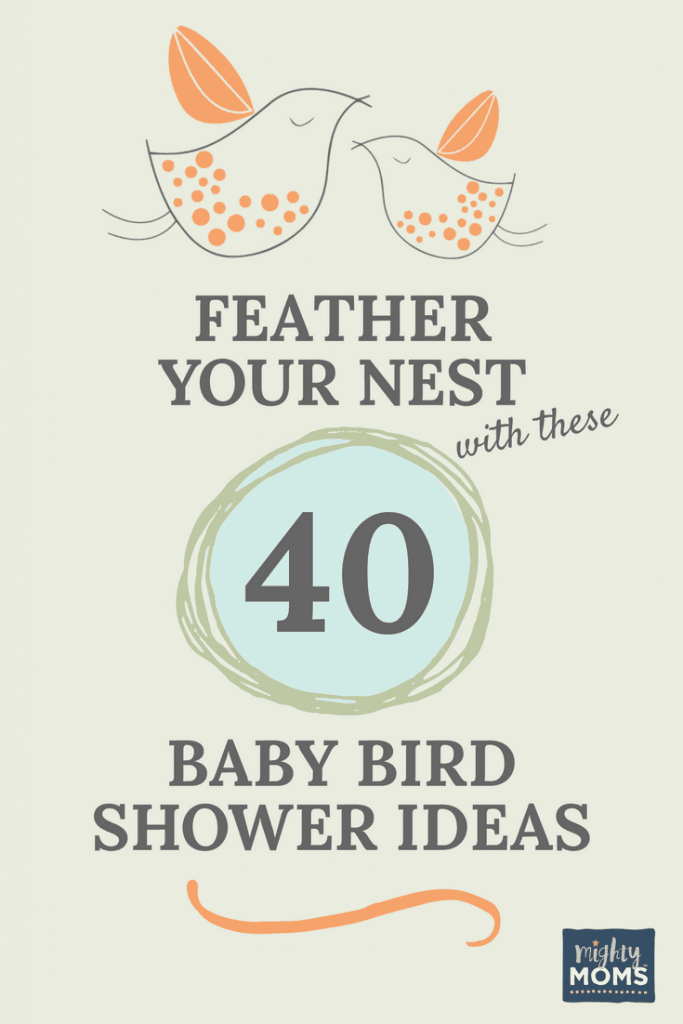 We ♥  honesty!  This post contains affiliate links that provide extra money for our mutual coffee habits addictions. Click here to learn more. As an Amazon Associate I earn from qualifying purchases.