I've been asked to become a Similac StrongMoms Ambassador to share formula tips with parents.  In fact, they sponsored this post and provided me with some of the research.  That said, I'm rather grouchy about being told what to do, so be encouraged that all my opinions I share on this site (including in this article) are my own.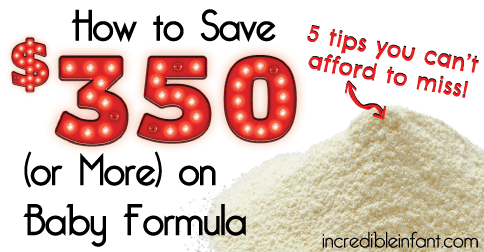 You know that feeling when you put on a coat or pair of jeans and find a wadded-up forgotten ten-dollar bill in the pocket?
It's a good feeling.
Now picture that feeling, but instead of pulling out a single $10 bill, you bring out a sweet-smelling rolled-up wad of thirty of those ten-dollar-babies.
That's what I'm going to offer you in today's post:  smart ways to save serious money on your baby's formula.  Even the hypoallergenics!
(In my head we're high-fiving at this moment, because this topic is too exciting NOT to throw in a good high-five.)
Trick #1:
Discover the Beauty of Rebate Checks
Most formula brands have membership programs you will definitely want to participate in.
For example, Similac has what they call the StrongMoms Program.
I used this with my kids, and I'm so happy to see that it's still around, going strong.  Basically, you sign up and they send you surprises.
And not junk-mail type of surprises that most companies give you.  They send over free formula samples, coupons, and instant-rebate checks.
How do these "instant-rebate" pieces of paper work?
You pick up your baby's favorite formula.
You take it to the checkout line.
You hand it to the cashier, looking awesome.
You pull out the $5 instant-rebate check and slam it on the counter because YOU DA BOSS.
The cashier takes $5 off your grocery bill, thinking how amazing you are and how she hopes she can be as cool as you when she's a parent.
You go directly to Starbucks and blow that $5 on a feel-good latte, as a reward of getting through the day on 5 hours of sleep.
It's a smooth system, and it all starts by signing up.
 Trick #2
Go with Powder
There are three types of formula available for purchase: powder, premixed (also called Ready-to-Feed or RTF), and concentrated.
Powder is the cheapest because it's the least-expensive for companies to make.
So why do parents choose the other forms?
For babies who struggle with gas and colic, RTF formula can really help because it has fewer bubbles.  Why?  Because you're not shaking it like a polaroid picture, that's why.
Bonus Hint:  RTF formula can be a real sanity-saver on airplane trips or long car rides because there's no mixing!  Just dump it into a bottle and you're good to go.
Concentrated formulas are for parents who need premixed on a regular basis, but would rather not get a 2nd mortgage on the house to pay for it.  You have to dilute it with water before giving it to your baby.
It's like the "middle child" of the three types of baby formula.  Less expensive than RTF formula, but more expensive than the powdered kind.
If money is tight, splurge on the RTF or concentrated formulas only on special occasions.
Trick #3
Track Down the Freebies
Rebate checks are awesome, but do you know what's even awesomer?
Freebies.
As in, cans of formula that you didn't have to pay for.
How do you score said cans?
Firstly, by signing up for a formula membership program like Similac StrongMoms.
They have been known to send out the occasional "surprise!" can of formula as a benefit for those who subscribe.  (I don't often say this about websites other than my own, but this is a mailing list you'll want to be on.  Sign up here, and thank me later. )
The second place I would start digging is at the doctor's office and hospital.  It's not uncommon for them to have samples to share with discriminating parents who remember to ask for them.
Ask and ye shall receive!
Trick #4
Buy Baby Formula in Bulk
I realize that buying in bulk doesn't always save you money.  (For example, the 5-lb jar of pickles my Dad picked up at Costco for us last summer.  I swear it's going to last until Isabella's graduation party…)
But when it comes to baby formula, buying in bulk actually makes a HUGE difference.
You just have to get over the sticker shock at the price that pops up and run some basic math calculations.  (cost/ounce = cost per ounce)
Let me show you exactly how much these little pennies add up to in monthly savings: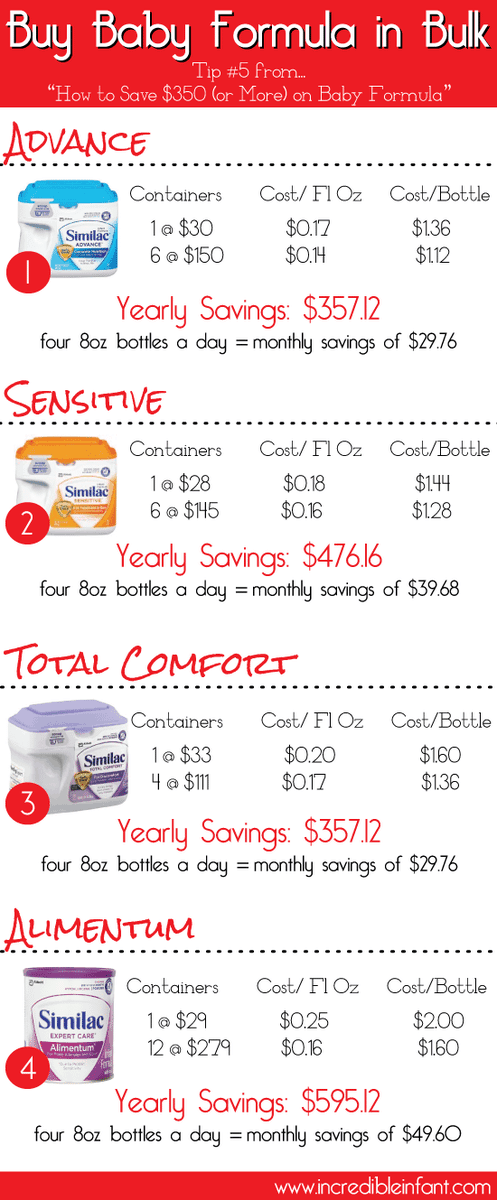 Where did I get those numbers?
Obviously, you shouldn't purchase these cans in bulk if you're not 100% sure that you've found "The One"  (formula, of course…).
If you're still in the testing stage of seeing which formula is right, I would rely on those rebate checks and test around.
Those are the prices that popped up when I did my pricing research and number crunching.  They are subject to change.
A Penny Saved…
is $595 a Year
So I realize that newborns don't eat four 8-oz bottles a day, so my $595 number is a little inflated.
My point is less about the specific savings number, and more about the fact that there is a savings number in the first place!
You are not a slave to paying high formula costs.
There are things you can do to ease that financial burden.
By far the smartest thing I did when we started using formula was to sign up for a mom's program like Similac StrongMom.
For the cost of my email address, I got supplied with rebate checks and formula samples that saved me hundreds.
Add that to the benefits of buying in bulk and you've got yourself a romantic weekend getaway with that handsome hunk-of-a-man lying next to you.
Think about how awesome that would be.  🙂
So let's start working on that "Baby #2" fund, shall we?  *wink*
Sign up here for those freebies and checks.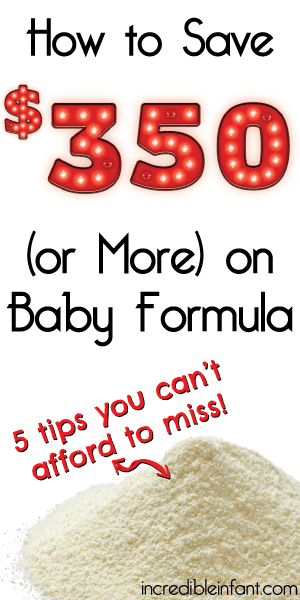 We ♥  honesty!  This post contains affiliate links that provide extra money for our mutual coffee habits addictions. Click here to learn more.
Comments