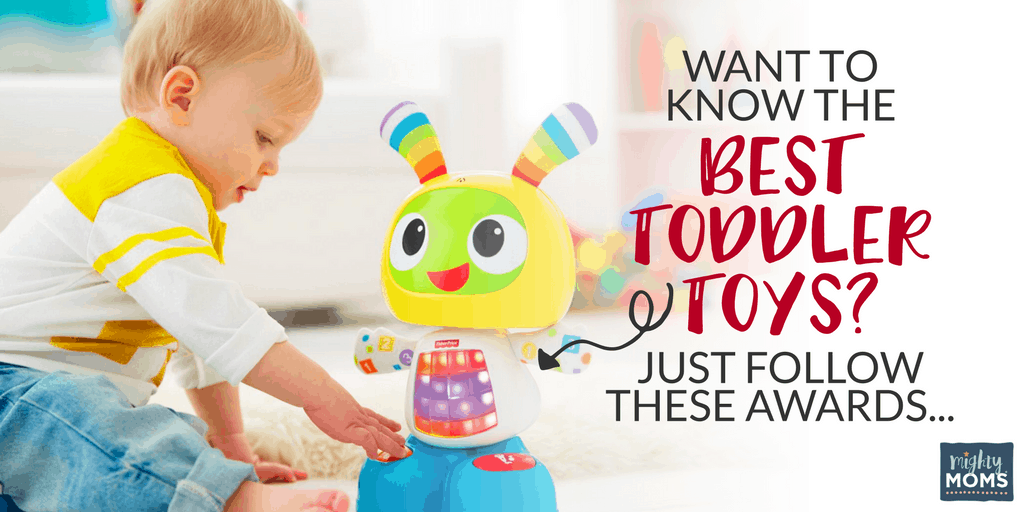 There you are.
Standing in the toy aisle.
You look up, instantly feeling dwarfed by the row upon row of brightly-colored boxes. Somewhere, the bleep/blurp of a rogue too-cheerful toy echoes throughout the store.
Quickly, you pinch yourself to make sure you're not lost in some Stephen King nightmare.
Shoot. 
This is real.  The sooner you can get out of this unique form of purgatory the better. Of course, you can't leave until you've picked out the best toddler toy in the history of toddler toys for your Itty Bitty Busy Bee.
*deep breath*
Okay. First things first. How do you know, of these zillions of options, which toy your toddler will actually play with? And which one will be tossed aside for the box instead?
Option A: Write each toy manufacturer, and ask them to submit testing samples for you and your friends to use. Then create a 150-question survey for everyone to fill out, analyzing the results to determine the best toddler toys. (Don't forget to remove those outliers!)
Option B: Read through this article and cheat off someone else's survey work. Then choose the toy(s) that you feel fit your toddler's personality best.
Obviously, being the lazy time-saving delegator that I am, I would recommend Option B. 
In fact, let me go a step further and save you from that real-life toy store nightmare completely: I have linked all these award-winning best toddler toys directly to Amazon (they usually have the cheapest price anyways), so you can skip the haunting toy-aisle altogether.  
Different Types of Toddler Toys for Different Types of Play
Not all playtime is created equal. It's actually really helpful for your child's brain development if you sprinkle in various forms of "play". I've split these toys up into various "Best Toddler Toy" categories to give you examples for each type.
They are…
Active Play – Moving those arms and legs around, working on balance and gross motor skills.
Pretend Play  – Stimulating the imagination and problem solving skills.
Cooperative Play – Learning how to work amicably with other kids.
Quiet Play – Learning how to occupy the mind in gentle ways, preparing for rest time.
Let me get started breaking down the best toddler toys in each category.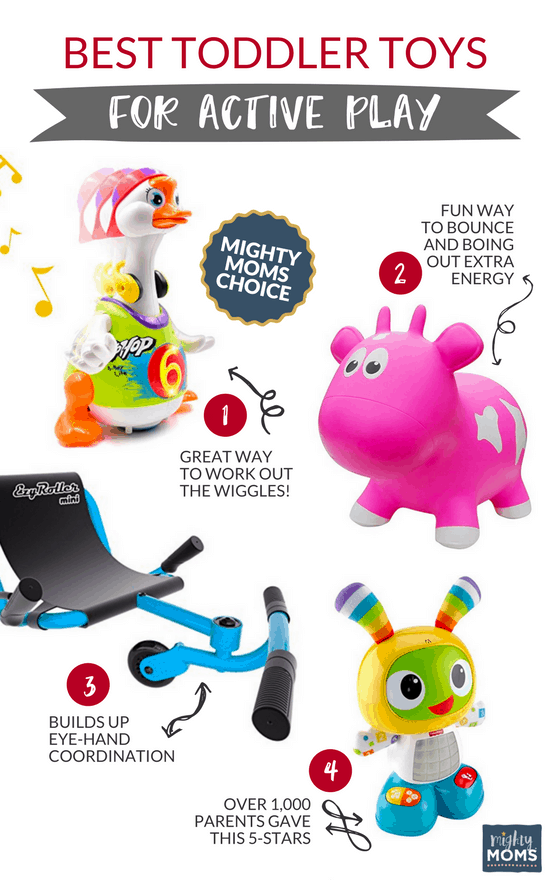 The Best Toddler Toys for Active Play
Help your toddler burn off that extra morning energy with these award-winning active toys!
This silly goose dances like Justin Timberlake! It will be impossible for your toddler to sit still with this toy. When your toddler picks him up by the neck (because he will), this Ryan Gosling struggles and asks to be put back down so he can keep dancing.  A fantastic toy!
Once winter sets in and your toddler is pinging off the walls, you'll thank me for sharing this 2017 Family Choice Award winner. He will bounce out all his wiggles and be ready for good long nap at 1pm.  You're welcome.
The EzyRoller Mini Ride-On won the Tillywig Top Fun Award in 2017 for helping young kids learn hand-and-eye coordination. It's designed for children 2 to 5 years old and requires NO pedaling (something little kids can find frustrating). This is a helpful step in learning to ride a bike next year!
If a toy has both a Toddler Toy of the Year award AND 1,255 five-star reviews from parents, you know it's something you should seriously consider. In fact, one of the most common phrases in those reviews is "my child's favorite toy". Not only does it get your child moving (the "Freeze Dance" is a favorite), it teaches ABCs, colors…you can even record your own phrases.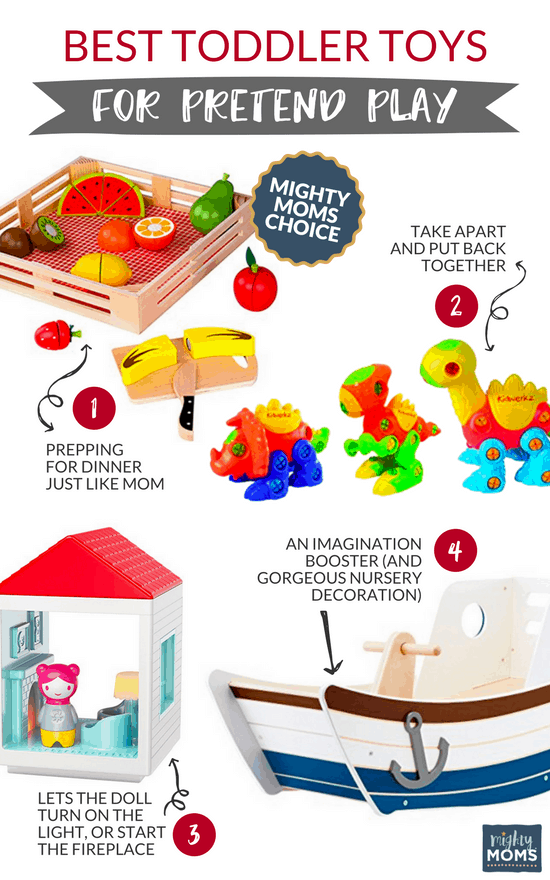 The Best Toddler Toys for Pretend Play
I've said this before, but pretend play has a huge impact on your child's brain development. It can boost vocabulary, decision-making, independence, social skills, and how to express their feelings in a safe environment. It's where they test out new phrases and work out why things happen the way they do.
Here are the best toddler toys for encouraging a steady healthy diet of pretend play at your house.
One of my earliest childhood memories of pretend play involved making "food" for my mother to eat. These cleverly-designed toys encourage that imagination by letting your child "prep" the meal by cutting up the fruits and vegetables just like they've seen Mom and Dad do.
Not only can your toddler enter the Jurassic Period and make-believe with these dinosaur toys, he can create new yet-undiscovered types of dinosaurs. There's Momasuarus, Dadatops, Sisaraptor… These STEM toys won the Family Choice Award in 2017.
MyLand Interactive Playhouse is the pinnacle of Toddler Tech. Not only is it sized perfectly, for those little palms, but it's completely designed to stir up and feed your child's curiosity.
If you put the girl on the chair, what happens? How can Dolly turn on the fireplace? Each "room" of the house comes with a separate doll and various interactive items to turn on and off. I can totally see why it was a 2017 Family Choice Winner.
Yes, this toy rocker adds something beautiful to your nursery, but that's not all it's good for! This Oppenheim Toy Portfolio Award Winner will stir up all kinds of swashbuckling adventures. Don't forget the eye-patch and ripped trousers, ye scurvy dawg!
The Best Toddler Toys for Cooperative Play
Name ONE toddler in the history of all toddlerdom who didn't need to practice the sometimes-not-gentle art of cooperative play.
*crickets chirping*
I thought so. Here are four of the best toddler toys that actually involve…*gulp*… learning to share.
Trust me. This is going to be a HUGE hit. (Pay attention, Grandparents!) These marble construction sets can be put together in a variety of ways, allowing your toddler (and older siblings)plenty of opportunities to learn  how to work together to build a solid design and then take turns rolling the marbles down their creation.
DISCLAIMER: Obviously, if your child hasn't yet learned what things belong in his mouth (i.e. food) and what does not (i.e. marbles), I would wait a few more months before introducing this toy.
Puzzles in general are great to encourage cooperative play, but this puzzle in particular is special because it's three feet long. A puzzle that's as big as your toddler! The pieces are large enough for little hands to work with, and each child can take a side and work towards the middle, preventing the usual "you're in my way!" complaints. It was given the Tillywig Brain Child Award in 2017.
This is one of the very few toddler games on the market. It's based on the popular preschool app called Peekaboo Barn and was given the 2017 Parents Choice Award. 
Each toddler takes turns pressing the silo to spin the animals around the barn, trying to find the ones that are "sleepy". Then each toddler calls them to bed by making their different animal sounds and moving them inside the barn to go to sleep.
This may be one of my top three toddler toys in this article. It combines three of your toddlers favorite activities together:
stacking things
knocking things over
playing I-Spy
There are five different ways to play this game in this 2017 Parents Choice Gold Award winner. A must-have for playdates!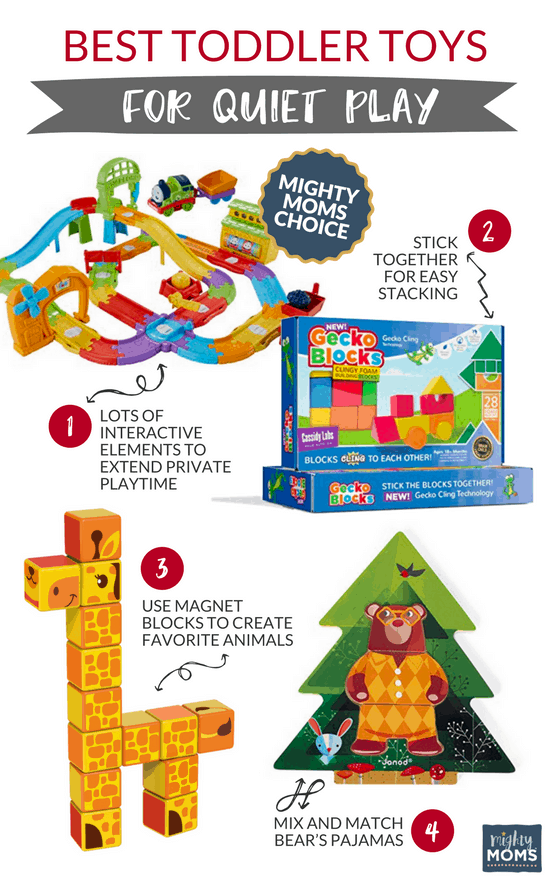 The Best Toddler Toys for Quiet Play
Okay there parents, time for you to face an important truth: At some point your toddler is going to drop those naps.
There's no need to grab that paper-sack and put your head between your knees. You're going to just move "nap time" over to "quiet time." This is actually a really important thing for your tiny tot, and you shouldn't feel guilty about it. 
Here are the best toddler toys for keeping him happily distracted during the afternoon and pre-bedtime quiet playtimes.
My first thought, when looking at this railways set is "This will definitely buy you at least 30 minutes of quiet playtime." Not only can he rearrange the tracks to fit his current fancy, it has over 50 sounds and songs to captivate the imagination.
Learning how to balance and stack blocks is an important fine motor developmental skills for toddlers. That said, they can easily get frustrated when they keep falling over, and THEY weren't the ones to knock them down.
These Sticky Blocks, winner of the 2017 Tillywig Brain Child award, have just the amount of "stickiness" to hold them in place, transforming a 2-minute distraction into a 20-minute distraction. 
Using the magic of magnetics, these cubes can be rearranged in a variety of ways to create new animals. If your child struggles to visualize the animal options, the "cue cards" inside show how to create each animal. This Oppenheim Toy Portfolio Gold Seal Award is excellent for teaching problem solving skills.
Let your toddler mix and match Bear's pajamas and glasses in funny ways. A great way to practice fine motor skills by learning how to manipulate his fingers, an essential skill for pre-writing. This toy was also awarded the Oppenheim Toy Portfolio Gold Seal in 2017.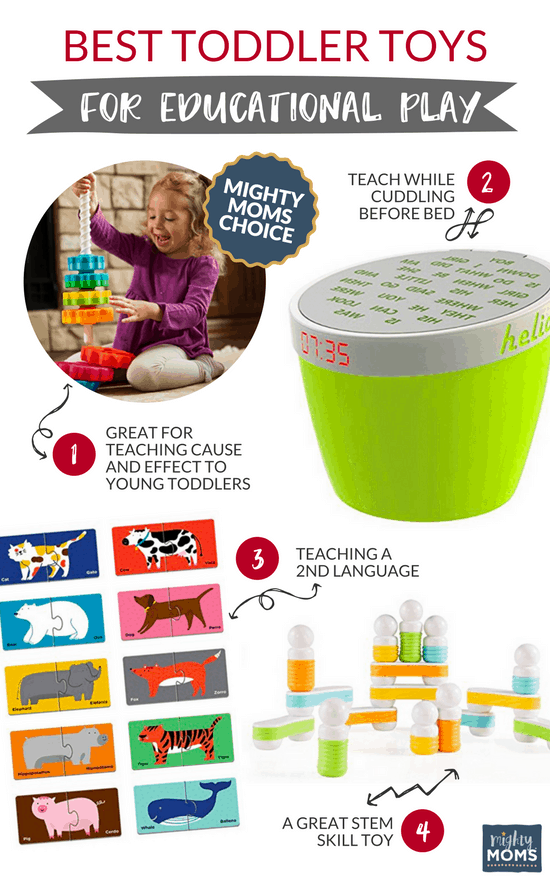 The Best Toddler Toys for Educational Play
Our last "best toddler toy" category centers around those sneaky little educational toys. The ones that make you feel AWESOME because you know your kid is learning all kinds of stuff, and doesn't even realize it. You go, Sneaky Mom!
This toy combines stacking AND spinning. *mind=blown* Work with your toddler to practice sorting the discs by color or size, as well as practice hand-eye coordination to get the discs onto the post. Besides being our Mighty Mom's pick, it was also awarded a Parent's Choice Silver Honor Award in 2016.
The Helio has actually won TWO awards this year: the Creative Child Product of the Year and the Tillywig Brain Child Award. Why all this brainiac attention? It allows Mom and Dad to add a little learning into the bedtime routine as the brain is settling down for sleep.
The special discs project nursery rhymes, simple math problems, phonics, etc. onto the ceiling and provides fun little mini-games to play before the snoozing starts. Those 3-5 minutes of learning can have a huge impact when worked into a daily bedtime routine!
These special little puzzle pieces are a sneaky way to slip in a little Spanish during playtime. You find one piece and ask your child to find the other, and then practice saying both the English and the Spanish word for the animal pictured. Winner of the Oppenheim Toy Portfolio Gold Seal Award.
These special builders are easy-to-stack, using special magnets and perfectly-sized grips your child can firmly hold as he experiments with designing different shapes. This series of toys also includes Windows Builders and the People Set. All three have won the Oppenheim Toy Portfolio Gold Seal Award.
Choosing the Perfect Toddler Toy
for Your Unique Child
We have successfully avoided the Nightmare on Toy Street, true, but you still have to actually click your finger to finish your purchase.
So why is your finger still hovering? Oh! I get it. You're still feeling a little unsure. After all, just because these toys have all been vetted and stamped with "Award Winner," how do you know that YOUR child will squeal with excitement when the wrapping paper gets ripped off? 
Can I make a suggestion? Take a minute or two to think over your child's current favorite toys. When he's at a playdate, what types of toys does he gravitate towards most? The train set? The toddler kitchen? The trampoline?
Then look over these toys again. My guess is you'll know right away which are going to be the best toddler toys for your little tyke!
Have You Read These Yet?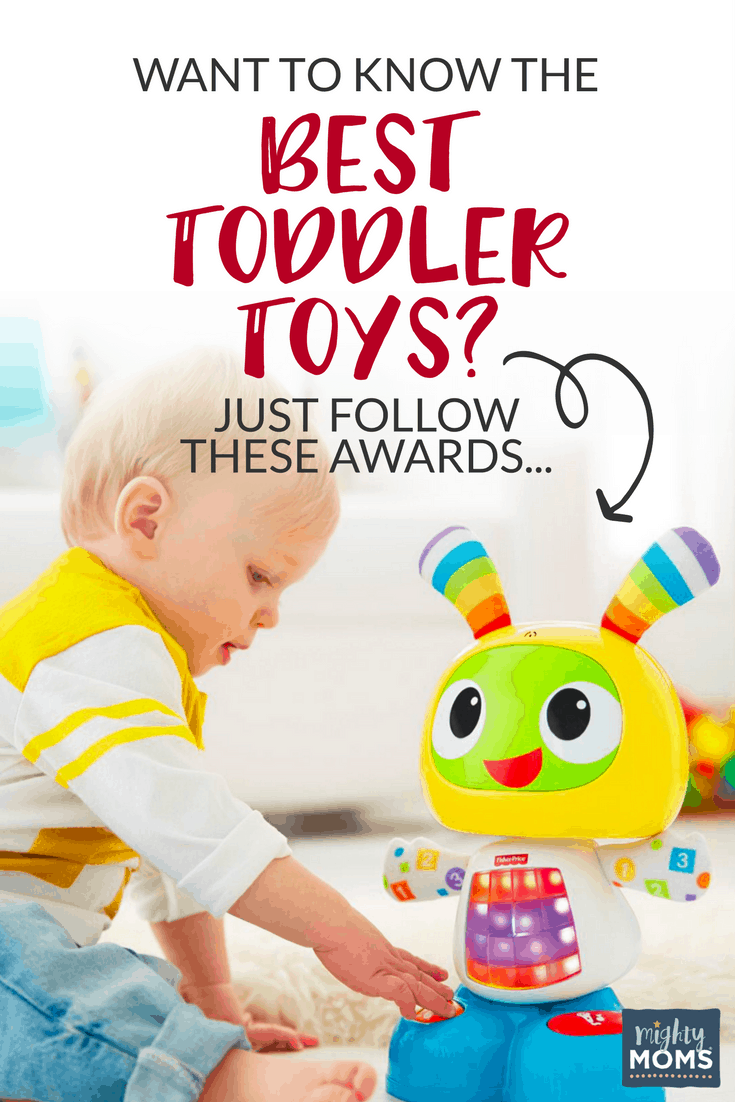 We ♥  honesty!  This post contains affiliate links that provide extra money for our mutual coffee habits addictions. Click here to learn more.