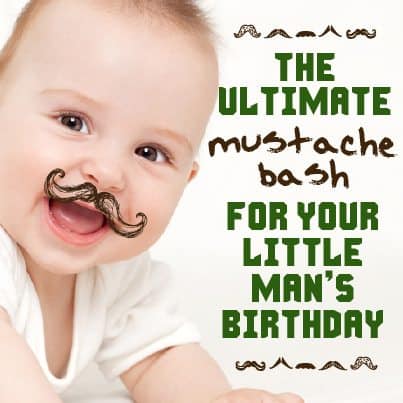 Your tiny guy has spent 12 months working hard to impress you.
He's crawled where no baby has crawled before.
He's paid the price for exploration with numerous oochies and boo-boos.
He has grunted at the dinner table, passed gas on the changing table, and slobbered over the remote.
It's time to celebrate the Little Man that he's become.
It's time to throw him a mustache bash that Ron Burgandy, Tom Selleck, Charlie Chaplin, Hulk Hogan, Lionel Ritche, and (personal favorite) Yosemite Sam would all be proud of.
Have a daughter? or just not feeling the 'stache love?  Hop over and see the other first-birthday theme ideas we've added at Incredible Infant!  We add a new theme to our collection every month, so if your LO isn't having that first birthday anytime soon, make sure you subscribe and we'll send you ideas to explore until the big day arrives!
 Little Man Invitations for the Ultimate Mustache Bash
   
(#1 ) Charcoal Gray Newsie Cap ~ Tiny Prints  (#2) Chalkboard Birthday Invite ~ Lullabye Lou Invitations (#3) Little Man Mustache ~ Amazon (#4) Dashing Little Man ~ Big Dot of Happiness (#5) Vintage Mustache Invitation ~ Etsy (#6) Oh Boy Mustache ~ Purple Trail
14 Little Man Decorations for the Ultimate Mustache Bash

(#1) Small Wooden Mustache Spoons ~ Etsy (#2) Popcorn Party Favor Labels ~ Individual Rivalry (#3) High Chair Birthday Banner ~ Big Dot of Happiness (#4) Mustache Straws ~ Amazon (#5) How to Make a Paper Garland Backdrop ~ Sol and Rachel  (#6) Tie & Mustache Garland ~ Idea from Baby Lifestyles, mustache garland from Amazon.  (#7) Mustache Party Printables ~ Etsy (#8) Scrapbooking Garland ~ Remarkable Home (#9) Mustache Balloon ~ Big Dot of Happiness (#10) Little Man Gift Boxes ~ Big Dot of Happiness (#11) DIY for Bowtie Napkin Folding Tutorial ~ A Sweet Spot Home (#12) Ribbon Dessert Table Backdrop ~ Live the Fancy Life (#13) Keep Calm and Grown On ~ Remarkable Home (#14) Floating Mustaches ~ Pinterest
11 Little Man Sweets for the Ultimate Mustache Bash
(#1) Little Man Cupcake Holder ~ Birthday Express (#2) How to Make a Mustache Cake ~ Punky Princess  (#3) Cupcake Ring Mustache Toppers ~ Amazon (#4) Chocolate Sanded Cake ~ Idea from Cakes Pic & mustache cookie cutter from Amazon (#5) Edible DIY Chocolate Topper ~ Lisa Storms (#6) Lemon Bar Muddy Buddies ~ Lemon Tree Dwelling (#7) Mustache Brownies ~ Idea from Baby Lifestyles & mustache cookie cutter from Amazon (#8) Milk Mustache Bar ~ Inspired by the Purple Pug. (#9) Chocolate Parfait ~ From MyRecipes served in a clear mustache cup. (#10) Mustache Sheet Cake Decorating ~ Idea from Pinterest. (#11) Little Man Fruit Jerky ~ Recipe from Red Shallot Kitchen.
8 Little Man Snacks for the Ultimate Mustache Bash

(#1) PB & J in Mustache Cut-Outs ~ Idea from Zoom Theory, & Crustache Cutter. (#2) Mini Pretzel Dogs ~ Recipe from Host the Toast (#3) Pulled Beef Slider ~ Recipe from Cheryl Style (#4) Little Man Root Beer ~ idea from Divine Party Concepts.  (#5) Little Man Bowtie Pasta Salad ~ Recipe from Sew Crazed. (#6) Veggie Cups and Dip ~ Idea from Baby Lifestyles, in a clear mustache cup. (#7) Wet Your Whiskers ~ Kara's Party Ideas (#8) Little Man 'Stache Fruit Kabobs ~ Pinterest
The Ultimate Mustache Bash Games
Naturally, if you're going to throw an Ultimate anything, you need some pretty fun games for the guests to play (especially the older kids).  Here are my favorite finds for mustache-themed games!
The Photo Booth ~ This is an obvious winner.  Set up a station with fun props and fingerstache tattoos.
Pull String Mustache Pinata ~ This mustache pinata takes a more gentle approach to candy-hunting.  Instead of having kids dizzily wandering the room swing a bat (eventually smacking Uncle Jo in the privates and wining $100K on America's Funniest Videos), this takes a more, less manly, approach to pinata.  Each child pulls a string until the candy comes out.  (Of course, you could ignore the swings, and shoot for that $100K anyway…)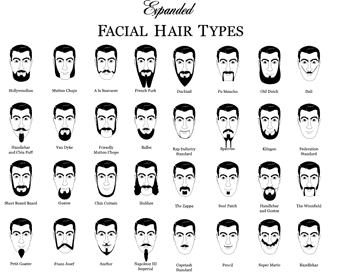 Name That Stache ~ This is a game for the adults.  Print out the classic mustache shapes and tape them to cards – then see if your guests can name each type of mustache.  For a bonus round, print cropped photos of the most famous mustaches of all time, and have them match person + mustache.
Stick the Mustache on the Baby  ~ Blow up a photo of your Little Guy, and then play "Pin the Tail on the Donkey" only see who can place the mustache perfectly!
This post will give you a good starting point in setting up your own fun mustache bash!
Not sure of the theme?
Check out the circus and owl party themes we researched in the Incredible Infant First Birthday Series!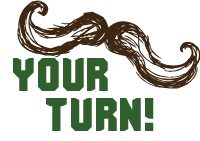 How are you going to celebrate your Little Man on his first birthday?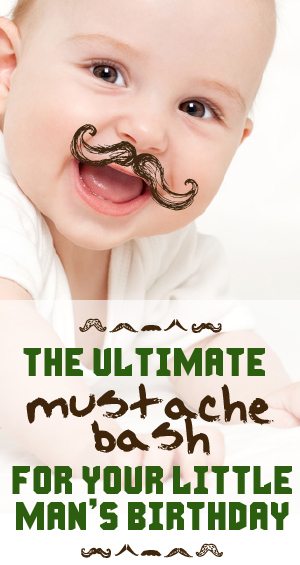 Comments