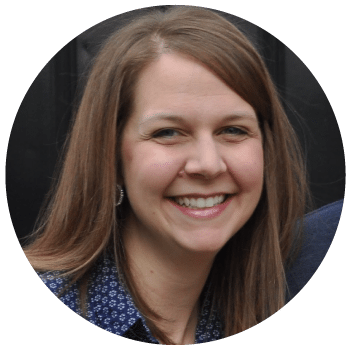 Bethany Rensink is originally from Northeastern Illinois, but finds herself living in Missouri these days. The road to Missouri was rather unpredictable (not the literal road, it's predictably full of corn and soy), and she wouldn't have it any other way.
Bethany met her husband Chris one muggy Memorial Day weekend in Chicago. He literally showed up on her doorstep when he came to visit a mutual friend. He was a tough crowd, so she made it her mission to make him laugh. They've been laughing together ever since.
Chris is a school administrator for a missional school a few miles from their house. Bethany stumbled her way (the Lord provided a way) to career in clinical research. They are extremely thankful to have jobs they love so much and are passionate about, and are also thankful to have the flexibility to spend time together as a family.
They have a spunky two year old daughter who keeps them on their toes and generally outwits them. This winter, when they went to confirm a due date for their second baby, they heard the words, "I see two babies."
Fully embracing the circus that awaits them with three kids in less than 3 years, Bethany and Chris are learning to just relax and enjoy whatever craziness comes their way.
Interesting Facts About Bethany:
Bethany is afraid of running out of toilet paper, so they buy it in bulk.
She loves the 80/20 method of cloth diapering, where she cloth diapers when she feels like it but has a box of disposables for the days she just can't deal.
She loves being outside with her family, reading books she's already read, and finding just the right way to phrase something.
Bethany is competitive only with Chris, and only when it comes to fast food: they each get a point every time they eat fast food. By her count, she's eaten less fast food than Chris in the past five years, but that's only because they agreed Chick-Fil-A doesn't count.
Enjoy Bethany's helpful and entertaining articles by browsing through her blogroll here.