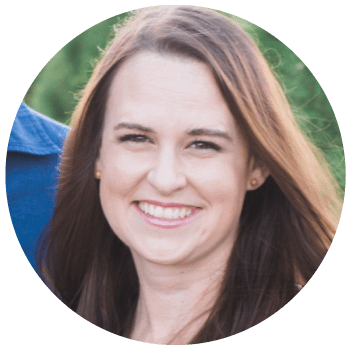 The youngest of four kids, Karen was born in Wisconsin but grew up in South(ern) Florida. Karen was certain that after attending the University of Central Florida in Orlando she would move overseas, but then she fell in love – first with the city, then with her performer husband Matt.
Karen first met Matt in college, but they lost touch until Matt's brother who worked with Karen tried to set them up on a blind date. Twelve years of marriage and two kids later, they both agree his brother is a great matchmaker.
She worked in international relations for a bit for an economic development organization, then moved over to local and state government relations, and is currently a recovering lobbyist trying to regain her sanity. Since having kids, Karen has run the gamut working in an office full-time, part-time, and no-time. Her background includes government relations, healthcare, and economic development, all of which she promises to try not to talk about because they are real party killers.
Matt works in entertainment and is entirely too good to Karen, which she didn't at all put in here so he will keep bringing her coffee every morning. He was a performer for many years, and moved to the directing side of the stage after the birth of their first child. While his schedule can be erratic, he is the best dad (and husband) one could hope for and Karen thinks he is the better parent for sure.
They tried for two years before being blessed with their first child, a daughter, in 2013, and then a son in 2016. Karen's first pregnancy and labor/delivery was…interesting. She had gestational diabetes, preeclampsia, induced labor, failing epidural, working epidural, GSB infection, C-section (after 22 hours of labor and throwing up—yaaaaaay), a 9-lb NICU baby with sepsis, eclampsia, and then, blessedly, a beautiful girl that slept 8 hours a night at 3 weeks old. Karen's second pregnancy and delivery were downright boring, which has been made up for with a son who is adorable but absolutely hates sleep. Still.

Her Passion for Moms
Karen believes that being a parent is the best and hardest thing anyone can do. She could not do what she does without her faith in Jesus, and without her amazing mom club. She has been blessed with many good examples, mentors, family, and friends in her life, and wants to help others as she has been helped.
Other Facts About Karen Fun to Know
The things that keep her going at 3am are God, her family, friends, and Oreos. And sometimes a book, because once she starts reading a book she can't stop. It is a problem. Seriously.
She suffers from wanderlust and on any given morning you will probably find her trying to figure out what to do that day and drinking coffee.
Karen loves to visit the theme parks (when it isn't too hot), make banana bread with her daughter, chill with family and friends, and sleep (ha ha ha).
She loves to play games, and finds messing with other players to keep them from winning almost as fun as winning herself.
At one point Karen was fluent in German, minoring in it in college and staying in Germany three different summers.
She grew up singing and being in church bands/worship teams through college, and would love to return to that someday.
Karen thinks that any cookies besides chocolate chip, Oreos, or Snackwell's Devil's Food cookies are stupid and absolute wastes of calories.
Want to read Karen's articles? Click here to see her blogroll!
Have You Read These Articles By Karen?