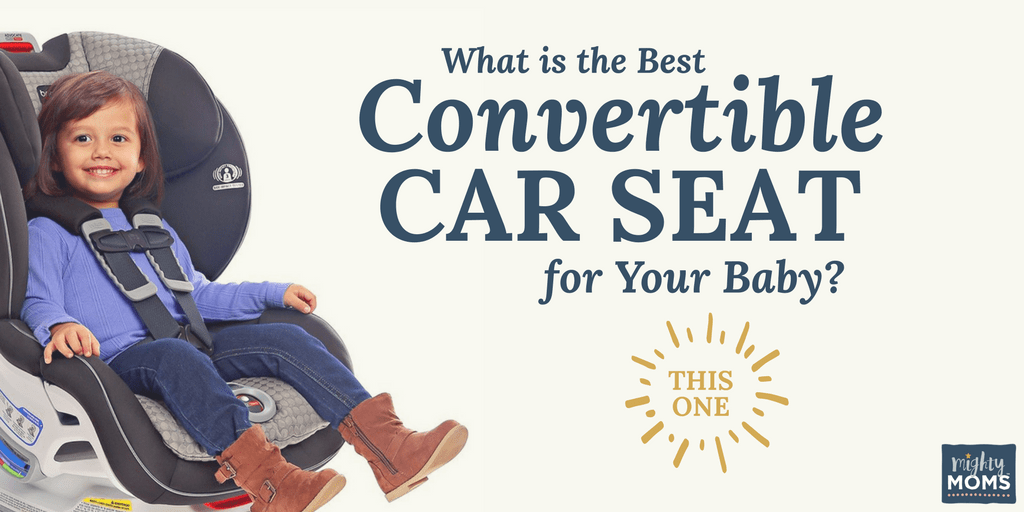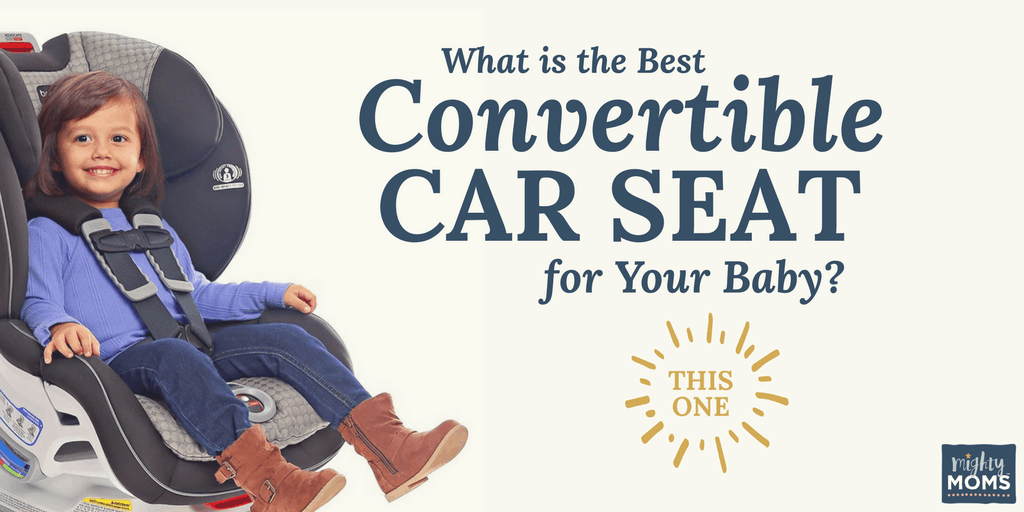 The time has come.
He's about to burst out of the newborn carrier, and your right arm has gotten so strong you're accidentally walking in circles.
It's time to move him out of the carrier and into a convertible car seat (a car seat that can face forwards or backwards). But there are hundreds of convertible car seats out there.
How do you know which is the safest, and the most comfortable, and (most importantly) the best pick for your child's size and your family vehicle?
Answer? By following a few simple "rules" to separate the smarty-pants purchase from the passable-but-not ideal purchase. Based on product research, Amazon reviews, and federal testing guidelines, here were the four best convertible car seats.
I'll give you the big picture first, complete with the "rules" in determining which of these will be the best convertible car seat for your family, and then we can go through each car seat individually.
Ready? Start your engine and buckle your 5-point harness. Time to punch the gas.

1. Graco 4Ever 4-in-1 | 2. Britax Advocate
3. Max-Cosi Pria | 4. Chicco NextFit
6 Rules for Uncovering the
Best Convertible Car Seat for Your Family
At first glance it may look like convertible car seats are all pretty similar.  I mean, none of them appear to use duct tape, supporting sticks, or staples.  (Always a good sign.)
But really, if you look closer, you can start to see the details that separate the men from the boys. 
Here are six rules to choose by…
Rule #1:  Can Be Used for Rear AND Forward Facing
Do not even waste your time with a convertible car seat that cannot be used as both a rear-facing and forward-facing car seat. New AAP recommendations encourage parents to leave their children rear-facing until the age of 2.
I know it seems ridiculous to smash your giant baby's feet agains the back of the seat, so I starting digging… and I discovered something SHOCKING. 
The original study here that started the avalanche of changed-recommendations for rear-facing car seats was actually retracted years later when the original biostatistician admitted in court that she could not replicate those findings. (Call me old-fashioned, but I thought replication was one of the requirements of the word "science". Silly me.)
So although everyone in the world still says you have to stick your toddler-child in the rear-facing position, there isn't enough evidence to show that doing so radically reduces the chance of injury (besides leg cramps).
Still, I've included it as my Rule #1 here that the car seat have both options for three reasons:
Some parents may want to save some extra parents and skip the usual baby carrier car seat, and those smaller babies absolutely need to be rear-facing.
Some parents may feel better rear-facing for a longer period of time. You should do what you feel is best!
I think the requirement to have both positions safety-certified increases the safety of the car seat overall, regardless of which position it's used for.
So when it comes to the whole "rear-facing" debate, the recommendations of the the National Highway Traffic Safety Administration seem to make the most sense. They recommend suggests that parents leave their children facing backwards until they are approximately 1″ below the handle, then switching to forward-facing.
THAT SAID!!!  Some states went ahead and passed laws requiring all children under two to be in rear-facing seats after the initial study was published. So make sure you do a quick search for your state laws before flipping your child to face the front.
Rule #2:  A Strong LATCH System
LATCH stands for "Lower Anchors and Tethers for Children" and these are the long look-like-seat belt things that come out the back of the car seat. Think of them like a boat anchor. They attach to specific parts of your car to hold the car seat], going beyond just the seatbelt to hold your child firmly in place.
You will also want to check the fine print on your particular vehicle to read their recommendations about using the LATCH system.  For example, some cars forbid bracing a car seat against the front seats, due to the airbags.
Rule #3:  A Five-Point Harness
I'm not sure if it's possible to find a convertible car seat that doesn't have a five-point harness, but just in case there's one lurking out there, make sure this is on the list.
You want to see a latch that secures two points of the straps across your baby's shoulders and you want to see a three-point harness in between your baby's legs.
Rule #4:  A Machine Washable Cover
That car seat is going to have juice spilled on it, crackers smeared into it, and it will eventually be soaked in urine. (During your potty training phase.) Make sure the cover can be removed and machine washed in worst case scenarios.
Honestly, though, removing the cover is a real pain-in-the-patootie, so I would recommend a car seat liner that can be easily removed and washed.
You're not going to be able to take off the straps and wash them (it's a safety hazard if you remove them), so if your baby is a spitter, make sure you've got strap covers that will not only protect the straps from Vomitville, but give a little cozy "let's sleep now!" cushion on long drives.
Rule #5:  Side-Impact Protection
Look for a car seat that has your baby sitting in somewhat of a "cup" shape – with taller sides on either side of the head.  This way, if you happen to be in a side-impact collision, the car seat is like a protective cocoon.
Rule #6:  A Good Fit For Your Family
Think through how you will be using the car seat.  If you're just using your car seat for around-town trips, you may be able to get by with a less expensive model. That said, if you know you'll be taking long trips in the car or on an airplane, it may be worth it to get a more-expensive car seat with lots of padding, like the Britax or Chicco.
Babies bums can get tired of sitting, just like ours.  The thicker the padding, the more likely your baby won't start crying on a long car ride.
A Breakdown of the Top 4
Best Convertible Car Seats
Now that we've gone over The Rules, let's look at little more specifically at our top-rated convertible car seats. Below are the Pros/Cons of each car seat so you can get a feel for which model may be the best for your family.
These aren't in any particular order, btw. I would say they all "tie" for first place. ALL of these car seats have met and exceeded safety standards.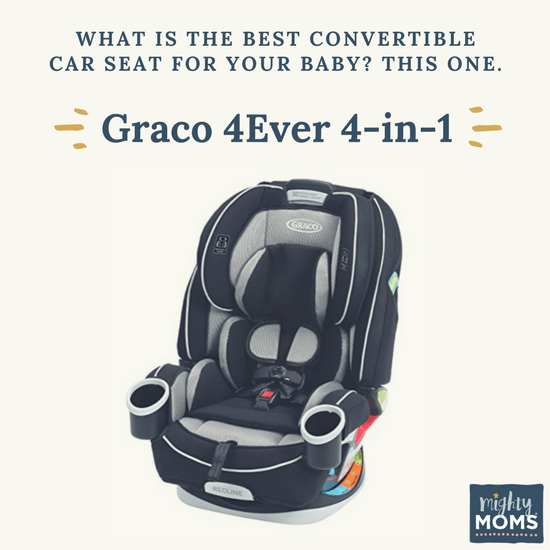 The Graco 4Ever 4-in-1 Convertible Car Seat
The Graco 4-Ever 4-in-1 very proudly touts its ability to meet your baby's safety needs for an entire decade.
Rear-Facing from 10 to 40 lbs.
Front-Facing from 20 to 65 lbs.
Booster Seat (with a high belt position) from 30 to 100 lbs.
Booster Seat (without the back) from 40 to 120 lbs.
Awesome Things About the 4Ever 4-in-1:
You can take the washable car seat cover off without having to rethread any of the straps.
There's a level indicator to help you figure out which of the six reclining levels is best for your child's age.
Surpasses all crash testing safety requirements.
Narrower than other car seats, in some cases you could get three into a back seat, but I'd use a measuring tape first to make sure before purchasing.
Ho-Hum Things About the 4Ever 4-in-1:
Although it SAYS this is a rear-facing car seat, it may be a tight fit with some cars. (Especially if the driver has long legs and needs to move the seat back!)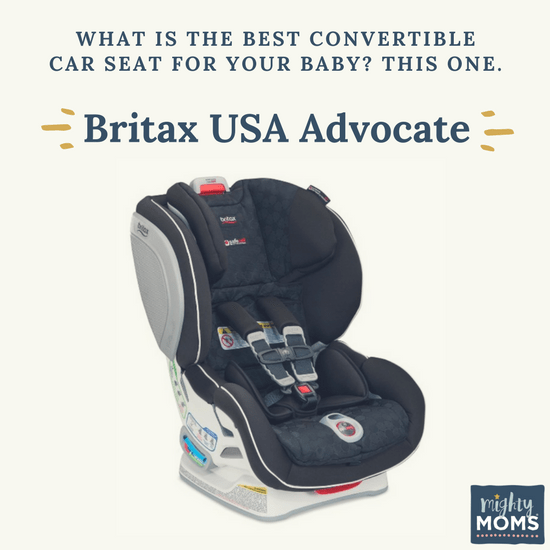 The Britax USA Advocate Convertible Car Seat
The claim-to-fame for the Britax Advocate is the ClickTight Installation System. You open the front of the car seat, buckle the seat belt across, and click the seat shut. There is also an audible "click" to help parents determine when the harness has been tightened correctly.
One thing you should know about the Britax brand of car seats, if you are ever in a car seat (God forbid), you will have to cut the seat belt in order to remove it with your child still inside, so always make sure you have this tool inside your car at all times.
Disclosure: Britax is actually the brand Cameron and I decided on for our kids. *wink*
Awesome Things About the Britax Advocate:
It has an Impact Protection safety system that includes a steel frame, energy-absorbing base, V-shaped tether to minimize seat rotation, and stitches designed to split at very specific instances to slow down any forward movement during a crash. (The stitches "give" a little, to reduce any bodily "giving".
Once you put this in your car seat, it does NOT move. It is rock solid, a part of the vehicle. Some users have reported some lee-way with using the LATCH system on other brands, but the ClickTight system clamps down on the seat belt and uses a base anchor that makes it unmoveable.
The expiration date is 10 years, so that's a lot of siblings it can carry!
Britax does have the occasional safety recall, but they aren't as common as with other brands.
Ho-Hum Things About the Britax Advocate:
There's no built-in cup holder for sippy cups. You have to purchase it as an attachment instead, and it's not rated very high.
Because it's heavy, this wouldn't be a good choice if you travel a lot. It's designed to be installed and left alone. You don't want to have to lug this all around the city, airport, etc., even with a carrier.

The Max-Cosi Pria Convertible Car Seat
The Max-Cosi Pria car seat uses magnets in their high-tech installation process called ClipQuik. You can use one hand to open the chest clip, which is really handy. It also has clever harness holders that keep the straps out of the way when you're trying to get your baby in and out of the car seat in a hurry. (And aren't we always in a hurry?)
Awesome Things About the Max-Cosi Pria:
There are a LOT of cushions in this car seat. It's like riding in a giant bubble filled with feathers. This was one of the most-common praises I heard: that baby seemed very comfortable and cried less in this car seat than in others.
The seat pad is washable (of course), but also dryer-safe, which is nice. No more trying to remember to wash the pad the night before in order to give it lots of time to air-dry.
It typically rides a bit higher than other car seats, letting baby look out the window.
It uses a unique FlexTech construction to help distribute and absorb crash forces, instead of a steel frame. This means it is much lighter and travel-friendly.
Ho-Hum Things About the Max-Cosi Pria:
It is quite a bit different to install this car seat than others, so you'll want to read the manual extremely carefully to make sure you're doing it correctly.
The infant position of recline (Level 3) takes up a fair bit of space, and may be a bit cramped in a compact car.
Can be difficult to latch in the rear-facing position, the straps take a lot of elbow-grease to secure in that position.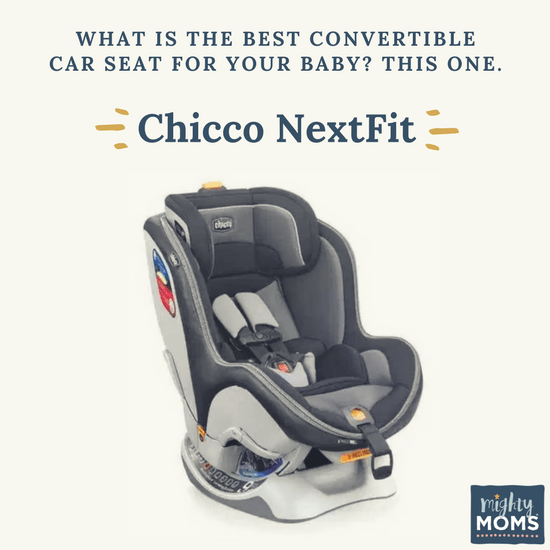 The Chicco NextFit Convertible Car Seat
The Chicco NextFit is known for it's versatility in fitting into a wide range of vehicles. It has 9 different levels of reclining, and actually uses bubble levels (you know, the ones used in construction) to show the correct seat angle for rear or front facing use.
Awesome Things About the Chicco NextFit:
The fabric breathes easily and doesn't get too hot.
It's much narrower than other car seats, so it's possible to use this car seat with two other safety seats in the back seat of a car, all in a row.
It fits nicely in this travel bag (for quick unzipping for security) and is small enough to be easily strapped to this luggage cart.
Ho-Hum Things About the Chicco NextFit:
The position of the lower clip can rub agains the inner thighs on some children, depending on big they are, which can be irritating.
For newborns, it can be difficult to get them in/out of the car seat, since it is pretty deep.
It's also pretty heavy, so if you decide to take it traveling, make sure you have a luggage cart to roll it around.
Four Other Sweet Safety
Suggestions to Keep in Mind
Obviously, purchasing a safe convertible car seat is a good first step, but it's not the ONLY safety step you should make. After all, tossing the car seat into the back of a pick-up truck isn't going to do much good.
Here are four other suggestions to create a safe space for your tiny tot:
Make sure you've actually installed the car seat correctly.  Read the installation instructions for the car seat you chose and follow them carefully. (Yes, I realize this seems obvious…but I can't not mention it.)
Have a professional approve your work.  This database will tell you where you can go to have your car seat professionally inspected for free.
Install the car seat in the center of the 2nd seat.  This provides a further barrier against possible side impacts.  (Check your car's manual first though, some cars don't allow using the LATCH system from the center position.)
If money is tight and you're going to be borrowing a car seat from someone else, or using an older child's car seat for a younger one, make sure you run the car seat through this database to check and make sure it has been subject to any recalls.
Hit the Road! (Safely)
The car seat you choose is one of the most expensive items you're going to invest in. It is also one of the most important. So take your time with this decision! Figure out what is most important to you, and use that as a guide.
Since ALL of the car seats above have been determined to meet or exceed safety recommendations, you can move past that question and consider other factors:
Now that you've identified your family's best convertible car seat, it's time to hit the road! Stock up on some excellent baby road trip distractions, and try out one of the Taylor Family Road Trip Games for the older siblings.
Sweet family memories lay just beyond the horizon!
Have You Read These Yet?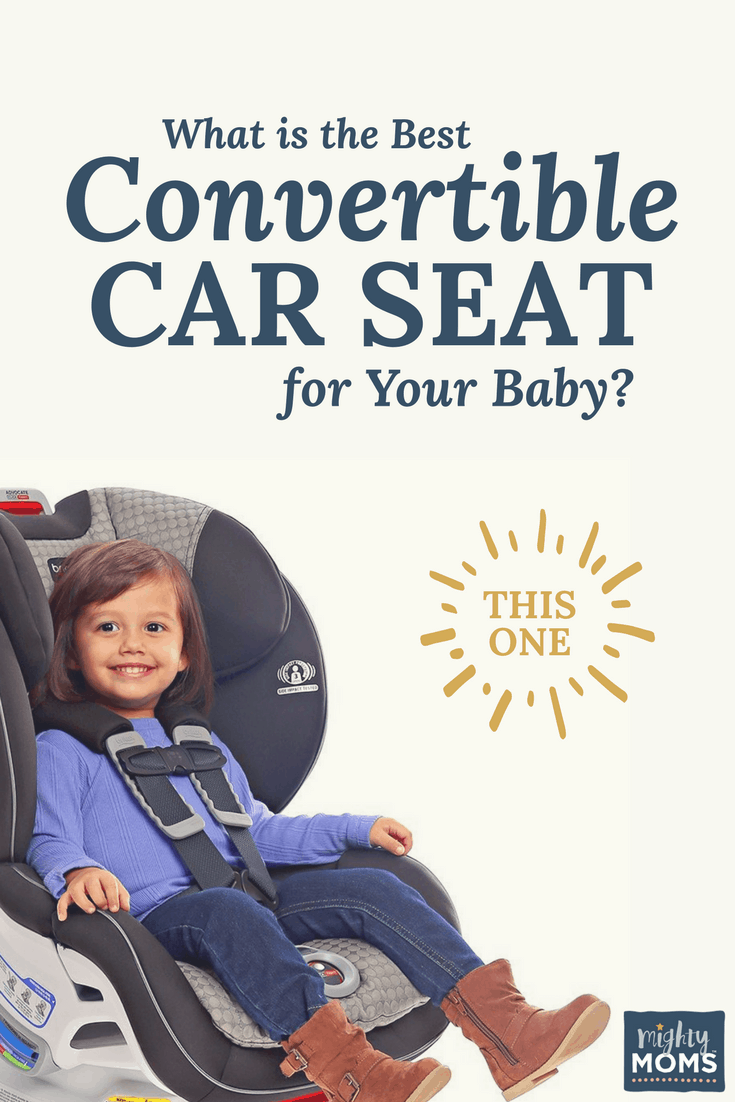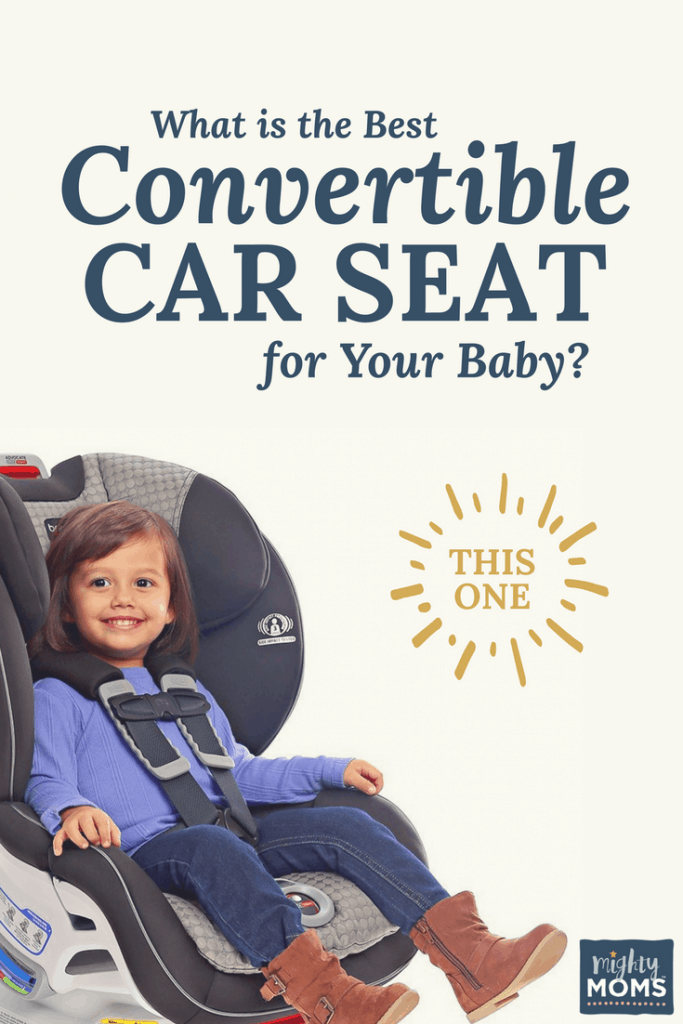 We ♥  honesty!  This post contains affiliate links that provide extra money for our mutual coffee habits addictions. Click here to learn more. As an Amazon Associate I earn from qualifying purchases.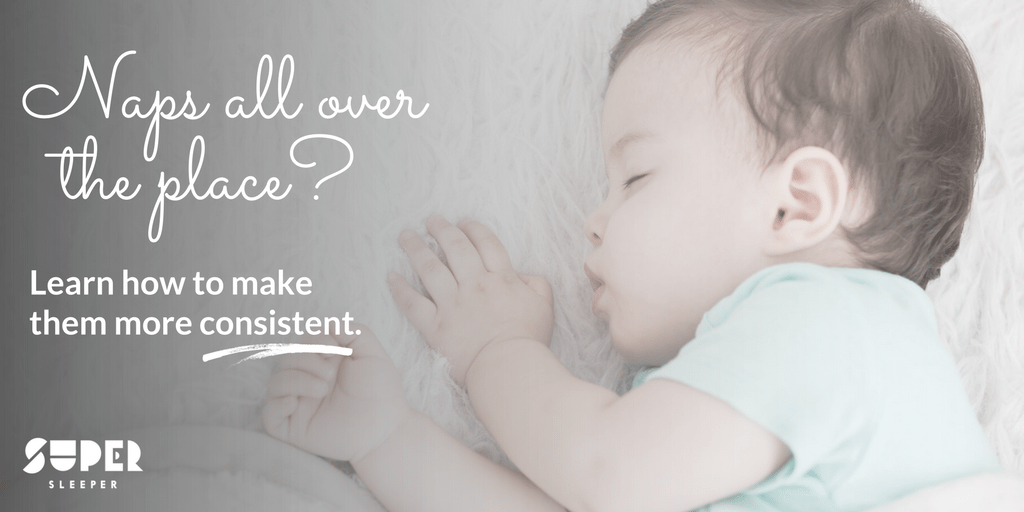 We ♥ Citations
Policy Statement—Child Passenger Safety. Pediatrics.AAPPublications.org
Effectiveness of Child Passenger Safety Information for the Safe Transportation of Children. NHTSA.org
When Should Your Child Turn Forward-Facing? TheCarSeatLady.com
Car Safety Seats for Children: Rear Facing for Best Protection. InjuryPrevention.BMJ.com
Car Safety Seats for Children: Rear Facing for Best Protection. (RETRACTED) InjuryPrevention.BMJ.com