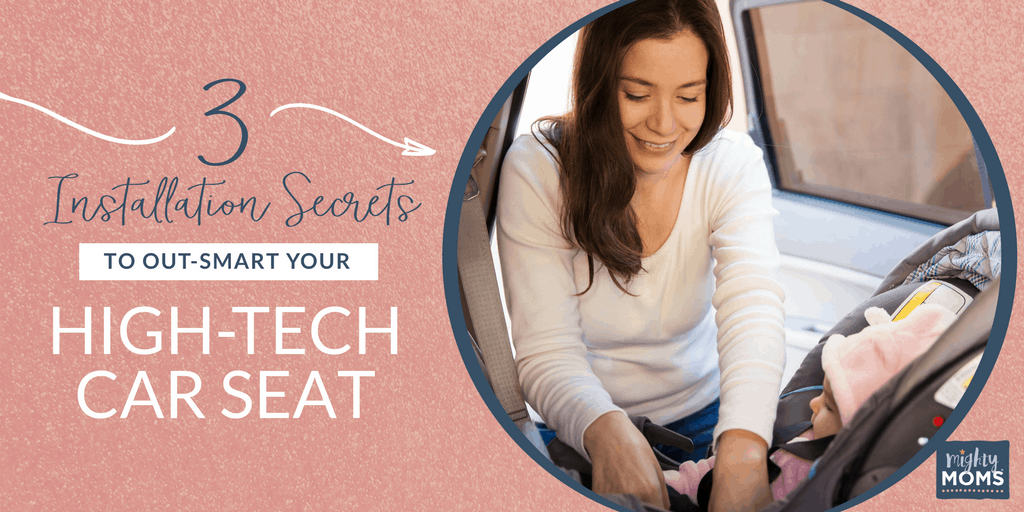 What do these activities have in common?
Watching infomercials.
Eating limp bacon.
Wearing Crocs.
Receiving a forwarded Facebook message.
Getting caught behind a student driver.
Using one-ply toilet paper.
These are all things that I'd rather do than install a car seat.
No lie.
Not only has installing a car seat become increasingly complicated as the years have gone by, but it's also unbelievably stressful. It seems like the rules and methods change almost weekly, and if you execute any one tiny detail wrong, you worry that it may spell unspeakable disaster for your little one.
Not to mention, if it takes you under six minutes to buckle in your human tornado, you might feel like celebrating with a Facebook photo brag!
But wait! Aren't you worried that if the angle of his seat is one degree off, someone might think you an unfit mother and report you to social services?
Well, we can't have that! Our kiddos need to be safe. And we moms need to have confidence in our own ability to keep them safe!
That's why I called in Anna. She l-o-v-e-s car seats! She is what you call a Child Passenger Safety Technician. Anna is going to teach us three secrets that will help us outsmart those sophisticated, luxury car seats that seem impossible to install.
Then all you'll have to worry about is how to convince your child that their seat is not a wild, baby-eating monster.
Car Seat Installation Secret #1:
Start With the Right Seat
Your options for choosing a car seat can be absolutely staggering. There are seats of all dimensions, travel systems, convertible seats, seats with cup holders, seats with puzzle buckles and/or anti-rebound bars (whatever those are!), and let's not even get started on height and weight limits!
Unclench the stress ball. Let's help you narrow it down.
The first choice you'll need to make is whether to get an infant seat or a convertible seat.
The Low-Down on Infant Car Seats
Infant car seats are rear-facing only seats that typically come in two pieces, a base and a carrier.
Arguably the biggest benefit of the infant car seat is the ease of getting your baby in and out of the car. There are, however, a few other sanity-saving conveniences worth mentioning:
Many infant seats can be used without a base, but if you are in a situation where baby will be frequently bounced from Daddy's car to Grandpa's car, to Mary Poppins' car, then having multiple bases in each car will will make those transitions a piece of cake!
If your little prince falls asleep in the car and you want to put off waking him up as long as possible, you can just quietly relocate him from the car to the house.
Most infant seats come with a travel system where the seat comes out easily and clicks onto a stroller for easier errands and outings.
If you live in an urban area and plan to utilize public transportation such as taxis, an infant seat is easily transferable.
One thing is for sure when it comes to infant car seats: You'll be a master of all these tricks faster than  you can say, "Peg-Pérego!"
Need some help deciding which one? We polled our own Mighty Moms Club writers and asked which infant carrier seats they use and love. Here were their favorites: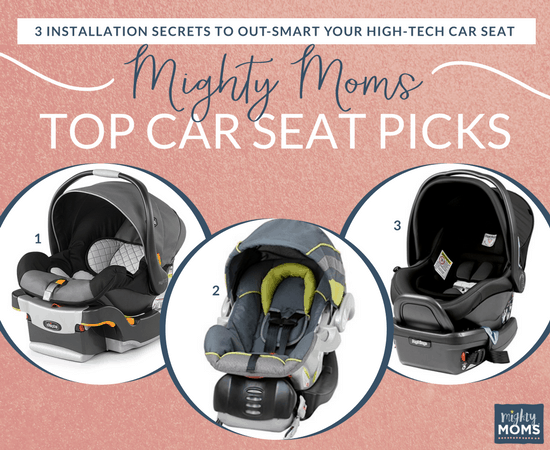 Chico KeyFit 30: Bethany has used this one three times and loves how easy it is to install.
Baby Trend Flex-Loc: Lauren utilized the versatility of the travel systems with this option; she could click her seat into either the jogger or a lighter-framed stroller!
Peg Perego Primo Viaggio: Sabrina noted that these have incredible safety ratings and will stick with this option if they need another seat in the future.
The Low-Down on Convertible Seats
Convertible seats don't provide the flexibility of infant seats; once they're installed, they are in securely and can be a pain to move! They're also usually more expensive.
But a convertible seat lasts much, much longer! The convenience of an infant seat only lasts about a year, maybe two if you're lucky. But with a convertible seat, you really get the bang for your buck!
Many convertible seats can take you from a 4-lb preemie to a 95-lb 10-year-old without ever having to upgrade or buy a new seat. (Disclaimer: As wonderful as that sounds, not even the best car seat in the world will make it easier to convince said 95-lb 10-year-old that he needs a booster seat.)
Wondering which convertible car seat is a smart buy for your specific car? This article will walk you through what to look for.
The Usual Small Car Problems
A common problem which really requires the ability to outsmart the car seat manufacturers is finding a seat that will work in a tiny car. Or with multiple kids. Or both.
Example: I have a 2012 Honda Fit. I also have two toddlers, both of whom are rear-facing.
Honestly, when I got pregnant with Baby #2, I thought I was going to have to buy a new car. I was crushed because I love my Honda Fit, and it's paid for! Then I realized that even the most expensive car seats would be cheaper than buying a new car. (Just call me Captain Obvious!)
We were prepared to shell out big bucks if necessary for a fancy, compact car seat, but we were pleasantly surprised by the affordability of the Safety 1st Grow and Go and how well it fit in our tiny clown car! We now have two of these seats, and my husband can still stretch his legs out in the front seat.
When it comes to making a situation work in your particular car, with your unique needs and circumstances, the best solution is going to be trial-and-error. Fortunately, many car seat retailers will allow you to take their floor display seats to your car to try them out in the parking lot.
Is it going to be a pain?
Perhaps.
But the peace of mind of knowing that you tried it out and know you have a solution that's going to work before shelling out the money makes it 1,000% worth it!
Car Seat Installation Secret #2:
Read the Manual (Sorry.)
I know what you're thinking.
Seriously? I'm reading an article on installing car seats, and she tells me to just go read the manual? Does she know how dull and dry those things are?
I know, and I'm sorry. I know you'd rather just read another brilliant, witty, and entertaining article by yours truly to learn everything you need to know about your car seat, but that manual is really, really, really, really important!
It may seem like car seats are all the same, but they aren't. You can't know the specifics of your car seat unless you read the manual. Here's a list of just a few of the many characteristics that vary between seats:
Height-weight requirements for various settings
When to remove infant inserts
How to clean the seat cushions (believe me; they'll need it)
The handle position required for transport
Whether it is allowed to touch the seat in front or any other surrounding car seats
Any additional accessories required to be installed at all times
But because this is an article to help you make sense of this whole installation thing, let's talk about some important, yet commonly overlooked details you'll find in any manual.
Common Mistake #1: Turning Kids Around Too Soon
Some states only require you to keep children rear-facing until their first birthday, but some state laws require children to be rear-facing until 2, which is the recommendation of the American Academy of Pediatrics. And hey, the longer you can go, the better!
The 2007 study that originally stated that older babies/toddlers were safer facing the rear was retracted in 2017 for lack of replication. That said, the law is the law! Keep your child facing backwards until your state's law gives you the thumbs-up to switch.
Common Mistake #2: Doubling Up on the Installation
Spray tans are proof that "more" doesn't always mean "better."
The same concept can apply to car seat installation. Unless you have a Clek Foonf, trying to double up and use both the lower anchor and a seatbelt simultaneously to secure the car seat can potentially cause the two restraints to counteract each other in a collision.
(Fun fact: If you're struggling with getting a car seat to fit, like we talked about in the last secret, Anna recommends using the seatbelt method of installation. "Installing using the seatbelt instead of the lower anchors often gives an extra inch or 2 in these situations.")
Common Mistake #3: Not Using the Anchors Correctly
If you're wanting to outsmart your car seat, you'll have to read not just the car seat manual but also your vehicle manual. (Repeat after me: "Manuals are our friends!")
You need to know your vehicle's placement and usage of lower anchors and tethering anchor hooks, also known as the LATCH System–short for Lower Anchors and Tethers for CHildren.
Lower anchors have weight limits, so find out what yours are. Also, make sure you are installing the seat in an area of the car that has true lower anchors and that you're not inadvertently using the outboard anchors in a center seat.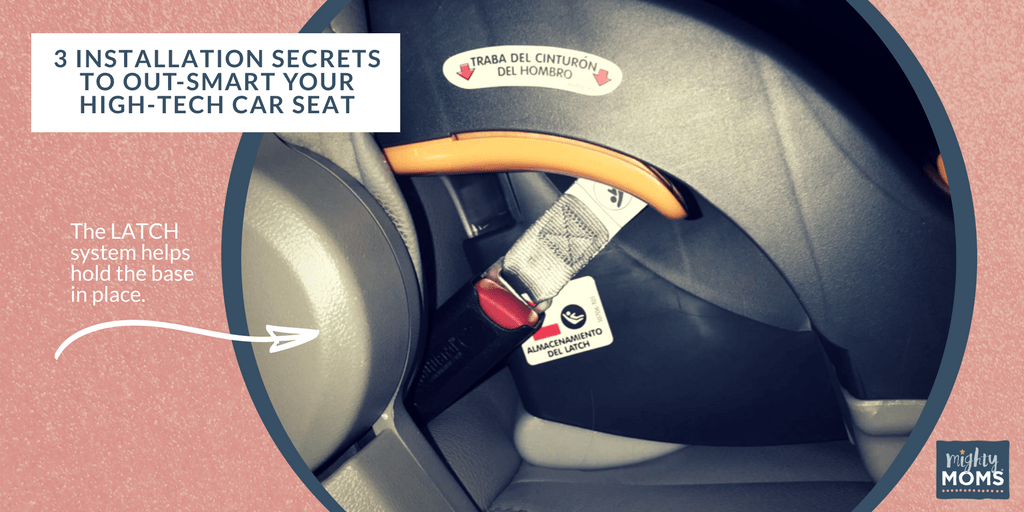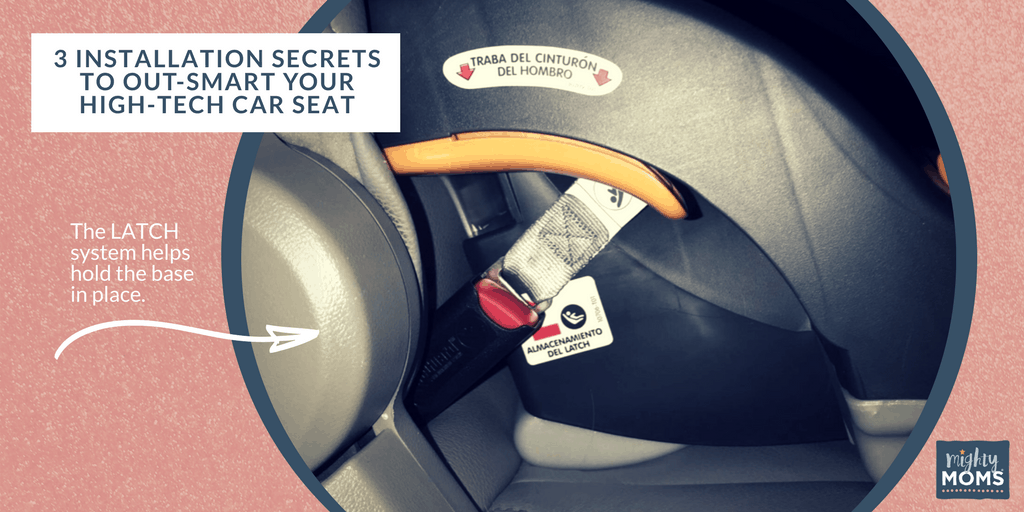 When installing a front-facing seat, the top-tether used to anchor the top of the seat is absolutely vital. Always make sure you use a designated anchor hook. The location of these anchor hooks will vary depending on your car's model, so be sure to check your vehicle manual.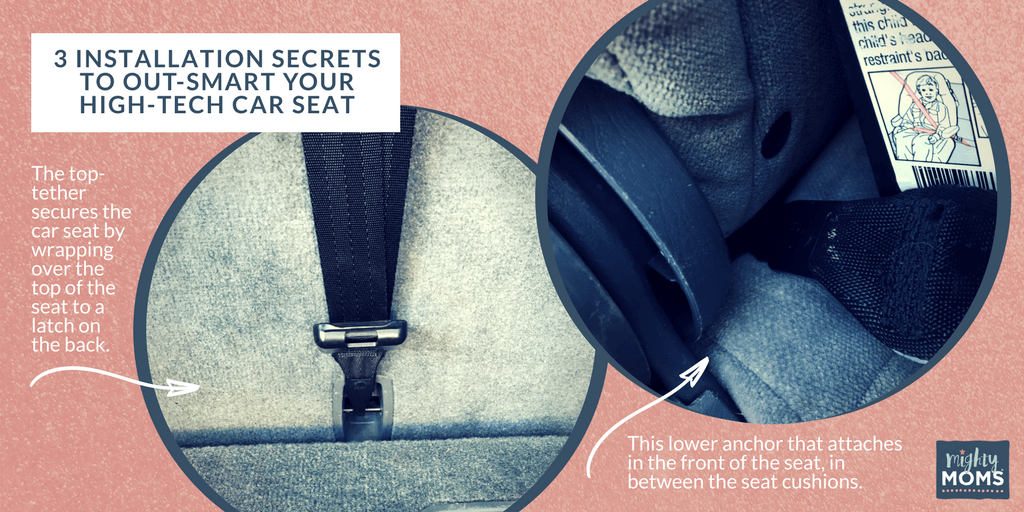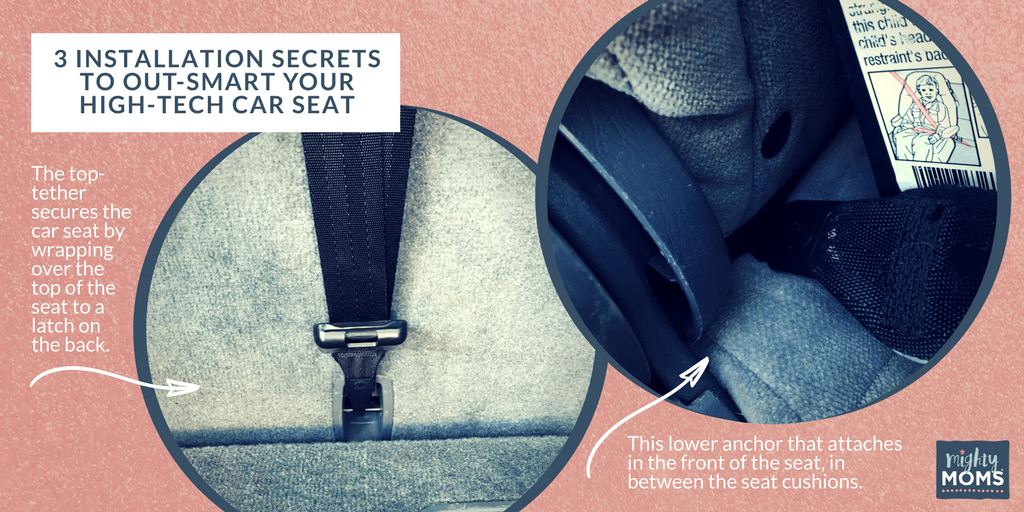 Car Seat Installation Secret #3:
Know Where to Find Help
Sometimes even when we've studied harder than we ever did for Mr. Nelson's biology exams, we occasionally need a little extra nudge in the right direction. So I asked Anna where to find her favorite resources.
The Internet is a Wonderful Place…
The car seat is no match against the vast resources of the Internet! Anna gave me some of her favorite online sources, all run by Child Passenger Safety Technicians like herself: The Car Seat Lady, Car Seats for the Littles, and Car Seat Blog.
"These are all run by seasoned technicians and have up-to-date, science-based information with a lot of hands-on installation experience! Many of their YouTube videos focus on installation and proper harnessing." -Anna
Um … YouTube videos? Score!
If YouTube can empower me to unclog a sink and play the theremin, I have every confidence that I can learn to properly install a car seat!
…But There's Nothing Like Face-to-Face Contact
Of course, the best thing to do to solve a puzzle (or just have your work double-checked) is to call on a professional. You can find a local Child Safety Passenger Technician like Anna by going to the website for Safe Kids, the only certifying organization in the USA.
"Every current Child Passenger Safety Technician will be listed for your area along with their contact information," says Anna. "This includes any certified police officers or firefighters, as it is not a mandatory part of their training. If you are in person, you should ask to see their CPST card or record their ID number."
Going the Extra Mile for Car Seat Safety
Now that you're armed with a bit more knowledge, you're excited to go tackle that car seat, right?!
Well, okay. Maybe it still doesn't beat out a brownie sundae in a hammock, but hopefully car seat installation has at least moved off the "Things I Hate" list and onto the "Things I Can Tolerate and Feel Moderately Confident About" list.
Modern cutting-edge car seats don't have to intimidating. Take it slow, choose a seat you feel you can confidently install and will work for your lifestyle, read the manual, and ask for help when you need it. It's that simple.
Now how to get your kids to cooperate when it's time to put them in it?
I'll let you know when I figure that one out!
Have You Read These Yet?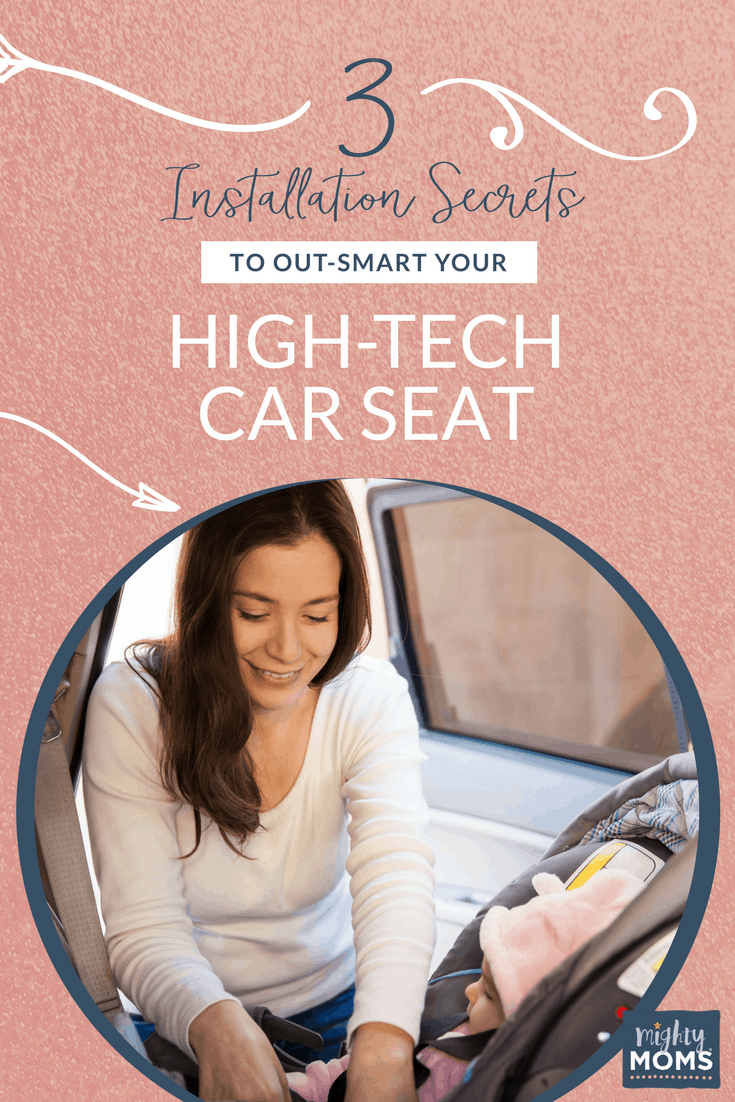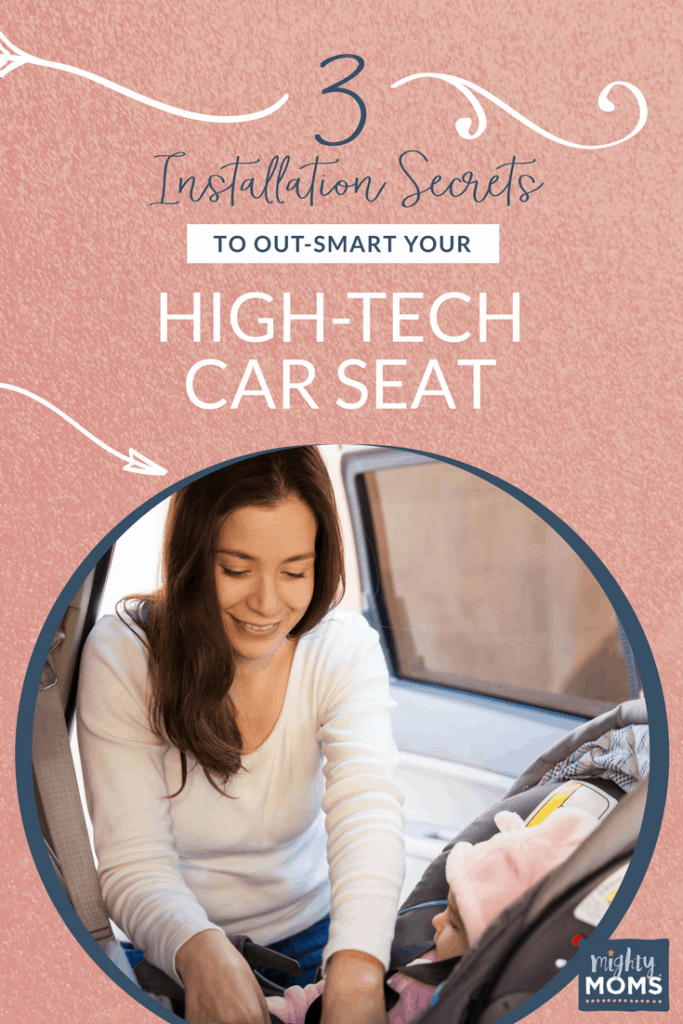 We ♥  honesty!  This post contains affiliate links that provide extra money for our mutual coffee habits addictions. Click here to learn more. As an Amazon Associate I earn from qualifying purchases.