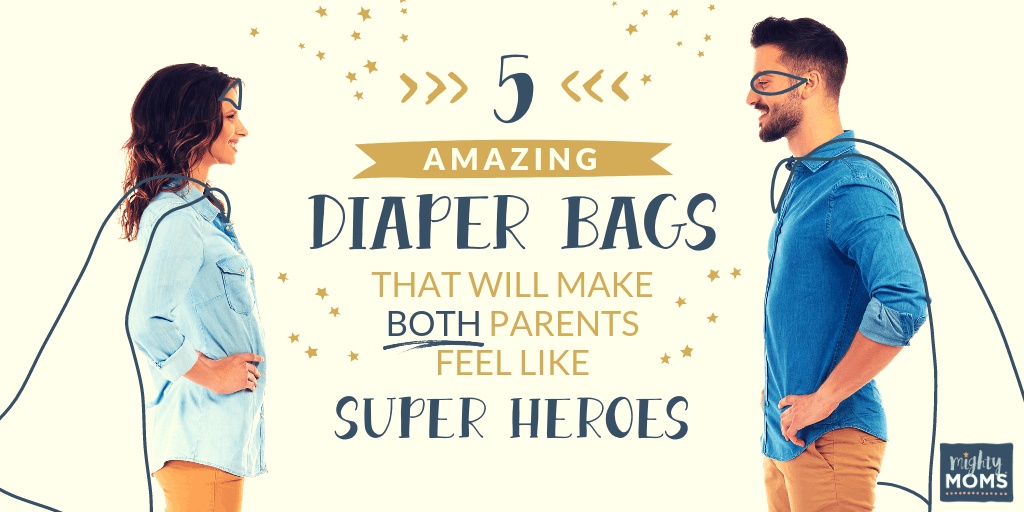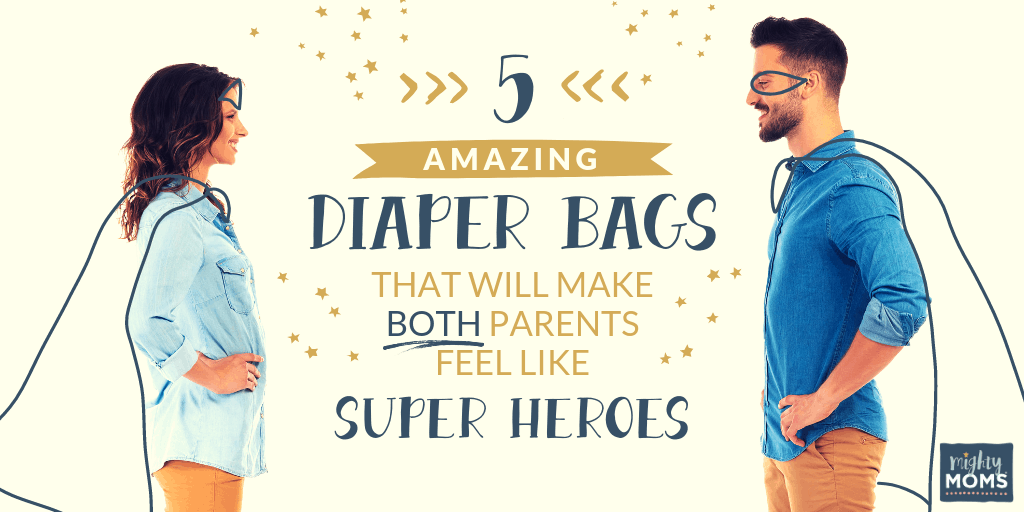 We talk a lot about Mom stuff here in the MightyMoms.club corner of the Internet. And while it makes sense that we focus on moms here at The Mighty Moms Club, let's not forget about all the wonderful Dynamite Dads out there!
Since you're both running around being the Incredibles, you really should have diaper bags that you can both feel comfortable lugging around.
Diaper Bags Stylish Enough for BOTH Parents
Wouldn't it be great if Dad could do all of his Super Dadding without lugging around the pink polka-dotted diaper bag? Do your man a favor. Choose a diaper bag that won't make him feel like he's just borrowing the parenting duties for the day. These stylish parent-neutral diaper bags will dress you both in super-suits of confidence!
Superman / Supergirl Diaper Bags
Many dads don't want to walk around with a bag that screams "DIAPER BAG", so this backpack is perfect.
Its sleek design looks just like a regular backpack, but the bag contains helpful diaper bag-esque features that will make dadding on the go a breeze. Sort of like how the unassuming Clark Kent transforms into the classic super hero we all know and love.
Both parents will love how this "diaper" bag combines both the durable (padded straps and waterproof material) and practical (18 pockets to organize everything you need throughout the busy day).
Convenient straps make it a snap to attach to a stroller while out for a jaunt around town and the included changing pad is always a helpful feature. A definite super find for crazy-busy parents always on the go!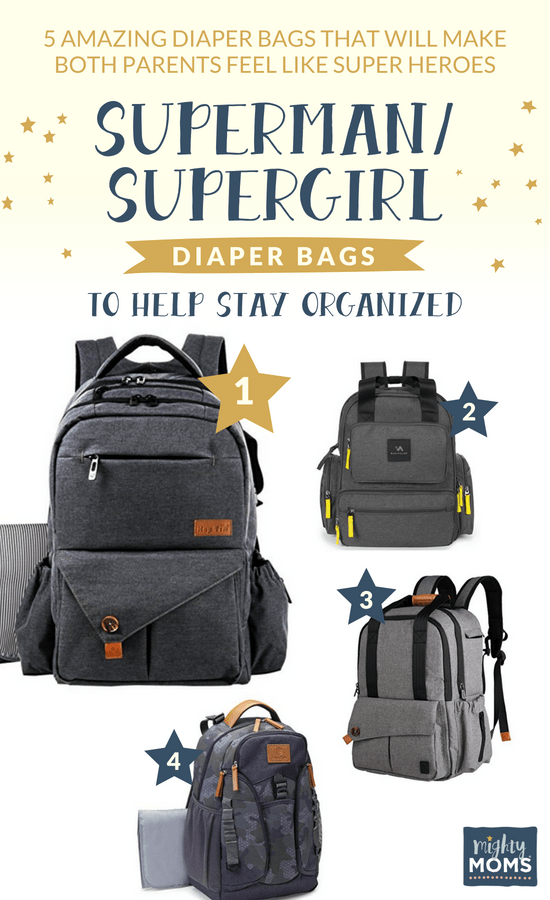 Super Diaper Bags to Help Stay Super Organized
1. HapTim Multi-Function Diaper Bag
2. Bagitalist Backpack | 3. Ferlin Backpack
4. Jeep Diaper Bag Backpack
The Flash Diaper Bags
Parents of toddlers can agree on one thing: toddlers. are. fast. For such small people with such little legs, they can really move. Which means a bag that doesn't weigh you down and enables you to keep up is a major win.
This crossbody backpack is super lightweight and keeps you hands-free, enabling Dad to run the super speeds necessary to parent a rambunctious toddler. The crossbody strap can be connected to either side, meaning you can choose with shoulder to wear it on.
While it's not a true diaper bag, it does have multiple pockets helping keep everything organized inside. Its lightweight design makes it perfect for the parent who just wants to throw in a water bottle and snack, and perhaps a back-up diaper, on the way to the park.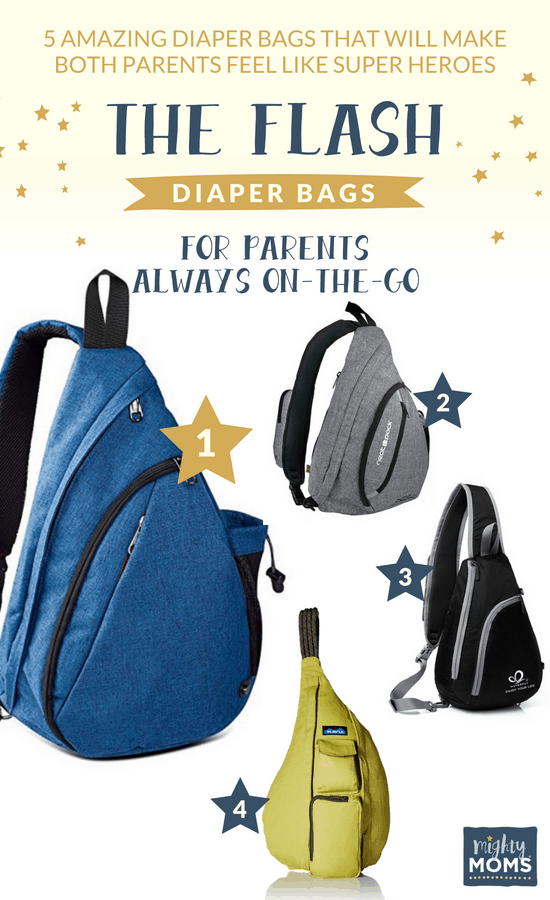 The Flash Diaper Bags for Parents On-the-Go
1. Outdoor Master Sling Bag
2. Neat Pack Sling Bag | 3. Waterfly Sling Bag
4. Kavu Rope Bag
Diaper Bags Fit for the Hulk
While packing lightly is often the goal, there are many situations that require a fully-stocked supply. In which case, Mom and Dad will need a diaper bag that can really pull its own weight.
This sturdy diaper bag takes after the Hulk in both its striking color and its durability. Waterproof nylon fabric means this bag can keep up with any adventures you have planned.
It may look unassuming on Dad's back, but once it's opened up you can really see how much you can fit inside. The huge zippered pocket opening means you can spot that much-needed paci before your little one becomes Hulk-style angry.
The bag is customizable in that it can be worn four different ways, since what's comfortable for Mom may not be cozy for Dad.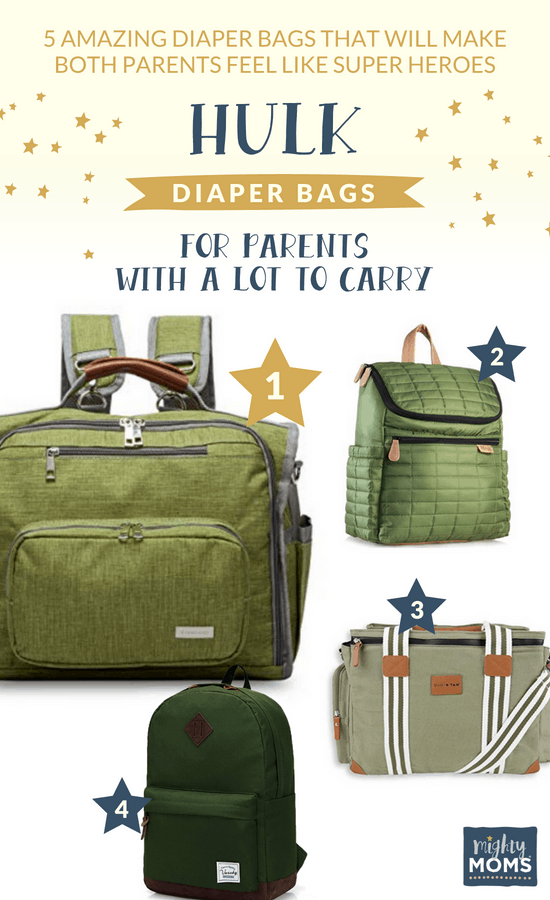 Diaper Bags for Hulk Parents with a Lot to Carry
1. Vivocase Waterproof Diaper Bag
2. Maman Diaper Bag | 3. Baby K'tan Weekender
4. Vaschy Classic Backpack
Captain America's Best Diaper Bag
Parenting can be — and often is — messy. From endless diapers and spit-up during the baby stage to potty training accidents and sticky snacks in the toddler years, parents need to be prepared for clean up duty.
And while Dad may feel like a super hero most of the time, a diaper blowout can make even the bravest person a bit squeamish. So equip Dad with a diaper bag that makes him confident that he can handle anything parenting (or actually his child) throws his way.
This diaper bag will do just that. Hilariously named the "Deuce 2.0," it is prepared to handle even the messiest of situations with ease. Six pockets within the roomy interior assure Dad can pack everything he needs, and Mom will still have room to throw in her necessities. And the durable, water resistant materials protect the bag itself. The foam-padded changing mat that is included makes clean-up a breeze, as well.
This diaper bag is perfect for the mom or dad who values the practical and tactical, and the camouflage pattern will help any proud military parent feel right at home.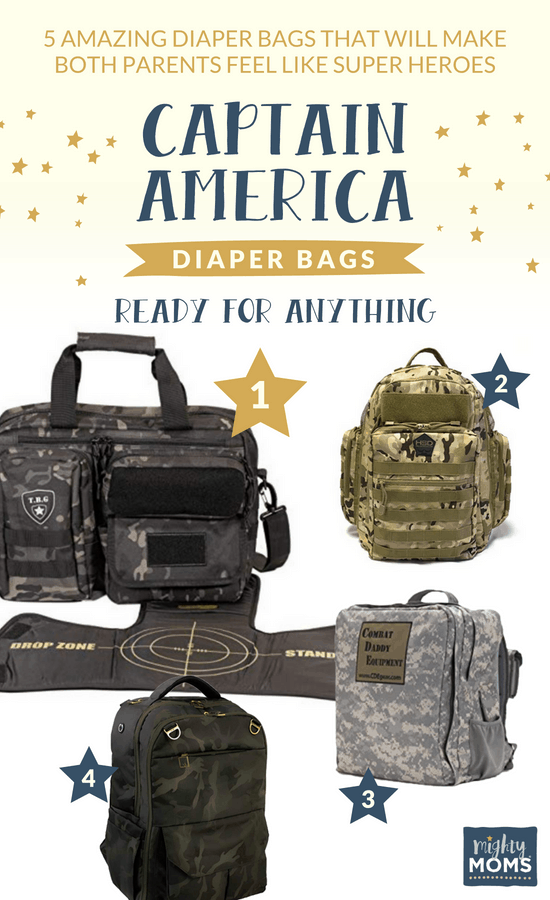 Captain America Diaper Bags Ready for Anything
1. Tactical Gear Deuce 2.0 Diaper Bag
2. High Speed Daddy | 3. Combat Daddy Equipment
4. ArtAK Diaper Bag
Diaper Bags for the Iron Man Parent
So much of parenting relies on the practical. So when you find a practical baby item that also includes an unexpected detail, it feels like you've won the lottery.
A diaper bag with unique features appeals to the parent that loves gadgets and innovative design, not unlike Tony Stark himself.
This backpack has a sleek design that makes it look very much not-like-a-diaper-bag, and it includes 13 easy-access pockets and compartments for organizing everything you could possible need.
It also has some clever features that make it extra special:
Nobody likes digging through their diaper bag to find the baby wipes in a moment of (often desperate) need! This bag includes the oh-so-convenient wipes dispenser. You can now find and grab a wipe one-handed, while you wrestle down the messy baby with the other.
Speaking of not wanting to dig around looking for a specific item, this bag also features a handy diaper hammock. The hammock cradles several diapers right at the top of the main compartment, so they're never crumpled at the bottom of the bag!
This bag is sure to make Dad (and you!) feel like the super parent you really are…with a few clever tricks up your sleeve.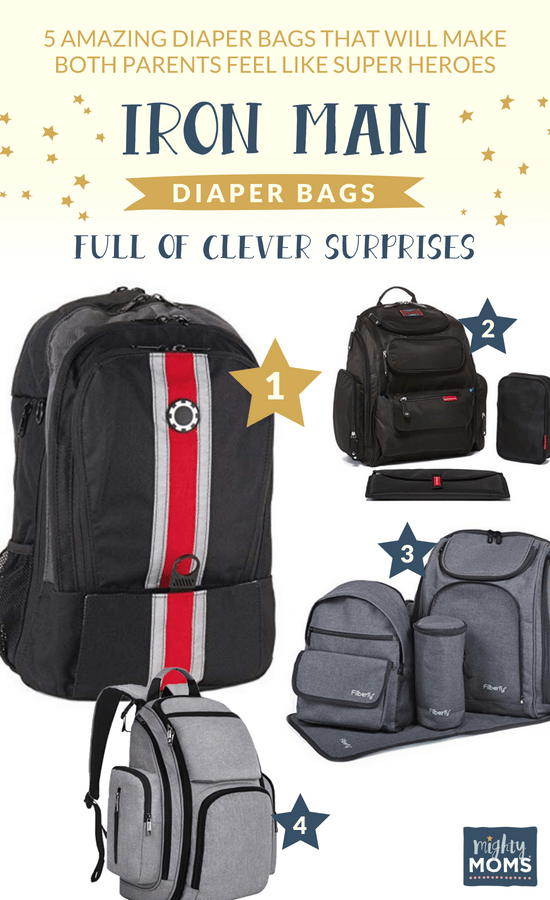 Iron Man Diaper Bags Full of Clever Surprises
1. DadGear Diaper Backpack
2. Bag Nation | 2. Filberry Backpack Set
3. Mancro Diaper Backpack
Every Hero Needs the Right Tools
As moms, I think we can all agree on this truth: A great bag can make you feel like you can do anything.
Dads need that specific kind of parenting confidence just as much as moms do, so show the dads in your life how much you appreciate them by choosing a Dad-friendly diaper bag.
The practical design, non-diaper-bag appearance, and unique features of these bags will make him feel like the Super Dad that he already is.
Think of it as a quiet "Thanks for being my Amazing Spiderman" nod of appreciation he'll be sure to notice.
Have You Read These Yet?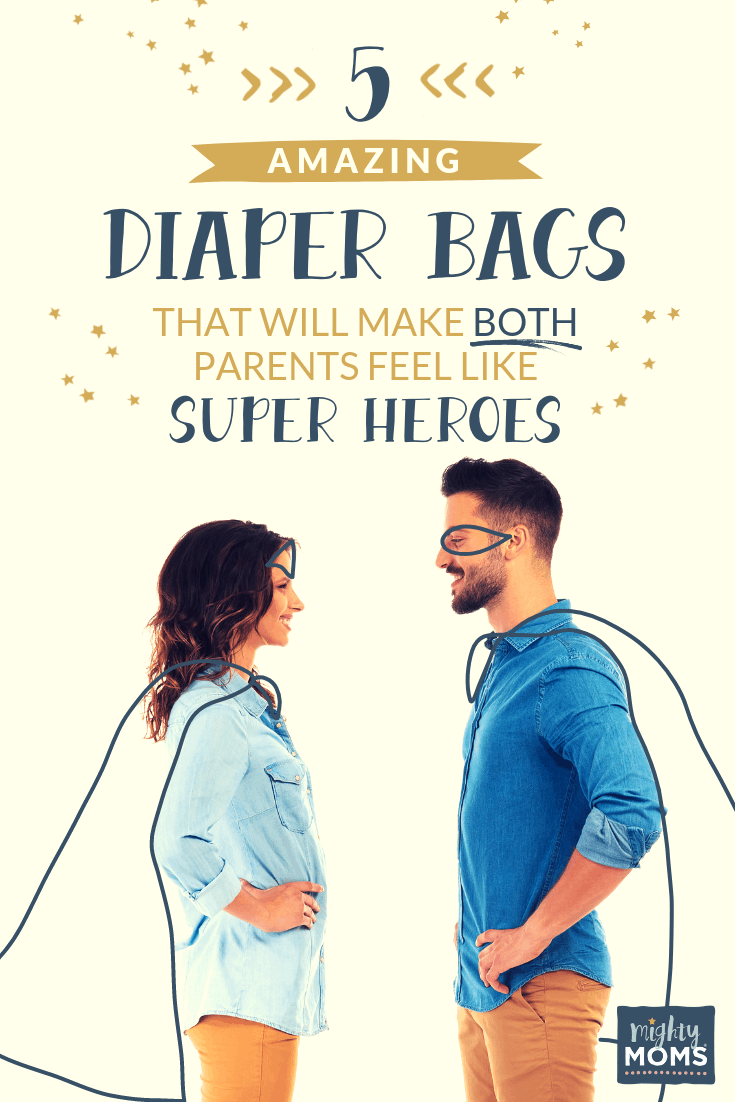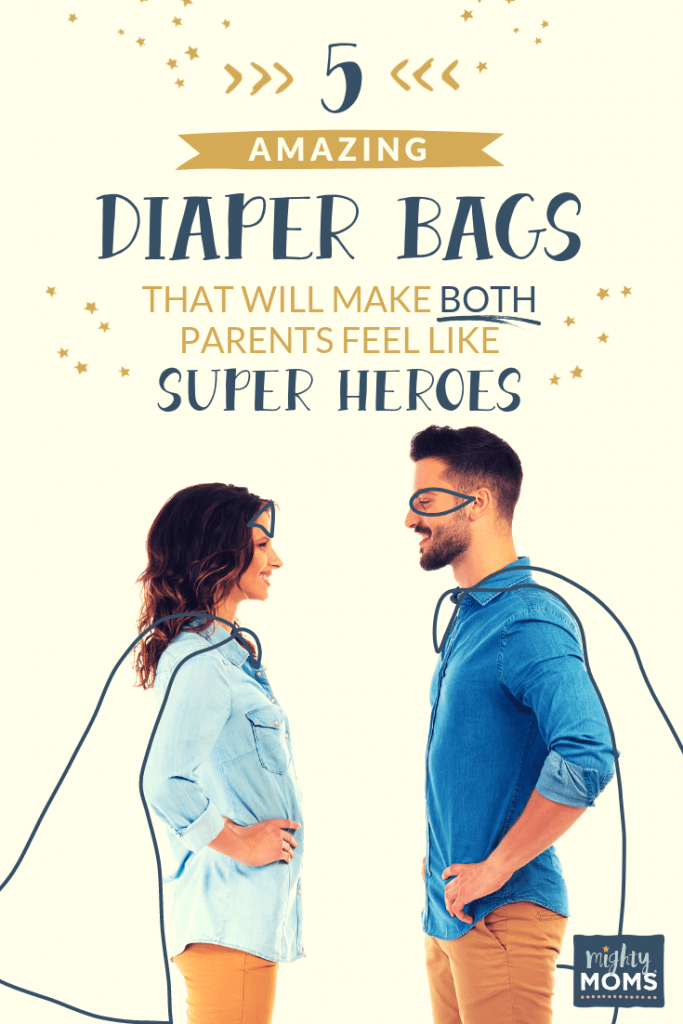 We ♥  honesty!  This post contains affiliate links that provide extra money for our mutual coffee habits addictions. Click here to learn more. As an Amazon Associate I earn from qualifying purchases.