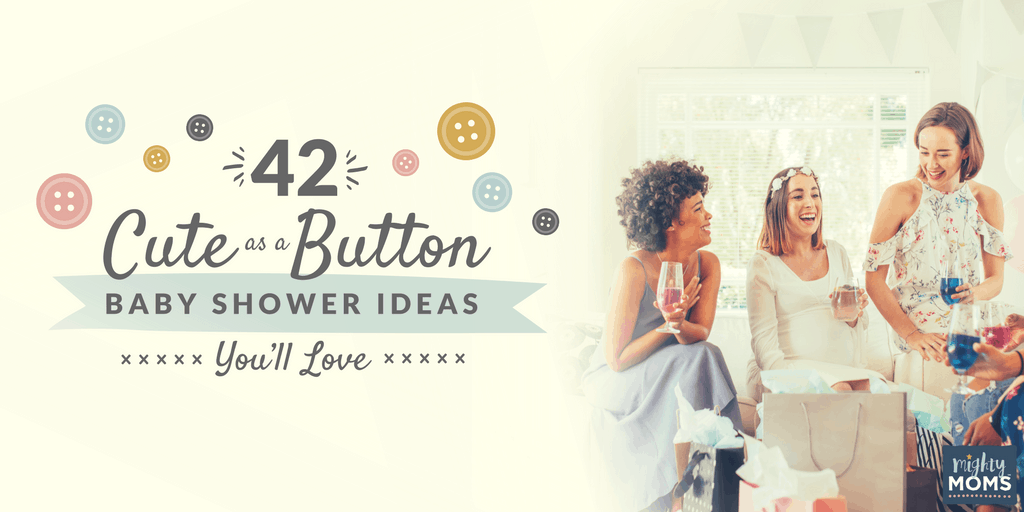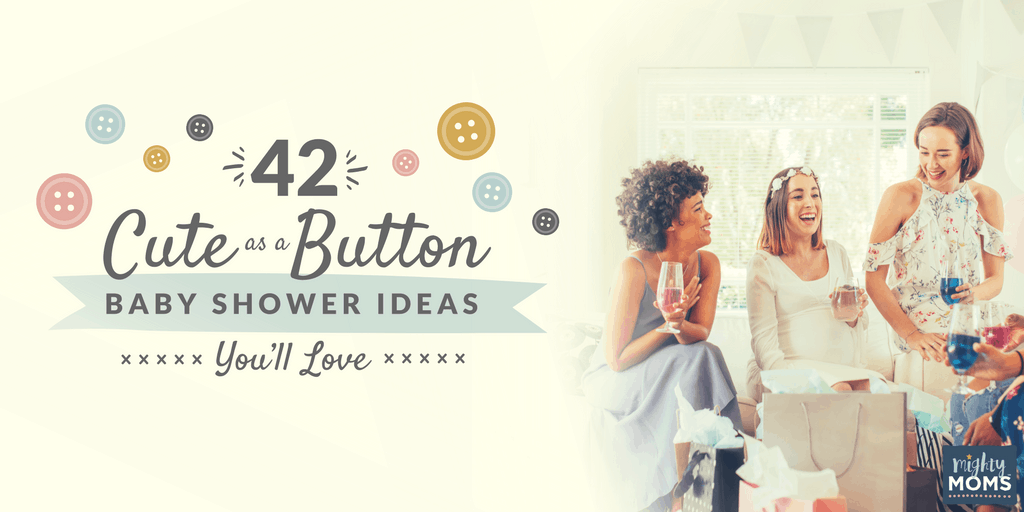 Several months ago I was asked why there aren't any party planning posts for baby showers. After all, the Birthday Series continues to be one of our most popular series!
The reason is simple, really… I didn't think of it. *blush*
Never. Even. Occurred to me.
You subscribers.
You're the true brains of this whole outfit.
In your honor, I humbly submit this: our very first baby shower theme post. The first of many.
8 Inspiring Invitation Ideas for a
Cute as a Button Baby Shower
The first taste your guests will get of the awesomeness heading their way is your invitation. This is not the time to break out the construction paper and glue.  (After all, you want them to bring gifts, don't you?)
Nudge them down the excitement path with some invitations that cast a good first impression.  Here are some invites that cast a very good impression!

1. Barrels of Buttons | 2. Button Garland
3. Linen Invitation with Stamps | 4. Rainbow Buttons
5. Sew Sweet | 6. Simple Button Invite
7. Overall Buttons | 8. Chevron Invitation
All of these come from my newly-crowned favorite paper source, Zazzle. Many of them come in a variety of colors, too, so if you don't like the colors below, or if you need gender-neutral colors, be sure to click through and see the other varieties available!
7 Lip-Smacking Snacks for a
Cute as a Button Baby Shower
Food.
The gift for everyone else at the party. Get everyone's tummy rumbling with these simple snack ideas that fit your Cute as a Button Baby Shower theme perfectly.
All you have to do is think round.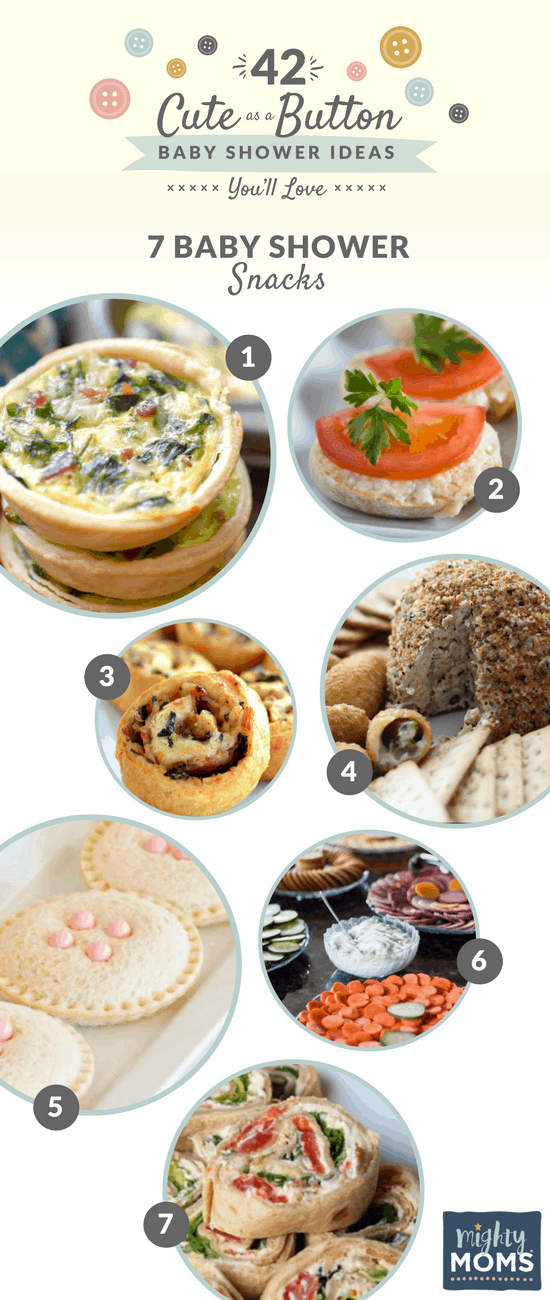 8 Delicious Desserts Perfect for a
Cute as a Button Baby Shower
Savory snacks are great, but…
The desserts are what makes a party.  Here are five sweet suggestions to stir up your imagination.
Pick one, pick all! (Of course, if you do "pick all," I wouldn't mind an invite…*feet shuffling*)

13 Dashing Decoration Tips for a
Cute as a Button Baby Shower
Obviously you'll want to have a few "this is a party and not a PTA-meeting" decorations sprinkled around the room.
If you're pressed for time, just concentrate on decorating a table for the food and a table for the gifts. Remember, you've already left them speechless (and drooling) with your yummy table spread!

Personalized Water Bottles—The delight is in the details. Details like these personalized water bottles. (Bonus: They also happen to match these invitations.)
Button Confetti—Use this simple paper punch to create colorful confetti on the gift and buffet table.
Hanging "Ribbons"—Hang special fringed streamers behind the gift and buffet table to hide picture frames and other wall decor that conflicts with your Cute as a Button Baby Shower theme.
Button Badges—Highlight the family-to-be with these handmade ribbons.
Country Wreath & Garland—A sweetly whimsical decoration idea from Little Umbrella. Create your own burlap wreath with this base, a glue gun, and a few fake flowers. You can recreate the garland with your trusty paper punch, twine, and colorful cardstock.
A Crafty Centerpiece—Isn't this button flower centerpiece adorable? You'll need some small white metal buckets (weighed down with rocks on the bottom and buttons on top), dowel rods, foam centers, yarn to glue on the spheres, and assorted buttons to glue on top of the yarn.
Clean-Up-Friendly Paper Goods—Or, if the thought of crafting something gives you a headache, you could always "cheat" and purchase a decorating packet! Here's one for girls and one for boys.
Personalized Votives—A sweet little reminder of this special day. It also makes a great gift for guests, or a memory-box keepsake for baby!
Large Ceiling Garland—I love this playful idea of a large hanging ceiling garland. Recreate it with some pastel paper plates, using the leftover dowel rods (from #6) to poke holes in them. Thread them with colored craft ribbon and string them up with twine.
Framed Ultrasound Picture—Display the baby's first photo in this adorable button frame.
Chair Decorations—Aren't these chair decorations precious? Personally, I would probably tie one scissor on the back with ribbon (they can have the scissor as a gift), and hang a few tiny pompoms and other dangly ribbons with buttons glued on them from strips of measuring tape. (Three scissors per chair is going to be pricey!)
Wrapped Napkins—Copy this idea with thick linen napkins, scrapbook paper, ribbon, and glued-on assorted buttons.
Button-Filled Flower Arrangement—Martha recommends nesting two glass vases together, and filling the outer vase with white buttons and filling the inner vase with water and roses.
6 Fabulous Favors for a
Cute as a Button Baby Shower
It's customary to give away little favors for the guests, so I thought it might be helpful to share a few unique options that fit with the Cute as a Button baby shower theme.
Then again, if you just so happen to over-order, and have a frame or something to put in baby's memory box…well so be it. 🙂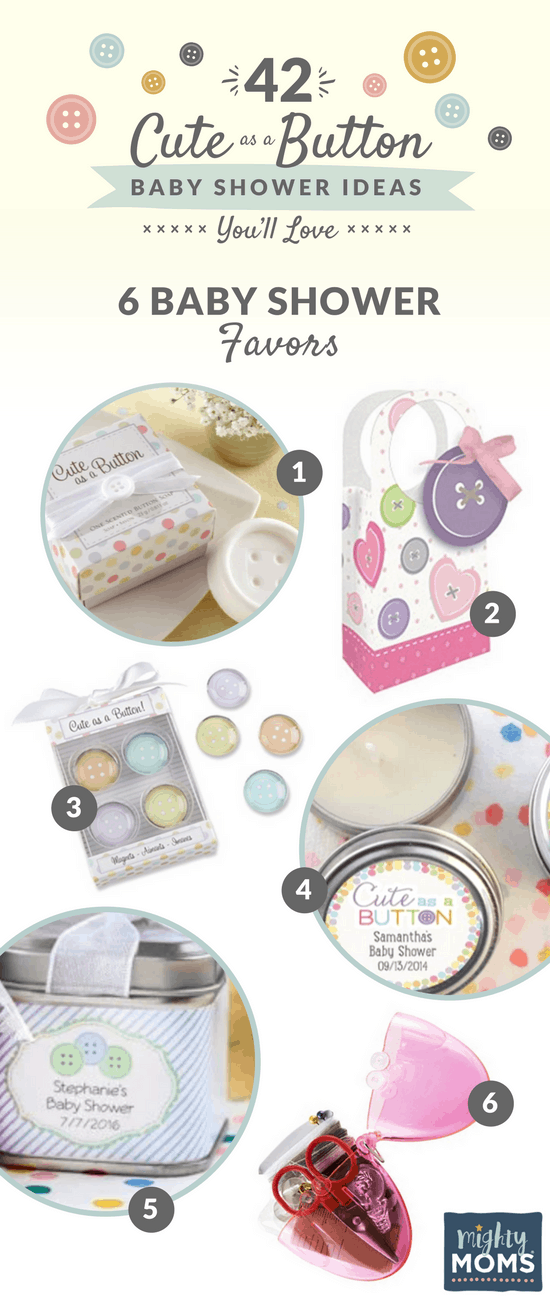 If you're worried you won't have enough to do at this shower, I would recommend playing Gift Bingo! They are available here for purchase in pink or in blue.  The winner can take home your lovely flower arrangement! (#13 above)
It's Going to Be Sew Cute!
I'll be honest, this post originally started with 19 suggestions. It ended with 42. That should tell you something! This is a unique popular baby shower theme that your guests will never forget. (Especially that mother-to-be!)
The hardest task is done!
You've got a plan for your food and decorations. You know what you're going to do.
Now all you have to do is select the date!
Have You Read These Yet?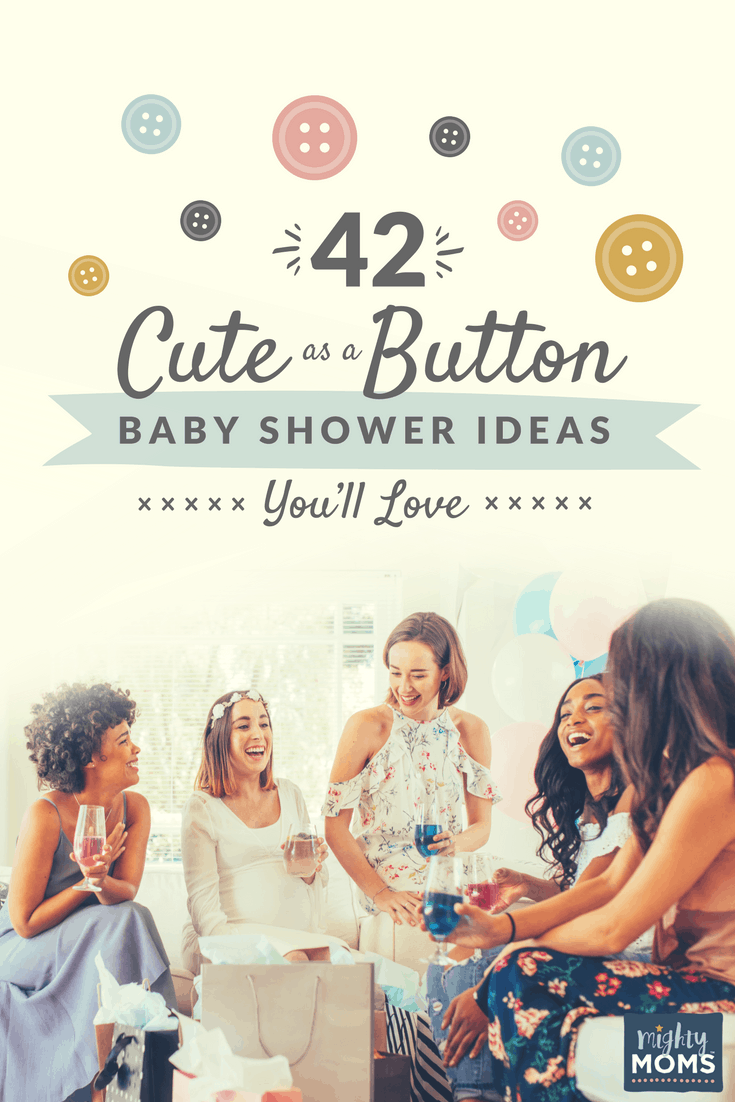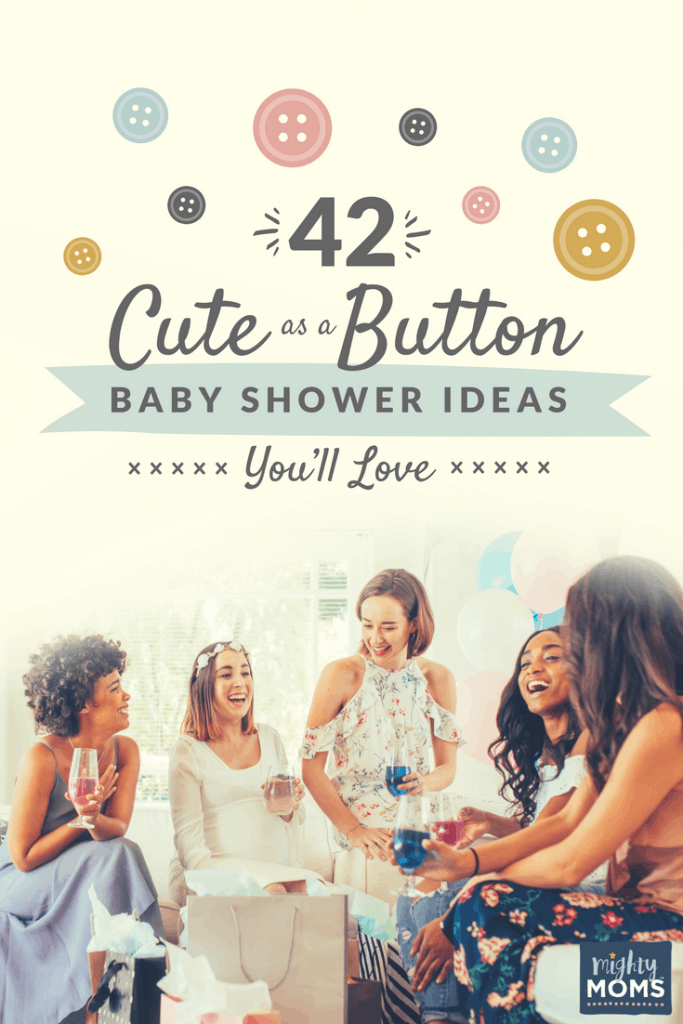 We ♥  honesty!  This post contains affiliate links that provide extra money for our mutual coffee habits addictions. Click here to learn more. As an Amazon Associate I earn from qualifying purchases.