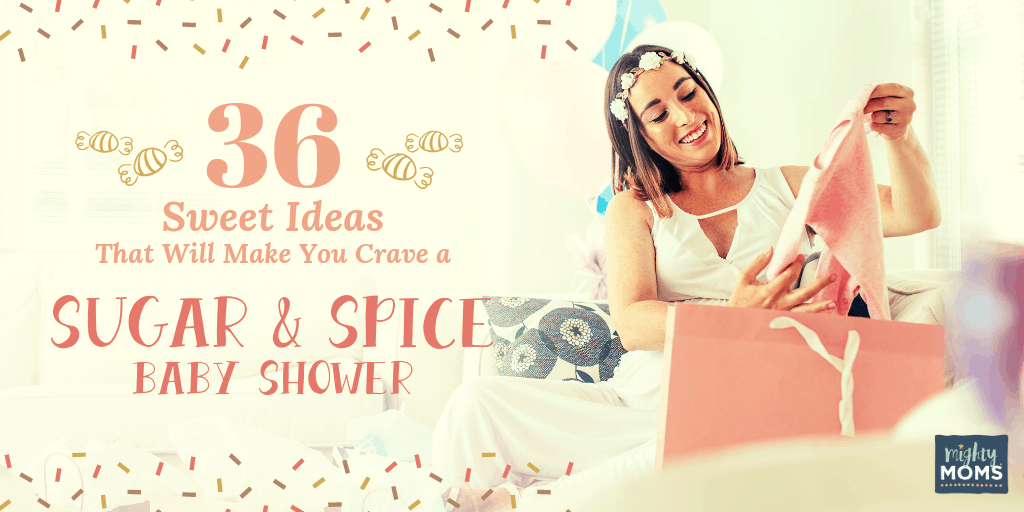 What are little girls made of? Let's say it together:
Sugar and spice and everything nice…
So why not throw your friend a Sugar and Spice Baby Shower theme to celebrate that "everything nice" swimming around inside? This unique baby shower theme idea will stick in the minds of guests for years. 
Yes, you could start planning the party from scratch, but I'm guessing your to-do list is already tipping the scale. Why not let us do the research for you? Just browse below and choose your favorite invitations, decoration ideas, recipes, and favors.
You can have this party all planned out in the next 15 minutes. Boom. Another box ticked off. Task finished.
Sugar and Spice Baby Shower:
8 Exciting Invitations
A good party always starts with a good invitation. You could absolutely go the email route, but usually attendance goes up when there's a physical invitation staring at you from the fridge every day.
Nothing says "out of the ordinary" like getting a physical card in the mail inviting you to a special event! And, of course, more people means more gifts! *wink* Here are some beautifully designed invitations for a sugar and spice baby shower that will get your guests excited about the fun to come!
Is the mother-to-be a reader? Why not slide one of these "books for baby" cards inside? It asks guests to bring a copy of their favorite book instead of a card to the shower.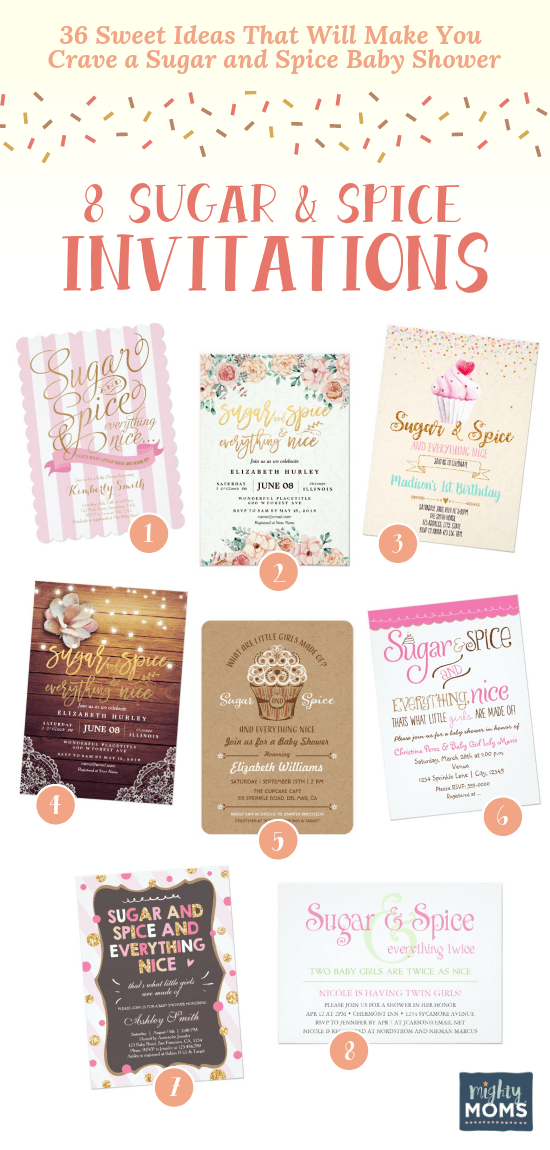 8 Sugar & Spice Baby Shower Invites
1. Pink Striped Invite | 2. Sweet Flowers | 3. Pink Cupcake
4. Country Lace | 5. Brown & White Invites | 6. Scalloped Top
7. Glitter Invitation | 8. Pink & Lime Green Invite
Sugar and Spice Baby Shower:
8 Delightful Decoration Ideas
The invitations have been mailed out, the date is set, and people are starting to RSVP. Now comes the hard part. You've got to transform that living room, church basement, or community lodge into a baby wonderland.
You want people to gasp with awe when they walk into the room. They should feel heart flutters of happiness to be at this shower, celebrating a new life.
For some Martha-Stewart-types, this kind of transformation is easy…but if that's not you, don't panic. Here are some brilliant ideas to copy. (I promise not to tell!)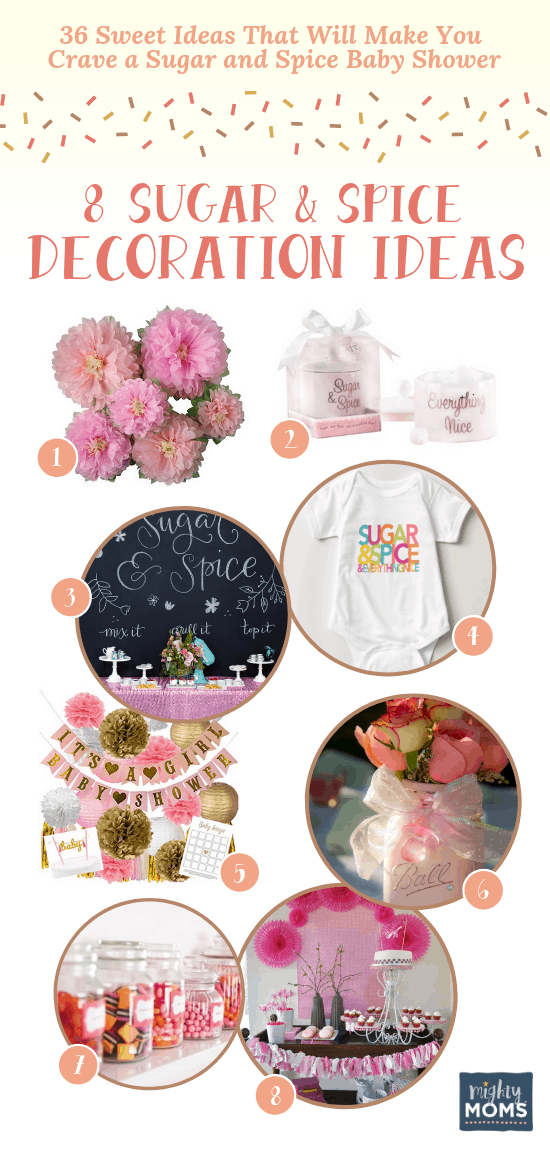 8 Sugar & Spice Baby Shower Decor Ideas
1. Large Flowers | 2. Sugar Bowl | 3. Blackboard Tablescape
4. Have Guests Sign the Onesie (or this one…or this one!)
5. Full Decorating Package | 6. Chalk-Painted Jars with Roses at Pinterest
7. Decorative Jars of Candy from Celebrations
8. Pinwheels & Wrapping Paper Tablescape
Sugar and Spice Baby Shower:
10 Mouth-Watering Menu Ideas
You've got the decorations ordered? Awesome. Next task? Tackling the menu.
You'll want recipes that inspire excitement, but are also things you can actually make. Here are 10 ideas that capture the sugar and spice baby shower theme perfectly, but are simple enough to master in your own kitchen!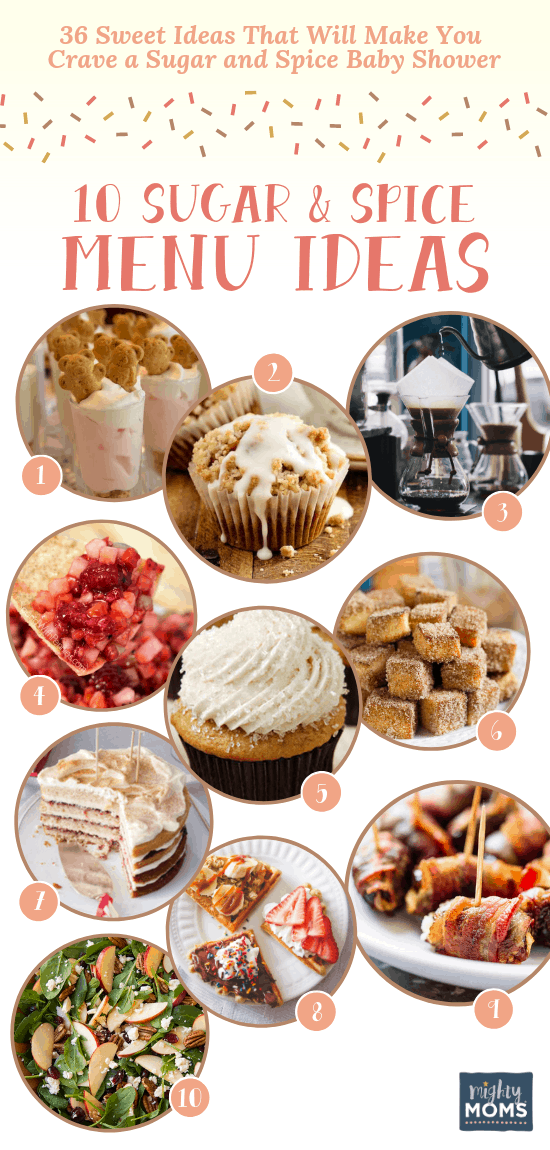 10 Sugar & Spice Baby Shower Dishes
1. Yogurt Parfaits with wooden spoons | 2. Pumpkin Streusal Muffins
3. Coffee Bar with Syrups | 4. Fruit Salsa & Cinnamon Crisps
5. Sugar & Spice Cupcakes with Festive Toppers
6. Apple Pound Cake Bites | 7. Sugar & Spice Cake
8. Waffle Bar (Read this trick to keep them crisp!)
9. Bacon Dates | 10. Apple & Pecan Salad
Sugar and Spice Baby Shower:
5 Party Games That Are Actually FUN!
Plates are full, people are smiling, and everyone is gathered around the Mom of the Day. Now what? It's time for a game!
For many people, this is the worst part of the entire party.  They are expecting awkward toilet paper measuring games, embarrassing tootsie roll diaper pins, and other forced laugh opportunities.
Time to surprise them! These baby shower games are elegant and sophisticated but still actually fun! Just don't forget to pick up a door prize or two for the winners. Might I recommend this gorgeous salt & pepper set from the Pioneer Woman?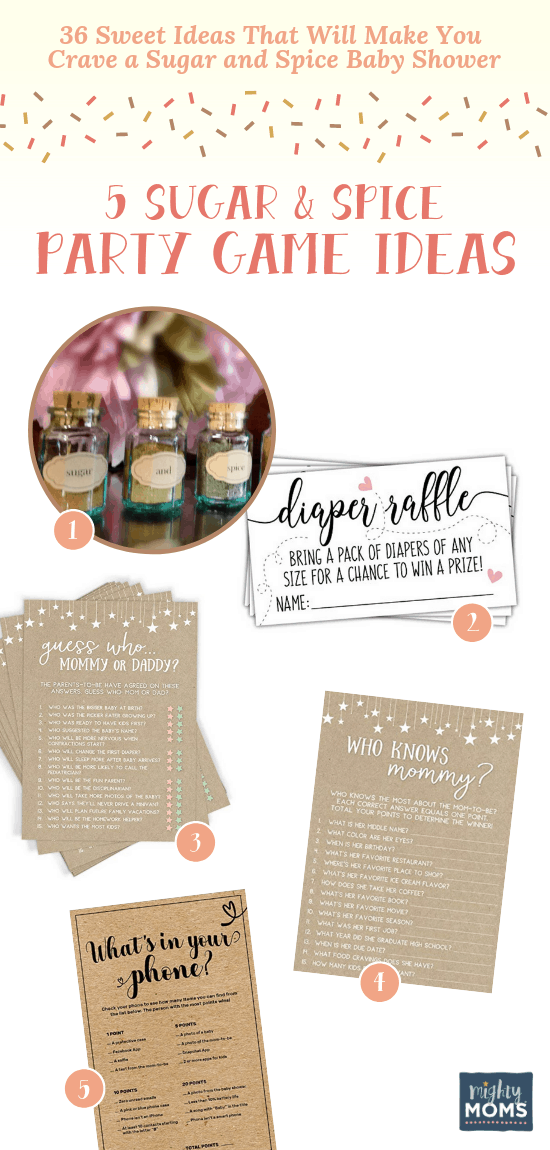 5 Sugar & Spice Baby Shower Party Games
1. Guess the Spice Game with these spice jars labeled with numbers.
2. Diaper Raffle Tickets | 3. Will Mommy? Or Daddy?
4. Who Knows Mommy Best?
5.  What's In Your Phone?
Sugar and Spice Baby Shower:
Favors to Send Them Home Smiling
Stomachs are full to bursting. Laughs have shook the rafters. Gifts have been opened and gushed over. It's time for your final push in moving this baby shower into Legendary Status. 
Reward your guest's generosity towards the mom-to-be with a few unexpected blessings! Here are five ideas for special favors to send them home smiling.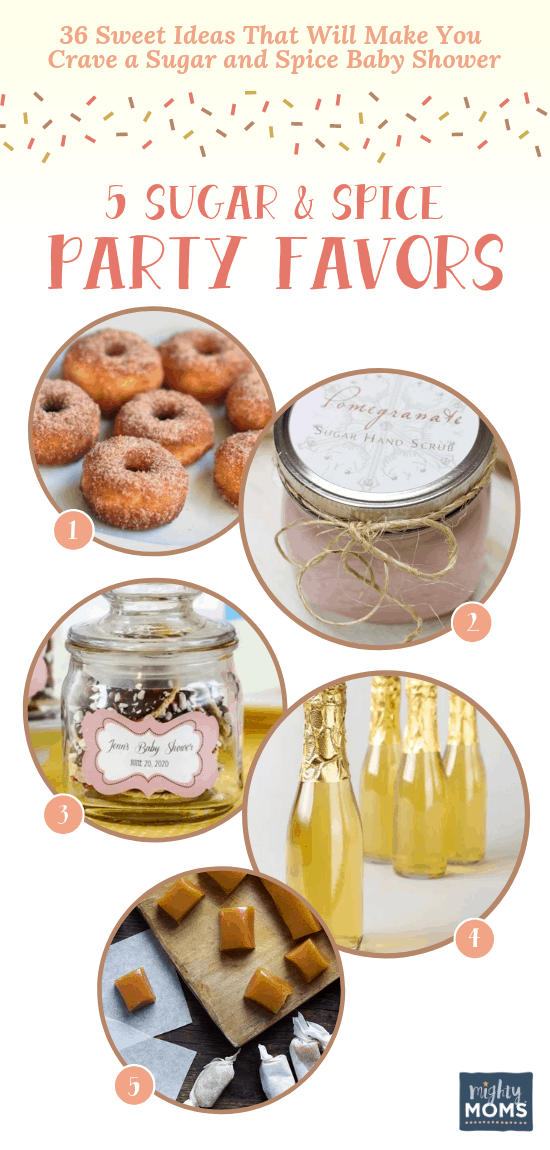 5 Sugar & Spice Baby Shower Favor Ideas
1. Cinnamon Mini-Donuts in tagged bags
2. Homemade Sugar Hand Scrub in small jars
3. Mini cookie jars filled with Spiced Rum Nut Brittle
4. Sparkling Cider with customized labels that match your invites
5. Apple Cider Caramels in little woven sacks
Finish with Everything Nice
Have you ever gone to a party and enjoyed yourself so much that you realize on the way home that you experienced something truly unique? Something you may not experience again for a long time?
Yep. That's what you want your guests and (most importantly) the mom-to-be to feel at the end of your sugar and spice baby shower.
Like it was, to borrow a phrase…
Sugar and spice and everything nice!
Have You Read These Yet?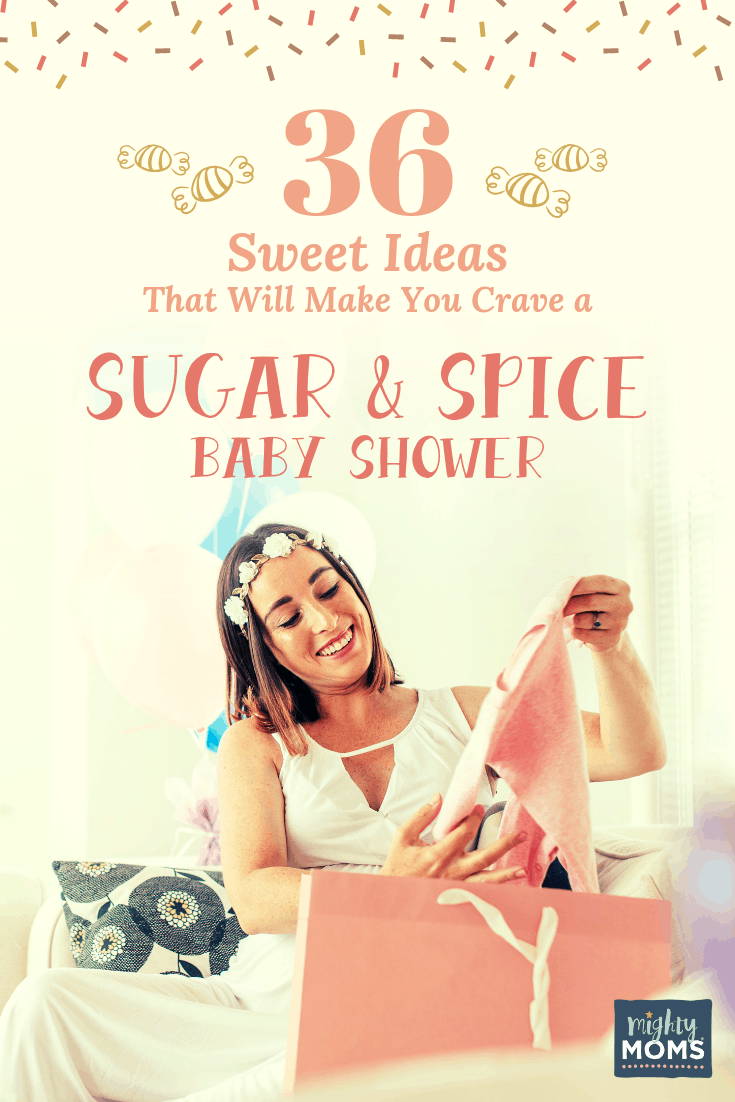 We ♥  honesty!  This post contains affiliate links that provide extra money for our mutual coffee habits addictions. Click here to learn more. As an Amazon Associate I earn from qualifying purchases.