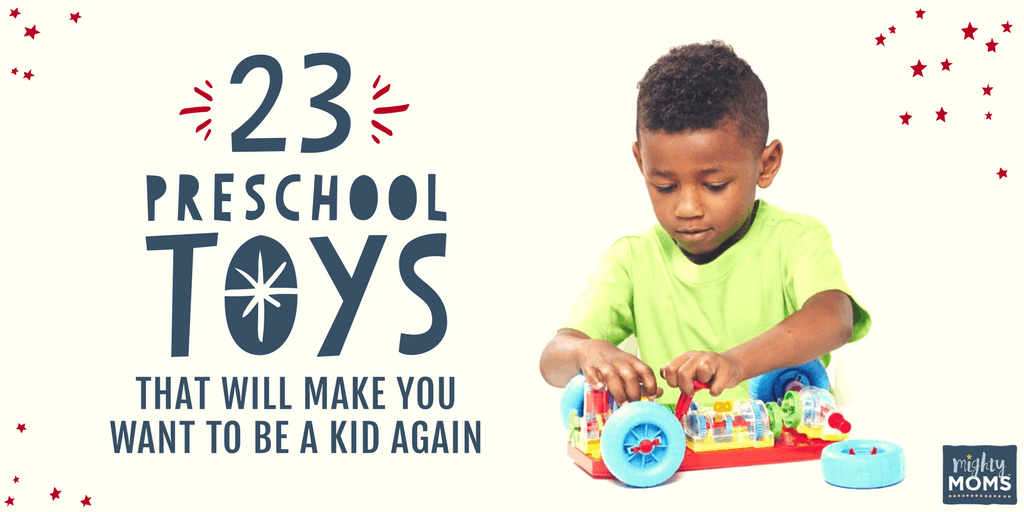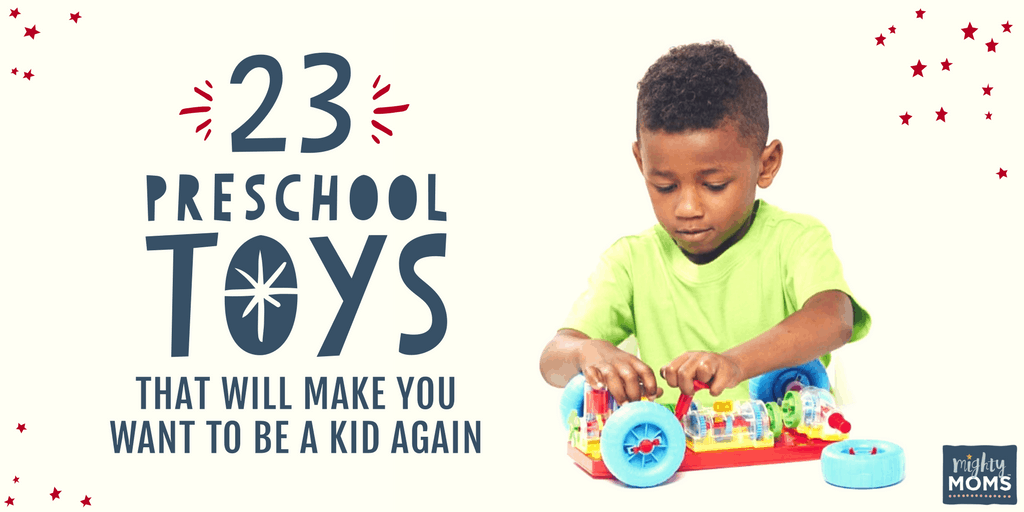 If we're being honest, there are probably days you wish you were a kid again.
No bills to pay, a nap in the afternoon, and someone else makes all your meals? Yes please!
But remembering all your old toys? Meh. Maybe thinking about that Lite Brite or your treasured EZ Bake oven will make you feel a glimmer of nostalgia… but you're probably thinking, I'd rather stick with my iPhone.
Our kids don't know how good they have it these days when it comes to toys! Take a look at these 23 preschool toys that are sure to bring out your inner child!
5 Preschool Toys for
Kids Who Can't Sit Still
It may not say this in the dictionary, but I'd bet many parents would agree with me when I say that preschooler is pretty much synonymous with energetic.
And while getting outside is excellent for getting out the wiggles, there are plenty of times you need your preschooler to burn off that energy while inside… without knocking over a lamp.
While our parents surely did their best when it came to energy-burning indoor toys, that pogo stick in the basement resulted in many a broken lamp.
So whether you're trying to get dinner on the table, the younger sibling is napping, or you're cooped up due to the weather, here are five toys that will keep your constantly-moving preschooler happy. (And hey, that Magic Moves Wand may even get you moving!)
7 Preschool Toys for
Kids Who Love to Dream
Do you have a preschooler who is constantly in "her own little world"? Always dreaming up some elaborate story in their imagination?
Imaginative play is a crucial part of your preschooler's development, so encourage it with toys that inspire.
These seven toys are sure to delight your dreamer! That Air Fort is perfect for an imaginative getaway, and I'm thinking about asking for that dollhouse for myself for Christmas!

6 Preschool Toys for Kids Who Want to Connect
Truth time: Yes, we love our kids, but sometimes we are just not excited about playing hide and seek for the ten thousandth time. (You can only pretend not to see your preschooler "hiding" behind that pillow so many times, am I right?)
Be ready with these excellent family-friendly activities for the next time you hear: Mommy, will you play with me?
You'll be just as excited to play ChickyBoom as your preschooler!

5 Preschool Toys for Kids Who Always Ask Why
When it comes to having an endlessly curious preschooler, moms today have a huge advantage over our own moms during our childhood. With the help of the internet, you can be Super Mom by coming up with an answer to almost any question your preschooler can throw at you.
And when you need a break from the never-ending why questions, you can choose from a plethora of toys that encourage curiosity!

Toys for All Ages
Sure, these are labeled preschool toys… but many of them will delight and inspire your child well into his elementary years. Actually, if we're being honest, they look pretty fun for grown ups, too.
Don't bother with those cheap, will-break-in-two-days, toys that come from a kids meal bag. Instead, surround your child with toys that inspire, encourage creativity, and keep them moving for years to come.
And, hey, I won't tell anyone if you find yourself playing with some of these toys long after your child has left the room. Your inner child needs a little fun, too!
What are your favorite toys from your childhood?
Have You Read These Yet?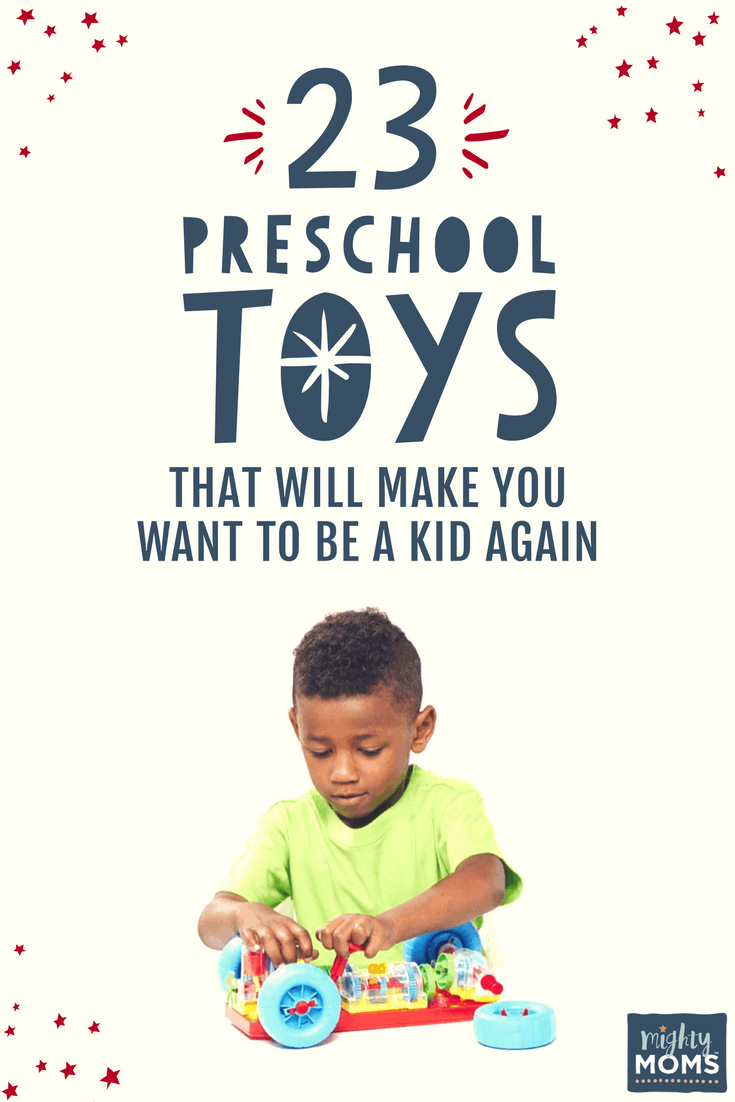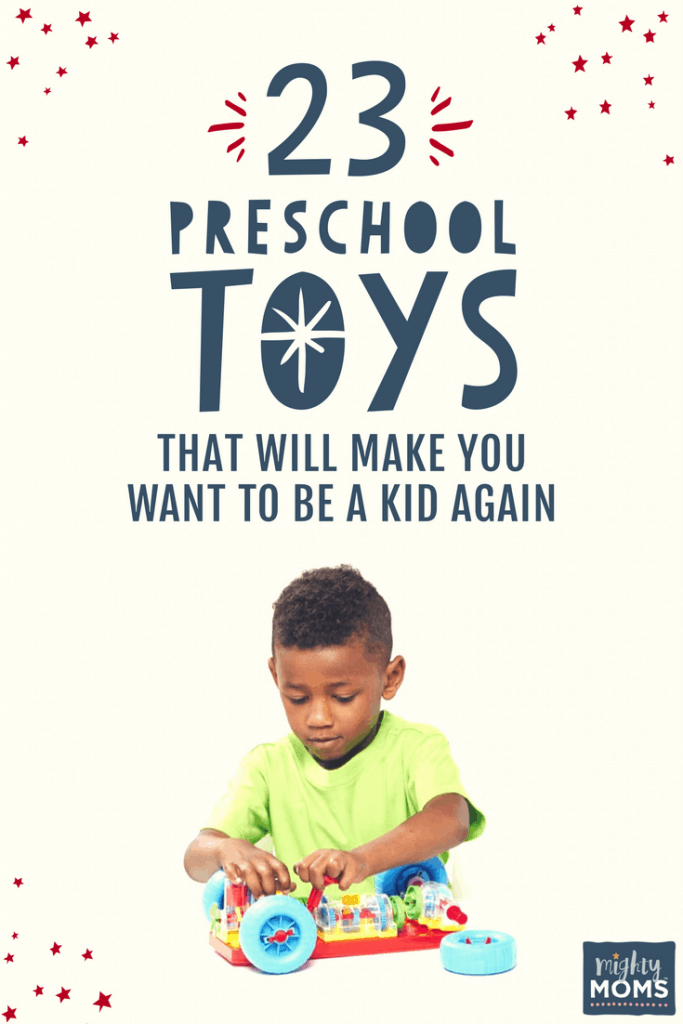 We ♥  honesty!  This post contains affiliate links that provide extra money for our mutual coffee habits addictions. Click here to learn more. As an Amazon Associate I earn from qualifying purchases.