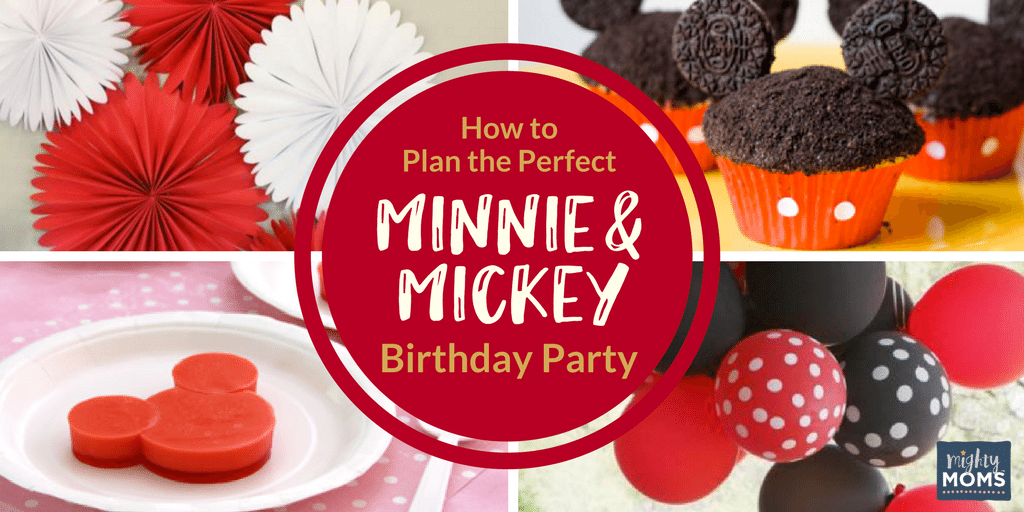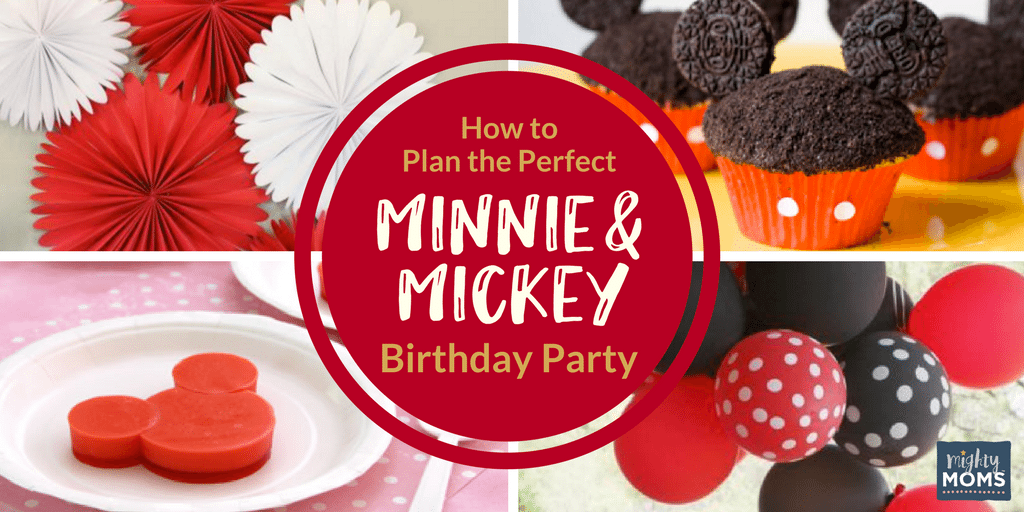 If there's any theme more timeless than a Minnie and Mickey birthday party theme, I don't know what it could be.
I mean, when's the last time you saw a Rugrats or Flintstones party theme? Tom and Jerry? (Besides in 1985. At your party.)
Despite all these retiring cartoon geriatrics, Mickey and Minnie persist being as popular as ever. Of course, it helps when you have the Disney empire behind you, creating new shows like Mickey's Clubhouse and Minnie's Bow-tique. If Disney knows anything, it's how to re-invent old hash into new mega-money makers. *cough* Beauty and the Beast *cough*
Since we love sharing party ideas here at Mighty Moms, it makes complete sense that we would toss a Minnie and Mickey birthday party into the mix. Our little birthday planning collection would be incomplete without it!
Minnie & Mickey Birthday Party Sweets

No. 1:  Mickey Mouse Birthday Cake ~ Bake your birthday cake in this Mickey (or Minnie) cake mold.  Jennifer at Mom Spotted shows you how to use the cake mold and decorate it to perfection in this step-by-step cake tutorial.
No. 2:  Daisy Cookie Pops ~ I love this idea for the "Daisy" part of a Clubhouse party!  All you need is your favorite sugar cookie recipe, these daisy cookie cutters, and a few lollipop sticks!  See a video to see how these cookies were made at Sweetopia.
No. 3:  Oreo Cookie Mickey Cupcakes ~ A brilliant and easy way to make themed cupcakes, with red liners and white paper dots!  Inspired by Erica at  Sweet Tooth.
No. 4:  Rainbow Spotted Cake ~ Another very simple, yet spot-on cake design (for people like me who can't decorate cakes!).  A standard layer cake with buttercream frosting, and then covered with sprinkle dots.  See this and other Mickey Mouse birthday party tips at Life by Lindsay.
No. 5:  Mickey Mouse Jigglers ~ Learn how to make these gelatin jigglers here.
No. 6:  Pluto's Dog Bones ~ A sweet treat perfect for Pluto, make your favorite Rice Crispy treats and then cut them out in bone shapes.  The Partiologist drizzled them with red and black melted candy and sprinkled it with candy white dog bones.
No. 7:  Mickey & Minnie Cookie Pops ~ It's amazing what a few double-stuffed Oreos, some lollipop sticks, vanilla bark, and colored sugar can do!  See how Cooking Classy made these adorable treats!
Minnie & Mickey Birthday Party Snacks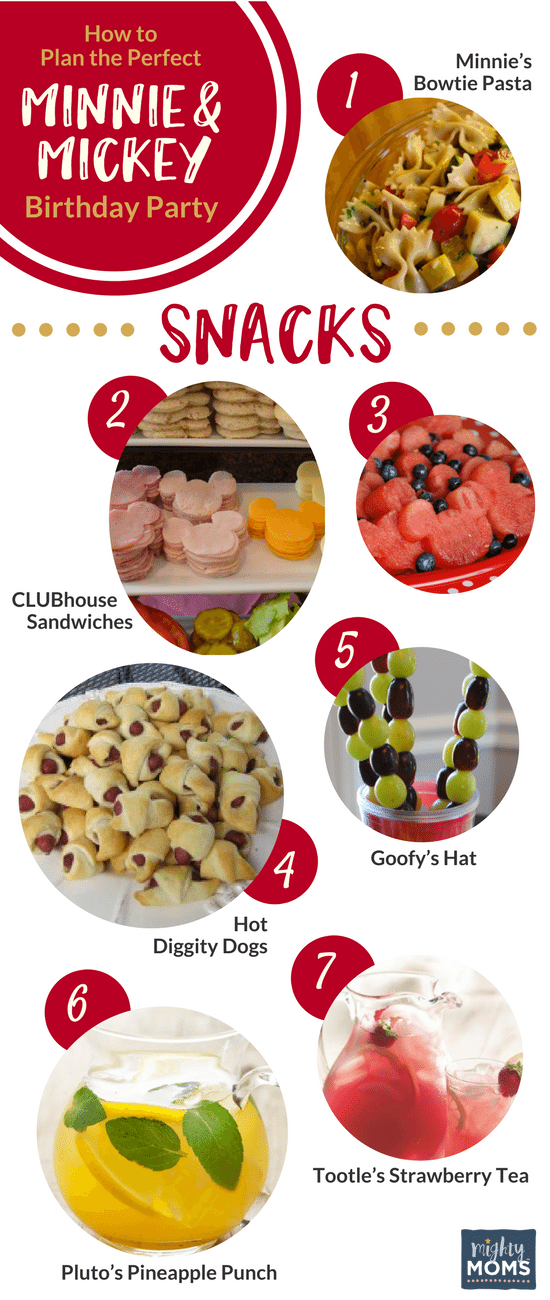 No. 1:  Minnie's Bowtie Pasta Salad  ~ I'm such a sucker for pasta salad.  This version looks so good I can taste it. Get the recipe at So Many Memories.
No. 2:  Mickey CLUBhouse Sandwiches ~ Isn't this such a cute idea! Use this Mickey-shaped cutter to slice all the meats, cheeses, and bread!  Idea from Catch My Party.
No. 3:  Watermelon & Berries ~ Multipurpose that Mickey cookie cutter for little-hand-sized watermelon slices.  You can find this idea at Zenfolio.
No. 4: Hot Diggity Dogs ~ A must for every Mickey birthday party!  Little smokies wrapped with crescent dough and baked.  See the details at The Room Mom. 
No. 5:  Goofy's Hat ~ Layered grapes on a wooden skewer perfectly resembles Goofy's hat!  See more affordable mickey birthday party ideas at Pennywise Cook.
No. 7:  Pluto's Pineapple Punch ~ The perfect shade of yellow, try this very yummy pineapple lemonade recipe.
No. 8:  Tootle's Strawberry Tea ~ I cannot think of something more refreshing, for the adult side of the party, than strawberry tea.  Find the recipe here.

Minnie & Mickey Birthday Party Decor Ideas
No. 1:  Mickey Plate Arrangements ~ This is such a simple-yet-sweet idea for plate arrangements!  All you need are some large black plates, small black plates, and these sweet polka dot napkins.
No. 2:  Tower of Balloons ~ Identify the party place with this tower of polka dot balloons like these.  Inspired from Bower Power.
No. 3:  A Photo Lasts Forever ~ The perfect way to remind your baby of his first birthday as he grows up!  Choose from a Mickey frame or a Minnie frame.
No. 4:  Birthday Bloomers ~ Don't you love these cute little handmade cake-smashing bloomers?  Check them out at this Etsy store.
No. 5:  Chalkboard Personalized Glasses ~  This crafty idea comes from Adorables Detalles.  Pick up Mason jars at your local grocery store, add chalkboard sticker decals in a Mickey shape, and toss in a red polka dot straw.  Adds that little extra touch that makes a party memorable.
No. 6:  Homemade Mickey Grab Bags ~ Let guests take home a little piece of the party with these Mickey grab bags.  Simply made with red paper bags, black poster board, and white cut-out circles!
No. 7:  Mouseketools ~ I thought this idea on Pinterest was really clever, although I would have done it with red polka dot napkins and black plasticware instead.
No. 8:  Mickey Hanging Lantern ~ The Newlywed Pilgrimage will show you how to take these black paper lanterns and turn it into the perfect Mickey and Minnie backdrop.
No. 9: Mickey Mouse Tablescape ~ This was one of the most creative tablescapes I found. All it takes is a black tablecloth, a red tablecloth, and some white paper cutouts.
No. 10:  Pre-made Party Packs ~  Busy moms need easy solutions.  These "birthday in a box" collections include everything you need for a Mickey first birthday party.  Choose from Mickey's Clubhouse or the Minnie's Boutique.
No. 11:  Wall of Polka Dots ~ This was the 2nd tablescape (also from Bower Power) that caught my eye.  I love the off-centered layered polka-dot-look she achieved by alternating large red fans with small white ones.
Minnie and Mickey Birthday Party Activities
No party would be a party with games to play!
Granted, most of these will be for the older guests (siblings, cousins, neighbors…grandparents…awkward uncles…) but your excited little birthday baby will certainly enjoy all the fun going on around him!
I hope this can give you some inspiration in preparing for your baby's epic first birthday!
Which of these ideas do you love the most?  Do you have any ideas I missed?  
Other Related Articles: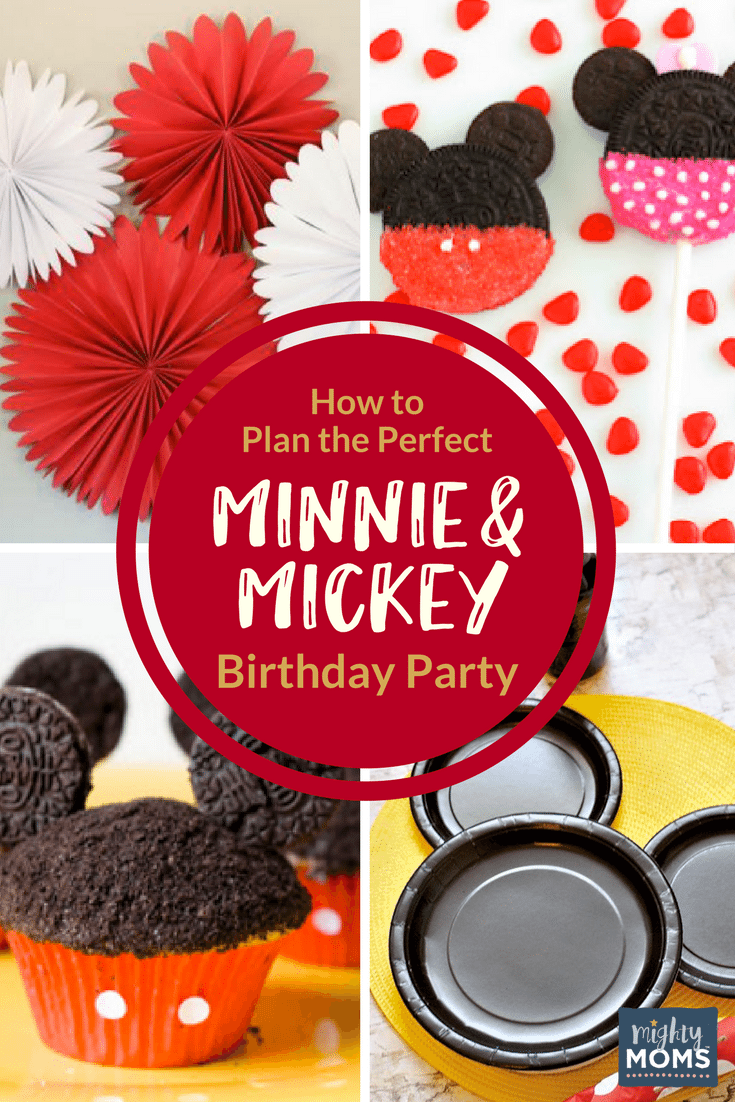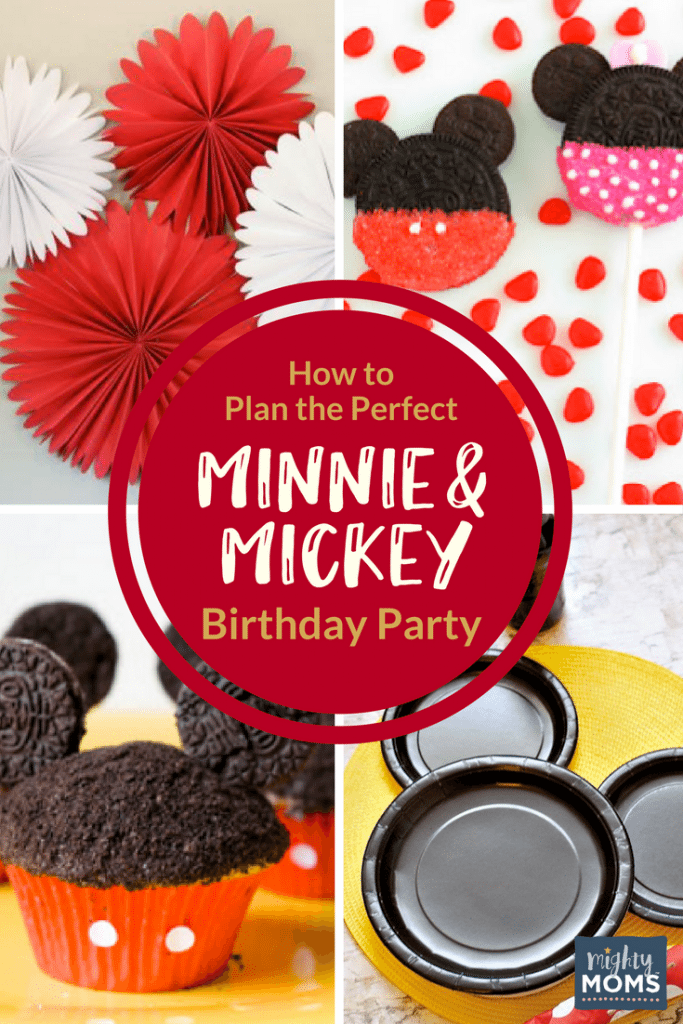 We ♥  honesty!  This post contains affiliate links that provide extra money for our mutual coffee habits addictions. Click here to learn more. As an Amazon Associate I earn from qualifying purchases.