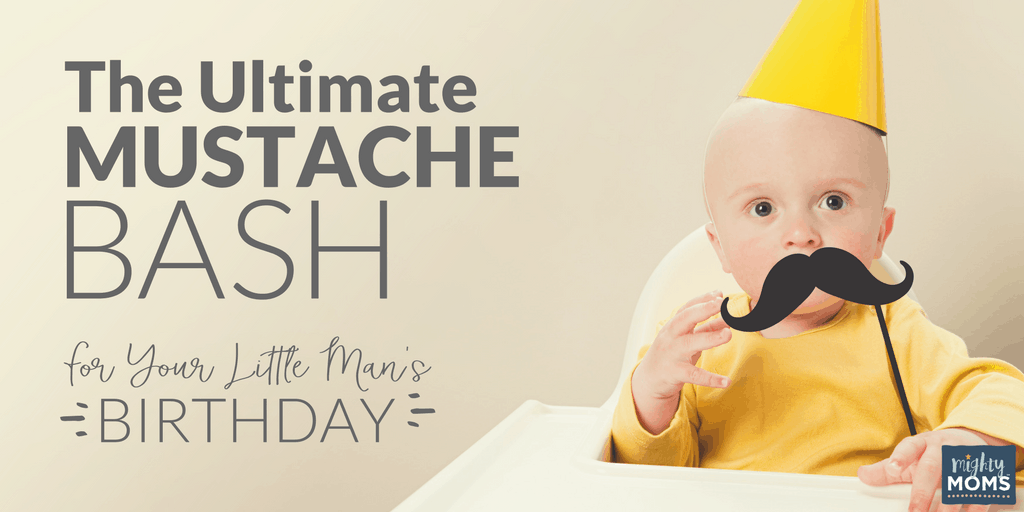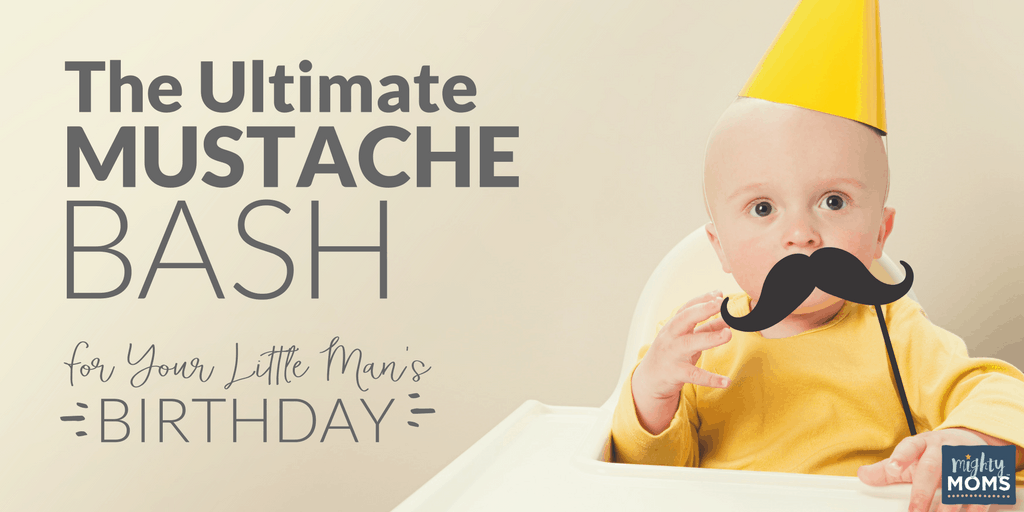 Your tiny guy has spent 12 months working hard to impress you.
He's crawled where no baby has crawled before. (Under the laundry room sink. Why???)
He's paid the price for exploration with numerous oochies and boo-boos.
He has grunted at the dinner table, passed gas on the changing table, and slobbered over the remote.
He is not a baby anymore, baby!
He is a LITTLE MAN!
So it makes sense that we should celebrate this growth with a mustache bash that Ron Burgandy, Charlie Chaplin, Hulk Hogan, Lionel Ritchie, and (my personal favorite) Yosemite Sam would all be proud of.
Awesome Invitations to Kick Off Your Mustache Bash
The best way to build buzz over the upcoming celebration is to send out clever little invitations hinting at all the excitement and fun to come.  Here are some adorable options to get the party engine revving!

8 Mustache Bash Invitations
1. Neck Tie Invitation | 2. Red & Blue Invite
3. Bowler Invitation | 4. Candy Stripe Invitation
5. Bow Tie Invite | 6. Photo Invitation
7. Mustache Bash Invite | 8. Little Man Invite
Of course, if you want to make things even easier on yourself, send out your Mustache Bash invitations via email. Your guests can RSVP within just a few clicks, and it only takes a few minutes to check "send the invitations" off your list.
Decoration Ideas for a Tiny Tom Selleck Mustache Bash
Now that the invites are on their way, it's time to turn your attention to your decor. Start twirling your 'stache, I've got some pretty creative ideas for you to think through!

15 Mustache Bash Decoration Ideas
Mustache Bash Ideas for Grumbly Tummies
Invitations are out. Decorations are purchased. Next on the list? FOOD. What are you going to feed your guests? Here are ten savory snacks that keep your theme alive.

9 Mustache Bash Savory Snacks
Mustache Bash Ideas for Your Little Man's Sweet Tooth
Sure, snacks and sandwiches are nice, but this is a birthday party. These kids are expecting SWEETS! We can't let them down…

13 Sweets for Your Mustache Bash
Kicking Up the Fun with Games & Favors
You are going to have a LOT of little children running around. I hope you have experience herding cats, because that's what the next two hours are going to feel like…unless you've got a plan.  Here are six ideas to keep them occupied and send them home happy.

6 Games and Favors for a Mustache Bash
One last suggestion…if you're going to have a bunch of adults hanging around, why not let them also join in the fun with a special game?
Put this quiz on the big screen, make them write down their answers, and find out who knows their celebrity mustaches!  Winner gets a special prize!
I Mustache You a Question…
How are you feeling about this Mustache Bash of the Century? 
Excited? Overwhelmed?
Hopefully more the first than the latter! Just do the first thing (invitations) and then use this article as your checklist for everything else. You've totally got this!
When you're finished, we'd love to see your photos on social media! Just tag us on Facebook, Twitter, Pinterest, or Instagram with @mightymomsclub! Can't wait to see all your hard work!
No one is going to forget this party, friend. They will be talking about this for years.  (Bonus tip: Keep your notes and things for the next kid's 5th birthday party… No reason you can't recycle themes!)
Have You Read These Yet?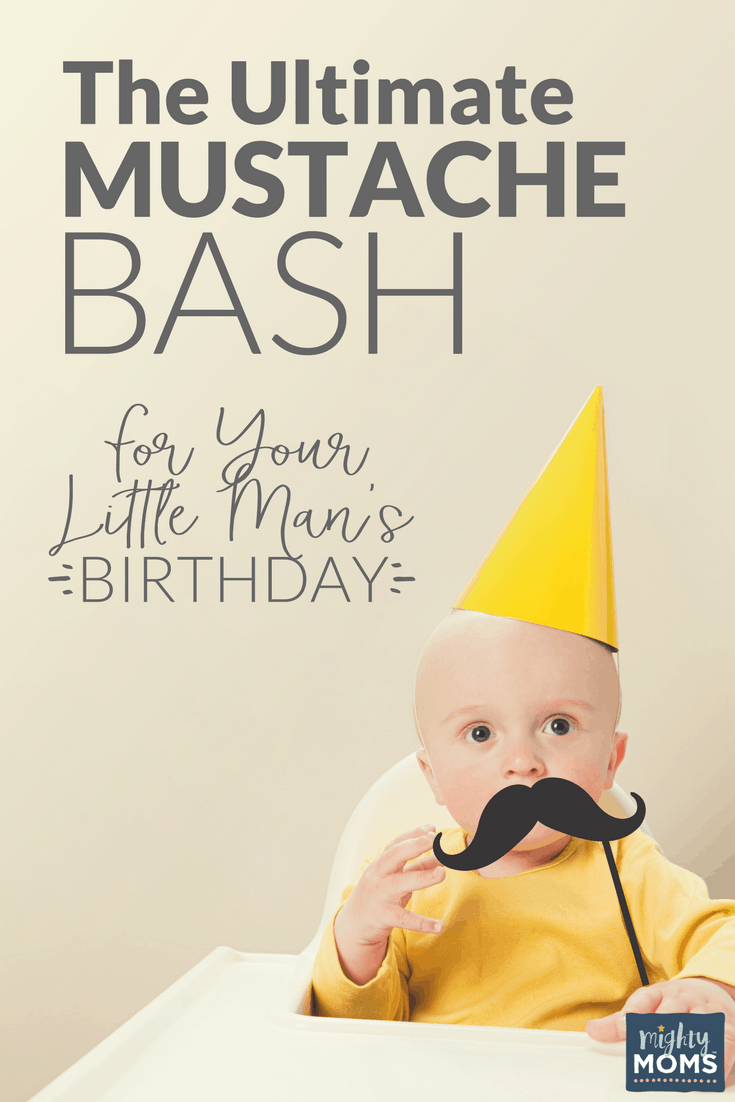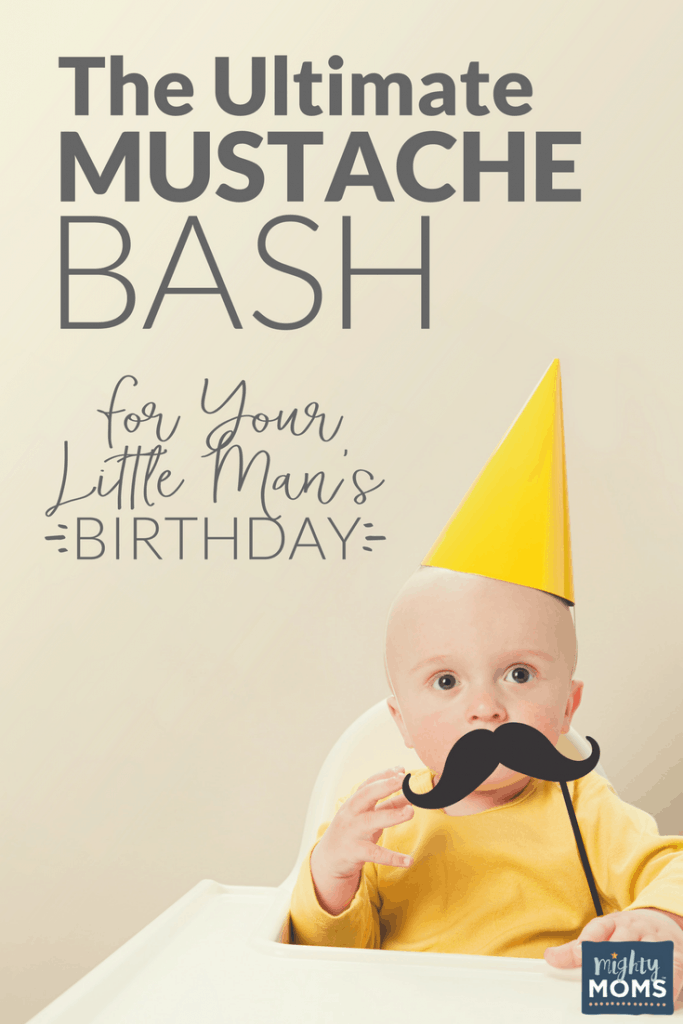 We ♥  honesty!  This post contains affiliate links that provide extra money for our mutual coffee habits addictions. Click here to learn more. As an Amazon Associate I earn from qualifying purchases.