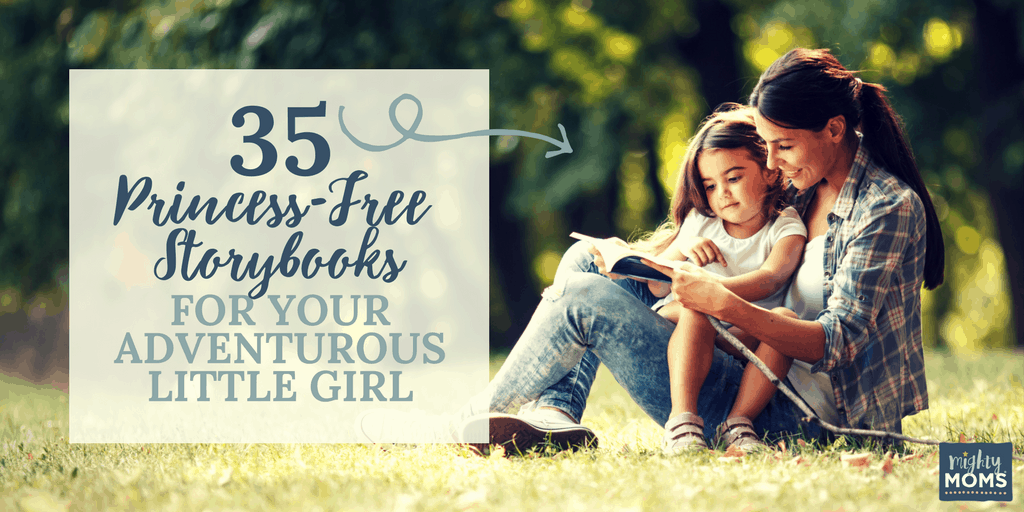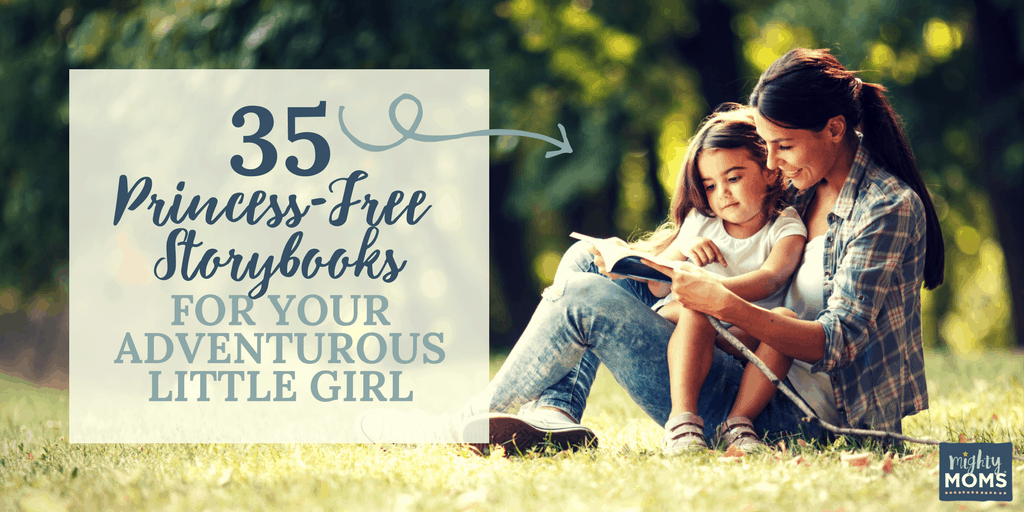 Want to tempt your daughter's imagination to strive for self-confidence and independence? Why not start with a few empowering story books for little girls?
Of course, there's nothing wrong with the old-fashioned fairy tales of rescue, but once in while it's nice to slip in a little "go git 'em girl!", you know?
The trouble is, finding those types of books for little girls will require more than just a quick shelf-search. It's going to take some digging.  In honor of this literary treasure hunt, allow me to present this poem… *clears throat noisily*
There once was a Queen with two princess daughters
Who loved to read storybooks but often thought her
Two girls would like reading of comets and lizards
Along with their stories of monarchs and wizards.
She spoke with Prince Charming one night as he gargled.
"I want more variety – NOW!" the Queen snarled.
"Let's read about girls who like science and art,
Of those who rebelled and followed their heart!"
Said the Prince, "You must know that I don't have an answer
For I'm not the best library enhancer.
The Oracle, though, would know what to say."
So he pulled out his iPhone and Googled away.
And behold, there are books for all curious girls!
Explorers, come see as adventure unfurls!
In pages that show off the brainy and brave,
I've found the role models your daughters might crave!
6 Board Books for Your Bold Baby
(0-2 Years)
For your 0-2 reader, I've located some fantastic board books that encourage spunk, adventure, and heroism for the very youngest of readers. Whether you want to share your love of comic books or classic literature, starting your baby off with a love of reading will inspire discovery and imagination for years to come!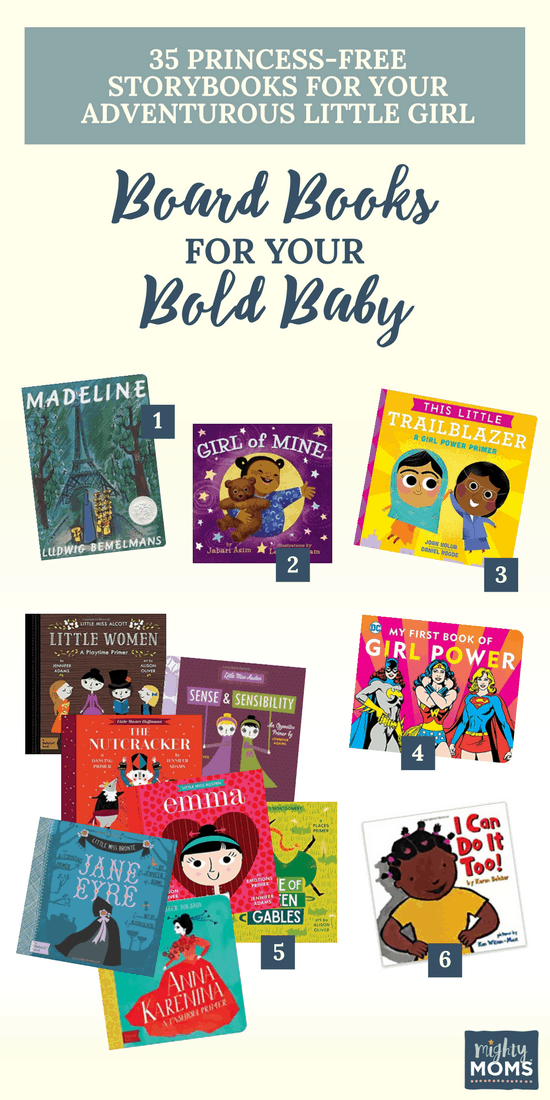 Books for Baby Girls #1: Madeline
The classic story of Madeline, the miniature redhead who is giving Miss Clavel grey hairs under her wimple is now available as a board book for your littlest of book lovers!
Her wild escapades and fierce loyalty to her friends have been cherished by decades of children. Now it's your turn to help your child's Parisian counterpart inspire her to raise healthy mayhem!
Books for Baby Girls #2: Girl of Mine
Girl of Mine is the story of a loving father rocking his daughter to sleep. It's a great bedtime book, but even in bedtime, the pint-sized protagonist is a bold adventurer!
A whopping 91% of the reviewers on Amazon gave this book a 5-star rating, and many of those reviewers mention how even the smallest infants are enthralled by the poetry!
Books for Baby Girls #3: This Little Trailblazer
Inspire your children with stories of real-life heroes in This Little Trailblazer that introduces them to the likes of Florence Nightingale, Rosa Parks, Wilma Rudolph, and many more. I love the variety of interests that this book covers – from fashion to dancing and sports to engineering.
Books for Baby Girls #4: My First Book of Girl Power
Any DC-lover will recognize these female superheroes and be thrilled to share them with their children in My First Book of Girl Power.
What makes this book really special, though, is how the author focuses on what qualities the readers share with these superheroes, such as intelligence, kindness, and strength.
Books for Baby Girls #5: Little Women BabyLit® Primer
Little Women's Meg, Jo, Beth, and Amy are happy to teach your little ones different ways to play together and have fun.
And if you're a classic literature buff, check out these other BabyLit® titles featuring strong, non-royal women. Keep in mind that they aren't going to have the plot you remember from your favorite novel, but they do introduce your little one to some of your beloved characters and settings.
Books for Baby Girls #6: I Can Do It Too!
I Can Do It Too encourages your child's independence by showing her all the things she will soon be able to do – and even lets her try them!
Okay, okay, you might want to help her with pouring the juice. But you can let her hold the book as you read or try buttoning up her own shirt. Her confidence will soar as she discovers that she can do more and more things for herself!
Brainy Books for Your Busy Big Kid
(3-4 Years)
The preschool years are a great time to cultivate self-confidence, instill courage, and reward curiosity. And I have just the fictional (and even a couple non-fictional) characters to help with that!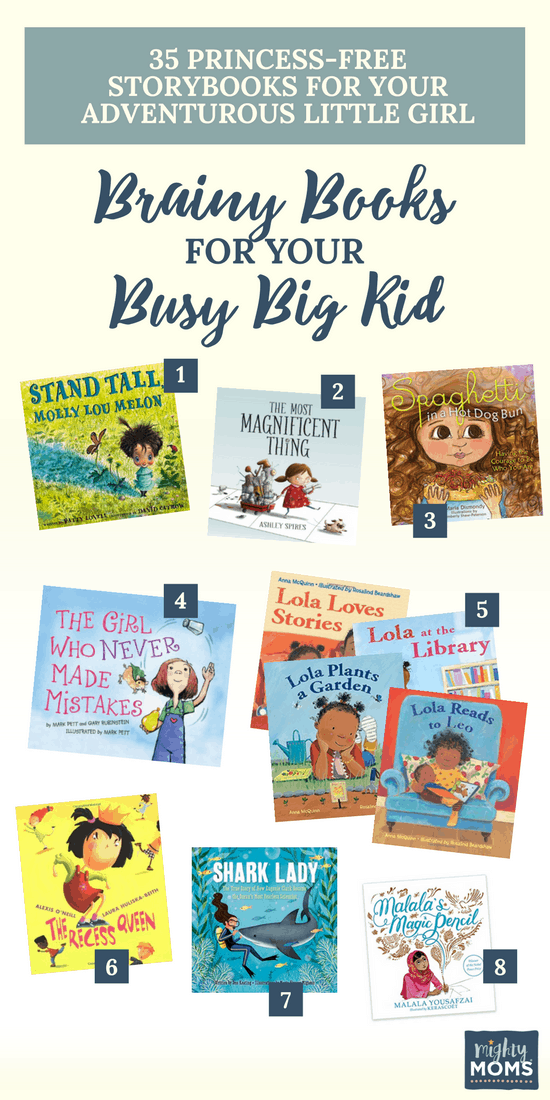 Books for Toddler Girls #1: Stand Tall, Molly Lou Melon
With well over 250 5-star reviews on Amazon, whimsical artwork, and a message that boldly encourages individuality, Stand Tall, Molly Lou Melon is definitely a winner! Molly Lou Melon is just the sort of play date I'd want to have over for my little girls.
And since the diminutive Molly Lou is described as "just taller than her dog," she'd fit in perfectly with my elfin family. *takes a sip of coffee and eyeballs the 2-year-old in her 9-month outfit*
Books for Toddler Girls #2: The Most Magnificent Thing
The Most Magnificent Thing is a fabulous story about determination and not giving up. The main character demonstrates inventiveness and planning as she designs and builds her "most magnificent thing." It's a great way to spark interest in STEM areas and inspire creativity in your little inventor!
Books for Toddler Girls #3: Spaghetti in a Hot Dog Bun
Spaghetti in a Hot Dog Bun a book to spark conversations with your little girl about courage, self-esteem, and treating others how you want to be treated.
A boy at school is mean to Lucy, but when she has the opportunity to help him, she takes the high road. It's also helpful in teaching children to accept and celebrate differences both in themselves and in other people.
Books for Toddler Girls #4: The Girl Who Never Made Mistakes
As someone who has spent her entire life battling perfectionism, I just have to ask …
Where was this book when I was growing up?!
Beatrice Bottomwell never makes mistakes (as you can tell from the title, The Girl Who Never Made Mistakes), but one day, she has to learn the hard way that it's okay to make mistakes. What a valuable lesson for kids and parents alike!
Books for Toddler Girls #5: Lola at the Library
Do you love your local library? Help your children love it too! Book-loving Lola always looks forward to going to the library, listening to story time, and bringing home all her favorite books. Lola at the Library is one of my all-time favorites.
Plus, there are other Lola books your busy big kid might love:
Books for Toddler Girls #6: The Recess Queen
In the story The Recess Queen, Mean Jean is a playground bully, but she's defeated by the new kid, Katie Sue, in an unexpected way. Katie Sue ends the recess hierarchy and introduces conflict resolution with kindness and inclusion! In the end, Mean Jean becomes just plain "Jean" when she discovers the value of friendship.
Books for Toddler Girls #7: Shark Lady: The True Story of How Eugenie Clark Became the Ocean's Most Fearless Scientist
Who doesn't love Shark Week? Anyone? Anyone? Bueller?
Well, no one would be better at preparing your child for the annual mania than Eugenie Clark, the "Shark Lady" who proved that women can be scientists and that sharks can be amazing!
Books for Toddler Girls #8: Malala's Magic Pencil
If you haven't yet heard the name of Malala Yousafzai, Nobel Peace Prize Laureate, drop what you're doing right now and read this.
This brave and intelligent teenager made some dangerous enemies when she cried out for equal education rights and almost lost her life because of it.
Malala's Magic Pencil is a hopeful, optimistic children's book written about her own childhood. It was a #1 Best Seller on Amazon and would be a great addition on your child's shelf and inside her growing mind!
Brilliant Books for Your Beginning Reader
(5-6 Years)
Before you know it, your little book-lover will be ready to start sounding out words on her own. Then a whole new world will be wide open as she grows more and more independent! As you prepare a collection of the first books she'll be able to read on her own, be sure to include lots of inspiring young women who have their own stories to tell.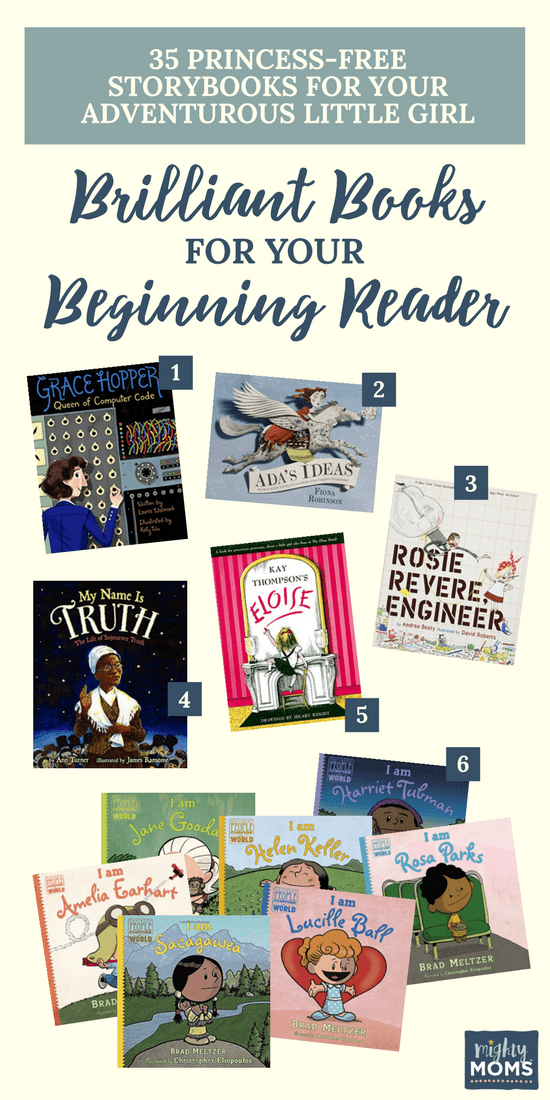 Books for Little Girls #1: Grace Hopper: Queen of Computer Code
Most parents try not to encourage their children to break boundaries. But sometimes, that's exactly what we need to do.
Grace Hopper was a real computer scientist who broke all the right boundaries and is now a role model for any technologically-minded young girl. Her biography is perfect for encouraging your little brainiac to blaze trails wherever she goes!
Books for Little Girls #2: Ada's Ideas: The Story of Ada Lovelace, the World's First Computer Programmer
Ada Lovelace is a fascinating historical figure! The daughter of a mathematician mother and Lord Byron, the well-known poet, she embraced both art and logic. It gave her a unique perspective on mathematics and engineering, which proved useful as she helped the inventor Charles Babbage "program" his Analytical Engine.
I love how the unique artwork seems to leap off the page! The sharp angles and unique 3D effect add to the sense that this is a book of ingenuity and construction.
Books for Little Girls #3: Rosie Revere, Engineer
This fictional role model has an impressive fan club, racking up 932 5-star reviews on Amazon! Rosie has a Great-Great Aunt Rose who worked on airplanes during WWII (sound familiar?) and dreams of being able to fly. Rosie sets out to make her aunt's dream come true by utilizing her delightfully brilliant inventive skills!
The powerful message Rosie gives us in this book is that even when something goes wrong, it's not a failure. The only failure is never trying to begin with.
Books for Big Girls #4: My Name Is Truth: The Life of Sojourner Truth
If you have a daughter full of fire, passion, and (*ahem* let's just say it) rebellion, she may find a kindred spirit in this biography of Sojourner Truth.
The narrative is also a fantastic way to gently introduce some difficult topics in American history and discuss how to make our country a better, safer place for everyone.
Books for Little Girls #5: Eloise
This children's classic features a six-year-old heroine Eloise who loves life and is fascinated by people.
She may live in a fancy building, but she is no princess! Instead, she is a master of imaginative hijinks and resourceful entertainment which is sure to delight any beginning reader!
Books for Little Girls #6: The Ordinary People Change the World Series
The extraordinary actions of ordinary people take the spotlight in this fabulous series by Brad Meltzer! These historical figures are spoken of as if they were children, helping them to be more endearing and inspirational to young readers.
A few of the featured heroines include:
Go Beyond Castles and Moats
Any child would have a well-stocked library with these books! But keep in mind, while these are great books for little girls, these would be just as at home in a boy's library too. If girls can delight in reading about Peter Pan and Tom Sawyer, boys can enjoy stories about Madeleine and Rosie Revere!
What's the best way to tie all these books together? By finishing our poem, of course! Nothing like a "happily ever after" ending…
The Queen was quite pleased to see all the new books
Her daughters could read in their library nooks.
There were stories of daredevils, engineers too,
Of scholars and activists, souls that were true.
Prince Charming held both the girls close in his lap
And together they read while the Queen took a nap.
They learned about bravery, science, and sharks,
And once in awhile, a new interest still sparks.
The princesses now have role models galore –
Not just one or two types, but a thousand or more!
They still love their Snow White, Aurora, and Belle,
But now there's athletes and Malala as well!
So it's safe to say with their borders expanded
No princess could ever again feel so stranded.
Instead they now know that one day they will roam
A new world outside of their fairy-tale home!
Spread the inspiration these princess-free books for little girls provide! Share this article with your friends!
Have You Read These Yet?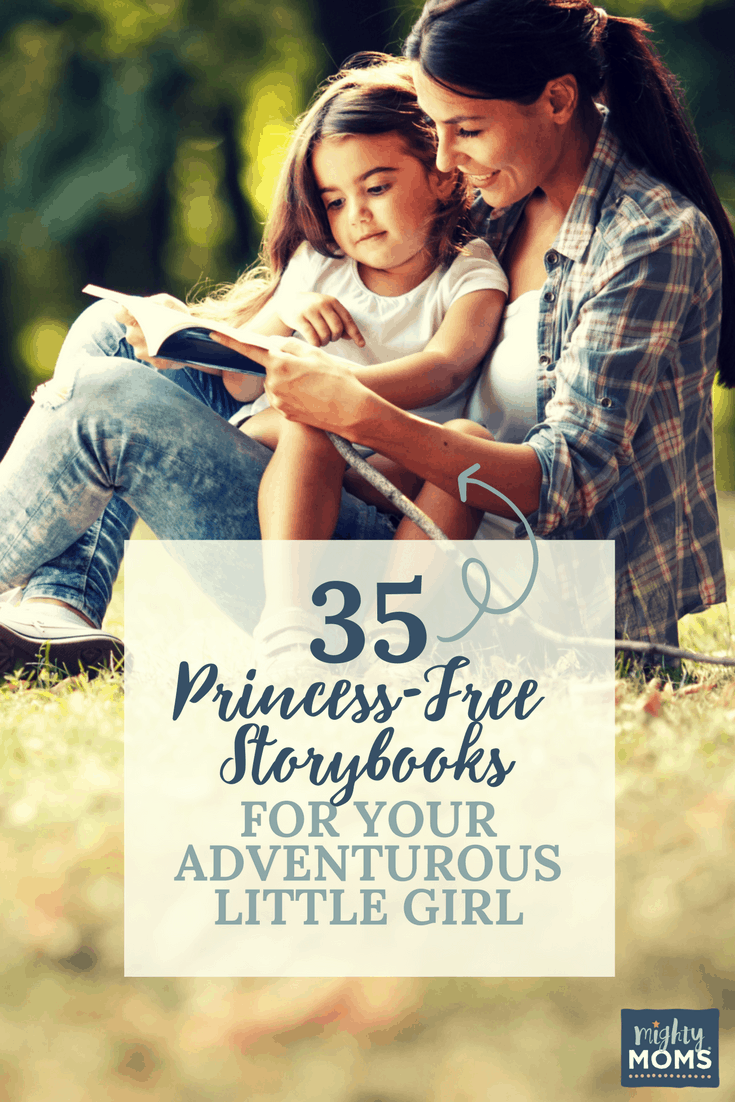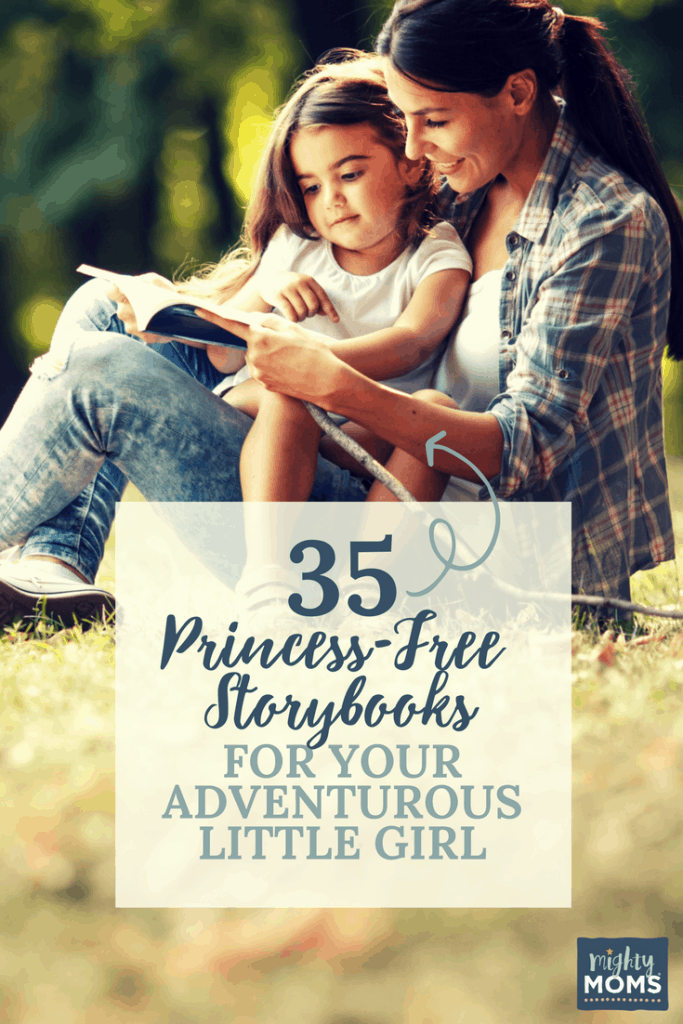 We ♥  honesty!  This post contains affiliate links that provide extra money for our mutual coffee habits addictions. Click here to learn more. As an Amazon Associate I earn from qualifying purchases.