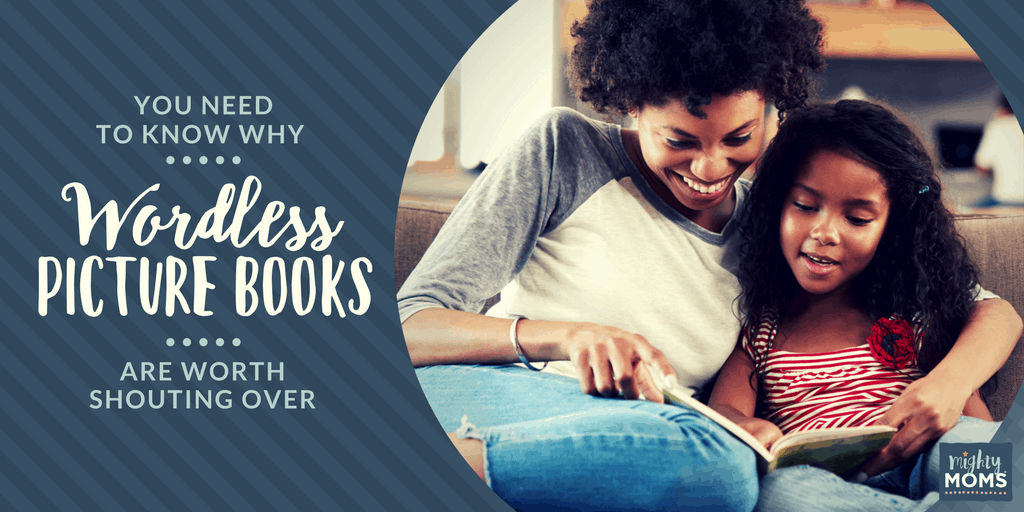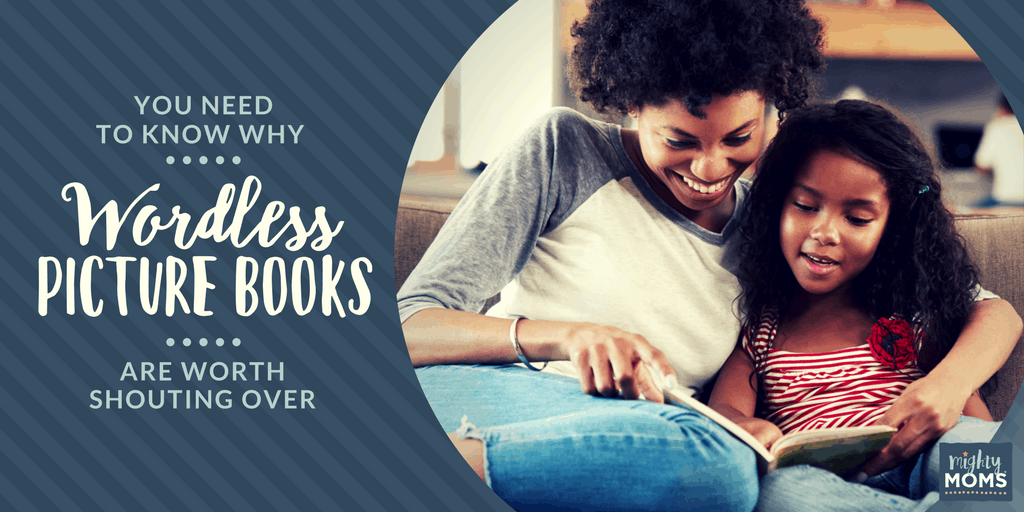 Parenting is filled with all kinds of oxymorons you never knew existed before, isn't it?
Happy screaming
Quiet chaos
Constant change
Hot coffee
But, my personal favorite parenting oxymoron is a little-known reading gem that might not have even made its way onto your bookshelf yet. It's both a simple and beautiful concept that probably sounds a little counterintuitive. Are you ready for it?
Wordless books.
Wait. Wordless What?
You heard me right. Wordless picture books.
These insanely creative adventures rely entirely on their illustrations. This means you're given the gift of beautiful pictures as clues to figure out the stories.
It also happens to be the perfect solution for when you're too exhausted to pick up that Dr. Seuss novel at bedtime. What's faster than a book with no words?
Right, but how do I read a book with no words?
Fair question.
Let me offer a few suggestions about how exactly you could approach a wordless book like Hank Finds an Egg.
Embrace the fact that there is no "right way" to tell the story. You might see a slightly different tale emerge than your child, and that's okay! Just make sure you use the pictures to explain your thinking.
Before you try to tell the story, spend time talking through the title and then glancing through the pictures on each page. Make observations with your child about each picture. Say things like, "Hank is really having a hard time returning that egg to its nest," or "Look what Hank wrapped that egg in!"
Once you've looked through all the pages, you can go back through and tell the story more traditionally. Your child will love helping you name characters and create the details to fill in each page.
But even more important than the "How do I tell this story?" is the "Why should I tell this story?"
You already know how powerful reading is, and wordless books can provide you with yet another tool to encourage thinking and early literacy skills.
So, let's talk about why you need wordless picture books in your nightly reading rotation.
Wordless Picture Book Reason #1:
They Teach the Structure of Storytelling
All stories contain the same basic elements.
Conflict
Characters
Setting
Theme
A beginning, middle, and end
Working with your child to put a story together based on pictures alone will naturally teach him to look for all of these elements even if you're not using the exact, technical words.
It's going to involve you saying things like "It looks like the main character is a little girl who feels sad" or "Look! This story takes place inside someone's imagination!"
And if you have those informal conversations while making your initial observations, you'll naturally help teach those basic storytelling elements.
Wordless Picture Book Reason #2:
They Teach Kids to Make Inferences
An inference is a conclusion we make based on text or evidence. (It is, actually, one of the most important educational skills we can teach our little readers.)
It is your child's ability to make a guess about something she reads and then tell you how she made that guess. It's the because.
I know that boy is smart because he thought fast and drew rain clouds with his chalk to make the dinosaur go away.
She's not going to be able to escape because the guard dropped her marker off the end of the ledge.
I think that girl is brave because of the way she's sticking her tongue out at the wave.
Wordless books are perfect for teaching kids to make inferences because you don't have words to rely for answers. You have to make guesses, and they have to be rooted in evidence which, in this case, is what the pictures tell you.  It's a super sneaky way to teach slippery learners!
Wordless Picture Book Reason #3:
They Encourage Imagination
Wordless picture books use illustrations to guide your story, but ultimately the "reader" has to fill in the all the details. This is where your child's imagination gets to take over.
Encourage your child to be creative by asking her for character names, pieces of dialogue, and setting details. Here are a few example so you can see what I mean…
The main character's name is Couch? Inventive!
Couch exclaims, "Zeeeeeow Yikes!" when she loses her marker? Fantastic!
The air smells like stars and palm trees while she flies away on the magic carpet? That's something!
The more you encourage your child to take ownership of the story, the more she'll love telling it with you.
And once you finish? Tell it again with some new details!
These Wordless Books are
Awesome Beyond Words
Armed with all these reasons to love wordless books, I recently checked out almost every one my library had to offer me (the best kind of research!), and I unearthed some really beautiful stories.
So, if you want to bring some wordless picture books into your life, here are 10 of my personal favorite options for you to check out!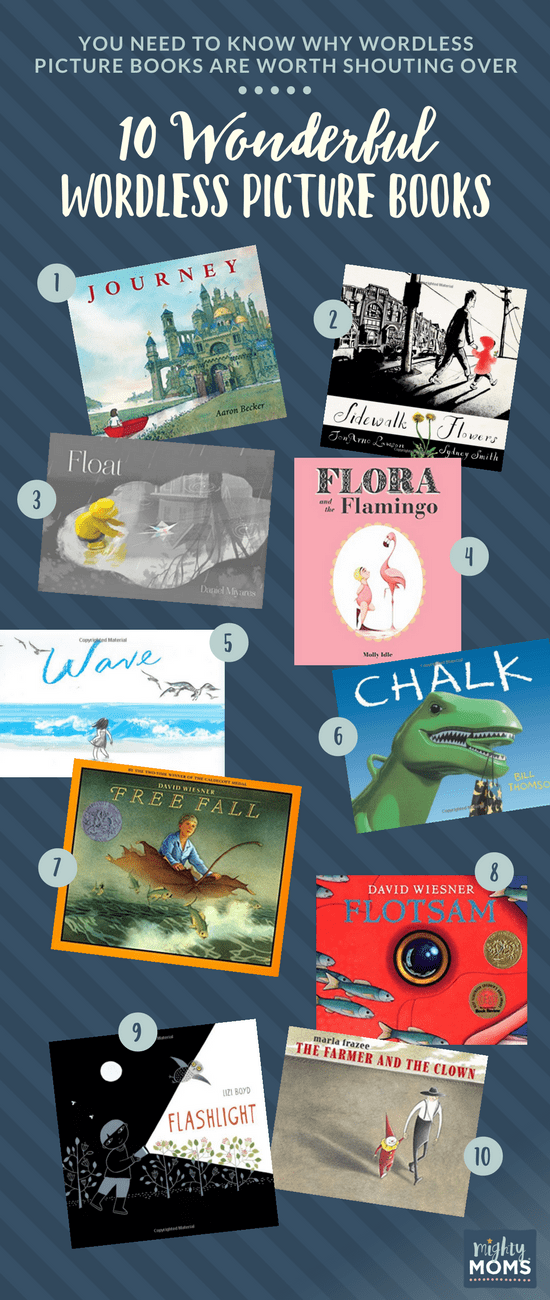 Journey: Armed only with a red marker, a lonely little girl escapes her bedroom to a world of wonder, excitement, and discovery.
Sidewalk Flowers: This beautifully simple story story of kindness follows a little girl as she collects and gives away wildflowers while on a walk with her dad.
Float: A rainy day and a newspaper are all this boy needs for an adventure.
Flora and the Flamingo: Flora just wants to dance with the flamingo, and she makes a new friend in the process.
Wave: A little girl meets a wave in this playful and beautifully illustrated story.
Chalk: Three kids find a bag of chalk on a rainy day, and as they start to draw, the magic begins!
Free Fall: Travel with a little boy through his dreams.
Flotsam: Flotsam means "something that floats," and this little boy finds something in the ocean that many others before him have also found.
Flashlight: Explore the woods with the help of a couple of flashlights; there's so much to notice in this one!
The Farmer and the Clown: A little clown falls off the circus train and forms an unlikely friendship with the farmer who helps him.
A Picture is Worth a Thousand Words
Let me summarize one more time how awesome wordless picture books are:
They help your little one practice his storytelling.
They stretch your child's critical thinking skills.
They encourage imagination!
Oh, and don't forget that they let you squeeze in a really good cuddle/bonding time at bedtime, without having to try to skip pages in the Dr. Seuss Bedtime book to speed up the snoozes, hoping your child doesn't realize you hopped ten pages ahead. (Spoiler: He'll notice.)
Pick one of the wordless picture books out from the list above and give it a try!
You never know what will happen.
Actually, I think I do know what will happen!
You'll love them so much that you'll be at a loss for words.
Yep. The illustrations in these wordless picture books will leave you speechless. (Which is actually okay, since your four-year-old should tell the story anyway!)
Have You Read These Yet?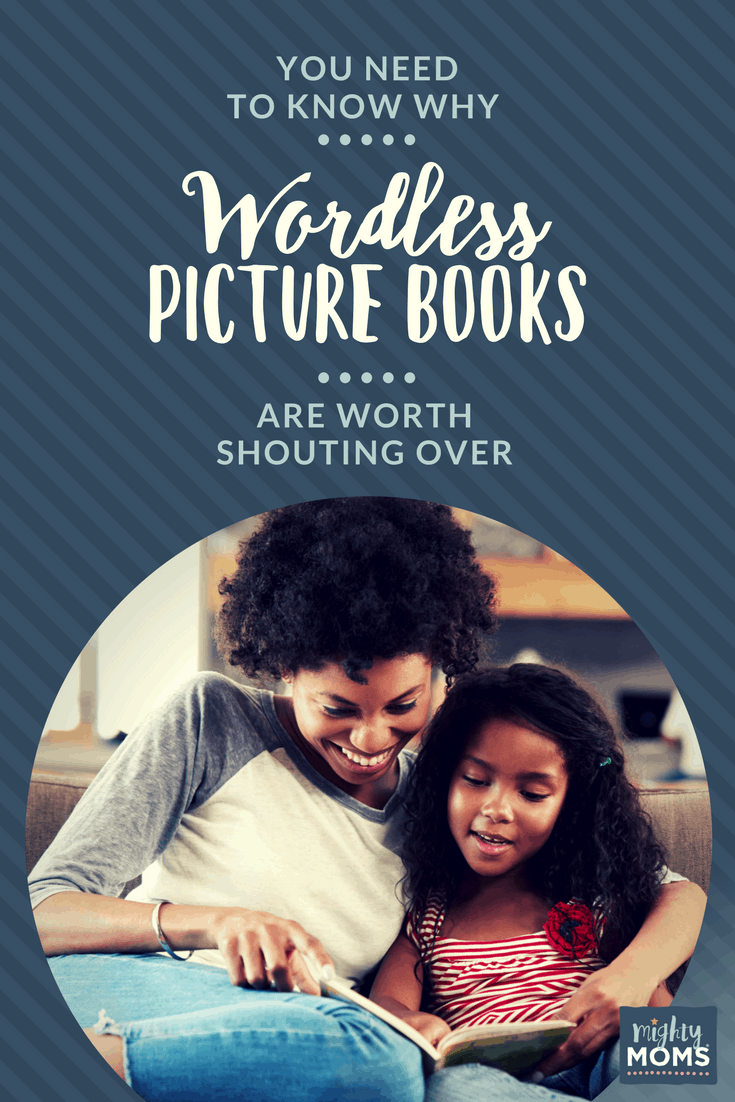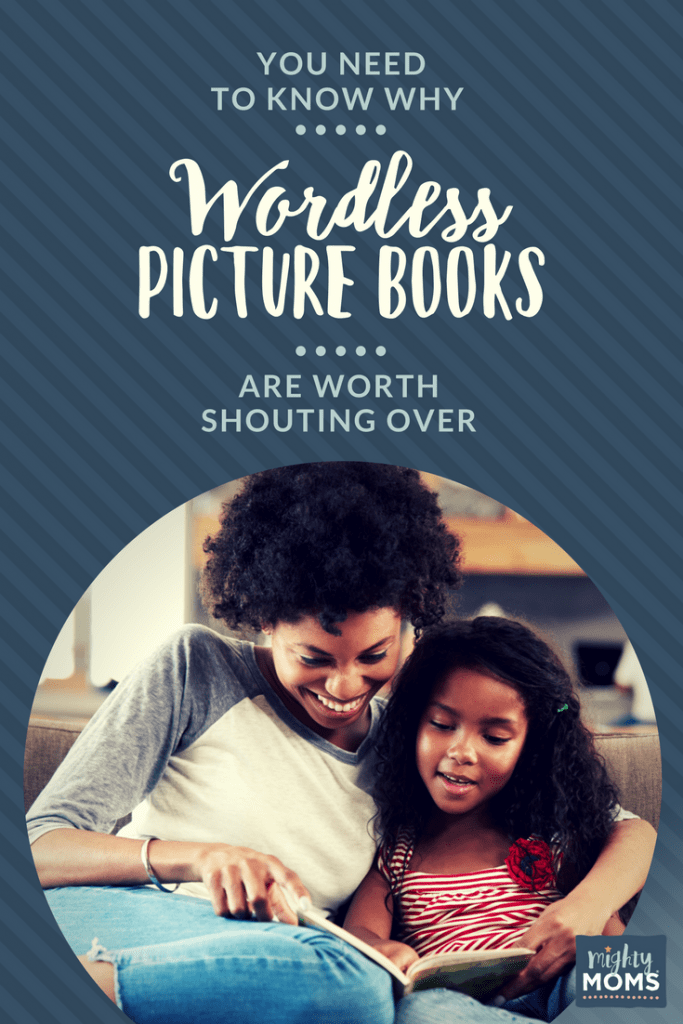 We ♥  honesty!  This post contains affiliate links that provide extra money for our mutual coffee habits addictions. Click here to learn more. As an Amazon Associate I earn from qualifying purchases.
We ♥ Citations!
How Wordless Picture Books Help Kids Read. Scholastic.com
Sharing Wordless Picture Books. ReadingRockets.org