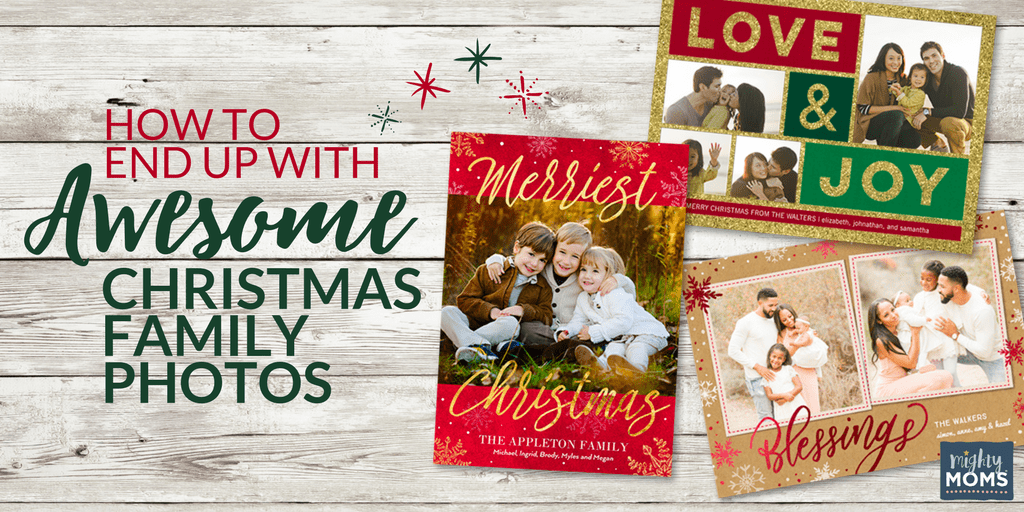 Have you ever done a quick Google search for Christmas family photo card ideas?
Brace yourself. As you're browsing, it's going to be easy to feel like everyone else is way more creative and has more cooperative kids than you.
Their photos all look so picture perfect, while you're just hoping for a shot that doesn't look like the whole family just rolled out of bed, fought the entire way to the photographer's studio, and had go with Plan B on the baby's outfit due to a diaper mishap. (If we wrap Baby in a blanket, can you tell he's naked?)
Then again, *sigh* do you really have to put a family photo on the cards?
Perhaps a manger scene would do better this year. Baby Jesus is always happy, and Mary never looks like she just endured 17 hours of unmedicated childbirth surrounded by smelly and overly curious cows.
The thing is, you NEED these Christmas family photos. They are an important "family milestone" to look back on and remind your friends, family, and future self just how fast the time is flying.
So, if you're determined to get some decent photos this year, why not find out what a professional photographer would recommend to help them turn out frame-worthy?
I interviewed the following photographers (all fellow moms) to hear some of their best family photo tips:
Jessica Kingery of J Kingery Photography, in Wessington Springs, SD ~ You may see several photos from my own wedding in her "Weddings" Gallery!
Laura Shields of Caught Your Moment Photography in Destin, FL ~ Laura is a beach photographer specializing in family portraits and seaside weddings.
Tiffany Baker of Beautiful U Photography in Dewey, OK ~ Besides being a portrait photographer, Tiffany does stunning prairie landscape photography.
Want to hear what these professionals' best Christmas card photo tips are? Let's dig in!
Awesome Family Photo Tip #1:
Choose the Right Clothes
I don't know if anyone stresses over what to wear in photos more than I do. The maddening task of trying to coordinate outfits is enough to make me avoid photo sessions entirely.
The good news is that the rules for choosing outfits for Christmas family photos are much looser than I always thought they were!
Let's start by considering your photo setting:
Cozy Fireplace Photo? Tiffany recommends a color scheme of white/cream, blues, and deep green hues.
Beach Setting? Florida photographer Laura says solid-color t-shirts and Santa hats really pop against the white sand and crystal blue ocean!
Earthy Outdoor Shot? When working in a field or wooded area, Tiffany suggests using a variety of autumnal colors, such as shades of brown and red.
While solids are always easy, Laura tells people not to shy away from patterns. If Mom has a patterned dress she's been dying to wear, pull some of those colors out for the other family members. Dad can wear green, brother blue, and baby sister would look adorable in a coral dress that matches the accents in Mom's attire.
Just keep this in mind when you're picking out colors: Beware of too much white!
"The eye is immediately drawn to white in a photo. Try not to have too much solid white incorporated to keep eyes focused on your faces." – Jessica
But where do you even start? Here are some of my favorite Christmas family photo outfit ideas.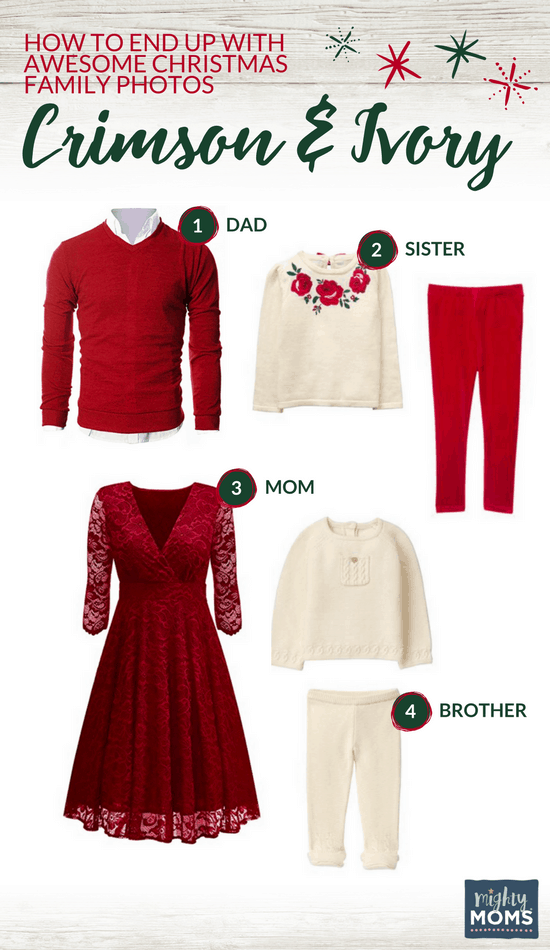 Crimson & Ivory

Sweet & Spicy

Cool & Casual
Of course, maybe you want to skip the coordinating colors altogether and go the matching route. Don't worry, I've got that option covered for you, too.
Pajama Party, Anyone?
Personally, I'm a sucker for matching Christmas pajamas. It might be a little weird to be walking around in the woods in your pajamas, but if you're doing an indoor shoot this year for your Christmas family photos, check out these matching sets from Amazon!
Baby, It's Cold Outside
Of course, not everyone is excited about gracing mailboxes and refrigerator doors with photos of themselves in their sleeping attire. What if your photos are outside in a winter wonderland?
Picking out clothing is one of the biggest hurdles you need to clear. With that taken care of, let's next talk about the elephant in the room.
Awesome Family Photo Tip #2:
Help Your Kids Cooperate
Kids will never – NEVER – be cooperative or predictable 100% of the time, but there are a few things you can do before, during, and after the shoot to increase your chances of kid cooperation for an hour or two.
Must-Do's Before the Shoot
As you might have guessed, the first tip each photographer recommended was to make sure the kids (and you!) are well-rested for your Christmas family photos.
The second? Make sure every belly is full.
Here's what that looks like when you're setting up a photo shoot:
Avoid scheduling during or right before a regular naptime.
Avoid scheduling during or near a regular meal time.
Pack snacks and drinks because you know your kids are going to be hungry.
And here's something else to think about before the shoot: If you're taking your Christmas family photos in a setting your kids are unfamiliar with, it may be easy for them to get distracted. Kids love exploring and discovering new things!
To combat this, Tiffany recommends scheduling time beforehand to visit the area so the kids can grow comfortable with their surroundings and ask their 18 million questions ahead of time.
Must-Do's During the Shoot
It's tempting to be threatening – I mean stern – I mean firm when you want your kids to behave and act happy. But that can seriously backfire! If your kid is worried about getting in trouble, the best you can hope for is an awkward, forced smile.
Instead, make a game out of it!
Try this version of Red Light, Green Light: In between poses, get as silly and wild as you dare! Dance, wiggle, jump, and make merry!
But when the camera goes up … everyone smile and freeze!
Also, don't be afraid to incentivize.
Jessica encourages rewarding good behavior:
"Obviously you wouldn't do this on a regular basis, but this is a special occasion, so don't be afraid to use small bribes as an incentive for them to smile and be cooperative. Bring a treat that has several pieces like a fruit snack or Smarties and tell them they'll get a piece after each good pose (not each picture, but each posing section of the session)."
Must-Do's After the Shoot
Celebrate!
Go out to your favorite Mexican restaurant or share a cup of frozen yogurt.
Whatever you choose, thank your kids for cooperating and tell them how much fun you had spending the afternoon with them.  Make this an annual tradition, and you might just find them looking forward to family photos next year.
Now you're mentally prepared to deal with your kids, so let's talk about what kind of photos you're looking for.
Awesome Family Photo Tip #3:
Choose a Style
Should you go for posed photos? Would a candid shot be better?
The unanimous answer from all the photographers was a resounding, "BOTH!"
Should You Make Your Christmas Family Photos Posed?
When you imagine your Christmas card photos going out, most people conjure up an image of a perfectly posed family. There's nothing wrong with that. Posed photos are great!
However, here is one majorly overlooked tip:
It's easy to focus on making sure your kid is camera-ready, but, remember, you're in the photos this time, too. Don't let yourself get distracted by one of your children's antics!
"If I call [your] kid's name or do something goofy to get them to smile and look at me, and the mom or dad looks down at the kid to see if they're smiling, I end up with a photo of the kids smiling and mom or dad looking at their kid instead of at the camera. It's okay to gently tickle them or do something like that to get them to laugh or smile, but keep your eyes and smile on the camera while you do so." – Jessica
Laura agrees and would even take it a step further. She'd rather capture the kid's quirky personality in your Christmas family photos than the agitation of a frustrated mom!
Should You Make Your Christmas Family Photos Candid?
Family dynamics really shine in candid-style photos. Try letting your photographer snap photos at will as Mom tells jokes or while Dad sings silly songs. If you're doing the Christmas family photos in your home, save the tree-decorating for your session.
Hint: It's also a LOT easier to get kids to cooperate when they're not forced to sit still!
Another great trick for candid photos is for the photographer to pretend that he's got to work on something on the camera and ask the kids to sit in their spots but otherwise relax. This provides the perfect opportunity to snap some great candid shots of the kids interacting together incognito!
From my own experiences, the smiles captured in candid photos always have a genuine quality that's tough to replicate in posed photos. Sure, you may have your head tilted at a less-than-flattering angle, but those mid-belly-laugh grins on your kids' faces and that shine the photographer catches in your husband's eye will more than make up for any insecurities you may have.
But before you go back to your Google search or check Pinterest for ideas you like, let's talk about the expectations you have for the final picture product.
Awesome Family Photo Tip #4:
Keep an Open Mind
When I asked the photographers if they prefer their clients to know what they want and what direction they wanted to go with their Christmas family photos, their answers could be boiled down to, "Well … maybe."
Coming with ideas of what you want isn't a bad thing, but sometimes what worked for one family is not going to work for yours.
Instead, if you bring minimal expectations, you will allow your photographer to be more creative and increase the likelihood that you are going to love the finished results.
"I've seen people bring photos with gorgeous golden light and beautiful clouds over a lake as a background and ask that to be reproduced in late fall when the light is more blue and it's overcast outside. I think it's okay to bring ideas, but not to expect replicas of what you saw elsewhere. Allow your photographer to be creative and try to keep expectations few." – Jessica
Your photographer, after all, is an artist. If you were to ask Vincent van Gogh to reproduce Raphael's Renaissance style, you'd probably be sorely disappointed. But wouldn't you love to have the original "Starry Night" hanging over your fireplace?
Trust your photographer to create the best photos for your family.
Now, there's just one more step to get you there, and all the photographers agreed it was the most important secret.
Awesome Family Photo Tip #5:
Cultivate Joy
Yes, they all agreed that the best photos came from families who were relaxed and joyful! The love you have for each other can't be faked.
Tiffany's advice is simple:
"It's about family and being thankful for one another above all else, so enjoy your time together during your session, de-stress, and let your love for one another shine through. I guarantee those will be the best pictures ever!

If there's tension amongst your family when you walk into your session, it's almost certain to show in the photos,"
Jessica agrees:
"It's hard to wrap your arms around each other, laugh, smile, and sit very, very close to each other if you were just fighting before you meet with your photographer."
What that means is if you and hubby are in an argument, maybe you need to carve out a little time to work things through – before your photo session!
But the good news is that if you have a happy group, fantastic Christmas family photos are sure to follow!
Awesome Family Photos Achieved!
Once your laid-back, crisis-free photo session is over, you won't be able to stop looking at all your awesome family pictures.
And now you get to turn them into a Christmas card!
Some photographers offer a service to design your Christmas cards for you, but many don't. If yours doesn't, hop over to Shutterfly to design your own.
I failed to inherit the graphic design gene in my family, so I LOVE how easy Shutterfly makes it to put together fantastic Christmas cards! Just look at this small sample of the festive designs they have to offer!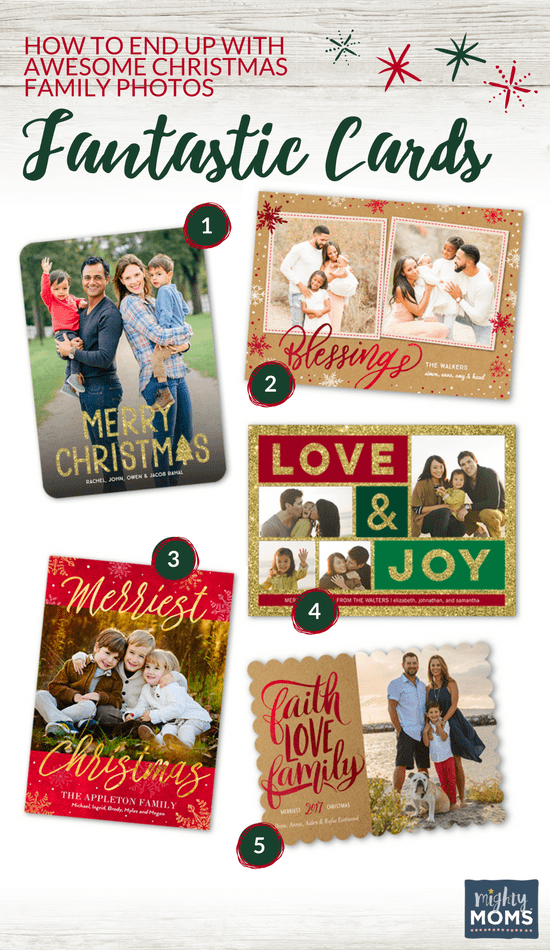 Examples of Shutterfly Christmas Family Photo Cards
Thanks to your stress-free photo session, all the things you cherish most about your loved ones will be front and center! Now you can have Christmas cards that capture your family's best side!
What has worked for you when it comes to taking Christmas family photos? Or better yet – what has NOT worked?
Share your photography horror stories in the comments below!
Have You Read These Yet?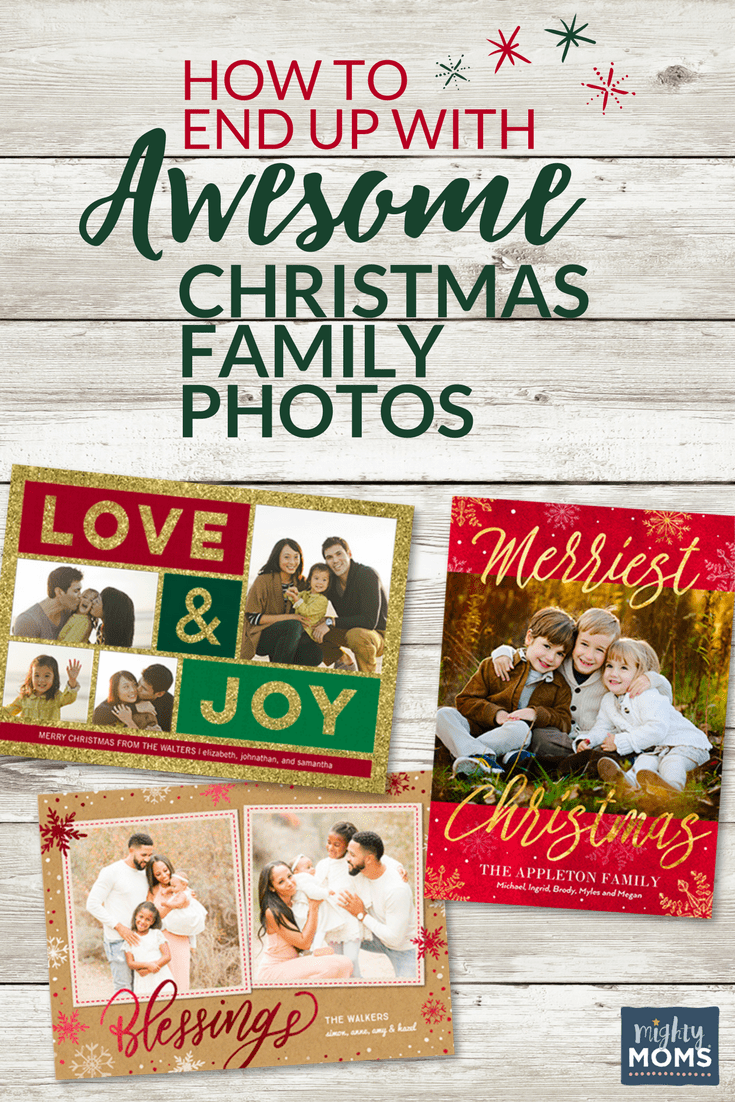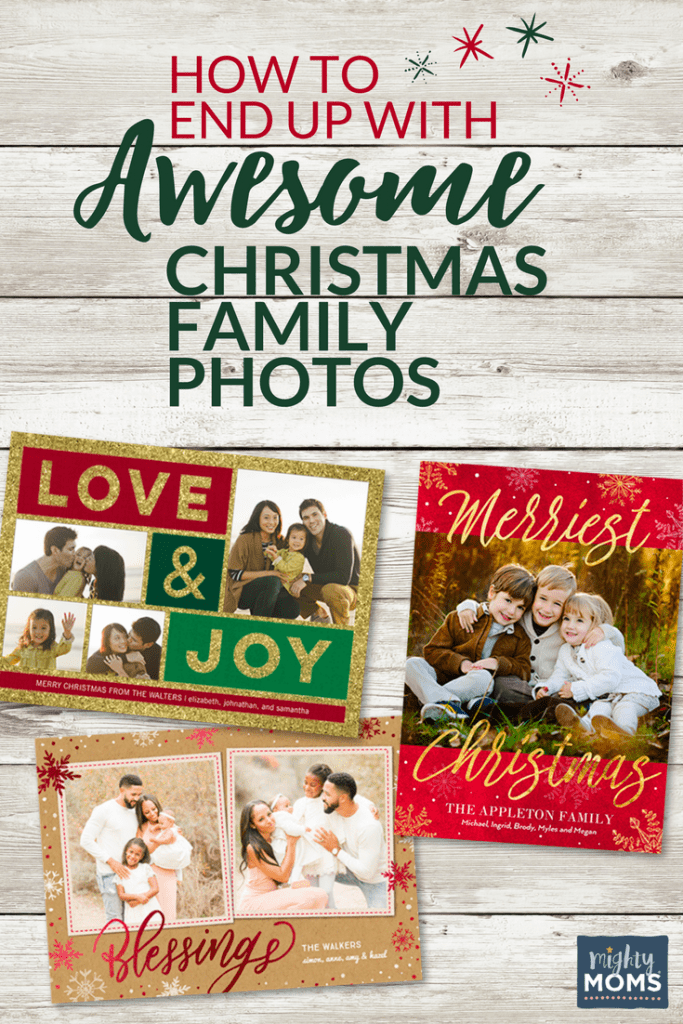 We ♥  honesty!  This post contains affiliate links that provide extra money for our mutual coffee habits addictions. Click here to learn more. As an Amazon Associate I earn from qualifying purchases.