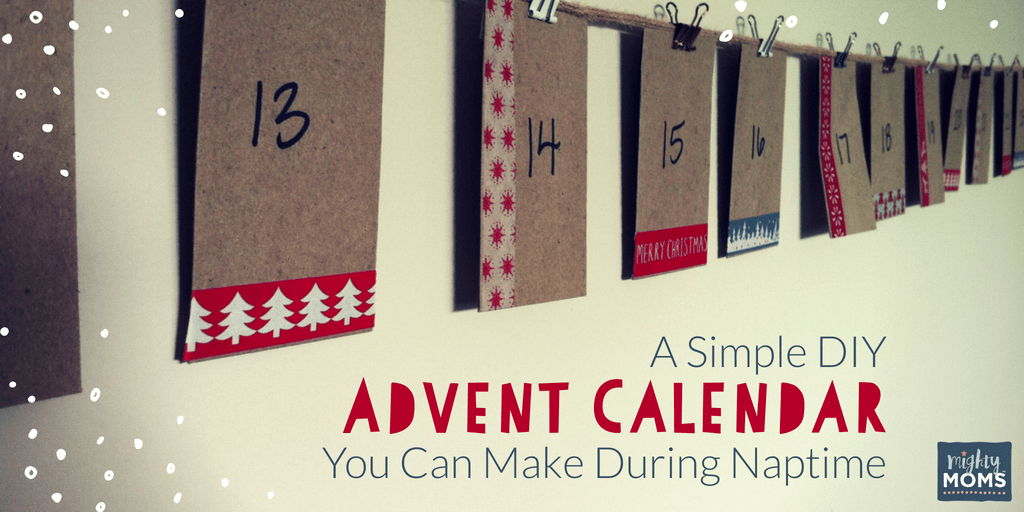 Before you roll your eyes at the thought of doing a DIY advent calendar with your toddler, hear me out.
I completely get it.
You're spending all your time just keeping your little angel from pulling the Christmas tree over. It feels like you don't have time to implement any meaningful family traditions.
Besides, he's too little to participate in anything, let alone remember it.
But hear me out.
This Advent Calendar is so simple; you can whip it up during naptime.
Even better, you can customize the activities to make sure they're perfect for your family, planning as little or as much as you want.
So, for example, if you've got a zillion concerts and cookie exchanges going on already this year, you can plan easy and quick weekly activities that take up no time but still feel special. Or, if you have a bit more time on your hands, you can plan a little something exciting for every day.
The toddler years are the PERFECT time to start introducing family traditions. Sure, your little one may not remember it, but that means you get a few "practice years". You can iron out the kinks and see what works best for your family, and before you know it you'll have a family tradition everyone looks forward to.
What is Advent, Anyway?
Christmas is a special holiday, especially for those of us who recognize Jesus Christ as our Savior. At Christmas, we celebrate Jesus' birth, the day He entered the world in order to save His people . During Advent, we remember how God's people waited for Jesus' birth, and how we now wait for His return. We want our children to grow up knowing how special this time of the year is, and when they're young, that starts with making it feel special to them.
This DIY Advent Calendar is an excellent place to start. Even just the act of setting aside time to open a little envelope revealing a pre-planned activity for that day helps to define the season as special.
It also gives you the opportunity to use some of those pre-planned activities as times to intentionally teach your children about the meaning of Christmas – for instance, reading Bible stories together, or "acting out" the Christmas story with a Nativity Set.
If all this talk about making Advent special for your children has you thinking about a more age-appropriate way for you to celebrate, here are two free resources with daily readings: Good News of Great Joy, and The Dawning of Indestructible Joy.
DIY Advent Calendar
Step One: Get Prepared
#1) Gather Your Materials
Naps started? Sweet! Here's what you need to gather together first: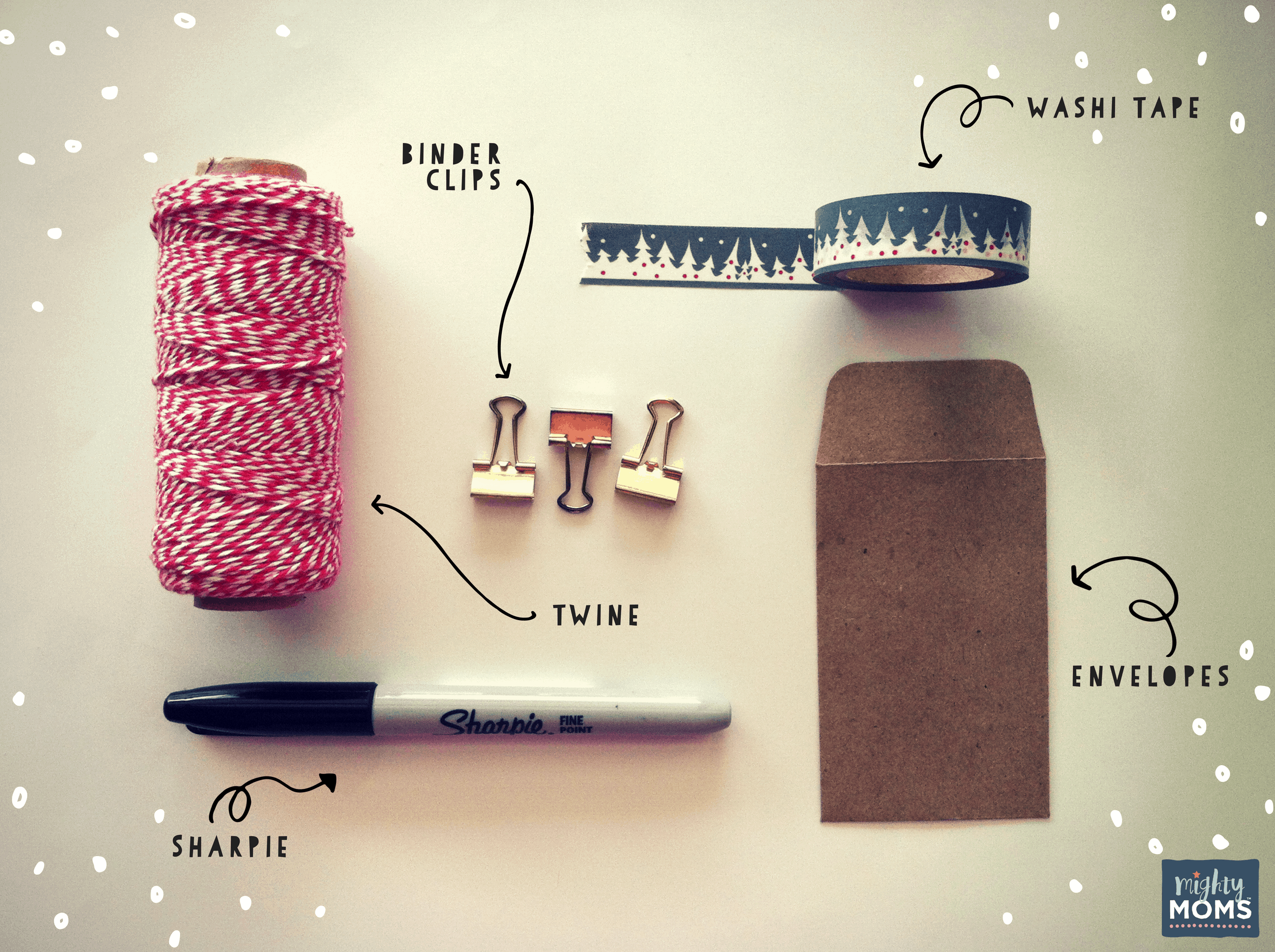 Envelopes: You don't need anything particularly fancy. Just find something that you'll like to see on your wall for four weeks. I bought these small coin envelopes for this year, but I used this card and envelope set last year and they were super cute!
Cardstock (optional): If your envelopes don't come with cards, you'll need to cut up some cardstock to fit inside.
Sharpie (or other marker): Just something to number the envelopes.
Twine and Clips: Baker's twine and mini binder clips work well, but again, find something you'll like to see on your wall.
Decorations: I used washi tape, but you could also include stickers, stamps, or kid-drawn pictures!
You'll also need a list of great activities, but don't worry. I'll help you out with that one below.
#2) Decide Where You'll Hang the Calendar.
You'll want to find a place central to your family life so that you see it every day. If your little ones are anything like mine, you might want to hang it just out of their reach so they don't pull down every single envelope every morning.
#3) Number and Decorate Your Envelopes.
The first Sunday of Advent this year is November 27th, so you'll need 28 envelopes (unless you include Christmas Day, which some people do).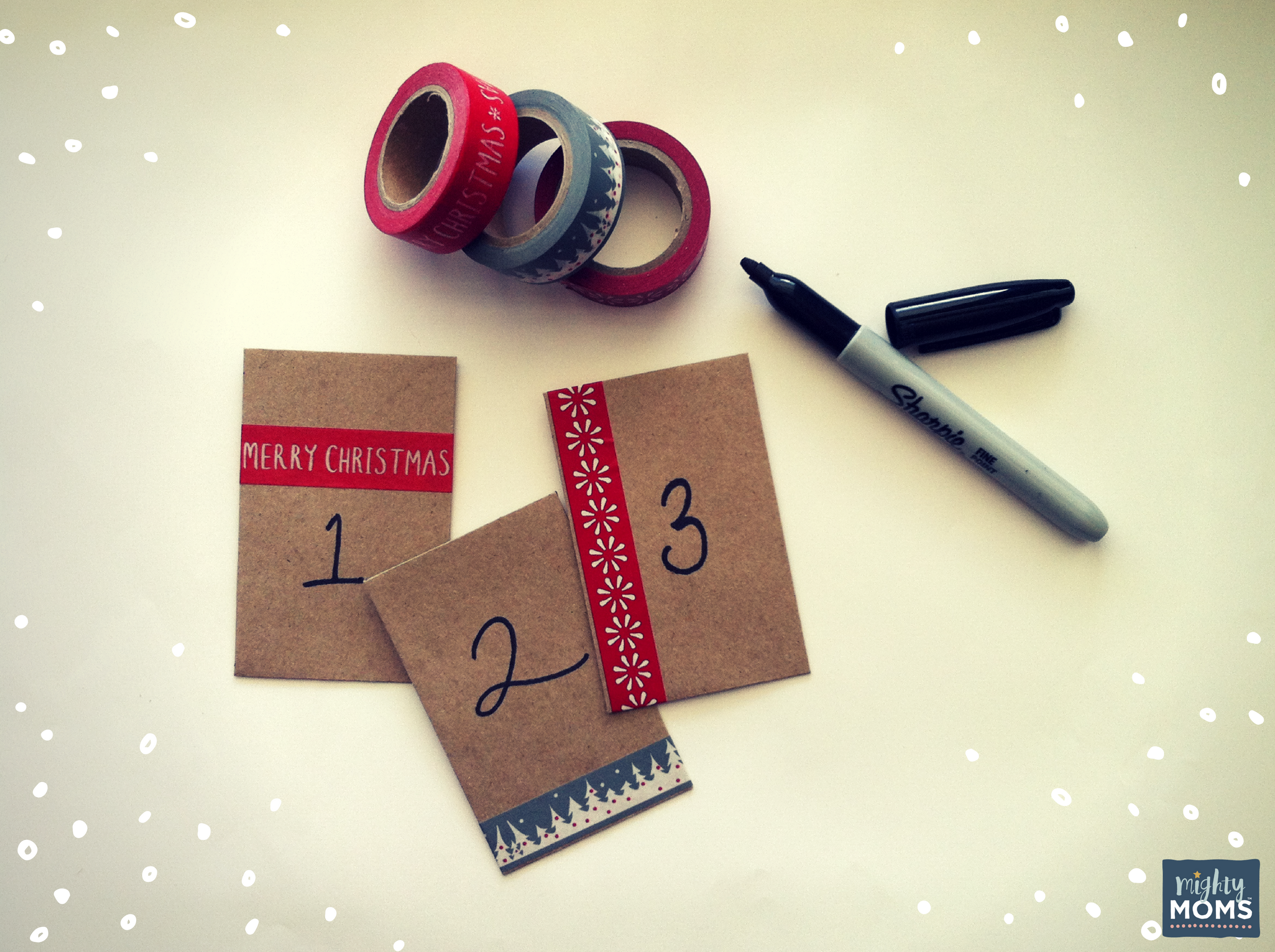 DIY Advent Calendar
Step Two: Brainstorm Your Activities
Think through what will work for your family. If you hate baking, skip the cookie decorating. If you think your toddler will be traumatized at the sight of the Mall Santa, then opt for a train ride instead.
Also, think of repeatable activities. For instance, we keep our Christmas books packed away during the year and then open one or two each week during Advent. So I put "Read a Christmas book" as an activity multiple times on my calendar.
Here's a list of 31 sample activities for you and your toddler to get you started:
Read a new or special Christmas book.
Watch a Christmas movie, or a Christmas episode of your child's favorite TV show.
Make paper snowflakes.
Make a handprint Christmas tree.
Make an M&M wreath.
Get a Christmas coloring book for kids and yourself. (Coloring is excellent fine motor skill practice!)
Decorate Christmas cookies.
Make snowman pancakes.
Deliver cookies to neighbors/friends.
Deliver cookies to a local nursing home.
Let your toddler "help" with your Christmas cards, by drawing pictures or coloring a picture to go inside.
Let your toddler color on craft paper to create wrapping paper.
Open a kid-friendly nativity set.
Attend a tree lighting ceremony, if your town has one.
Visit Santa.
Pick out a Christmas tree.
Decorate the Christmas tree together. Go for a toddler-safe decorating scheme or let your little one hang non-breakables on the bottom part of the tree.
Open a special ornament to put on the tree.
Find a Christmas-themed story time at a local library.
Work together to create a Christmas sensory tub for your little elves.
Sing Christmas carols; give your little one some instruments to "play" along.
Listen to Christmas music and dance.
Get some red and green balloons and let your toddler play.
Find a Christmas puzzle and work on it together.
Drink hot chocolate with candy canes or marshmallows.
Open up special Christmas pajamas for the whole family.
Read the Christmas story in a really good Children's Bible.
DIY Advent Calendar
Step Three: Plan Your Activities
Ready for the next step?  Pull out a calendar and look at the four weeks of Advent.
You may have some activities already fixed on certain dates – maybe your niece's school Christmas pageant, or there's a Christmas-themed story-time at the library in December. I would write these fixed activities down on their corresponding dates first
Then, add in any other activities that are time sensitive. Maybe you want to get your Christmas tree early in December. Or you want to open a new Christmas book every Monday. Slot these types of activities in next.
Then, fill in the rest of the dates!
Once you've got it scheduled out, go ahead and write the activities on the cards and slide them into the corresponding envelopes.
DIY Advent Calendar
Step Four: Hang It Up!
Measure the string or twine to make sure it will fit your envelopes. Hang the twine on the wall (or wherever you're hanging it), and then attach the envelopes with the little clips.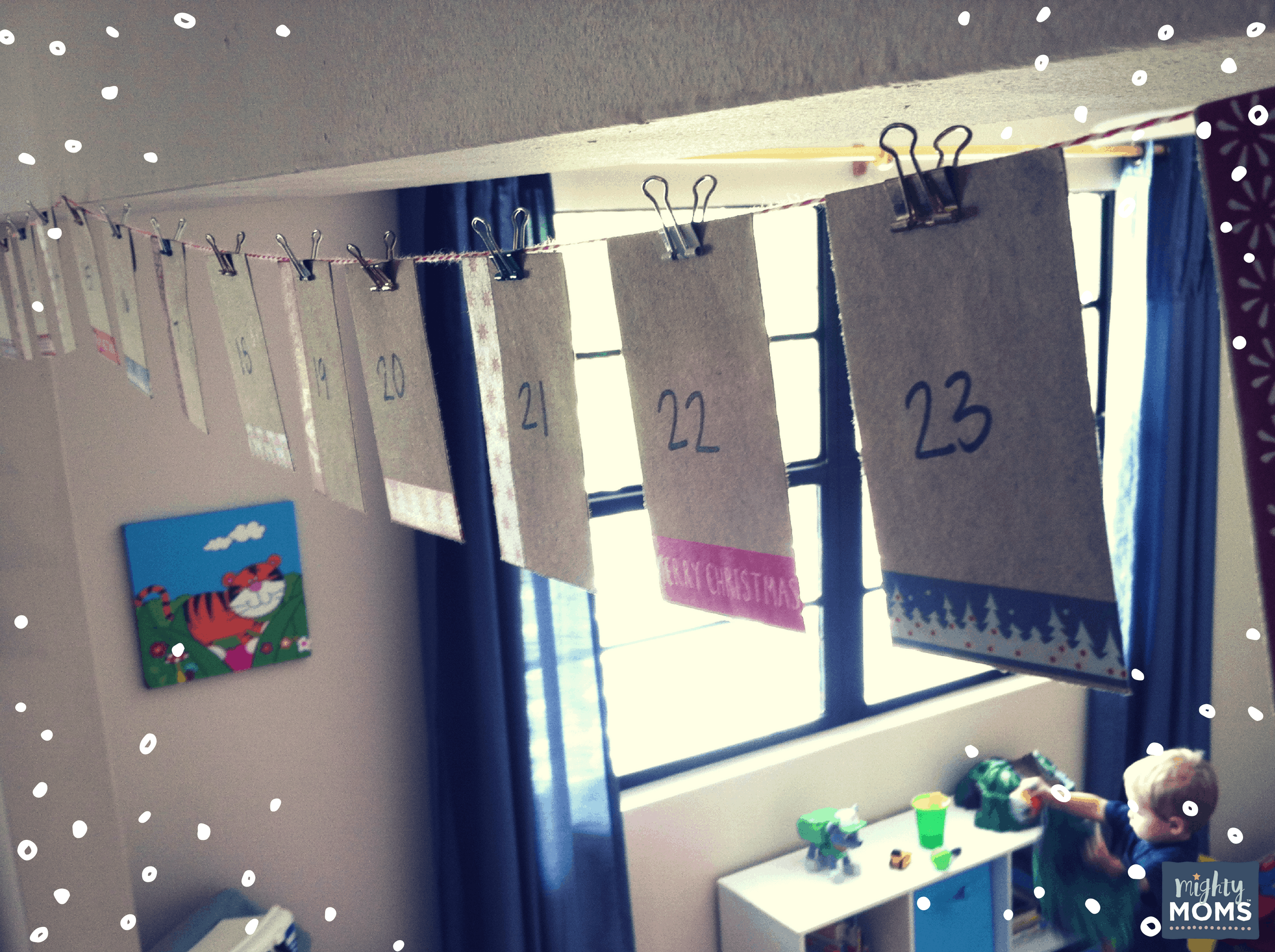 There you have it!
A simple DIY Advent Calendar filled with activities you hand-selected for your specific family. This will go a long way to helping create special memories with your toddler this Christmas season.
Starting family traditions when your children are little is so worth it.
Make this DIY Advent Calendar this year…have it for the decade ahead! (When naps disappear…)
Have You Read These Yet?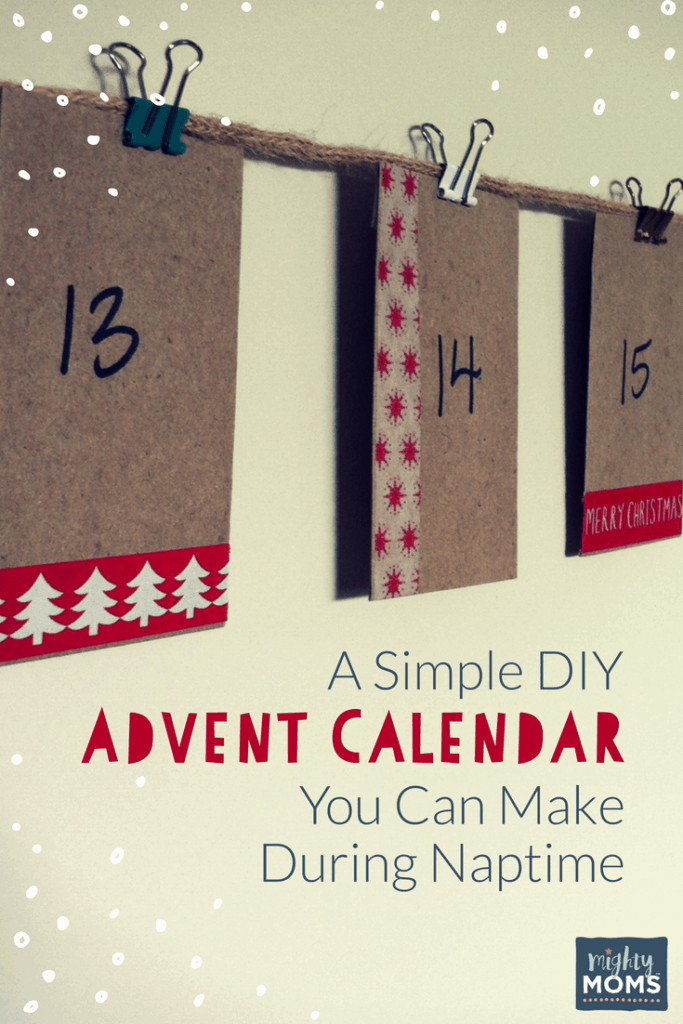 We ♥  honesty!  This post contains affiliate links that provide extra money for our mutual coffee habits addictions. Click here to learn more. As an Amazon Associate I earn from qualifying purchases.