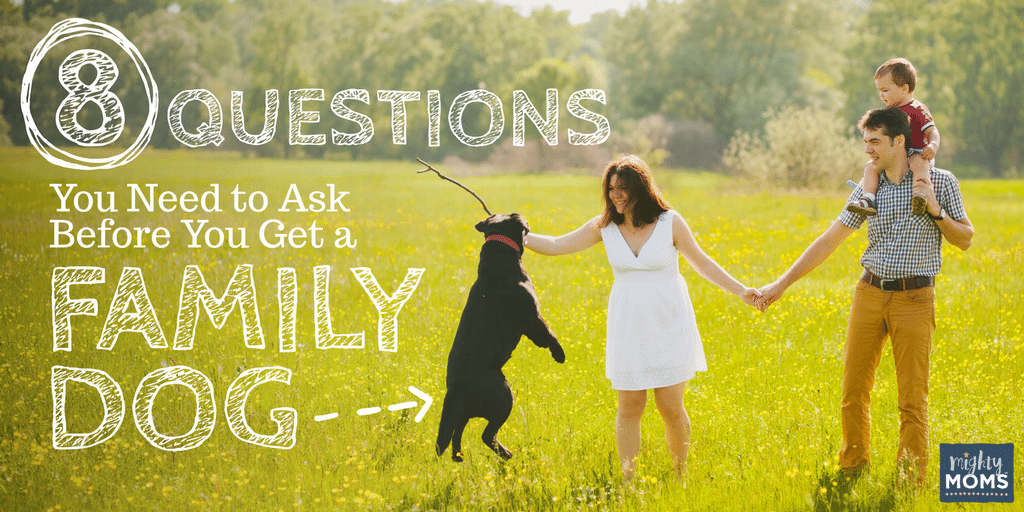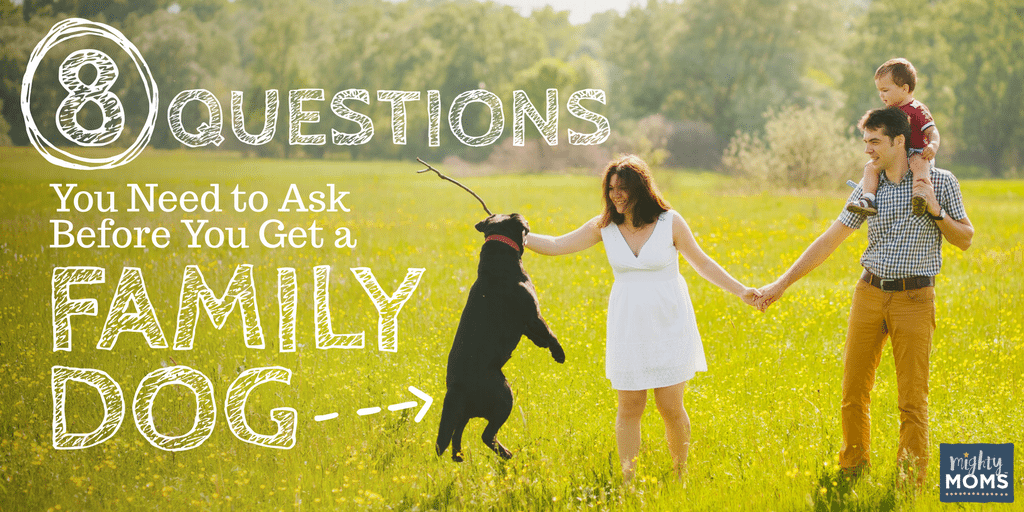 What is it about having a kid that suddenly makes you think you need a dog?
It starts slowly – cute dogs in the park that have your son grinning from ear to ear, begging to go and meet them. Easy enough to move on…except he starts asking if he can have a puppy.
You smile widely and change the subject.
Two days later you're sitting on the couch, minding your own business, when Sarah McGlaughlin pops up on TV with her adopt-a-pup commercials that tug at your heartstrings.
At that exact moment, your husband walks in and finds you a blubbery mess.
Maybe you should get a dog…shouldn't every kid have that kind of cuteness in their life?
HOLD ON THERE, COWGIRL!
Before you plunge headlong into dog ownership, or anxiously fling your hat on the "I'm already up to HERE with responsibilities" coat rack, it's important to take a step back (watch out for dog poop!) and look at just the facts, ma'am.
Whether you've been considering it for a while or have just had a good cry over Sarah McGlaughlin, these eight questions will help you make a guilt-free decision about what's right for you and your family.
Family Dog Question #1:
Does a Dog Fit in My Budget?
As with kids, pets come with an on-going price tag: food, vet bills, toys, flea medicine, shampoo…they all cost money. Estimates put annual costs between $700 and $2,000. Here are a few questions to help you figure out how big of a doggy budget you'll need:
Will you get a new puppy who needs doggy training or an older dog who is already well-trained?
If you get a puppy, will you need to get it neutered or spayed?
Do you plan to board your dog regularly when you're out of town?
Will you purchase pet insurance or set aside money for when your dog inevitably eats a pair of Batman underwear and needs emergency vet care?
How often will your dog need to be groomed?
Will your dog require a special diet?
Do you plan to hire a dog walker or sitter?
Are you the type to turn your lab into a giant spider for Halloween? Or to dress your pooch as a pirate for Talk like a Pirate Day? You'll want to find a little room in the doggy budget for fun dog toys like this and hilarious outfits like this Princess Pooch Tutu (your daughter is going to love. it.).
Pup Trivia: According to experts, dogs in the 10-20 lb range have the lowest long-term costs.
Family Dog Question #2:
Do My Kids Actually Want a Dog?
(Or Is It Just Me?)
Many kids beg for a dog repeatedly without really realizing what they're asking for. If you want to see how your child does with a dog actually in the house, a little "hands on" experience is always a good idea:
Borrow a dog from a friend/neighbor for a few days.
Get a job as a dog sitter or walker and take your child along. Extra money and a part-time pet? Sign me up!
Foster a dog from a rescue to see how you and your family do on a longer-term basis and if the dog is right for you. Warning: if you do bring a dog into your house, make sure your child truly understands it is not forever, or pick a dog that you might be prepared to keep.
After so much time spent with a dog, your family will either be amped up to keep it, or you'll decide it's more fun to play with someone else's dog.
Family Dog Question #3:
Is There a Place Nearby to Exercise My Dog?
Dogs need exercise to keep their sanity (and yours). Consider where your dog might burn off some energy:
Is your yard pup-proportional?
Can you put your little one in an easy-to-handle stroller and walk your dog together?
Is there an open field or dog park nearby?   More and more neighborhoods are becoming dog-friendly, with dog parks popping up all over the place. (Just make sure you find out if kids are allowed before bringing your munchkin along.)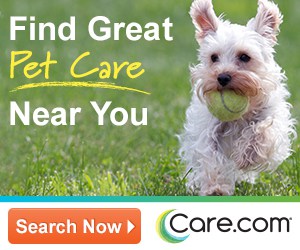 Family Dog Question #4:
Are Dogs Allowed Where I Live?
If you're renting, be sure to formally ask your landlord before you adopt a pet. (By formally, I mean you need it writing that you are approved to have a dog on the property. An email, handwritten note, anything to show that you aren't breaking some rule.)
Doing so can help you avoid the sticky situations of either asking your child to give up his new-found friend or finding a new place to live. Keep in mind many places have limitations on size and breed, and may also require a pet deposit (add it to Doggy Budget). Additionally, be aware that some cities or HOAs do not allow certain breeds.
Family Dog Question #5:
Am I Prepared to Do Potty Training?
I won't lie. Getting a tiny human to use a toilet has been one of my least favorite parts of parenting so far (yet oddly, the most rewarding). The thought of voluntarily potty training something else gives me the shivers.
Thankfully, there are several awesome guides available on how to get your dog to go when and where they should. Here are a few of our faves:
If you're not ready to potty train a puppy, no problem! Most older dogs at your local shelter are already potty trained.
Family Dog Question #6:
Will a Dog Fit in with Our Other Pets?
If your other pets are fish, gerbils, or other caged animals, adding a dog shouldn't be too much of a shock. But what about your super cuddly cat? Or your other family dog? You'll want to think all that through first.
While breed is a consideration,  much of it will still depend on the personalities of both your old and new pets, as well as how they are introduced. Check out some great pet introduction tips here and here.
Family Dog Question #7:
Am I Home Enough?
Like kids, dogs need a lot of attention. But unlike kids, you can't take them with you everywhere. If you are away from home most of the week (or if you know that you won't be home to let your dog out), you should pause long and hard before getting a dog.
If you are home more than not and need some occasional help (and have it in the budget), dog sitters and walkers could be a great option for the short-term. And who knows, maybe you will be helping someone else decide if they should get a dog!
Look for available dog sitters/walkers within your Zip Code that have been approved and reviewed by other dog-owners.
Family Dog Question #8:
What about ME? (All Guilt Aside…)
This question is an important one, and should not, I repeat NOT bring any guilt. Let's be honest – you are probably going to be the main caretaker of this dog, no matter how much your child promises to walk it every day. Uphill. Both ways.
These personal questions are not as cut and dried as the others, but are just as valid and may require some introspection and discussion with your family:
Can I actually clean one more thing?
Do I even like dogs?
Can I convince myself to wake up even earlier and walk the dog?
What sacrifices would I need to make in time and effort? Am I willing to make them?
How would we need to reorganize the house or hide things that look like chew toys?
Would I feel safer with a dog around?
These aren't necessarily deal breakers. (After all, wouldn't it be nice for someone else to keep your kid's attention while you do dishes?) But they are important to consider because the sacrifices you make here will affect how you take care of the family.
We already do many things for our kids that we aren't exactly thrilled about. I, for one, don't like taking my daughter to the park in the summer because we live in Florida and it is HOT. #newsflash
That said, I go anyway because I know little else makes her quite as happy (or tired out). In the process of this sacrifice, I've discovered some tools (like these amazing cooling bandanas) that make my sacrifice easier. The same will happen as you proceed with dog ownership.
Finally…be sure to get buy-in from your spouse. It's ree-hee-healy important to be in agreement for this type of commitment. Life is hard enough, you don't need a new bone of contention thrown in. *highfive*
The Moment of Truth:
Is a Family Dog Right For You?
Congratulations! You made it through the guilt-free decision guide! So what do you think? Is a dog right for you? If you're ready to take the puppy plunge, I have two bonus questions for you below. (Who doesn't love a bonus?)
Bonus Question #1 – Which Dog is Right for My Family?
If you decide to get a dog, there is a plethora of information out there to help you find the best canine companion for your family – considering breed, size, personality, activity level, allergies, and more. Your local store or kennel can be a big help, but here are a few sites to get you started:
Bonus Question #2: What Do I Need to Have a Family Dog?
Now that you've got the right dog, you'll need to make sure you get the right supplies.  Your veterinarian should be able to help you with shots, flea meds, and food. In addition, you will need the following:
Doggy Decisions
Dogs can bring a whole new level of fun into your home–when the time is right. Hopefully these questions help you decide if that time is now.
Did you decide to get a dog? What helped you with that decision?
Related Articles: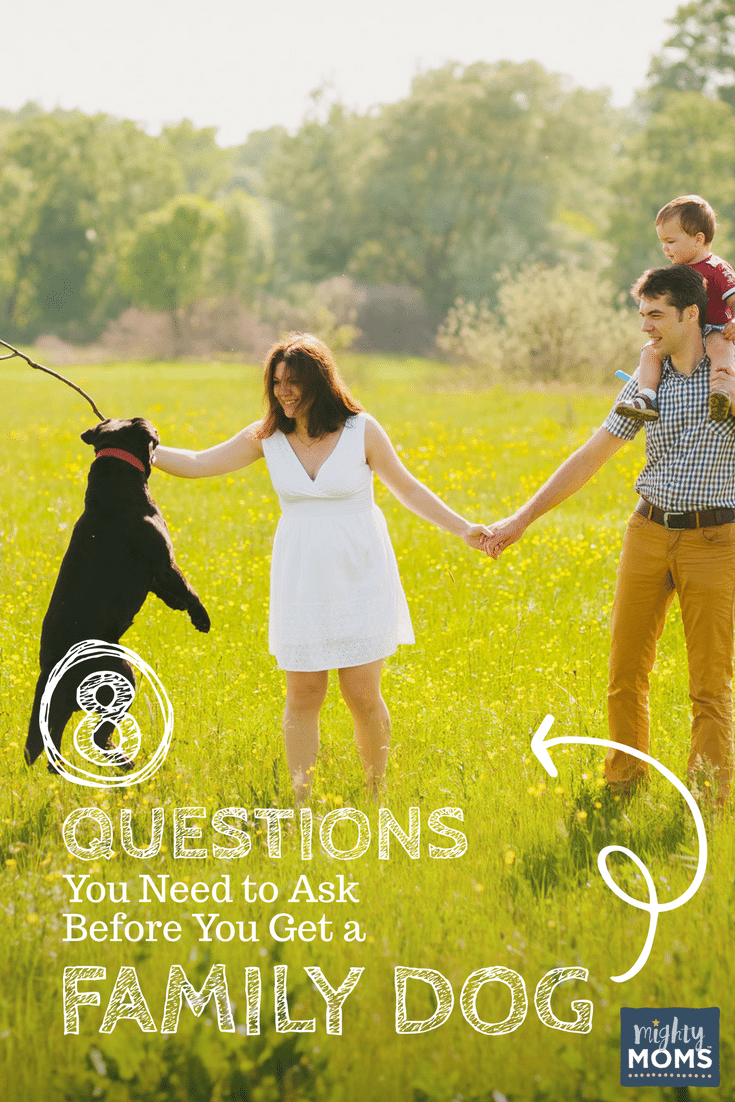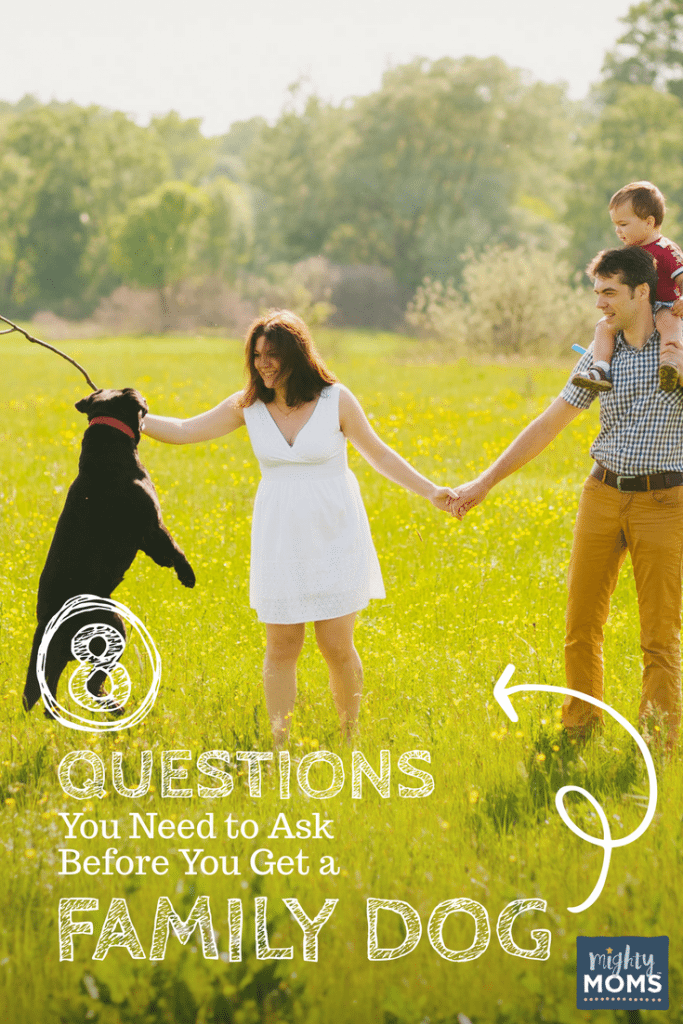 We ♥  honesty!  This post contains affiliate links that provide extra money for our mutual coffee habits addictions. Click here to learn more. As an Amazon Associate I earn from qualifying purchases.
We ♥ Citations
9 Costs Every Dog Owner Should Budget For. Kiplinger.com
Annual Dog Care Costs. PetFinder.com
Adding Another Dog to Your Home: Do's and Don'ts. WebMD.com