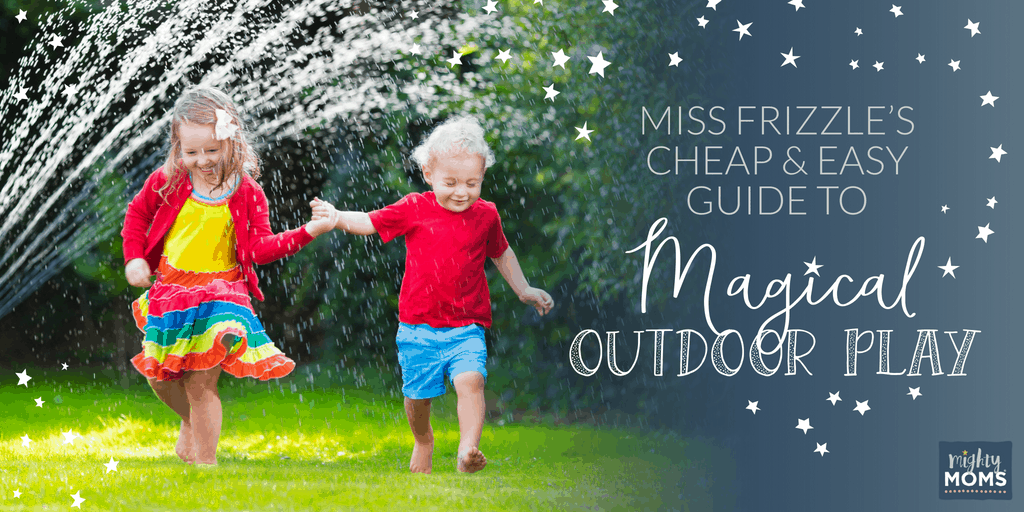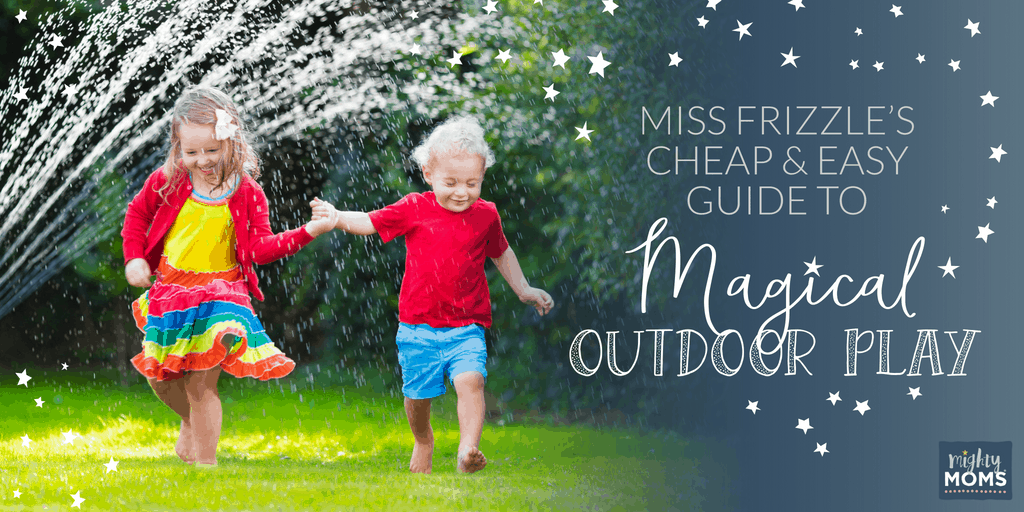 Seatbelts, everyone!
I want to take you on a field trip. Not just any field trip though, a magic field trip.
Think with me about your childhood for a minute.
It wasn't that long ago. In fact, I'll bet the title of this article already has you singing, "Ride on the Magic School Bus!"
Did your mom send you outside to romp around the neighborhood until the streetlights came on?
Did you ride your bike all around your neighborhood until she whistled to you from the front door?
Did you answer her whistle and come home covered in dirt, sweat, and happiness?
Unlike our childhood, we are raising our kids in a digital society, steeped in technology and a little bit of fear. I mean, has anyone else watched The Magic School Bus reboot and wondered why no parent has bothered to sign a permission slip?
Here's the good news: This change doesn't mean our children have to miss out on the magic of the outdoors! And, to recreate some of the adventure from your own years past, you really don't have to look much further than your own backyard.
Will you join me on this magic field trip with the famous Ms. Frizzle (the coolest teacher then and now)? Together, we'll look at cheap and easy ways to turn even the smallest backyard into a magical space for your kids to embrace The Frizz's famous catch phrase: Take chances, make mistakes, and get messy!
Magical Outdoor Play Tip #1:
Take Chances
Taking chances helps kids learn about risk management. Whether it's through a game, climbing a tree, or learning about their balance, risk management is a crucial skill you can help foster right in your own backyard.
Why not take the opportunity to allow your children an exercise in risk management by encouraging them to take chances with these magical activities?
By creating space for your kids to take chances, you'll be giving them valuable opportunities to test their own limits and build their courage all while having fun outside.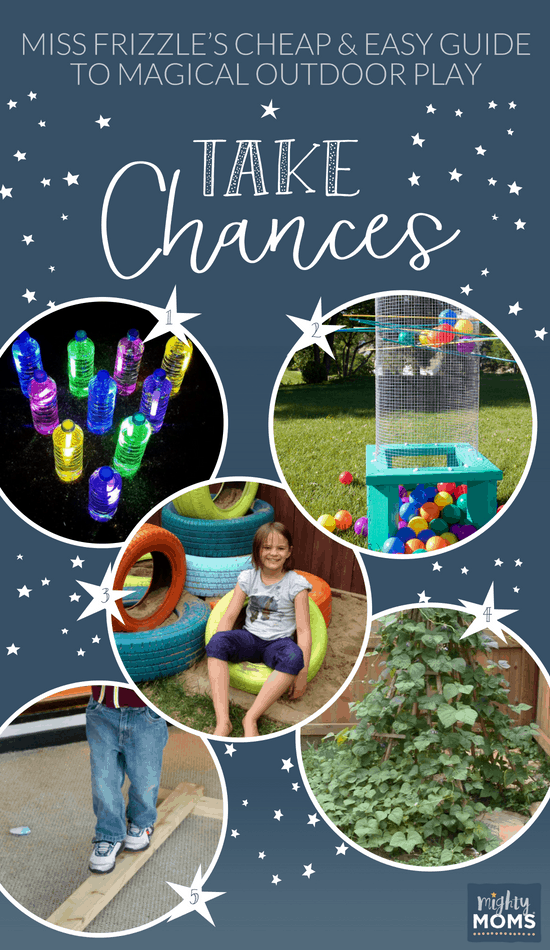 #1 – Glow-in-the-Dark Bowling
With this super cheap, super easy game, you're minutes away from having a bowl-a-thon without having to put on those nasty bowling shoes. (Those shoes aren't the kind of chances I prefer to take). To make the glowing pins and bowling ball, try these glow-in-the-dark necklaces and a hamster ball like this one.
#2 – Giant Kerplunk
Traditional kerplunk is a great game for a rainy day, but if the sun is shining and you're in need of fresh air, this giant version can really bring the game up a notch! Be sure to add lots of plastic balls like these to keep the fun going!
#3 – Tire Climber
Stacking tires to make a climbing center for your kids is an economic way to encourage them to take chances. Tip: If you're planning on getting your tires changed soon, most places will let you keep your old ones for free.
Otherwise, you could always call around to body shops, and many will happily load your mini-van to the brim. Try painting the tires in bright, fun colors to make it even more exciting!
#4 – Bean Hide-Out
What better way to foster some chance-taking than showing your child how to grow a vegetable? Even better: grow that vegetable into a magical tunnel they can use to run through, play hide-and-seek in, or use as a fort. For a little extra magic, try these tri-color beans in place of plain green beans.
#5 – Balance Beam
This easily adaptable balance beam can be raised, lowered, shortened, or lengthened based on your child's ability. What a great way to challenge their physical limits by giving them their own beam in the backyard! A trip to your local lumber yard and your tool kit is just about all you'll need!
Magical Outdoor Play Tip #2:
Make Mistakes
Making mistakes helps kids learn about cause and effect and can also help them learn that making mistakes is an important part of life.
Wouldn't it be amazing if your magical outdoor play space encouraged imperfection and allowed your explorers to learn through their mistakes? The stakes are low when it's your own backyard, but the rewards of confidence and self-assuredness are high!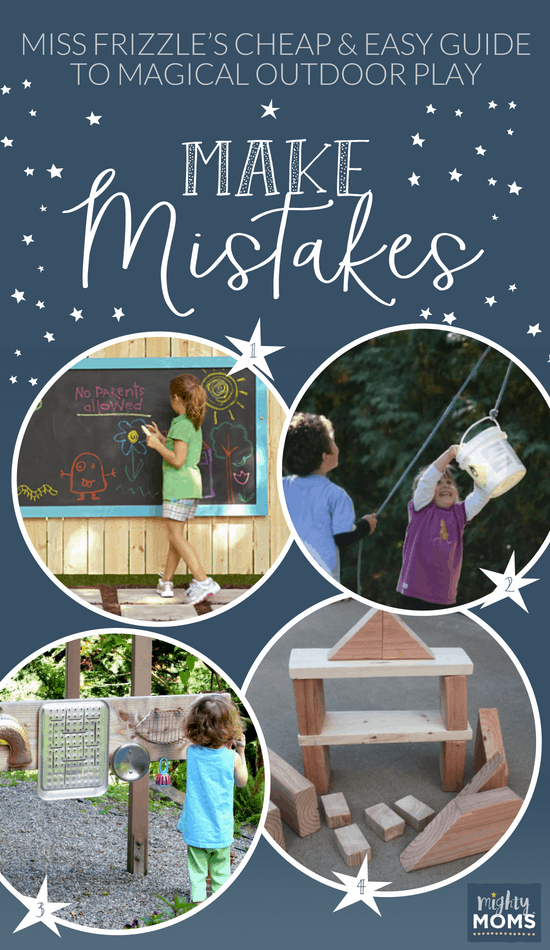 #1 – Outdoor Chalkboard
With this outdoor chalkboard, your kids will be free to draw and write to their hearts' content, and any mistake is easily wiped away. This chalk with super fun sparkles is sure to be a family favorite!
#2 – Bucket Pulley
Hours of fun will be had with this simple pulley system. A strong bucket and a sturdy rope make the whole set cute, and your children will learn a little physics. They might make the mistake of overfilling the bucket, but they'll quickly learn that with the help of a pulley, they're stronger than they think.
#3 – Wooden Blocks
Everyone likes to knock down towers, right? If you have your very own Rex Wrecks It, some outdoor building blocks might be just the ticket. Your little ones can build tall towers, learn a bit about how gravity works, and soak in the sunshine while they're at it.
#4 – Sound Wall
The only "mistake" here is hitting an off-sounding note! Build this amazing sound wall using odds and ends or a fun shaped baking pan like this butterfly. Your tiny musicians will have a blast finding their own rhythm!
Magical Outdoor Play Tip #3:
Get Messy
The thing about unstructured outdoor play is that you get messy. Now, while your crew probably won't be baked into a pie like Ms. Frizzle's, you can still encourage magical messy play (mud pies only).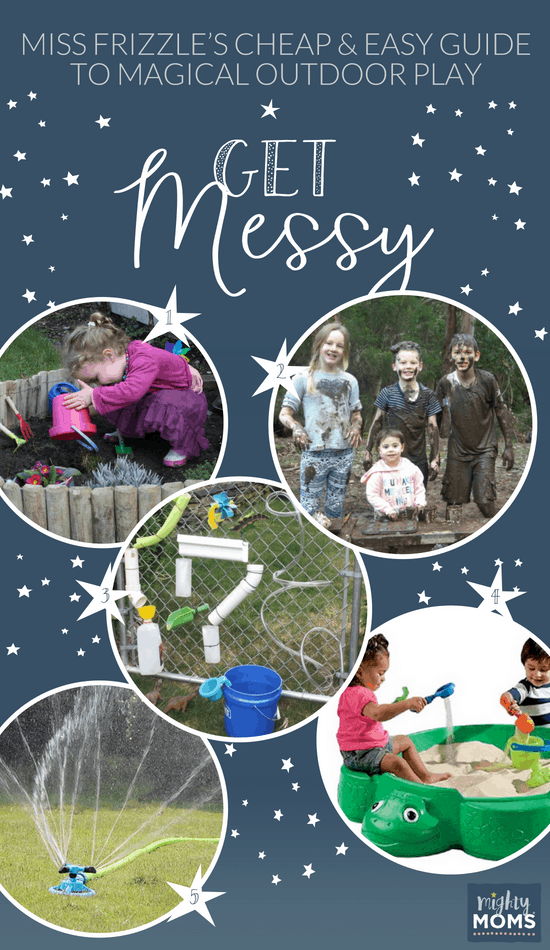 #1 – Mud Garden
Mud and more mud. This little mud garden will surely let your kids get a little dirt under their fingernails. If you're concerned about what might turn up in your backyard (particularly important in urban settings or home that were vacant for a while before you moved in), or you simply don't want to destroy a patch of grass for muddy puddles, use a container like this galvanized bucket to hold dirt for mud making.
#2 – Mud Pie Kitchen
No mud garden would be complete without a mud-pie-making station, and no childhood should go mud pie free! Add some stainless steel bowls and fun silicone spoons for extra cooking magic. They'll be weather resistant and last for years to come.
#3 – Water Wall
These hot summer days call for a water wall! Once your water wall is built, add a variety of pouring containers, like this watering can. Keep a few beach towels nearby so no one drips on their way inside!
#4 – Sandbox of Secrets
Your entire childhood will come rushing back to you when you see this turtle sitting in your backyard. Add a few sand toys, or even some of the random spoons and measuring cups from your kitchen that don't belong to matching sets anymore. Hours of fun can be had digging in sand! What will they find inside? (Heather used to spray paint palm-sized rocks gold for exciting digs!) Bonus: The shell sandbox cover keeps any area animals from enjoying your sandbox too.
#5 – Satisfying Sprinkler
A must-have classic! What childhood is complete without a run through the sprinkler? You can go with a standard lawn sprinkler, but my family really likes this version, too. It's compact and small enough not to be intimidating for little ones.
Magical Outdoor Play Tip #4:
Don't Forget Your Gear
I'd be remiss if I didn't acknowledge that the Frizz tends to boogie with the bugs and soar straight into the sun rather than avoid the elements. Do you like to take fewer chances for mistakes with mosquitoes and sunburn? Here are a few suggestions to keep the outdoors magical while avoiding bites and burns.
Beat the Bugs
Mosquito and tick borne diseases are on the rise, unfortunately, so you don't want to take any chances with this one. The AAP recommends using a repellent containing DEET on children older than 2 months to give them the best protection. This spray contains the recommended amount of DEET and is gentle on skin.
Safely Soak in the Sunshine
Shade is your friend! When possible, hang out under trees or invest in a hanging umbrella for the yard. When shade isn't an option, look for some good sun clothes like sun hats, rashguards, and sunglasses.
But, most importantly, don't forget sunscreen! The AAP recommends using a  kid-friendly sunscreen with zinc oxide in it  like this one.
Step Outside:
It's a Wilder Ride!
A surefire way to make your outdoor play space the most magical is simple: step outside and play with your little ones.
If you take chances, make mistakes, and get messy yourself, you're showing your kids that it's a great way to learn about the world around them and have fun doing it!
With these cheap and easy tricks, you can recreate all that magic you remember from your childhood. Your kids (and you!) are sure to enjoy a magical field trip in your new outdoor play spaces until the sun goes down!
Have You Read These Yet?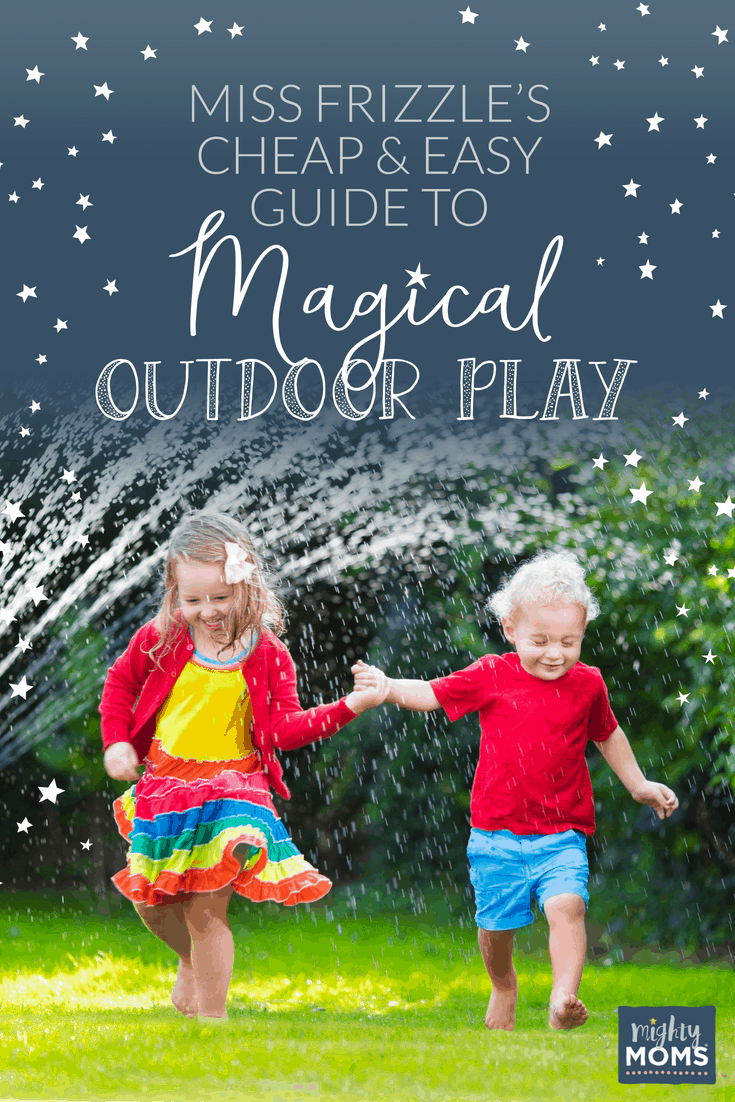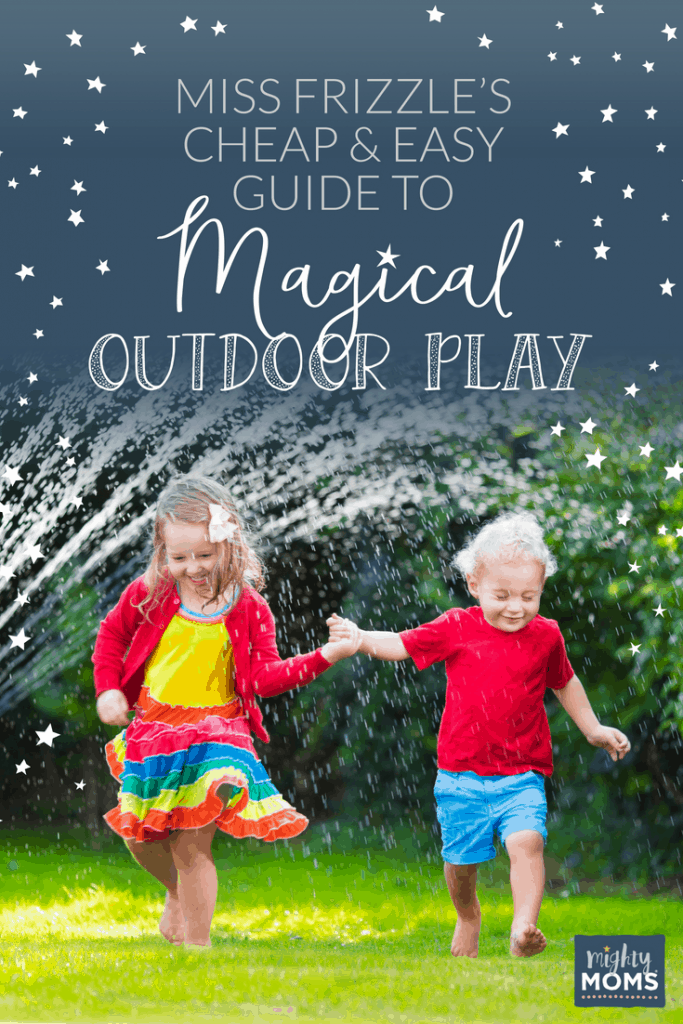 We ♥ Citations
Magic School Bus Song Lyrics. Scholastic.com
Summer Safety Tips: Staying Safe Outdoors. HealthyChildren.org
Sun Safety: Information for Parents About Sunburn & Sunscreen. HealthyChildren.org