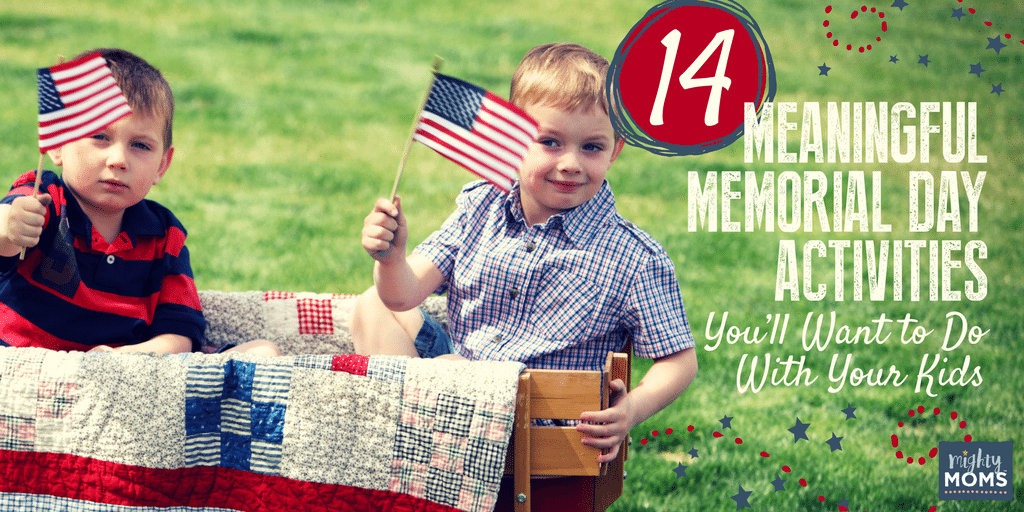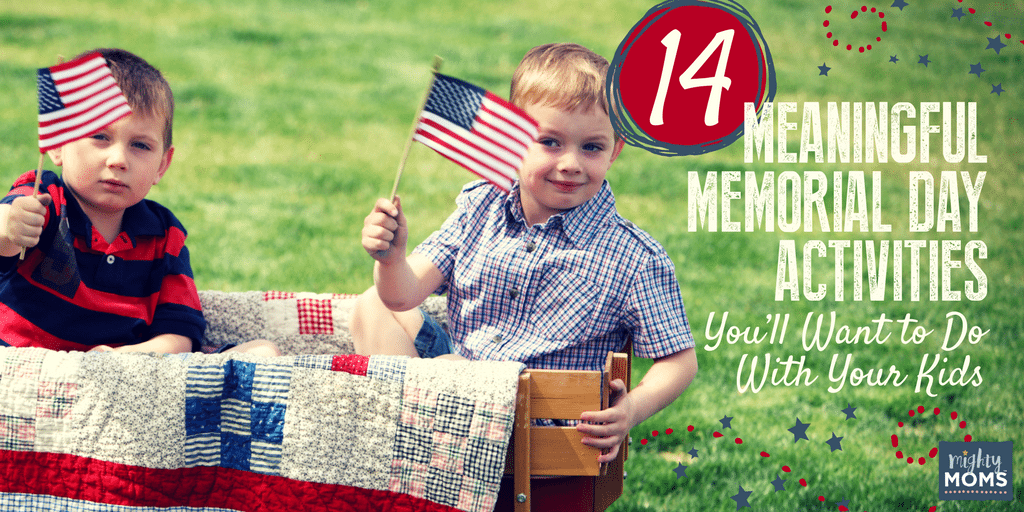 There's something magical about holidays when your six. The normal ho-hum routine of life lifts and for one special day you get to experience new exciting things.
Hidden eggs
Presents under a glittering evergreen
Parades with floats and music
Fireworks
There's something about Memorial Day that's always a little different, though, from the rest of childhood's holidays.
It can be confusing for little minds to work through. On one hand, there's a celebration of the freedoms we've received. On the other, there's a sense of loss for the people who gave their lives to preserve and protect that freedom.
It's bittersweet. Especially if your family has experienced that loss first-hand.
Still, life isn't always presents and chocolate bunnies, right? We'd be irresponsible to only expose our kids to life's rainbows, without also educating them about the rain.
In an effort to find that balance, I want to share 14 Memorial Day activities that slip straight into the sweet spot: they are fun to do, but have a deeper appreciative meaning our kids can't help but pick up on.
What's the Purpose of Memorial Day, Anyway?
Before launching into all the glue sticks and glitter, let me offer some deeper background that you can use in talking with your kids about the purpose of Memorial Day.
It was originally called Decoration Day and was born out of the heavy loss both the North and South experienced as a result of the Civil War.
The first observance was on May 30th, 1868 by General John Logan, National Commander, who asked people to decorate the graves of those who have died in defense of their country. (The day was specifically chosen because no battles had been fought on that day.)
Red poppies are traditionally worn on Memorial Day, inspired by the poem "In Flanders Fields":
"We cherish too, the Poppy red
That grows on fields where valor led,
It seems to signal to the skies
That blood of heroes never dies.
The Remembrance Poppy has spread to become a world-wide symbol to commemorate all service men and women who have been killed in conflicts, being used in other countries such as the UK, New Zealand, Canada, and Australia.
The U.S. Flag is considered a living thing, and should be properly cared for: Never let the flag touch the ground. Raise it briskly, lower it ceremonially. It should never be used to carry or store something. (See other rules here.)
History lesson complete.
Ready for the Memorial Day activities? Gather round the kiddos. Time to get started…
Memorial Day Activities for Kids:
Arts & Crafts
Since the family is (hopefully) going to have an extra day off of work, it's the perfect opportunity to get everyone's elbows and probably fingers, hair, etc . dirty with a little craft happiness! Here are five of my favorite Memorial Day activities ideas, from simple suncatchers to sophisticated wreaths.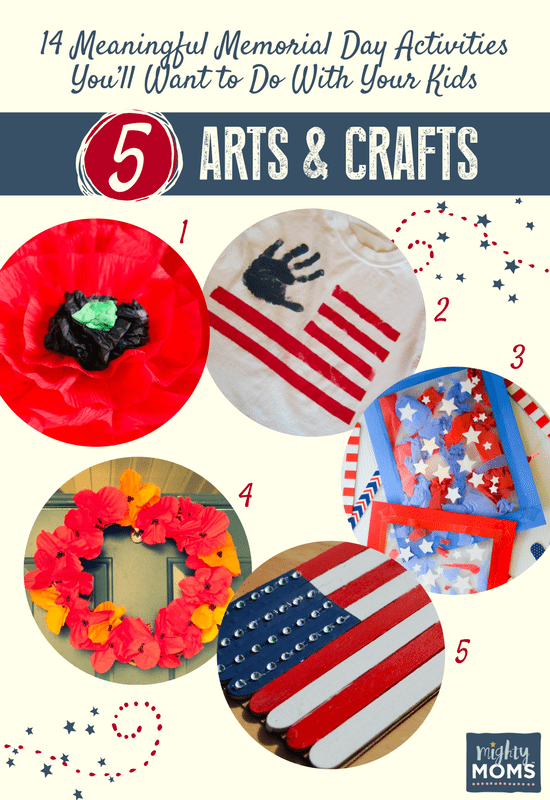 #1. A Pot of Giant Poppies
Decorate your front porch with a field pot of poppies! You just need red paper plates (or paint and white ones), red crepe paper, lime green tissue paper, black tissue paper and glue. Oh, and you'll definitely want to read through these easy instructions from Happy Hooligans.
#2. Handmade Patriotic Shirts
It's amazing what you can do with a plain white t-shirt from Hobby Lobby!
#3. A Patriotic Suncatcher
Help your kids put together these simple little patriotic suncatchers using the directions at At Little Pinch of Perfect. When you're finished, give it to a veteran as a thank you! (Don't know any veterans? Call your local VA Hospital, I'm sure they can give you recommendations of veterans who don't have many visitors!)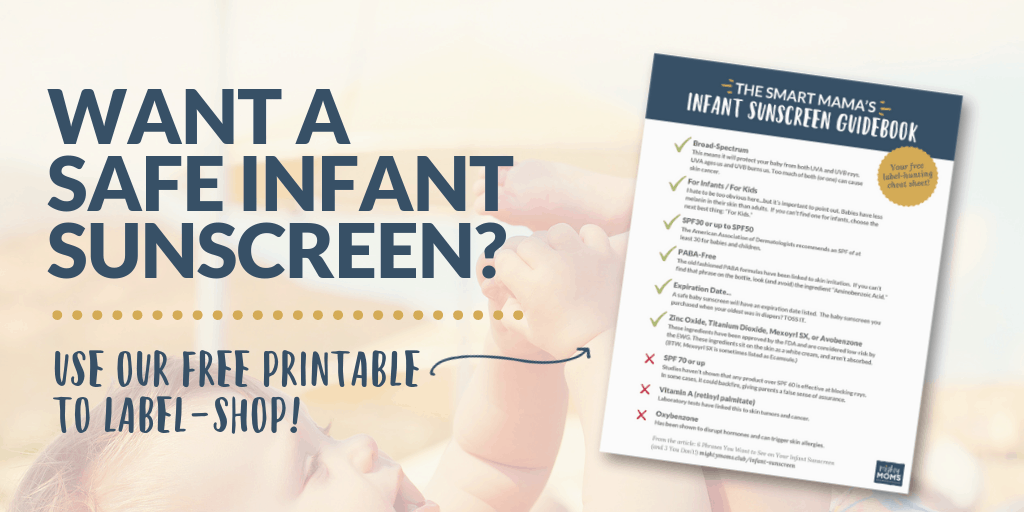 #4. Napkin Poppy Wreath
This beautiful poppy wreath is more, say, involved than the other crafts. You'll definitely want to take the lead, but the kids can help you cut out all the flower petals!
You'll need red napkins, orange napkins, black beads or buttons, a stick wreath, and every crafter's best friend: the glue gun.
#5. Popsicle Stick Flag
I thought this popsicle flag idea was a very easy and clever idea for kids of every age to complete. You'll need cardstock, a bundle of sturdy craft sticks, glue, patriotic acrylic paints, sponge brushes, and these self-adhesive rhinestones (for the stars).
Memorial Day Activities for Kids:
Teaching Meaning
Obviously, the best way to teach your kid something is through action. Think about it, you've probably only got 30-seconds of "sit still" time to communicate anything, so the most teachable moments are going to be done on the backs of Memorial Day activities like these.
#6. Medal of Honor Coloring Book
I don't have a lot of military history in my family, so I actually learned a lot from these simple coloring pages. (Warning: the website will make your eyes bleed…but hang in there, the content makes it worth a few jarring colors!)
#7. Memorial Scavenger Hunt / Flag Placement
Call your local veterans group or cemetery and ask if they are looking for volunteers to put flags on veterans graves before Memorial Day. Then let your kids come and "help" by spotting those graves belonging to veterans and helping you place the flag.
This provides a great opportunity to talk to them about…
Sacrifice
History (What's the difference between a Civil War vet and a Vietnam vet?)
Honor
Courage
Visiting veteran memorials is also a great way to teach your little ones about our noble GIs!
Don't Forget: Cemeteries and memorials aren't playgrounds. I may let my children run on the paved road of the cemetery, but once we touch grass, it's "sacred ground". We don't shout, we don't run across the grave sites. We respect not only those who are buried, but those who buried them.
#8. Read a Few Well-Chosen Books
As Memorial Day approaches, pull out a few well-seasoned books that can go over these lessons in a new and interesting way. Here are a few favorites: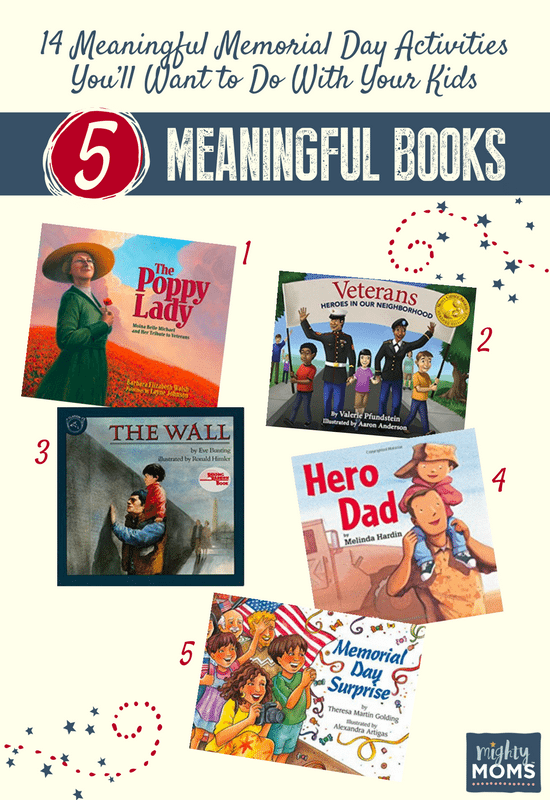 #9. Coloring a Family Portrait
If your family has lost a veteran, take a few minutes to sit down with your kids and a few photos and share a few stories about your loved one.
Then break out the kid-friendly Crayola art case to draw or paint their own version of the story or photo you shared with them. When finished, give it to a loved one close to the loss, or keep it for yourself on the fridge as a reminder of how much this veteran meant to you.
Memorial Day Activities for Kids:
Show Your Support
Sometimes the best way to show thankfulness for someone's service is to serve them right back! Here are several suggestions on how to return the favor, in some small way.
#10. Send Something to a Soldier Overseas
There are few things as warm and wonderful to a serving soldier like a package from the good US of A. Don't know anyone in active service? Not a problem. AnySoldier.com gives you a list of servicemen (from all the branches of the military), where they are serving, and items they could really use.
If you're going to include a hand-written letter from your kids, though, you may want to proofread it first…
#11. Participate in a Memorial Day Parade
Show your appreciation by attending a Memorial Day Parade and standing and applauding as the various Veterans groups march by. Click here to see a directory and find a parade in your local area.
#12. Share Some Old-Fashioned Home-Baked Appreciation
Let the kids help you bake up some yummy delicious treats to share with veteran friends, or at the VA Hospital.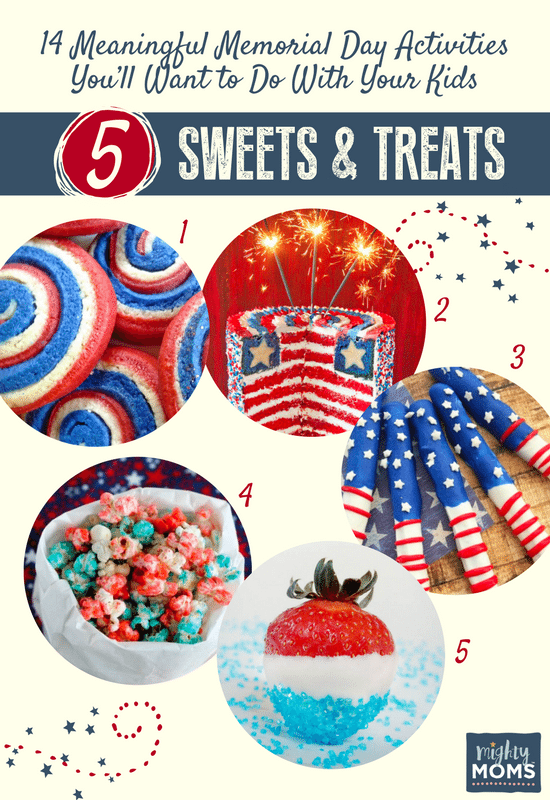 #13. Host a Patriotic Party
Get to know the veterans in your area by hosting a Patriotic BBQ Picnic over the weekend. It doesn't have to be Pinterest-worthy (unless you want it to). The larger point is to spend time getting to know the veterans living around you, not whether you have a balanced table-scape.
Just pop on a few burgers and hot dogs (or if you live in Wisconsin like myself, a few brats) offer some cool beverages, and start asking gentle questions to get to know them better!
Use some of the activities above to keep the kids busy or (even better) host a Red, White and Blue Tie-Dye party. Then everyone gets to go home with a new favorite t-shirt!
#14. Adopt a Military Family
Having a parent or spouse overseas can be difficult on everyone. If you're aware of a family with a parent overseas, consider "adopting" that family as an extension of your own. (I'm using "her" in my examples below, but Dads can be left behind too!)
Invite her to join you at the park or for family gatherings.
Offer to babysit the kids once a month so she can have some time off.
Double dinner and send over the other half, to give her a cooking break.
Send them a card or a text letting know that you are thinking/praying for them during the day. (It's amazing how encouraging it can be to know that someone is thinking about you!)
It's not uncommon for families to be alone in their area, with extended family far away across the states. This can make holidays particularly lonely – no spouse, no cousins or grandparents in the area…consider inviting them to your own family functions to ease the burden of being a single parent for months (or even years) at a time.
Choose ONE or TWO
Memorial Day Activities…
Listen, friend. You've got a lot going on right now. Let's just acknowledge that up-front.
These Memorial Day activities aren't meant to overwhelm you. Goodness gracious, don't try to do them all! Just pick one or two that seem most "doable" to you.
Remember, the purpose here is to do something different to indicate to your children that Memorial Day is special. Hopefully they will not only have a ton of fun, they will understand and gain respect for the heroes living all around them!
Do you have a family member who is serving, or has served in the military? How can we serve you? What do you wish others understood about your living situation?
Have You Read These Yet?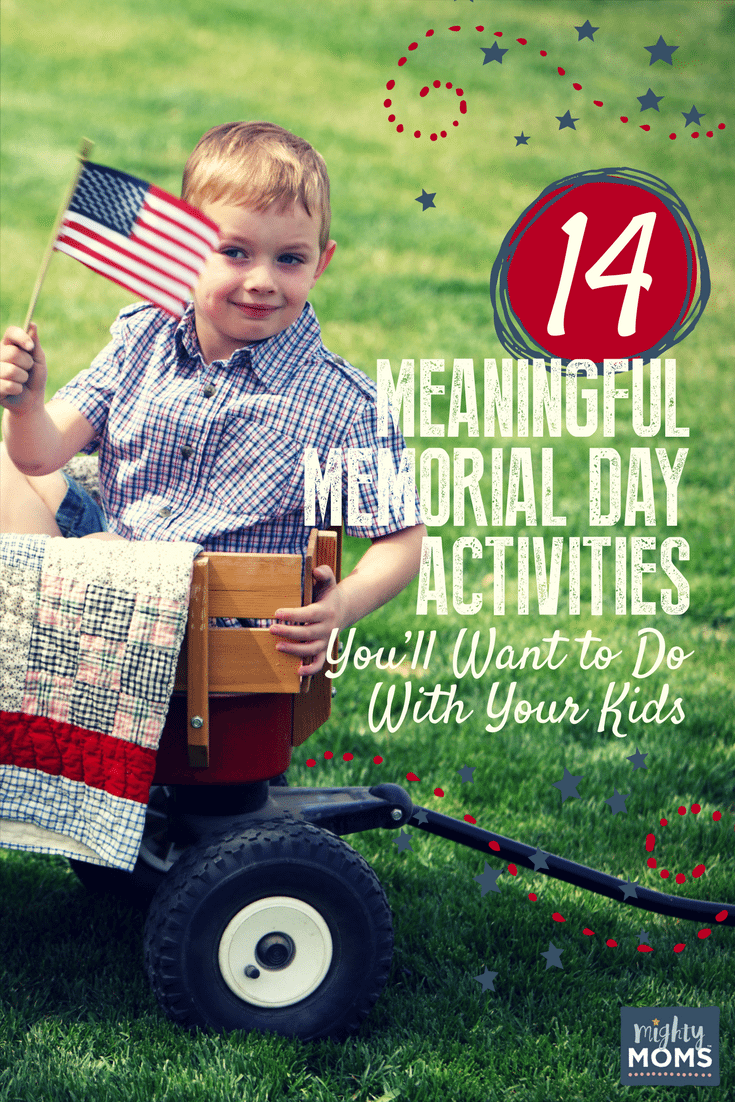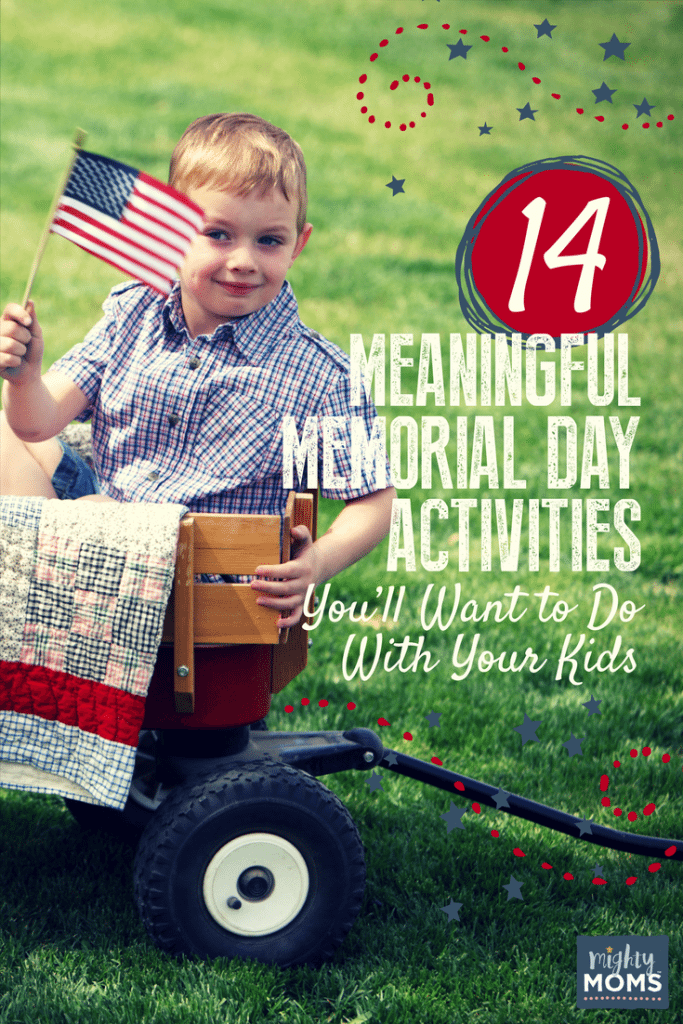 We ♥  honesty!  This post contains affiliate links that provide extra money for our mutual coffee habits addictions. Click here to learn more. As an Amazon Associate I earn from qualifying purchases.
We ♥ Citations