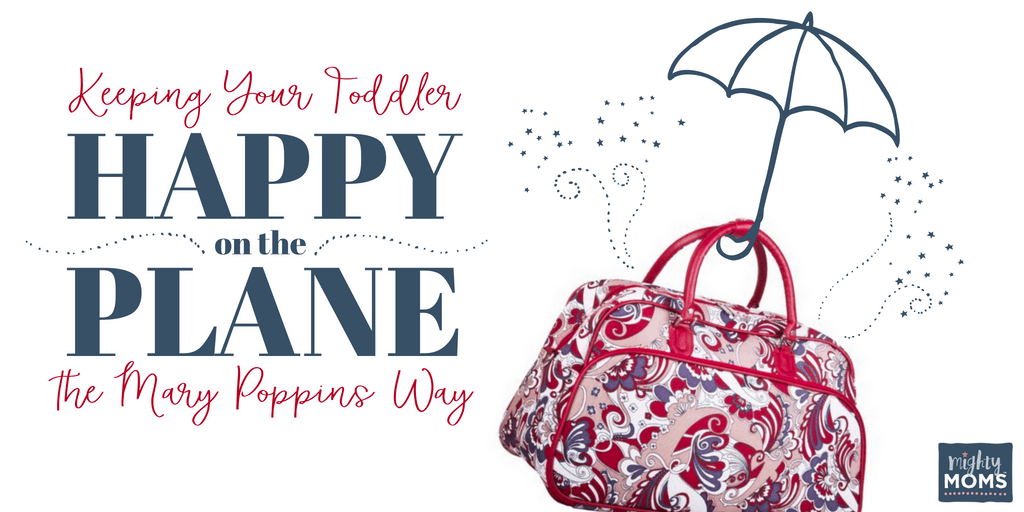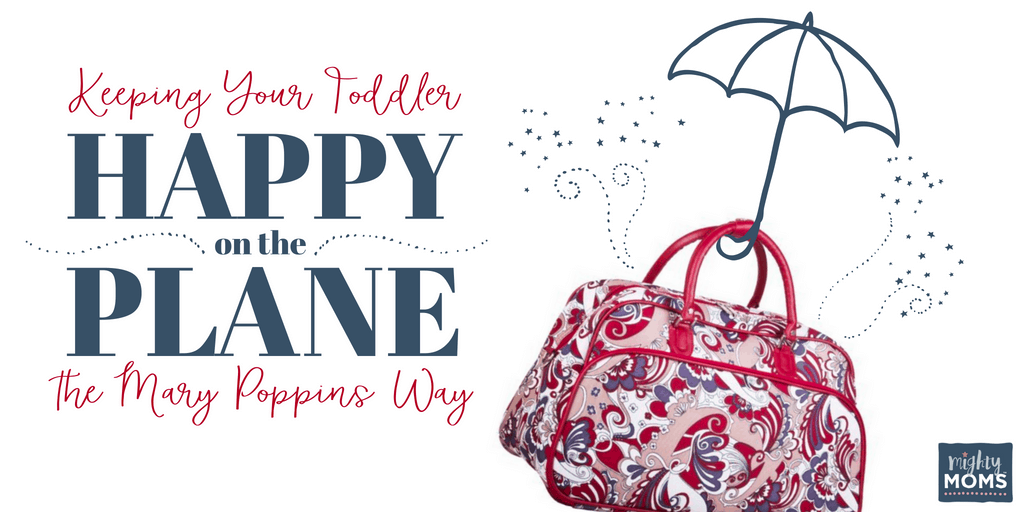 Flying with a toddler can strike fear into the hearts of even the most resilient parents.
You need to (somehow)…
Keep them entertained and relatively happy sitting in one spot for several hours,
Make sure you have food they'll actually eat,
Keep them from running away in the airport,
Plan for every possible scenario where you might need something,
AND remember the current TSA regulations for carry-on baggage.
I have flown with one or both of my kids on 27 flights in the past four years, and my blood pressure still increases every time I think about flying with toddlers.
But there is ONE person who, I'm sure, is perfectly poised and prepared when flying with a toddler…
The beloved Mary Poppins.
She's kind, but firm; unflappable, and always has exactly what she needs thanks to her iconic magic carpet bag.
Let's take a cue from everyone's favorite nanny and pack your own magical carry-on bag that has everything you'll need to keep your toddler happy in the air.
I'm going to assume you've already packed the "necessities" in your bag – diapers, wipes, change of clothes, etc. So we'll just focus on ways to entertain while flying with a toddler.
Flying with a Toddler Step One:
Get a Great Bag
Mary Poppins has everything she needs in her carpet bag. Granted, her bag is magic, so we'll have to lower our expectations a bit, but the right bag can really make or break your travel experience.
You'll want something that's roomy, comfortable to carry, and equipped with at least a few pockets to help keep you organized. Bonus points for pretty.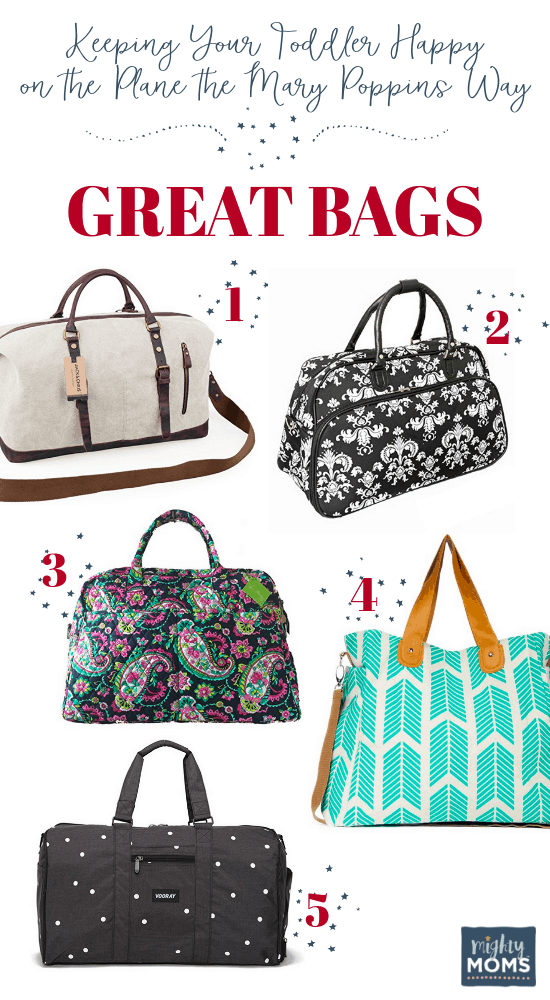 The Ideal Mary Poppins Travel Bag
I kid you not, this is the first review that pops up for this gorgeous Jack & Chris Bag: "Do you remember the bag Mary Poppins carried in the movie? Like that magical bag that she kept pulling things out of? This bag fits an amazing amount of stuff, so be careful that you don't go over weight limits when packing."
This affordable option is large enough to hold all your gear, and the best part? It wipes clean.
This pretty Vera Bradley bag is high quality and full of pockets.
You'll be stylin' with this super cute bag.
This sporty bag has a secret side pocket which allows you to separate "soiled apparel from the rest of your bag contents." Yep, it features a poop pocket.
Frequent Flyer Tip: Be sure to check the dimension restrictions for carry-on luggage particular to the airline you're flying.
Once you've found the perfect bag, stuff a smaller tote bag (similar to this one) inside. When you're on the plane, move the things you'll need first into the small tote bag and store that under the seat in front of you.
Then put the larger bag in the overhead compartment, and exchange the items throughout the flight as you need to. This way you have the things you'll need most frequently right at your fingertips, and you don't have to carry two bags around the airport. #winwin
Flying With a Toddler Step Two:
Stock it with the Perfect Items
The Perfect Strategic Toddler Snacks
This may seem like a no-brainer… anyone who has a toddler knows that snacking makes up about 80% of the toddler's waking hours. But with a bit of planning, you can really use these snacks to your advantage on the plane. (Which is good, because we need all the help we can get!)
Watch the Sweets
You may be inclined to bring "treats", but be cautious of how much sugar you're giving your little one. While a spoonful of sugar may help the medicine go down, it also makes for a hyper toddler. I don't know about your kids, but if I load up my kids with a bunch of sugar and then expect them to sit still for any length of time… well, joke's on me.
Slow Down
Pack snacks that will take your toddler a bit longer to eat. Every minute counts when you're trying to keep them happy on a plane! You can use a toddler snack cup for smaller snacks such as cheerios or goldfish. You can also make sure to pack food items that your toddler eats more slowly. For instance, my kids devour those fruit/veggie pouches faster than you can say "supercalifragilisticexpialidocious", but they savor graham crackers.
The Perfect Mess-Free Toddler Activities
Mary Poppins was able to clean up an entire room with a snap of her fingers. Unfortunately for us non-magic folk, trying to retrieve a lost toy from underneath an airplane seat can be a nightmare. Pack some mess-free activities for clean up that's almost as easy as snapping your fingers.
Sticker Books
I haven't met a toddler that doesn't love stickers! A reusable sticker book helps contain the stickers to the paper so you're less likely to be peeling stickers off the airplane seats.
Masking Tape or Washi Tape
Masking tape peels off easily from most surfaces, making it a great activity for a toddler on a plane. Your tot can make a design on the tray table and you'll be able to peel it off easily. Washi tape, though pricier, comes in so many patterns that you're sure to find something that interests your little one.
Window Clings
Often available in the Dollar Spot at Target, you can pick up window clings that your toddler can use to decorate the airplane windows and then easily remove when you land (you're probably noticing a theme here…).
Water Painting Books
A small paintbrush filled with water is all your toddler needs to create beautiful, colorful pictures in these books. Best of all, once the water dries, your little Monet can color it all over again!
Mini Magic Bags (AKA Busy Bags)
Busy bags are wonderful little tools for keeping your toddler entertained! You can make them at home, so they're customizable to exactly what you need! I love the Quiet Blocks Bag, Pom Pom Ball Drop Bag (airplane tweak: use an empty plastic water bottle instead of a cardboard tube to keep the pom poms contained), Surprise Sensory Matchboxes Bag and Viewtainers Bag from Childhood101.
New Toys
Stop by the dollar store and pick up some inexpensive toys that your toddler will enjoy playing with for the first time but you wouldn't be too disappointed about losing on the plane.
Tablet
And, of course, when all else fails – screen time. I'm a firm believer in significantly relaxing any screen time rules when you're traveling. You can find excellent round-ups of great toddler apps all over the web (like this one from Happy Fit Navy Wife), and here are two free apps that my kids (boys aged 2 and 4) love:
Barnyard Games (Apple, Google Play, Amazon) – 12 different barnyard games that capture the attention of both of my boys.
Cars & Trucks Puzzle (Apple, Google Play, Amazon) – Multiple puzzles of cars, trucks, and construction vehicles.
Download a few episodes of your toddler's favorite show to watch on the plane. Pick up some adorable toddler headphones, and you're set! You might even be able to crack open a book for yourself!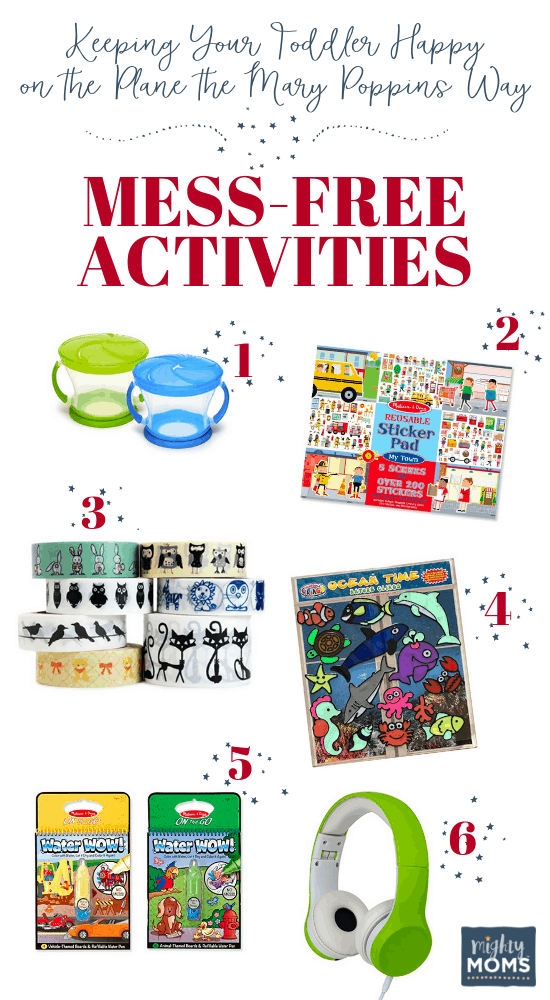 Keep 'Em Busy Toddler Activities
1. Non-Spill Snack Catcher | 2. Reusable Sticker Pad
3. Animal Washi Tape | 4. Ocean Window Clings
5. Water Wow! Activity Pads | 6. Toddler Headphones
Flying with a Toddler Step Three:
Make Use of What's Already There
The best part of Mary Poppins' magic bag, was the excitement of seeing all the STUFF she could cram in there. (A lamp for Pete's Sake!) Sadly, any bag you choose for the flight will have a bottom.
This means you may need to take advantage of what you know will already be on the plane.
Here are a few Mary Poppins approved suggestions:
When the seatbelt sign turns off, let your toddler practice buckling and unbuckling his seatbelt.
Look at the airline magazine and safety instructions card. Make a "scavenger hunt" and ask your toddler to help you identify numbers, letters, "something green", etc.
Notice the clouds out the window.
Smile and wave at the other passengers. (In my experience, most people will find your toddler more adorable than annoying!)
Let's Go Fly…With a Toddler!
Flying with a toddler can be stressful. There's no denying that. But a bit of planning and an expertly-packed bag can help you channel your inner Mary Poppins and keep calm on the plane.
Traveling is unpredictable and can be hard for anyone, especially toddlers. So make sure to lower your expectations, expect a few snags along the way, and remember that you will get through it…with a little Mary Poppins magic.
Have You Read These Yet?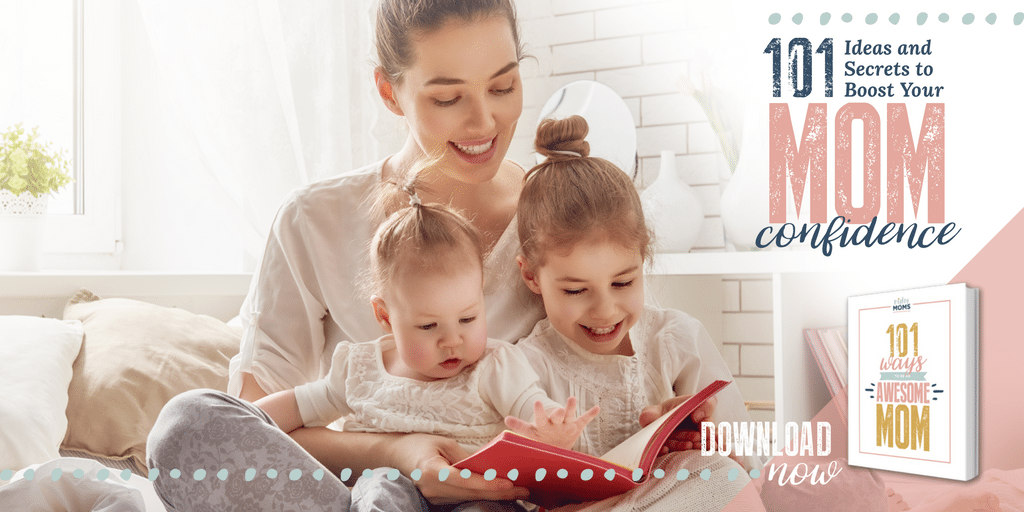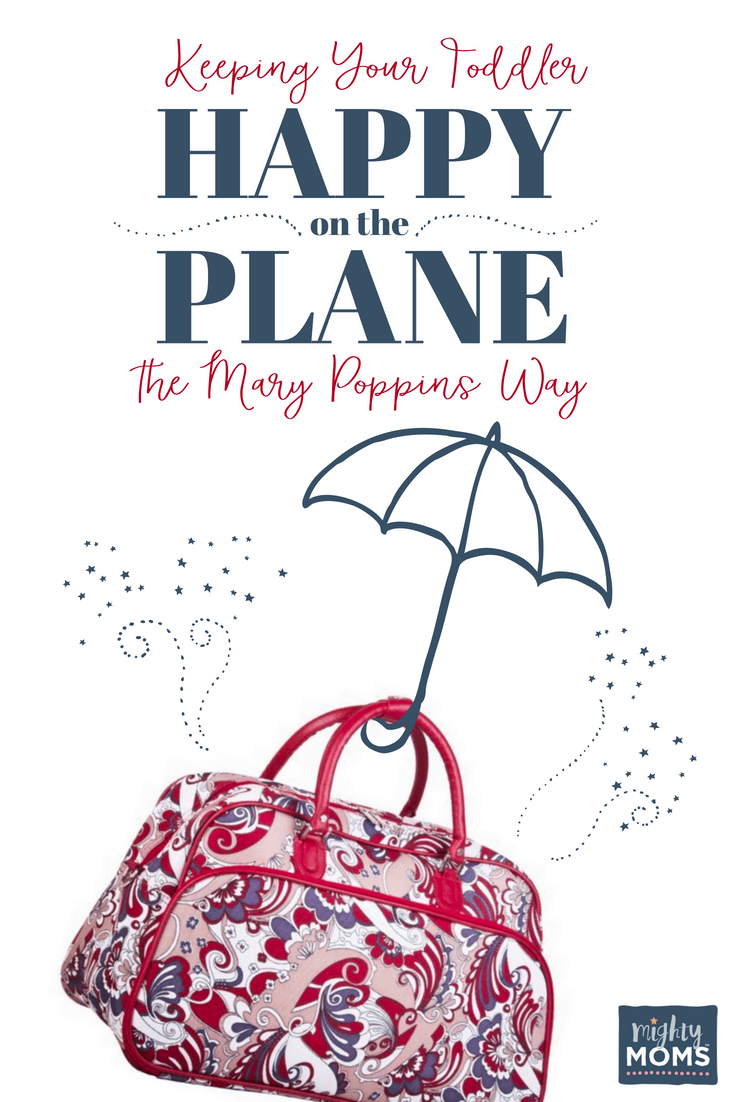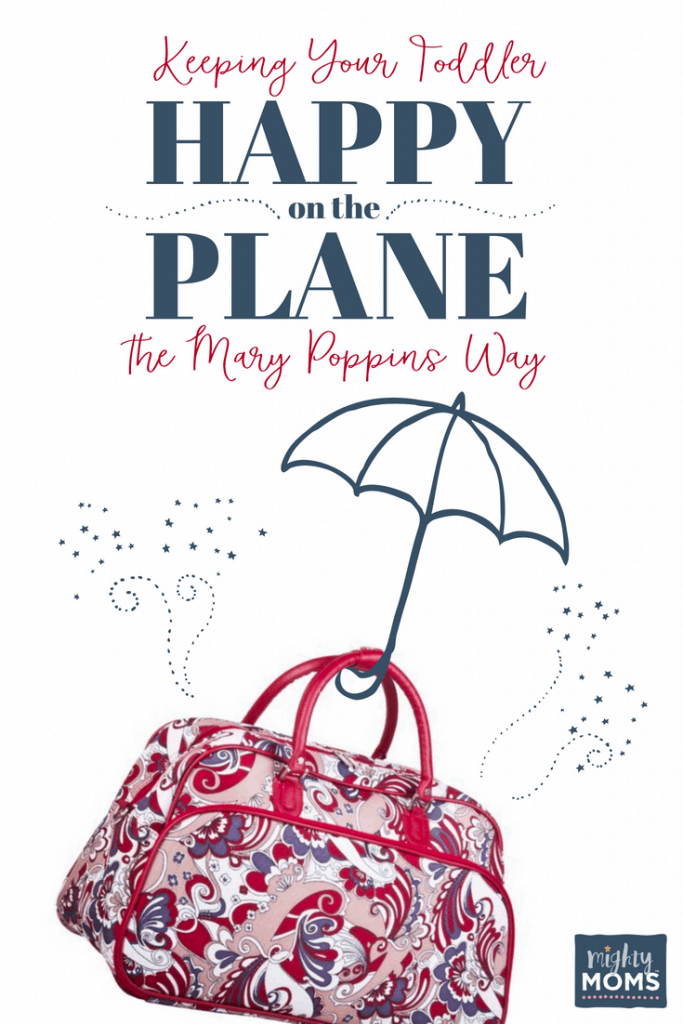 We ♥  honesty!  This post contains affiliate links that provide extra money for our mutual coffee habits addictions. Click here to learn more. As an Amazon Associate I earn from qualifying purchases.