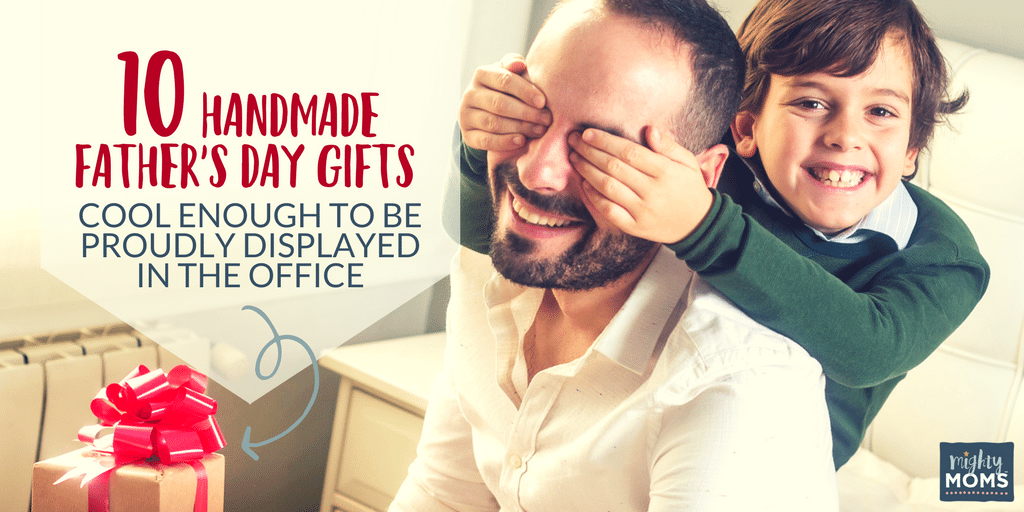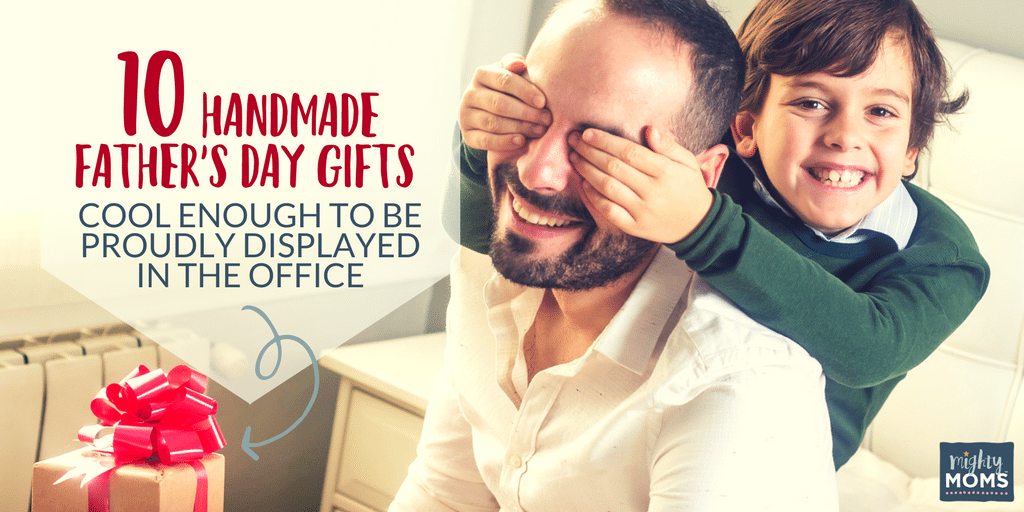 It's no secret that moms LOVE getting handmade gifts from our kids! If it's got crayon, stickers, or a handprint on it, we slap that sucker on the fridge or place it in a well-labeled waterproof box.
After all, there's going to come a day when we will lovingly pass all that preserved artwork down to those kids, then fully-grown, and they'll thank us for it … right?
Well, guess what. Dads like that stuff, too!
I remember my dad displaying my artwork in his office, and even today, his workspace is covered with projects from fostered and adopted children. I even remember him helping me with a few crafts growing up.
So this Father's Day, tap into Dad's sentimental side and help your kids create handmade Father's Day gifts he'll treasure forever. And perhaps … dare we dream … be proud to display at the office?
Wait! Before you read another word (or skip away quickly to avoid feeling guilty), let me make it easier for you. I've organized these homemade ideas into three categories, based on your current life stress-level.
Handmade Father's Day Gifts:
Minimal Effort Required for Exhausted Moms
Do you already feel like you're losing your mind and want to cry at the thought of one more thing on your to-do list? Let's start out with the easiest of the easy projects.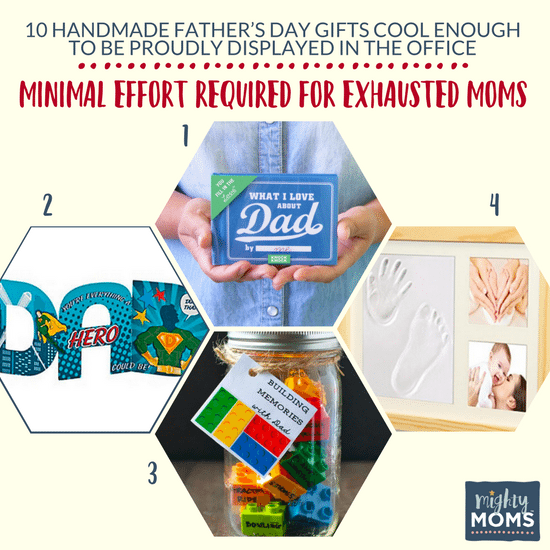 Homemade Father's Day Gifts #1: Fill in the Love Journal
This Fill in the Love Journal is as easy as it gets! It's filled with blanks where kids can write in all the things they love about their daddy. No mess, no stress, just adorable (and almost definitely hilarious) sentiments.
Homemade Father's Day Gifts #2: Super Dad Stickers
Are your kids really into superheroes? Are you really into projects that the kids can handle on their own while you step away to eat the last cookie unnoticed?
How about an easy sticker card that features Dad as a superhero? Here's a 12-pack of superhero-themed sticker cards that you can just hand over to the kids and let them decorate at will! And with that many cards, you can invite all the neighborhood kids over for a Father's Day craft and be a superhero yourself in the eyes of your mom friends.
Homemade Father's Day Gifts #3: Building Memories
This idea I got from The Seasoned Mom may arguably be my favorite! What better Father's Day gift is there than the gift of time together?
This "Building Memories With Dad" jar is a thoughtful way to remember the things your kids love doing with Daddy. Write down their favorites on individual LEGO pieces and take the corresponding activity out after you've done it. You can build a structure with the pieces you've used and break it down when you're ready to refill the jar!
Homemade Father's Day Gifts #4: Baby Prints
But what about Daddy's first Father's Day? If your little one can't place stickers or tell you what he loves about Daddy, this Baby Footprint, Handprint, and Wooden Picture Frame Kit is a great way to remind Dad of those tiny hands and feet for years to come! It's extremely easy to use, and the clay included for imprints is far less messy than other plaster options.
Handmade Father's Day Gifts:
Some Adventurous Mom Supervision Required
Feeling a little more ambitious? These next few crafts require a little more effort, but are still pretty doable. Most of them require markers or paint in some form, so depending how old your kids are, precautions may have to be made!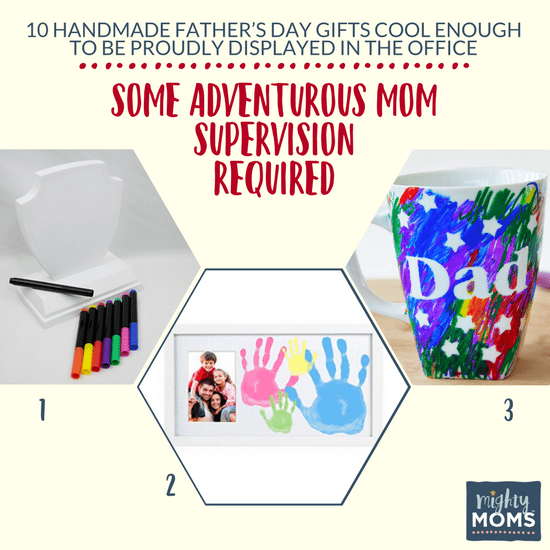 Homemade Father's Day Gifts #1: DIY Trophy Kit
Want a great way to show Dad just what his children think of him? Use this DIY Trophy Kit to allow your kids' artistic sides to really shine while they tell Dad what they think makes him stand out from the crowd!
Homemade Father's Day Gifts #2: Family Handprints
Another idea that requires a little effort on your part (but not TOO much!) is this DIY Family Handprint and Photo Keepsake Frame. With all you need included in the kit, this makes for an easy, straightforward craft, but since you'll be using paint, be aware that it could get messy! Just put down some newspaper, add your favorite family photo, and you're good to go!
Homemade Father's Day Gifts #3: A Scribble Mug
This Scribble Mug idea from I Heart Arts N Crafts is another easy idea that requires just a little effort. All you need is a ceramic mug, paint markers, stickers, and an oven. The toughest part of the project will be keeping the kids from sticking the paint markers up the dog's nose.
Use whatever stickers you like, but be sure to use some letter stickers (like these) to spell out "#1 Dad" or "We love our Daddy!" Let the kiddos scribble away, remove the stickers, bake, and – voilà! – art!
Handmade Father's Day Gifts:
Projects for the Recklessly Messy Mom
Okay. So you downed an entire pot of coffee, covered your entire living room in paint tarps, and are ready to work hard on your handmade Father's Day gifts? Well, I've got crafts for you too!
These are the crafts that are time-consuming, messy, or may just take more mom-effort vs. kid-effort.
What better way is there to show your appreciation for Dad's efforts than to put in a little work of your own? You know, because being a mom is easy by comparison, right? [insert cackle and tears of despair joy]

Handmade Father's Day Gifts #1: A Handprint Keychain
I'm terrified by the possible end results of putting paint on my wild, flailing toddler, but perhaps some of you with older children would like to try this handprint keychain idea from Grey House Harbor.
Since you use the shrinking plastic, even monster-sized teenage boy hands will shrink small enough to easily carry on a keychain, and they won't add the weight that other handmade keychains might. Besides the special plastic and the obvious non-toxic paint, you'll also need a jump ring and Mod Podge, so be sure to pick those up before you get started!
Handmade Father's Day Gifts #2: Childhood Silhouettes
This silhouette project from Homemade Ginger isn't messy, but cutting out those delicate angles with an X-ACTO knife is tedious and not something a 4-year-old should ever – EVER – be allowed to do. (Don't ruin your kitchen table by cutting directly on it, but pick up a self-healing cutting mat like this one!) Since the kids can't do much work on this anyway, this is another great option for a new dad's first Father's Day.
Handmade Father's Day Gifts #3: Fingerpainted Photo Matte
Now, for our final project, you admittedly have to be pretty brave, but the end result can be awesome! If you have a baby or toddler, roughly 6-24 months in age, that you just absolutely want to have a hand in creating something special, how about letting her create her own art?
Strip that kiddo down to her diaper, give her some finger paints and cardstock, and let her make a frame for a special photo of her with her daddy!
This gorgeous example from Mom Explores the Smokies shows how one mom strongly played to her husband's personality with this project. A few mounting squares, some acid-free glue, and you have a truly unique gift that can last a lifetime!
Father's Day…
Keeping the Main Thing the Main Thing
It's the easiest thing in the world to get swept up in a project, especially if you're a detail-oriented person like I am.
Whatever you decide to do for Dad this year, keep your focus on the important things when it comes to crafting these handmade Father's Day gifts:
You will be spending quality time with your kids.
The kids will stretch their artistic muscles.
Dad will celebrated with a unique item he can cherish and display!
Yes, there's going to be a bit of mess, and you may feel like you're herding cats for about an hour…but it's all worth it!
Whether it's a simple sticker craft or a museum-worthy masterpiece you spent hours working on with the kids, Dad's going to love it! After all, every effort by our kids, both big and small, means the world to us as moms and dads!
Your man may be tall enough to reach that top shelf in the kitchen and strong enough to lift two children at once, but that's just the outer shell.
You've seen that guy in his sweetest moments, you've witnessed the softhearted tenderness that comes when Daddy is playing with his kids.
Now it's time to capture those playful memories with a desktop trinket he will value forever!
Have You Read These Yet?
We ♥  honesty!  This post contains affiliate links that provide extra money for our mutual coffee habits addictions. Click here to learn more. As an Amazon Associate I earn from qualifying purchases.