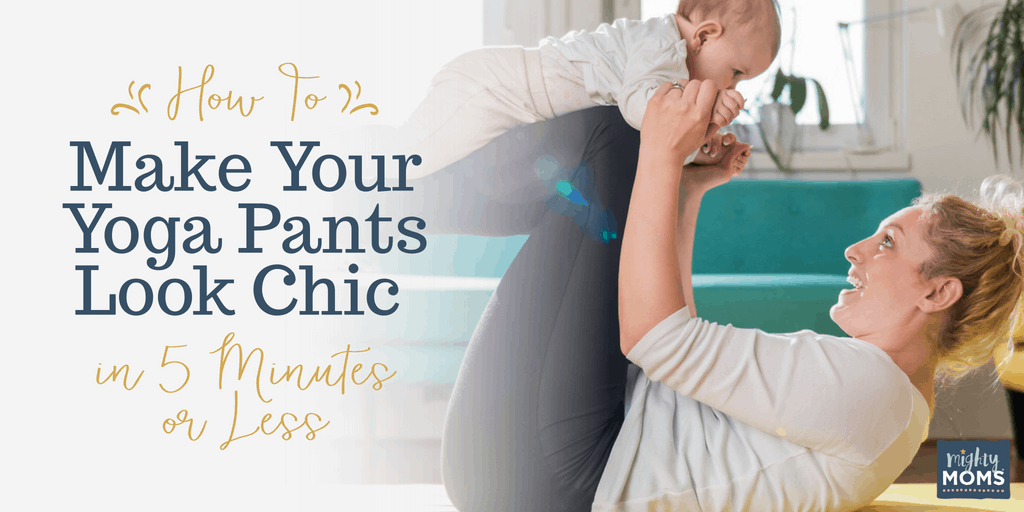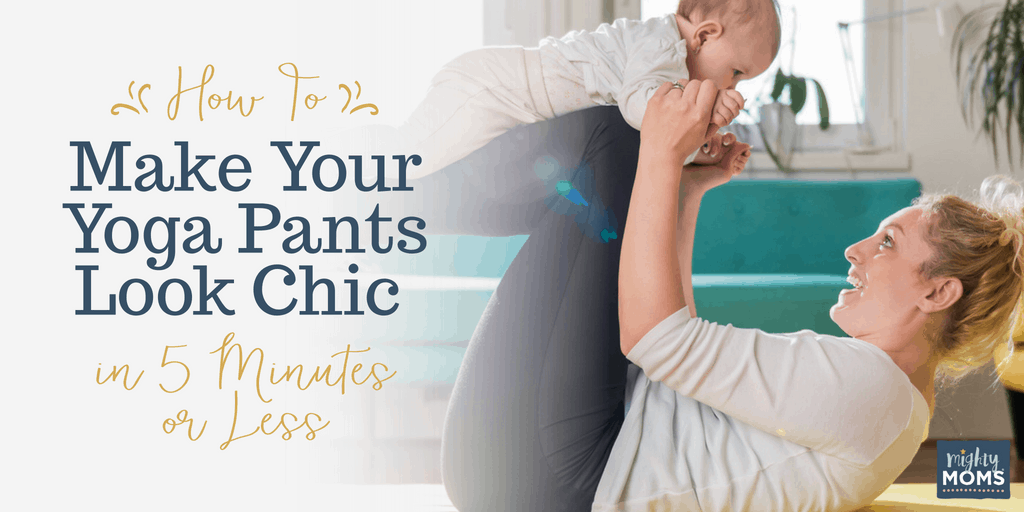 [Open Scene]
*Phone rings…*
"Hey honey!"
"Really?! Tonight?! And you have a babysitter?? That's so great!"
"…wait, that's in 1 hour! I gotta get ready, love you bye!!"
[End Scene]
Can you imagine? You just received one of the best phone calls a mom could ask for…a surprise night out planned by your husband including a babysitter! (High five!!)
But you only have 1 hour to get everything ready; including yourself!
You look down in shock and horror and realize you are wearing the same black yoga pants for the second day in a row! (Deep breaths..) All your go-to outfits are in the hamper, only the good Lord knows when you last showered, and you still need to throw some dinner together for the kids and babysitter…
What's a mom to do?!
Have no fear! You can take those yoga pants from frumpy to chic in 5 minutes or less with these easy and effortless fast fashion tips!
Yoga Pants To The Rescue
Think of your most favorite piece of clothing. Maybe it's an old, soft, knitted t-shirt? Or perhaps a large hooded sweatshirt that swallows you up in the coziest snuggle of your life? You love it because you feel comfortable, confident and it makes you feel like everything is right in the world! (Sigh)
[Enter Yoga Pants]
Yoga pants are all those things and more! You can actually use yoga pants for more than just yoga exercise! (Btw, if you need some awesome exercise-with-kids-around tips, we've got you covered.)
Let me tell you, if you don't already own a pair of yoga pants, you are MISSING OUT; it's a must in every mom's wardrobe:
They are stretchy enough to flatter that miraculous postpartum body
They hug just the right amount of curve
They are easy to wear when chasing the littles all day long
And most importantly, they come in black! (Because instead of a little black dress, every mom NEEDS a black pair of yoga pants!)
You can't go wrong with yoga pants because they come in so many varieties, colors and styles to fit all your fashion needs:
With yoga pants your wardrobe isn't limited by time, season or occasion. Yoga pants is your answer to an effortless, but trendy, outfit change when you don't have much time!
Yoga Pants Fast Fashion
Tip #1: Layer It Up
Layers, layers, layers! You can use just about anything with your yoga pants.
The key to fashionably layering your yoga pants is to choose something that makes your yoga pants look like they were chosen on purpose and not just because you were short on time.
In other words, layers instantly take your yoga pants from "play date" to "chic date."
Once you know the atmosphere you will be in, you can choose what you want to layer with accordingly. Need more inspiration? Here are four more layering options that will sprinkle on some style.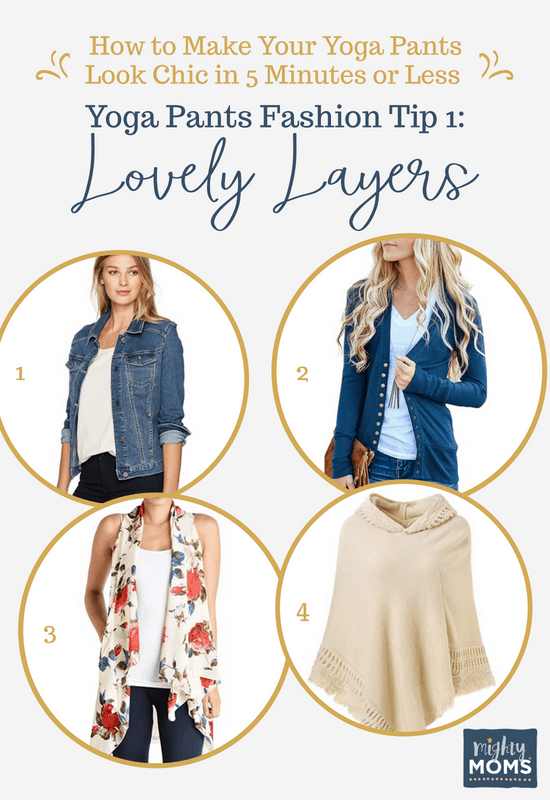 Fast Fashion Chic Choices: The Lovable Layer
1. Perfect Jean Jacket | 2. Cozy Cardigan
3. Adorable Vest | 4. Charming Sweater Poncho
Yoga Pants Fast Fashion
Tip #2: Accessorize All The Things
It's time to think outside the jewelry box and accessorize! And I don't mean just the bling. There are LOTS of ways to add interesting details to plain old black yoga pants:
Statement Necklaces
Charm Bracelets
Dangle Earrings
Fashion Scarves
Elegant Headbands
Stylish Belts
Classy Jacket pins
Accessorizing your yoga pants outfit will add a touch of glamour and sophistication that the usual ponytail yoga accessory is lacking. Even better, use multiple different types of accessories in one outfit. Try a cute scarf like this or a set of fun bangle bracelets that feel good to wear as you're sauntering down to dinner.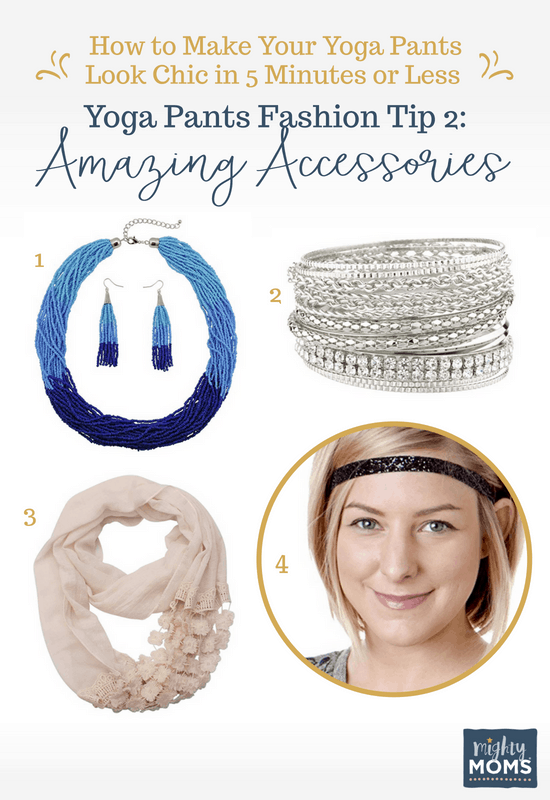 Fast Fashion Chic Choices: Awesome Accessories
1. 2-in-1 Jewelry Set | 2. Eye-Catching Bangle Bracelets
3. Lovely Scarf | 4. Stylish Headbands
Yoga Pants Fast Fashion
Tip #3: Fabulous Footwear
I know this may come as a surprise, but you can actually wear more than just flip flops or sneakers with yoga pants! *Gasp*
Think outside the tennis shoe box and look for comfy ballet flats, sophisticated heels, strappy sandals or butt-kicking boots. As you're picking out your finishing footwear, keep these tips in mind:
Go Bold: Use a shoe with a pop of contrasting color or pattern.
Go Complimentary: Match your shoe with a color in your layers.
Go Glamorous: Choose a shoe that rocks the same jewelry in your accessories.
Leave the sneakers at the front door and step out with shoes that will give you a mega-boost in comfortable confidence. The "Frumpy" has been left on the couch, it's time for "Fabulous" to take over!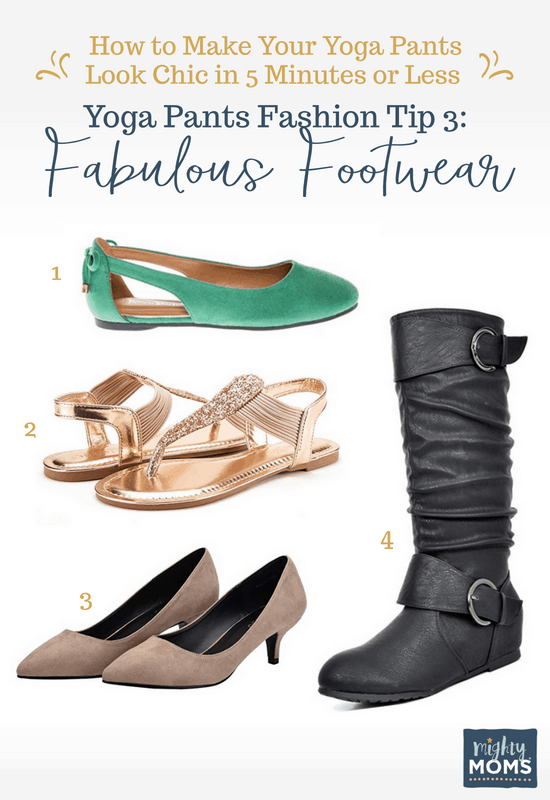 Fast Fashion Chic Choices: Stylish Shoes
1. Fun 'N Fancy Flats | 2. Enchanting Sandals
3. Cute 'N Classy Heels | 4. Picture-Perfect Boots
Yoga Pants:
From Drab To Fab
Remember that amazing phone call that you received from your hubby about a surprise date night?!
…That was only 5 minutes ago, and you are ready to go with time to spare! (High five! ….when does that ever happen?!)
Your charming layers, stylish accessories and bold footwear has made your yoga pants outfit come together effortlessly. No one will ever know you spent the last two days in the same pair of yoga pants! (I certainly won't tell. Been there, worn that!)
With a quick call to the local pizza delivery place, so the kids and sitter will have some dinner, you are ready to hit the town on the arm of your man and enjoy a night out!
Have You Read These Yet?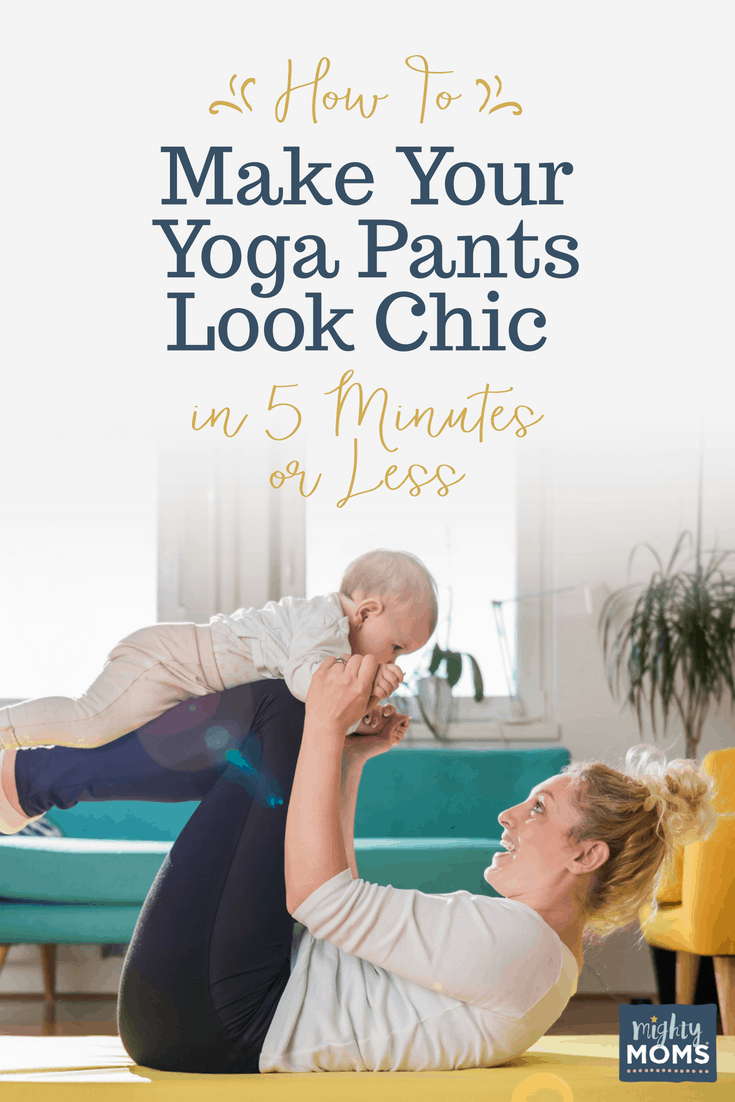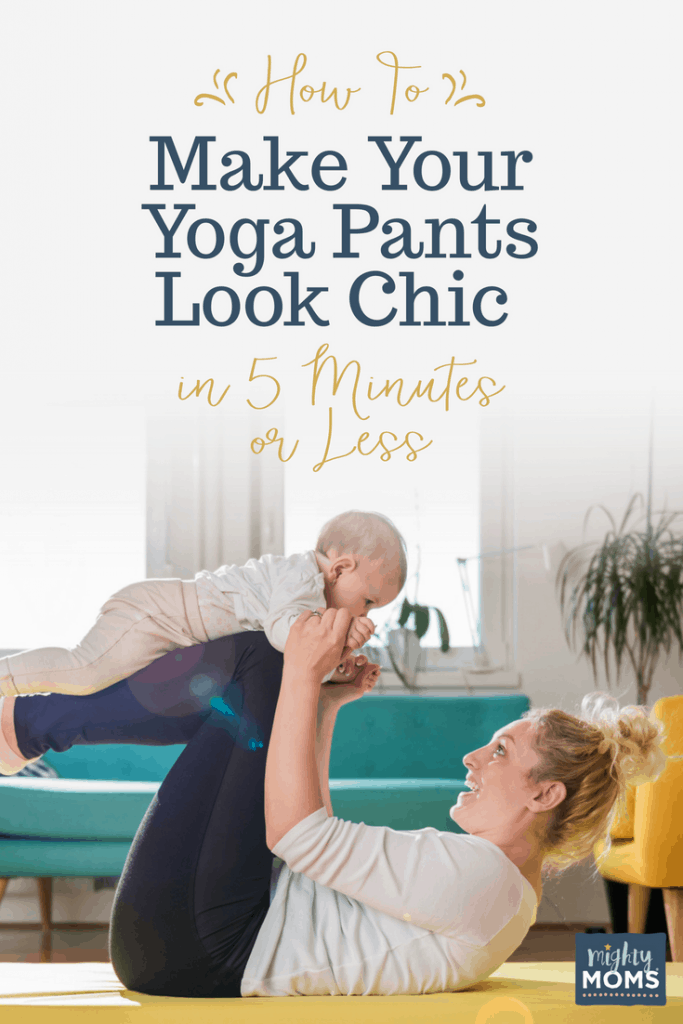 We ♥  honesty!  This post contains affiliate links that provide extra money for our mutual coffee habits addictions. Click here to learn more. As an Amazon Associate I earn from qualifying purchases.