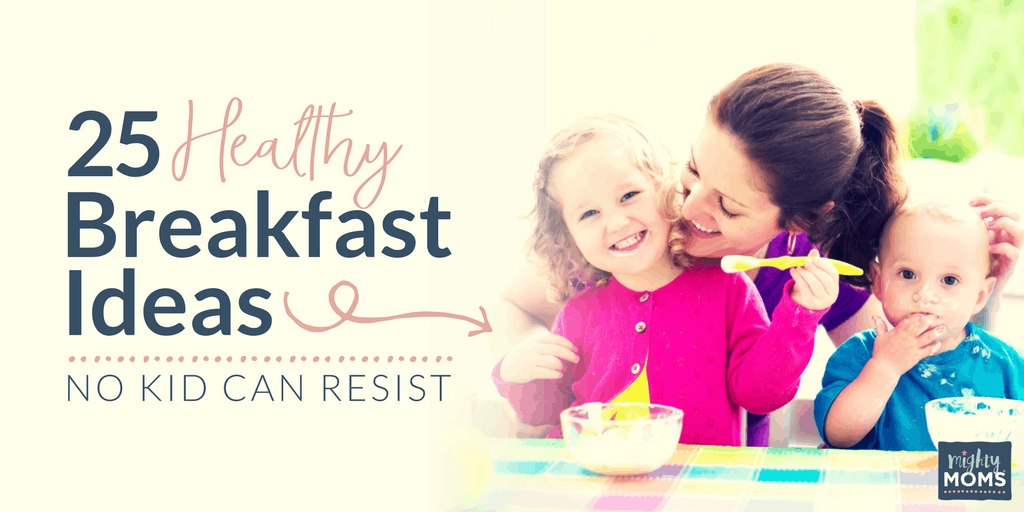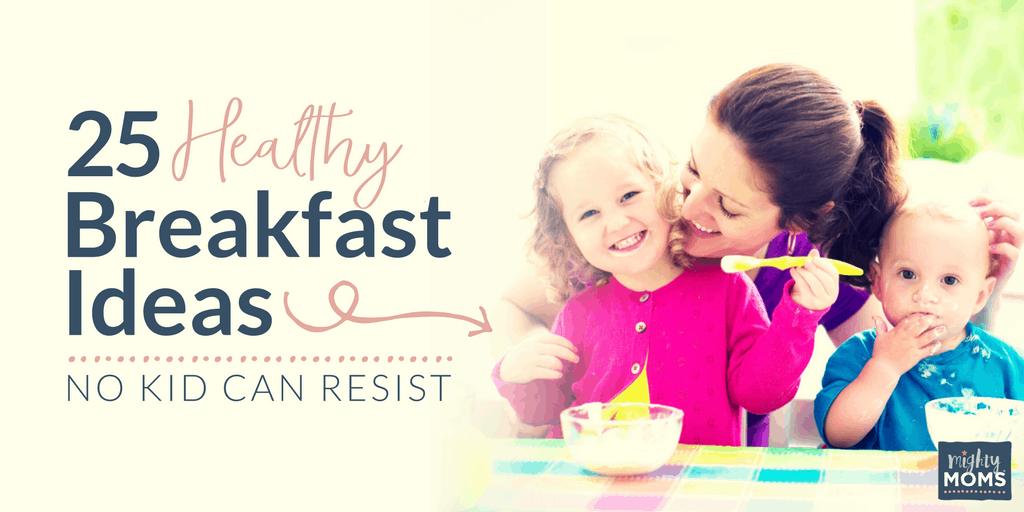 Let's do a quick quiz.
When it comes to breakfast ideas for kids, which of these these sounds most like your family?
My kid never wants to eat his veggies! I'm running out of ideas to sneak them in.
My child loves fruit—which is great—but I want him to get some other food groups in his diet.
I want easy breakfasts that pack a lot of protein so I can get out of this Froot Loops breakfast rut.
I desperately need new ways to satisfy my kid's sweet tooth without a bunch of added sugars.
We are always on the go. I'd love to feed my little one a healthy breakfast, but we just don't have the time.
No matter your answer, I have good news: The ideas in this article can cure any case of the breakfast blues! We've got five answers for every situation listed above, so you're sure to find something your kiddo will like.
First Things First:
3 Requirements for a Healthy Breakfast
Before we can solve your individual breakfast problems, you should know that all of the following recipes on my Official List of Healthy Breakfast Ideas fo Kids have 3 things in common:.
They are Healthy
No, you won't see any sweet potato, kale, and quinoa breakfast hash on this list. But everything here has little to no added sweeteners or processed foods, as well as other nutritional value, like protein, fiber, and antioxidants. Some even contain— gasp— veggies!
They Require NO Obscure Ingredients.
Nothing deflates my hopes for feeding my children healthy food like a recipe that is super-healthy but uses a bunch of ingredients I don't keep in my kitchen.
If this is you, never fear: you won't find any pickled kumquats, ground Iranian lime, or lupini beans on these ingredient lists!
No, these recipes use normal everyday ingredients that you can find at any standard grocery store like eggs, oats, strawberries, plain yogurt, carrots, and nuts. You're welcome.
They are (Relatively) Easy to Make.
I won't make any impossible promises such as "This is as easy to cook as a Pop Tart!" But everything listed here is simple to cook and doesn't take too long, because I know that some days it's hard enough to feed your family at all, let alone feed them actual healthy food. Some of the ideas on this list can even cook in the Crock Pot overnight. Yes!
So now, without further ado: my Official List of Healthy Breakfast Ideas for Kids.
5 Fabulously Fruity
Breakfast Ideas for Kids
Fruit is one of God's amazing gifts to humans. It's sweet and delicious, but still packed with fiber, antioxidants, and other nutrients. These fabulous ideas utilize all of those fruitilicious benefits.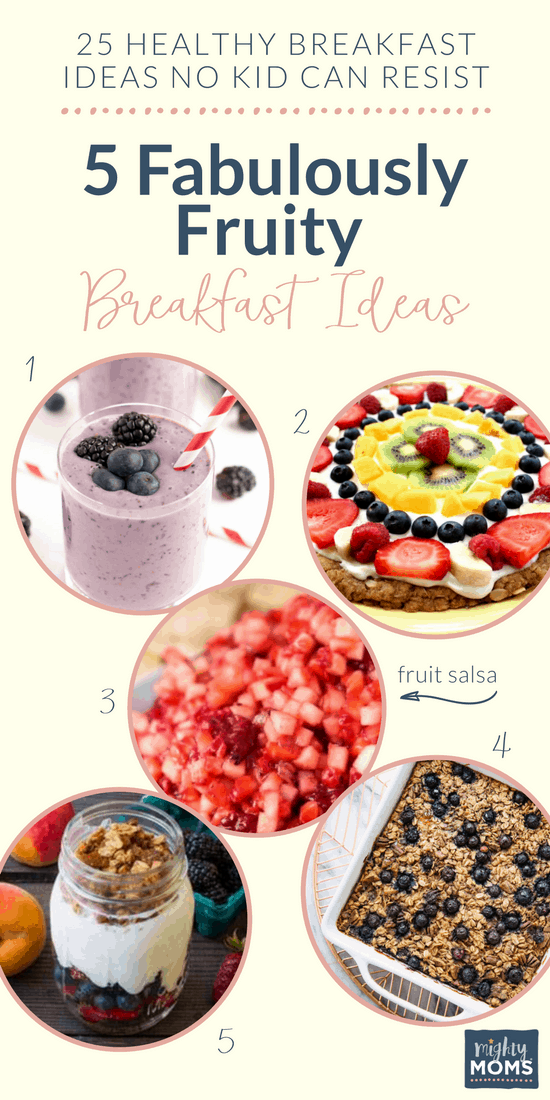 Fabulously Fruity #1: Berry Yogurt Smoothies
Your child is sure to love this berry yogurt smoothie from Chef Savvy. Throw all of the ingredients into a regular blender or use a hand blender. Easy-peasy. And using yogurt means it has lots of protein, too.
Fabulously Fruity #2: Pizza for Breakfast
While this fruit pizza from Holley Grainger is not completely free of added sugars, it's a bazillion (very accurate technical measurement) times healthier than the typical sugar-cookie-crust variety of fruit pizza. The greek yogurt and cream cheese spread adds some protein to this sweet treat, and you can just use a regular pizza pan—no need for fancy kitchen gadgets.
Fabulously Fruity #3: Strawberry Salsa with Cinnamon Chips
How fun is this?! Cut back on the amount of sugar if you want to make it a little healthier—your kids will love this strawberry salsa and chips regardless. And it's the perfect use of those tasty summer fruits that are finally beginning to be in season. Thanks for the great idea, Spend With Pennies!
Fabulously Fruity #4: Blueberry Baked Oatmeal
This recipe from Cookie & Kate uses healthy whole food ingredients and makes a batch big enough for leftovers tomorrow. For kids with food sensitivities, it's easy to make gluten-free, nut-free, dairy-free, and vegan. This dish is packed with fiber and antioxidants—but all your hungry little one needs to know is that it's delicious.
Fabulously Fruity #5: Yogurt Parfaits
Mother Nature Network shows us how to make individualized yogurt parfaits. Everyone in the family can have her own flavor combo—and these are great for on-the-go, too! My personal favorite is to top my parfaits with this delicious, protein- and fiber-packed, no-added-sugar homemade granola from Maria Ushakova. I usually make a half batch of granola because a full batch lasts us approximately 60 years.
5 Sneaky Veggie
Breakfast Ideas for Kids
If you're like me, you're always searching for ways to sneak some veggies into your kids' diet. Look no further! Here are five great options.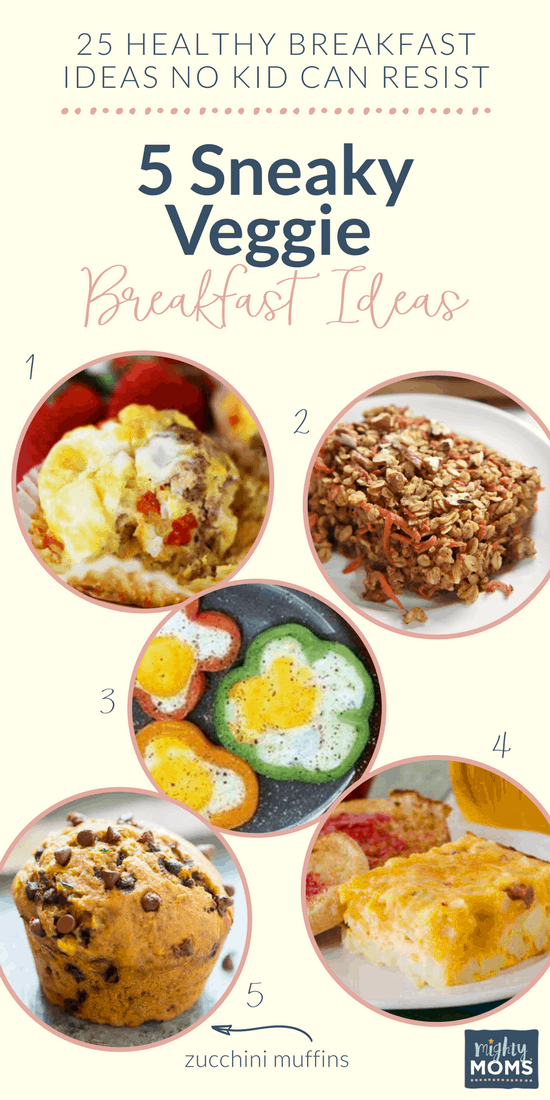 Sneaky Veggies #1: Egg Muffins
Skip to My Lou gives us this egg-cellent (so clever, right?!) gluten- and dairy-free egg muffin recipe. Put bell peppers into the egg muffins or get creative with spinach or whatever other veggies will be least offensive to your little one. Just remember to use a silicone muffin pan to make them easy to pop out when they're done, and you can even freeze them to keep on hand for rushed mornings. Perfect!
Sneaky Veggies #2: Carrot Cake Baked Oatmeal
This brilliant creation from Five Heart Home is dairy-free and is lightly sweetened with natural maple syrup. Make a big batch in a baking dish and have breakfast covered for several days—so tomorrow morning, you can grab a workout sleep in instead.
Sneaky Veggies #3: Pepper Eggs
With this fun idea from Musely, you cook eggs inside sliced bell peppers. The presentation is so fun, your kiddo won't even notice he's eating vegetables (at least, that's the goal).
Sneaky Veggies #4: Hash Brown Casserole
I'm from Wisconsin, where cheese at every meal is practically a requirement. But you can also sneak some bell peppers and onions into this cheesy egg and hash brown casserole. Bonus: this recipe is freezer-friendly! Thanks, Real Mom Kitchen.
Sneaky Veggies #5: Zucchini Chocolate Chip Muffins
Help your little one get her veggies with these lightly-sweetened zucchini muffins from Well Plated. For a fun twist, try different flavors by adding chocolate chips, nuts, dried cranberries, or blueberries. Or make mini muffins for a bite-size snack. Not gonna lie: My favorite thing about mini muffins is that their small size means you can eat MORE of them guilt-free.
5 Protein-Packed
Breakfast Ideas for Kids
Protein is a great way to start your day out right. Protein gives you energy and helps your body feel full longer. Many studies have shown the benefits of protein in your (and your child's) diet. Here are some kid-friendly suggestions to get you started.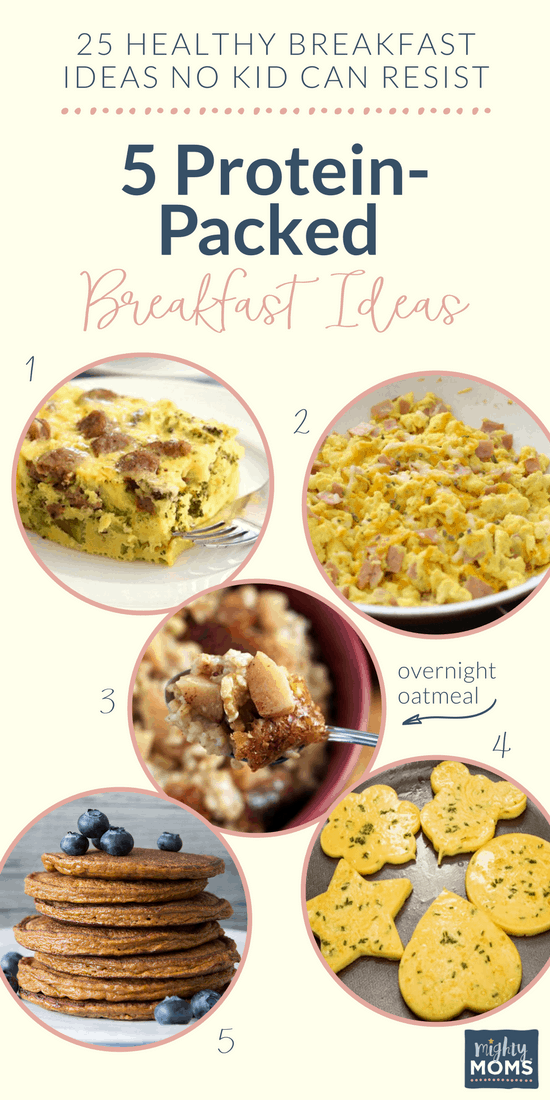 Protein Packed #1: Slow Cooker Sausage & Egg Casserole
If I could only keep one of my small appliances, it would be my Crock Pot. Slow cooker recipes are the absolute best for busy moms. Carolyn from All Day I Dream About Food gives us this great slow cooker recipe to cook overnight and have ready in the morning for a low-carb, high-protein breakfast that even includes some veggies.
Protein Packed #2: Egg Scramble
These ham & cheese scrambled eggs have a surprise ingredient (no, not anything obscure like mango vinegar or hyssop) that adds a burst of flavor and some extra fluff to the eggs. Brilliant! Thanks, Butter With a Side of Bread. Serve this high-protein dish with with I love you toast for even more awesome-mom points (as if you need them, you fabulous mom, you).
Protein Packed #3: Crockpot Apple Cinnamon Oatmeal
Here we get to use that amazing Crock Pot again. Throw all the ingredients to this apple cinnamon oatmeal in the slow cooker before bed. Then, thanks to The Yummy Life, have a delicious-smelling feast ready for you when you wake up. I make a giant batch of this each month and freeze individual portions in a silicone muffin pan. Then I pop them out and keep them in a Ziploc bag in the freezer to heat and eat with various toppings for a quick breakfast on a rushed morning. Add milk and nuts for protein, and you've got a super-healthy breakfast to start your day off right.
Protein Packed #4: Fun-Shaped Eggs
Make regular fried or scrambled eggs in these easy-to-use egg molds. This is perfect for your picky eater who thinks she doesn't like eggs. Maybe the issue is simply that her eggs were not shaped properly—until now. Bonus: You can also use these molds for pancakes (see below for an awesome high-protein pancake recipe), cookies, or fritters.
Protein Packed #5: Almost-Paleo Pumpkin Pancakes
These pancakes are great because they are low in carbs, high in protein, and free of added sweeteners. My personal recipe for this mouth-watering breakfast treat (adapted from this recipe from the book Practical Paleo) is below. One full batch makes about 30 small pancakes. I freeze them between layers of parchment paper for us to warm and eat as needed. They also make great  "bread" for a low-carb PB&J!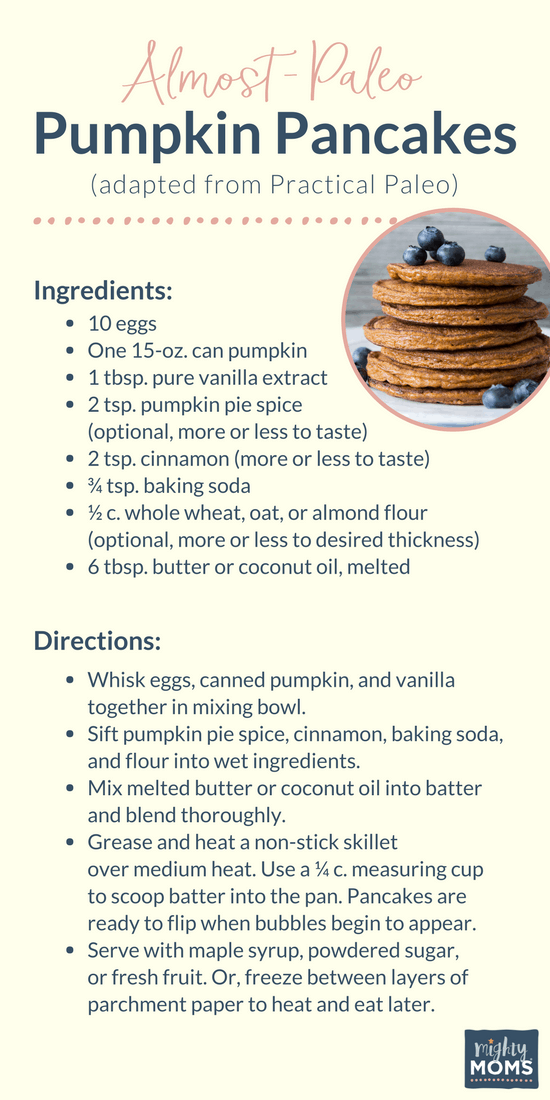 5 Simply Sweet
Breakfast Ideas for Kids
I've met few children who don't enjoy a sweet treat. But Cocoa Pebbles for breakfast every day isn't exactly the secret to a healthy diet. The ideas here have little to no added sweeteners, so your kids can enjoy their sweets without you carrying any sugar-guilt!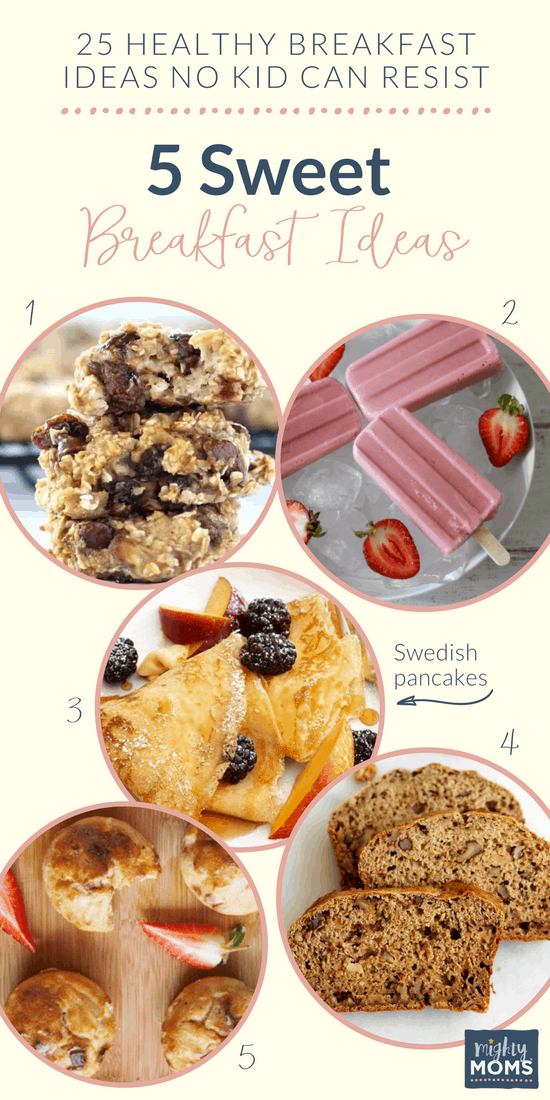 Simply Sweet #1: Banana Breakfast Cookies
What kid can refuse cookies for breakfast?! Spend With Pennies brought us another great option with these breakfast cookies that don't have any added sugar! They're a great guilt-free way to satisfy a sweet tooth. Don't forget parchment when you bake these, or you'll be sad.
Simply Sweet #2: Breakfast Smoothie Popsicles
Make your child think you're serving a summertime dessert for breakfast with these super-healthy smoothie popsicles. Yogurt and milk provide some protein, and fruit gives sweetness to these tasty breakfast treats. Use popsicle molds to freeze them, and keep the extras in your freezer for another day. What a great idea, Peanut Butter & Peppers!
Simply Sweet #3: Swedish Pancakes
Ok, so, honestly, I don't classify these as healthy. But if you look at the list of categories under this Food Network recipe, you very clearly can see the label: "healthy." So there you have it. If the Internet says it, you know it's true. Besides, Sweden is one of the top ten healthiest countries in the world—so they must be doing something right! Top the pancakes with lingonberry preserves to make the pancakes extra-Swedish.
Simply Sweet #4: The Best Banana Bread
This banana bread doesn't have any added sugars—which is good news for moms whose kids love sweets. According to Elle comes to our rescue with this great bread that uses average household ingredients—no Bolivian loaf sugar or jicama in this recipe! Try using these fun sandwich shape cutters to make it even more inviting for your little one.
Simply Sweet #5: Apple-Strawberry Muffins
Here's another sweet treat. This muffin recipe has just a touch of maple syrup, but not a single bit of junk. They are perfect for a quick breakfast or snack for your hungry kiddo. These silicone muffin cups are a great environmentally-friendly alternative to paper. I just hope your measuring cups include metric measurements, because A Mummy Too, the mastermind behind this recipe, hails from across the pond. If not… here's a conversion chart. You're welcome 😉
5 On-the-Go
Breakfast Ideas for Kids
Maybe your situation when it comes to healthy breakfasts is simply that you're always on the run in the mornings. These ideas are good for you and will help everyone get to work and school on time! Win-win!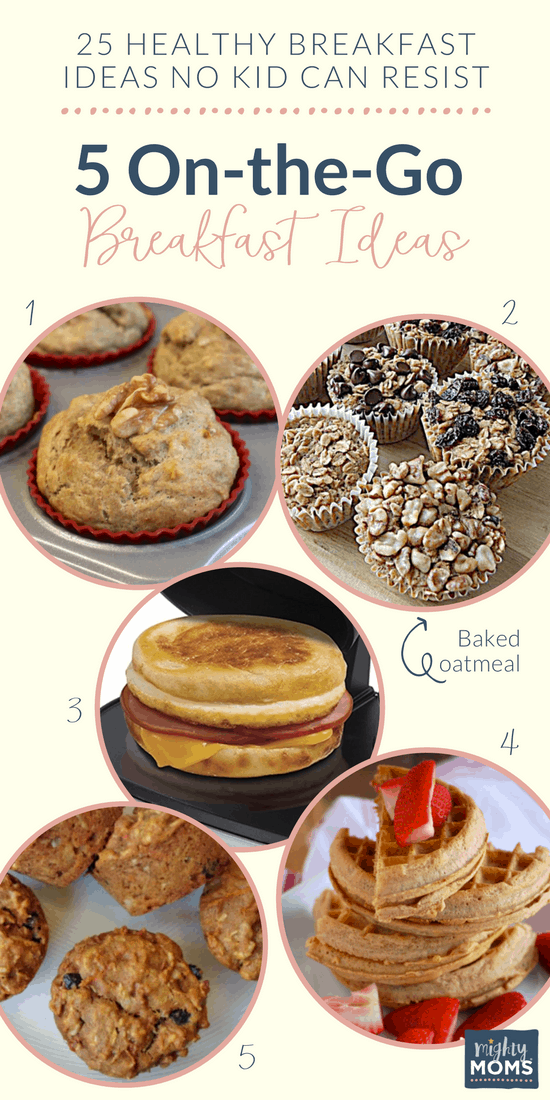 On-the-Go #1: No-Sugar-Added Banana Muffins
My kids request these muffins from Mama Papa Bubba all the time. Granted, it may be because we always add chocolate chips. (I figure, if they don't have any other added sugars, that allows room for some chocolatey happiness… right? Clearly, I have this no-added-sugars thing DOWN.)
On-the-Go #2: Personal Sized Baked Oatmeal
These little oatmeals are great because they are individual-sized. Which means your picky eaters can choose their own favorite toppings. They are also gluten-free and diabetic-friendly! Kudos to Sugar-Free Mom for this great recipe.
On-the-Go #3: Breakfast Sandwiches
I just bought this sandwich machine because I think it is the best appliance ever created (ok, except my Crock Pot, as previously mentioned). For a more savory, protein-packed on-the-go option, this sandwich maker is a must-have. Everyone can choose her own toppings and then grab a paper liner to take a hot sandwich on-the-go. And you can rest easy, knowing that your kids aren't eating Egg McMuffins for the eighteenth time this week!
On-the-Go #4: Waffle PB&J
Who said PB&J sandwiches actually need to use bread? These waffle sandwiches from Cait's Plate are a great to-go breakfast option that your kids will think is super-fun! If you're feeling ambitious, you could even make your own waffles ahead of time and freeze them to reheat for sandwiches. To reduce the sugar content, peanuts-only peanut butter works great and is delicious!
On-the-Go #5: Morning Glory Muffins
I first discovered morning glory muffins when I was looking for freezer-friendly, healthy, one-handed options to have prepared and available when my first baby was born. And it was love at first bite. These muffins from Super Healthy Kids are packed with fruits, veggies and protein, and they are oh-so-good. Remember to use paper muffin cups for easy disposal while you're out and about.
Breakfast Blues—Banished!
Congratulations! You got your kids out the door. And, what's more, you gave them a breakfast that was healthy, easy to make, and didn't require a trip to Timbuktu to buy cactus fruits, tempeh, hibiscus flowers, and cobnuts.
…. And you still have 24 more ideas to try for the rest of the month!
Now you don't have to think about feeding them again until their after school snack—and we've got you covered there, too!
Pull out your crockpot or that new breakfast sandwich maker.
Your kids are going to start waking up with healthy breakfast cravings! Cravings that just MAY get them dressed and downstairs faster than you can say SMOOTHIE.
Bon Appetit!
Have You Read These Yet?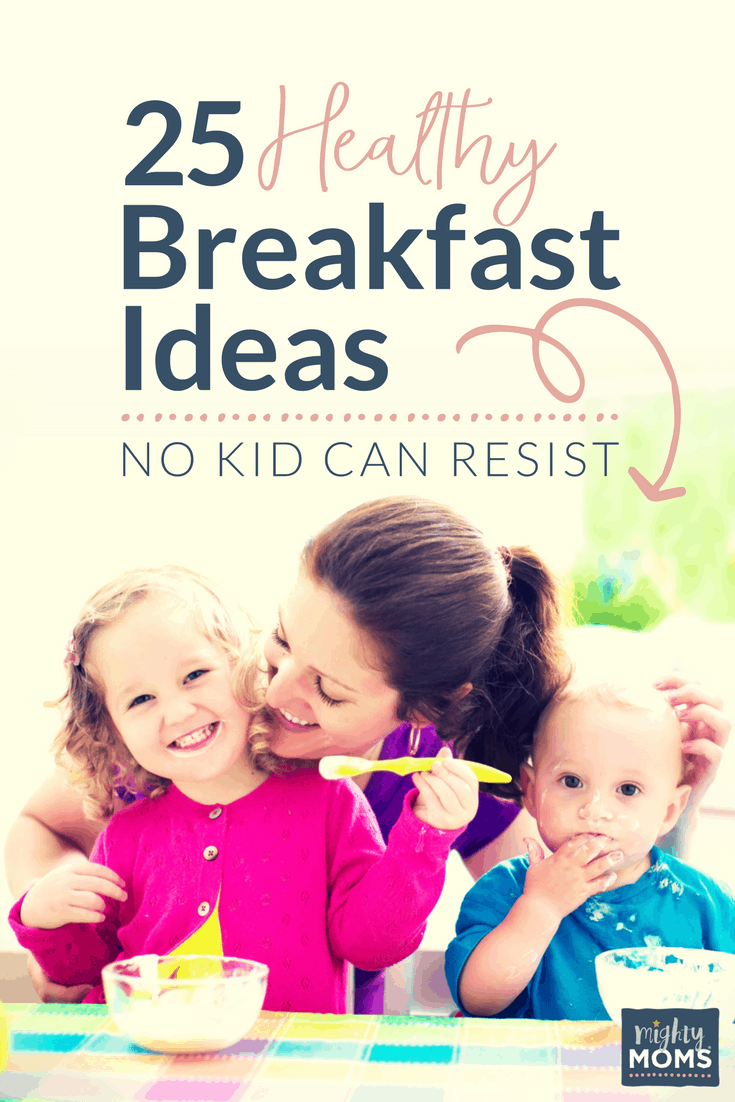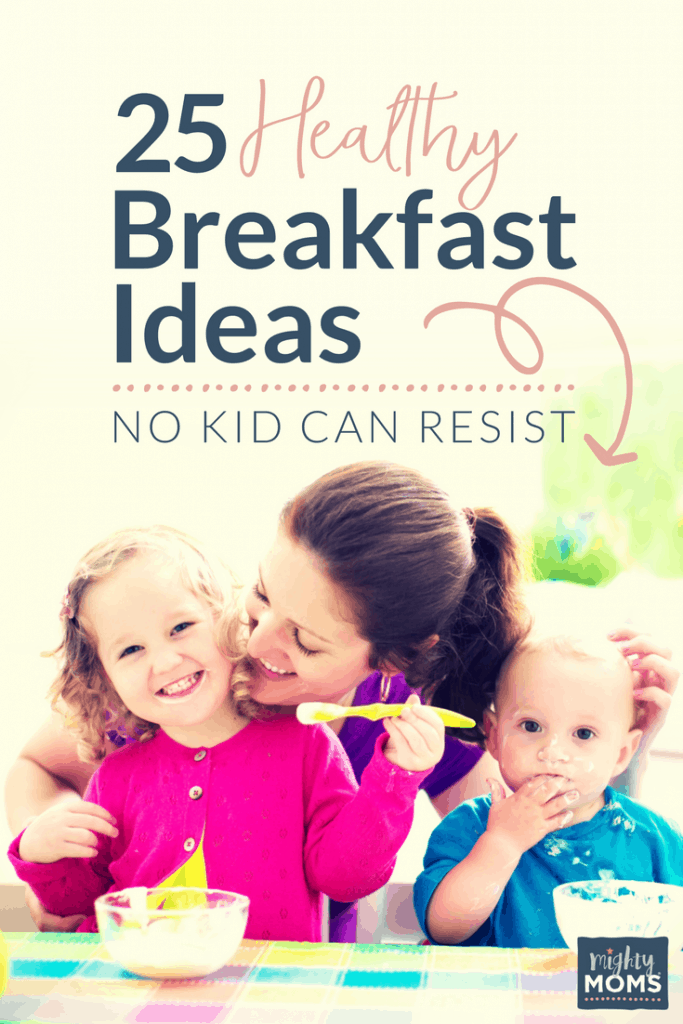 We ♥  honesty!  This post contains affiliate links that provide extra money for our mutual coffee habits addictions. Click here to learn more. As an Amazon Associate I earn from qualifying purchases.