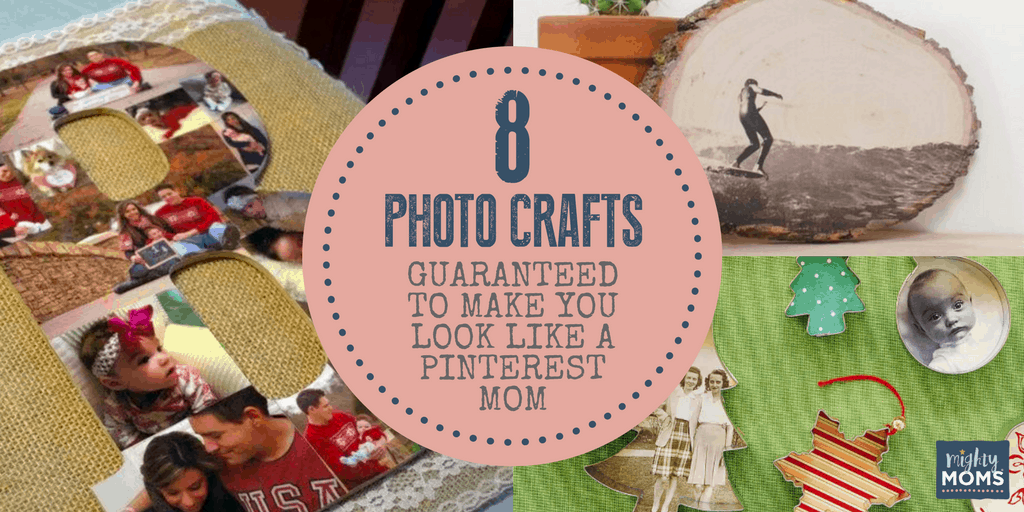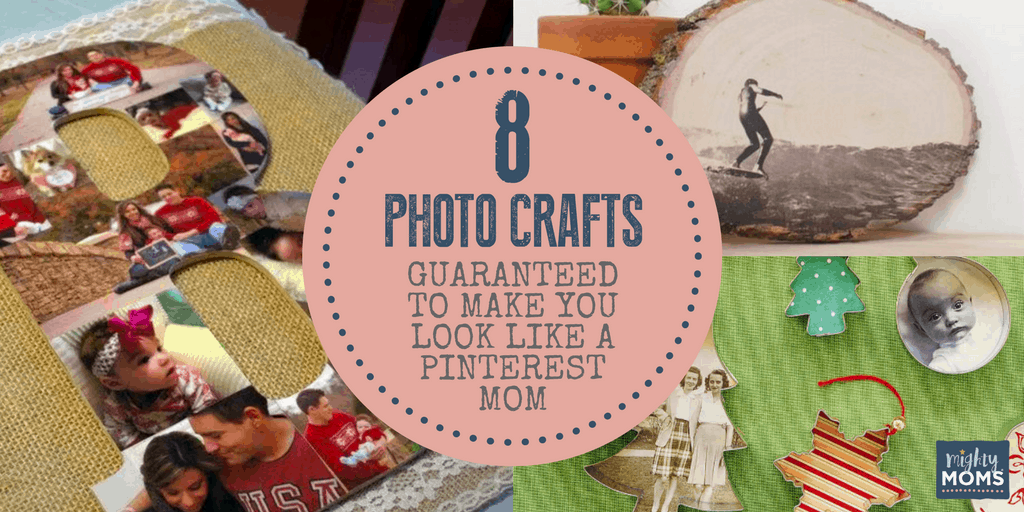 Let's take a survey: Which of these options best describes you?
Craft Mom A:  I LOVE the crafting process. There's nothing I love more than recreating an awesome Pinterest craft. I'm not afraid to break out the paint, glue, and EVEN GLITTER.
Craft Mom B:  What if I paid you, Craft Mom A, to come over and do crafts with my kids while I watch from a safe distance. Is that an option?
If you are Craft Mom A, I'm impressed you're still reading because (just being honest) you probably don't need this post.
If you are Craft Mom B, let me extend my arm of sisterhood, because that's my camp too. For moms like us, who who spend an inordinate number of our days in survival mode, the idea of making homemade crafts can be more than just a little intimidating.
But I'm going to let you in on a craft secret I recently discovered …
The Sly Strategy of Photo Crafts
Photos are a crafter's best friend! They might even beat out glue guns.
When you add a photo to a craft, it becomes the focus of your finished product. A good photo makes a craft personal and meaningful.
A coffee mug is an okay Christmas gift for Grandpa. But slap a photo of his newest granddaughter fast asleep in her Thanksgiving pumpkin pie, and suddenly it's an heirloom!
Thanks to services like the Shutterfly app, it's now easier than ever to receive good-quality prints straight from your phone.
And lucky for you, I've got a whole list of photo crafts that look great and are simple enough that even Mom Crafter B's (like me) can do them.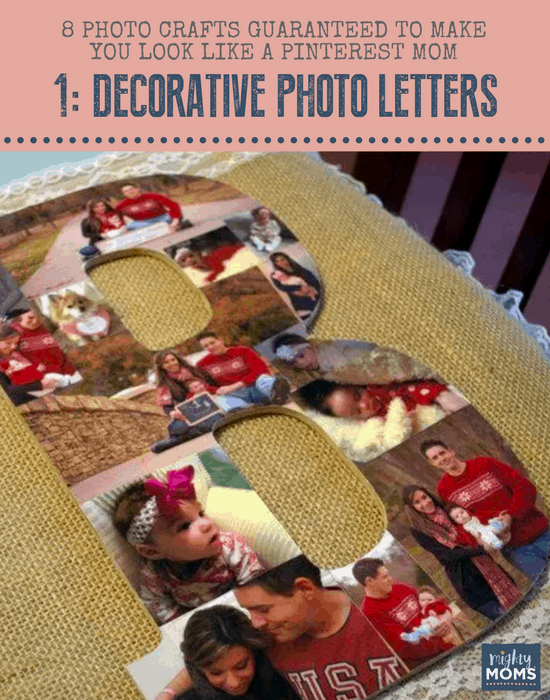 Photo Craft #1:
Decorative Photo Letters
This tutorial from My Love of Style is unbelievably easy. I'm a sucker for a good collage, and this one is so versatile that you can make it as big or as small as you'd like!
Another huge draw for me is that there are so few supplies needed. For this, all you need is:
Make enough letters to spell out a meaningful name or word or simply do one with your last initial to put over the fireplace. As fast and cheap as it is to make, you can update it with fresh photos as many times as you want over the years.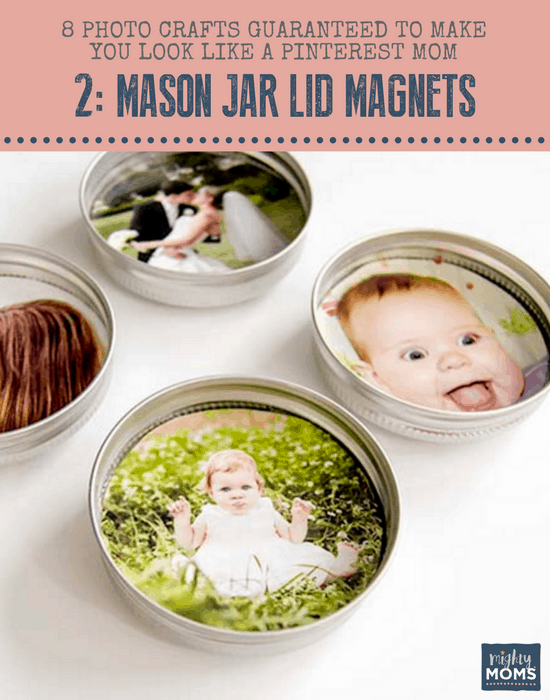 Photo Craft #2:
Mason Jar Lid Magnets
Am I the only person who never has enough magnets to hold all their junk important information on their fridge? Shower invitations, dental appointment reminders, that bill I keep forgetting to pay … I always need more magnets!
Bonus if they're cute magnets like these from unOriginal Mom. They seem simple enough to make and absolutely darling.
Now, believe it or not, did you know you can buy just the mason jar lids? I sure didn't. That's convenient!
Besides the lids, here are the other supplies you'll need:
A hot glue gun
Your photos
Scissors
So next time you have a photo you want to add to your fridge, you can turn it into a magnet! It's practical and personal.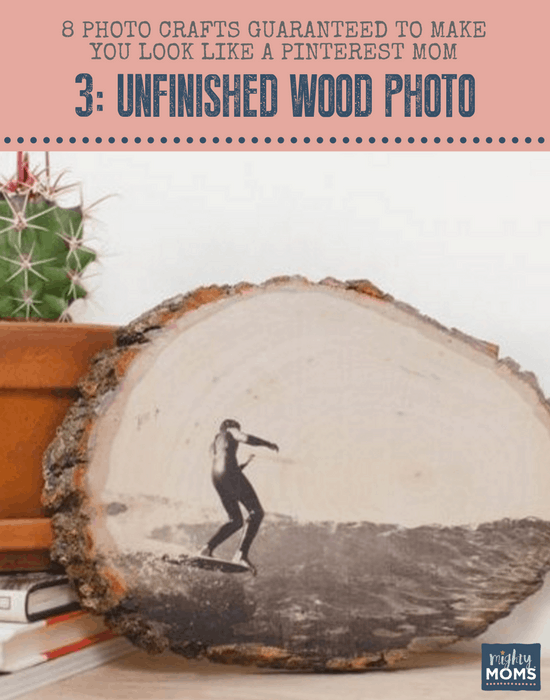 Photo Craft #3:
Unfinished Wood Photo
If you're into the rustic farmhouse look (like me!), you'll want to check out this tutorial from eHow on transferring a favorite photo onto an unfinished wood slice.
There are a few needed supplies that you likely don't have on hand unless you frequently do photo crafts, but, lucky for you, they aren't too pricey.
A good jar of matte gel medium can last you through a number of DIY projects and is extremely versatile. It can be used to transfer images to fabric and canvas as well as wood, and it's also a handy tool for painters.
Also, a matte finishing spray has an infinite number of uses. Having some of this on hand will be more useful than you might expect!
After transferring your image onto the wood slice and sealing it, simply prop it up on a display stand or easel and impress friends and family with your creative genius!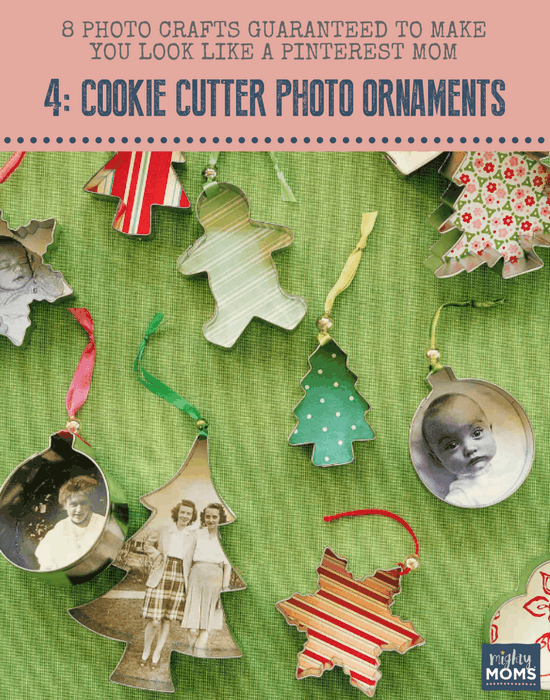 Photo Craft #4:
Cookie Cutter Photo Ornaments
This photo ornament idea from Martha Stewart is one of the easiest, cheapest, and most personal ways to DIY your tree this Christmas!
Your biggest purchase will be the cookie cutters themselves, but you can get a great deal by purchasing a bulk set of 18 on Amazon. Unless you're decorating the tree in Rockefeller Center this Christmas, 18 is enough to adequately cover your tree in your favorite memories!
And if you wanted to make this photo craft even faster and easier, instead of tracing and cutting your photographs with scissors before gluing, simply glue the cutters down on your whole, uncut photos and then trim off the excess using your X-ACTO knife after the glue dries.
Simply finish off your ornament with a length of ribbon and a single bead, and your ornaments are finished sooner than you can say, "Merry Christmas!"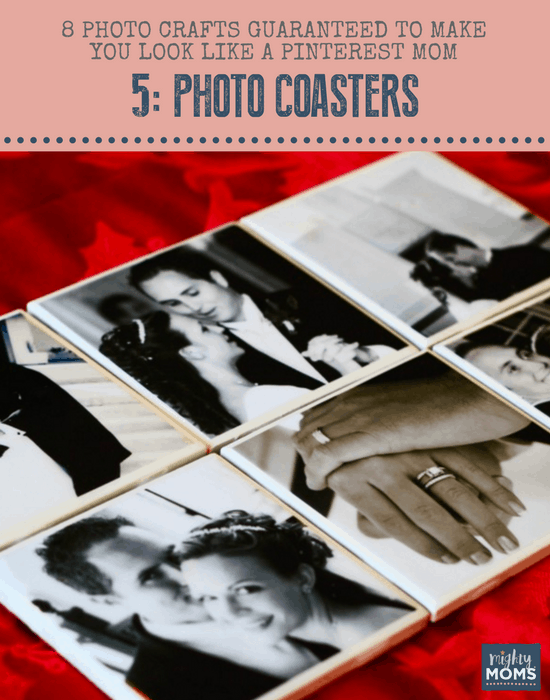 Photo Craft #5:
Photo Coasters
When I made these photo coasters from Oopsey Daisy for the first time, I expected it to be a long process so I set aside a good chunk of my afternoon to do them. Happily for me, they were much faster and easier to complete than I expected!
Friends … do not be afraid of using epoxy resin! I know the instructions in the box are intimidating, but it is much harder to screw up than it sounds. I use this stuff from Environmental Technology, and it is so quick and simple to work with.
The important things to remember are:
Mix the epoxy and the hardener together in as close to a 1:1 ratio as you can.
Be sure to double-mix. That means you should mix it once in one container with one stirrer and then transfer it to a second clean container with a new stirrer.
Have fun blowing on the slowly-hardening epoxy and watching the carbon dioxide in your breath pop all those tiny bubbles. It's what I imagine it must be like to use Jedi mind powers on bubble wrap.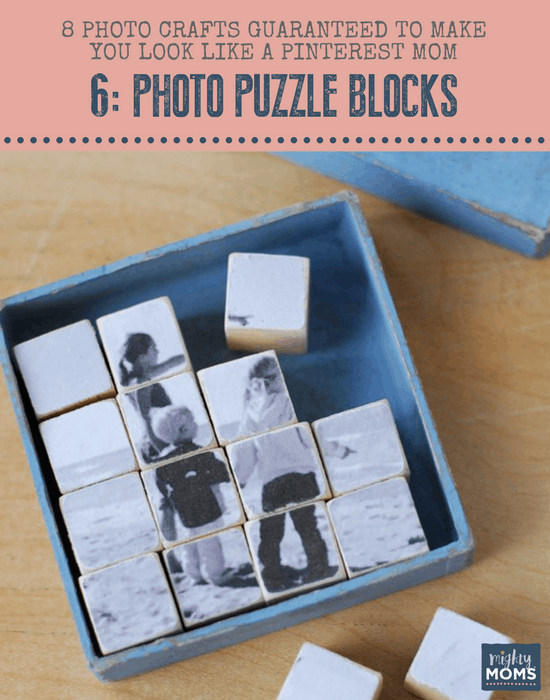 Photo Craft #6:
Photo Puzzle Blocks
All right. I admit that this next craft takes a liiiiittle bit longer than the others, but the results are so fun, I couldn't resist!
These photo puzzle blocks from eHow are simply charming! They'd make a perfect stocking stuffer. Plus, you can make the puzzle even more challenging by using the alternate sides of the cubes for additional photos!
And in case it saves you some searching, these perfect little tins are positively ideal for holding your puzzle.
For the puzzle itself, you'll just need some small blocks (these are a great size!), Mod Podge once again, and that X-ACTO knife you used for the cookie cutter ornaments and letter collage.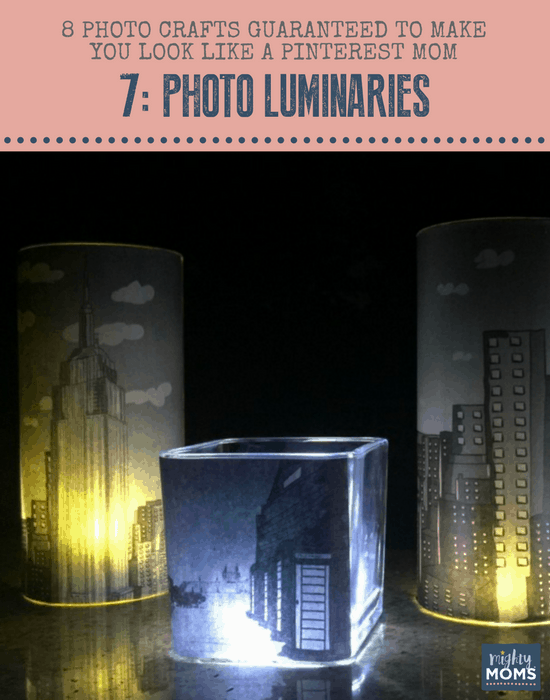 Photo Craft #7:
Photo Luminaries
A Little Craft in Your Day has put together this fantastic step-by-step tutorial that I can't wait to try. (In fact, I almost didn't include this one because certain readers might be receiving these for various upcoming celebrations.)
If you're wanting to make several of these luminaries as gifts, you can get great deals on cylindrical vases by buying them by the dozen online. Of if you're simply making a single display for your own personal use, it'd be fun to get a variety of shapes and sizes at a local thrift store!
PLEASE keep in mind that these will not be fire-safe! Be sure to purchase battery-operated tea lights to give your luminaries a nice glow.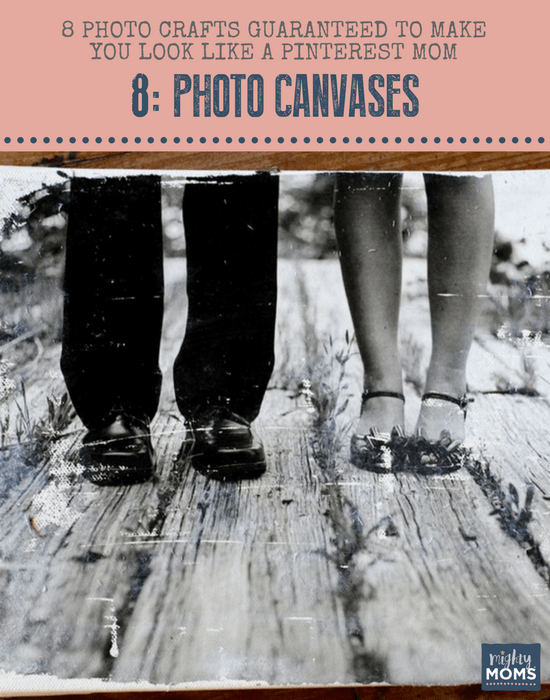 Photo Craft #8:
Photo Canvases
If you've ever looked into buying a photo canvas, then you know that they can get expensive. I'd heard you could make them at home, but I kind of assumed it'd be ridiculously hard.
And then I saw this super easy tutorial from A Beautiful Mess.
Here are the basic steps:
Cover a stretched canvas with matte gel medium. (I told you it would come in handy again!)
Press image into gel.
Let dry.
Get paper wet.
Rub off paper.
Obviously, you should check out the tutorial for some of the finer details, but that's the basic rundown on making this unbelievably simple (and gorgeous) craft!
Victory for the Non-Crafty Mom
If crafting is something you admire but has always been outside of your comfort zone, I want to reassure you again that photo crafts are great starter projects.
Get brave! Try something new! Then maybe you'll want to try another …
And another …
Even if you just do one photo craft before deciding that's enough work and creativity for you, imagine how accomplished you are going to feel just by having at least one handmade thing in your home that you can take a compliment on and proudly say, "Thanks! I made it myself."
However, that sense of accomplishment may be habit-forming, so craft responsibly.
NOTICE: Mighty Moms is not responsible for any crafting addictions brought on by reading this article!
Which photo craft are you going start with today?
Have You Read These Yet?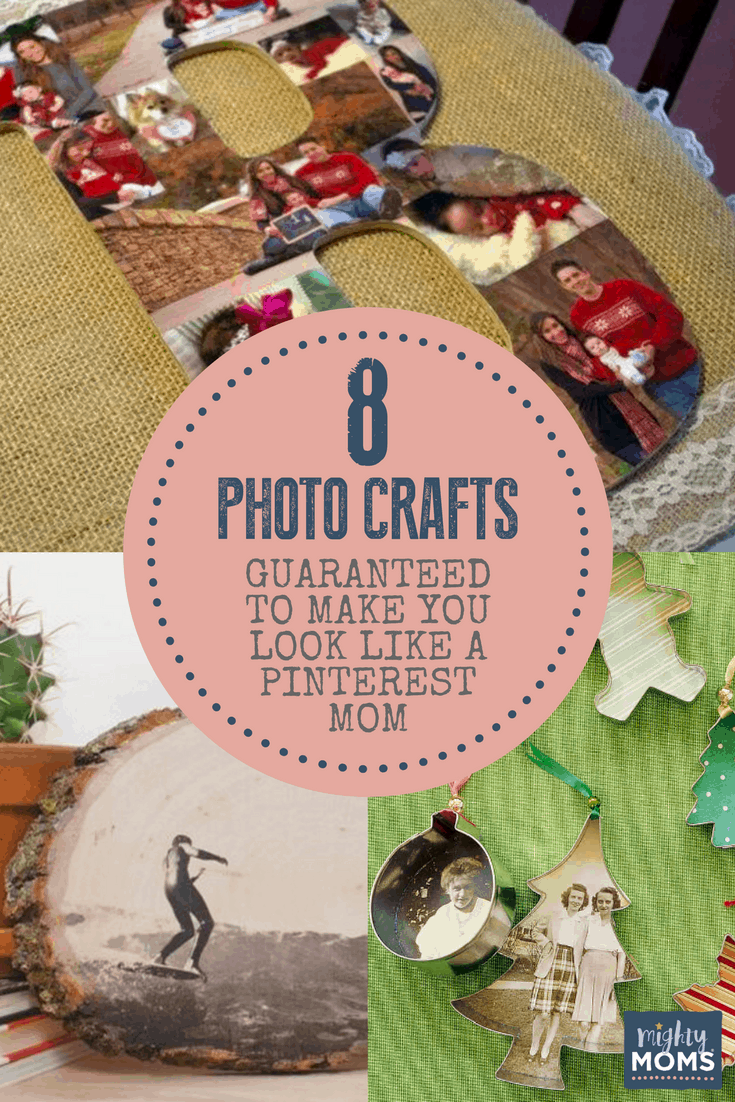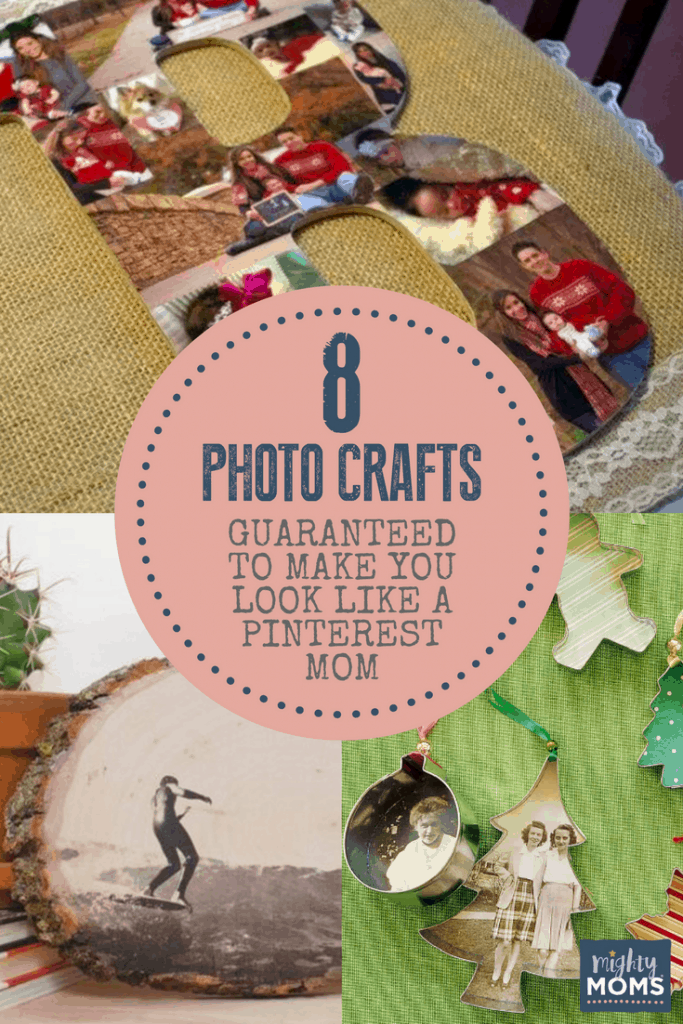 We ♥  honesty!  This post contains affiliate links that provide extra money for our mutual coffee habits addictions. Click here to learn more. As an Amazon Associate I earn from qualifying purchases.