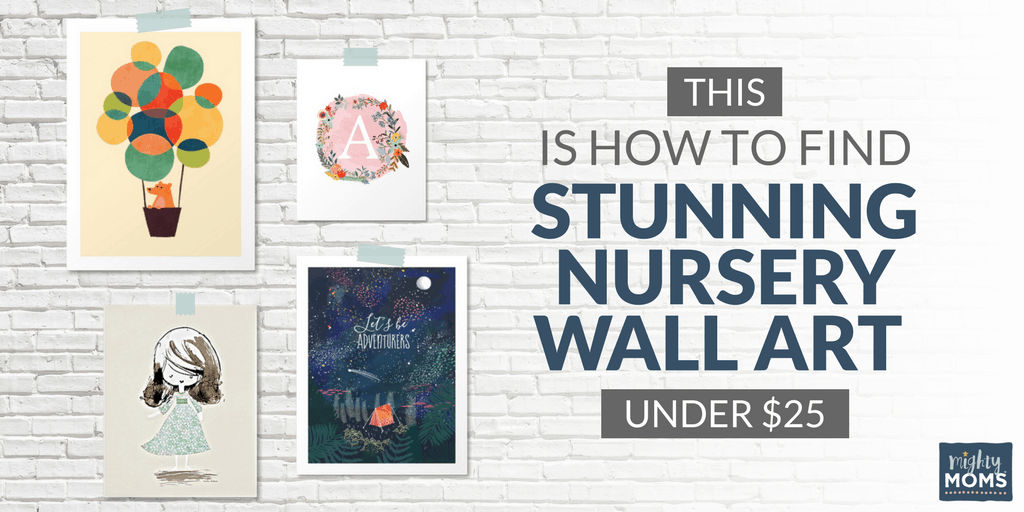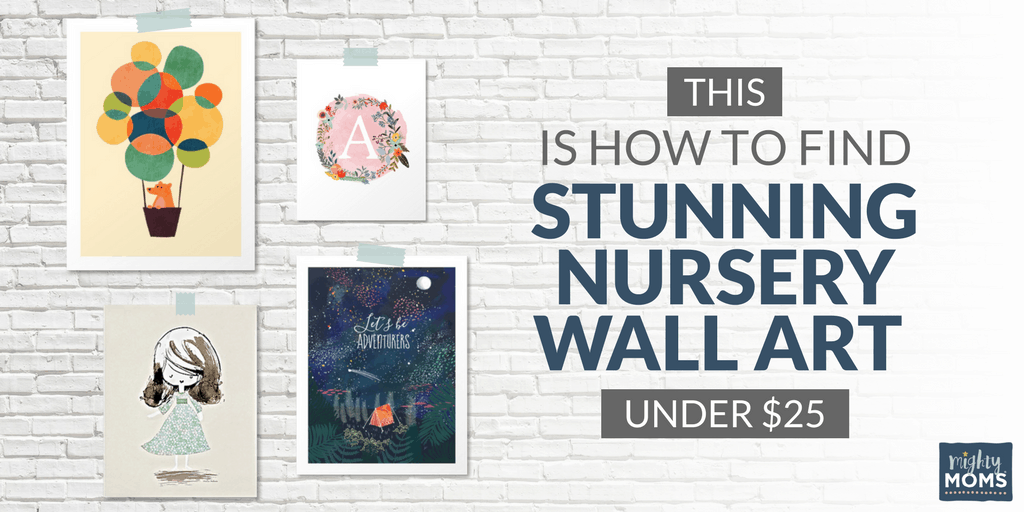 Your nursery isn't just another room of the house.
It is hallowed ground.
For every new arrival to your family, it's the only place where you speak softly, tiptoe daintily (yes, even Dad), and toss up prayers by the bucket-load. (Please, Lord, let him SLEEP!)
With each of my children, I tried to add or change something to the nursery to mark the arrival of this new little person. Since there's no way I was going to paint, changing the frames on the walls was a simple way to declare this newborn's unique arrival into our family.
This is where nursery wall art really shines. It's a simple way to make an old space new again.
Everyone else will be buying the same ole' nursery art at Target, but not you! 
This is an online age and you, in your amazingness, have found unique pieces to adorn your sweet nursery walls at a price your art-snob neighbors would be shocked over.
To Frame? Or Not to Frame?
The prints I've gathered below are all unframed. If you're more concerned about money than hassle, I would recommend buying the prints, then heading to Hobby Lobby during one of their 50% off framing sales. (Click here to check this week's ad.)
Or, if you'd rather avoid the hassle and pay a little more, you can purchase it pre-framed. Then all you have to do is hang it! (If your husband is the "hanger" of items at your house, might I suggest waving a "Date Night at Buffalo Wild Wings" note under his nose as an incentive?)
Fearlessly Feminine Nursery
Wall Art for Baby Girls
As the mother of three girls, I tend to gravitate towards nursery wall art that strikes a balance between inner strength outward femininity. I desire my girls to be empowered enough to share their own opinions, but strong enough to not always have to have their own way.
These nursery wall art pieces not only fill the room with these sentiments, they are a great reminder to us, as the rocking shushing parents, of the prayers and hopes we have for them as they grow.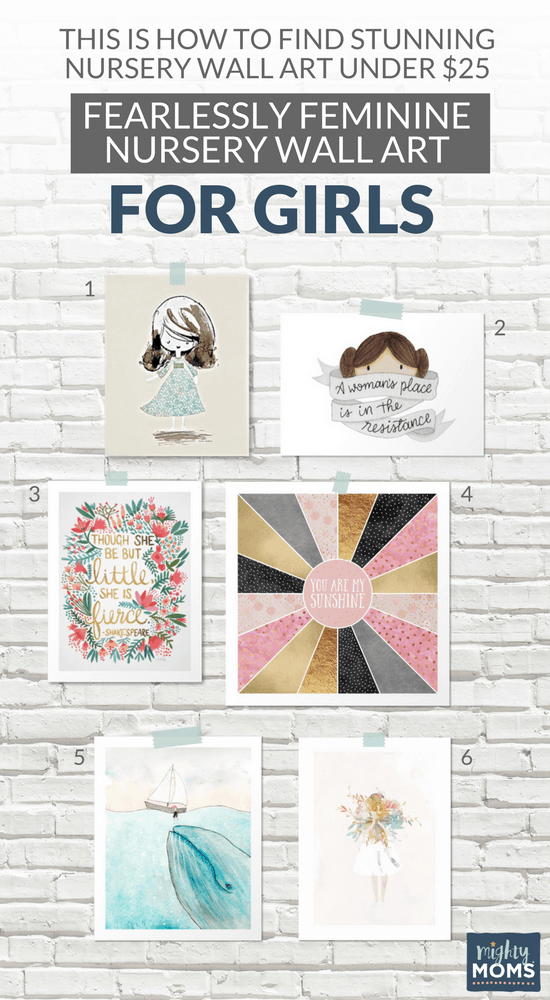 1. Vintage Sweetie ($14)  |  2. A Woman's Place ($16)
3. Though She Be But Little… ($21)  |  4. You Are My Sunshine ($21)
5. Whale Watching ($19) |  6. Flower Girl ($21)
These are the prices that showed up today…they could change!
Adventurously Bold Nursery
Wall Art for Baby Boys
When it comes to choosing nursery wall art for boys, it makes sense to want to capture the busyness and adventurous spirit that seems to take over those little testosterone-filled bodies as soon as they discover movement.
Even if your son isn't the go-go-GO type, chances are his little mind is exploring and considering the world around him. These nursery art pieces are particularly inspiring, snatching the dreams and hopes often muttered over the crib slats!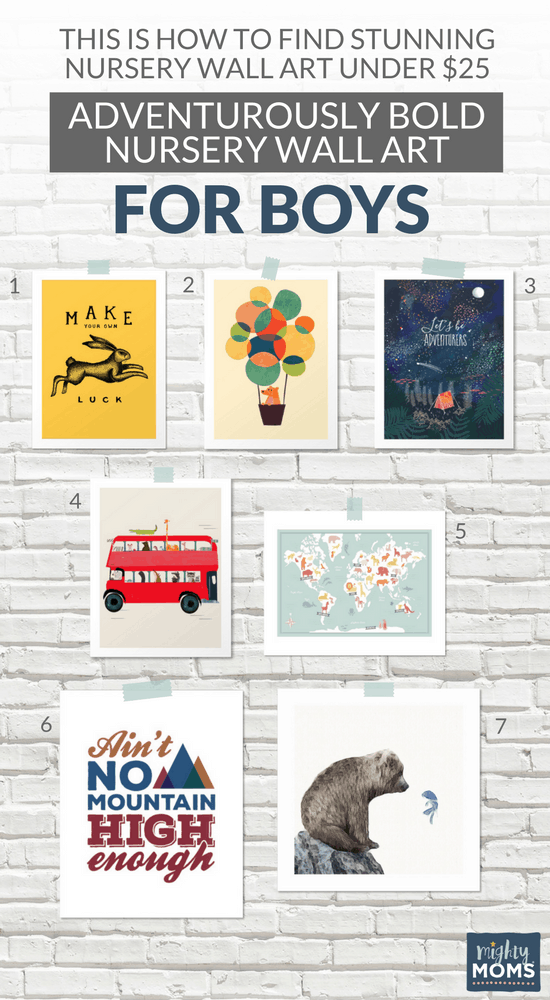 1. Make  Your Own Luck ($20)  |  2. Hot Air Balloon ($23)
3. Let's Be Adventurers ($18)  |  4. Big Red Bus ($19)
5. Animal World ($21) |  6. Ain't No Mountain ($5)
7. Bear & Fish ($23)
Just so you know, these nursery art prices are likely to change. (Yeah, it's sucks.) 
Nursery Wall Art
for Something Silly
Of course, sometimes you don't want nursery art that sends a message or focuses on a particular gender. Sometimes you just want something that will taunt your growing child's curiosity and imagination with silliness. 
If Lewis Carroll was decorating your baby's room, these are the nursery art pieces he would choose to hang up.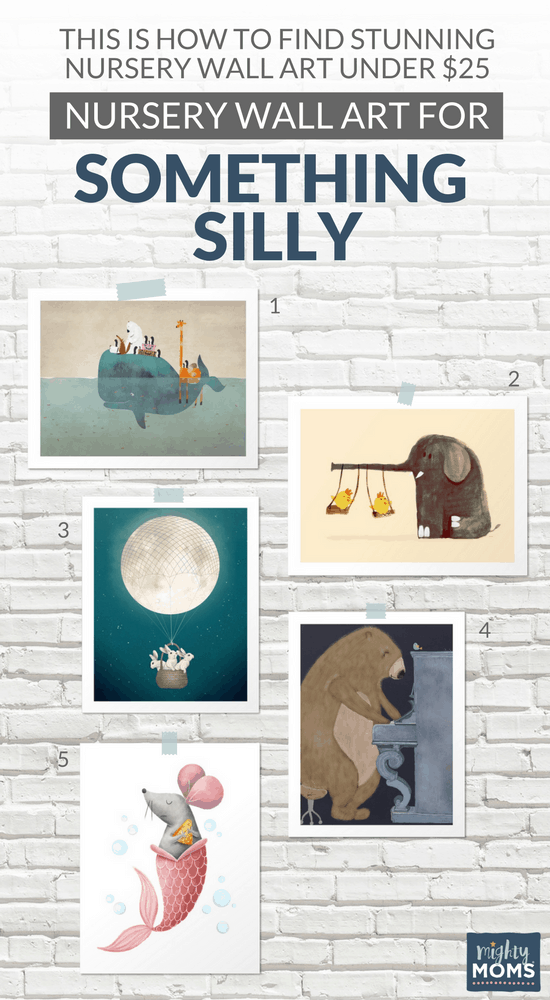 1. Summer Holiday ($20) |  2. Elephant Swing ($23)
3. Moon Bunnies ($20)  |  4. Boogie Bear ($19)
5. Mermouse ($16)
Unfortunately, these prices can change. So if you like these (and the price)
I would grab these nursery art prints fast.
Personalized Nursery
Wall Art Ideas
Personalizing your child's nursery wall art is a great way to create a little heirloom to pass from nursery room to childhood room to even teenage room seamlessly. Here are several suggestions that will give you a frameable keepsake.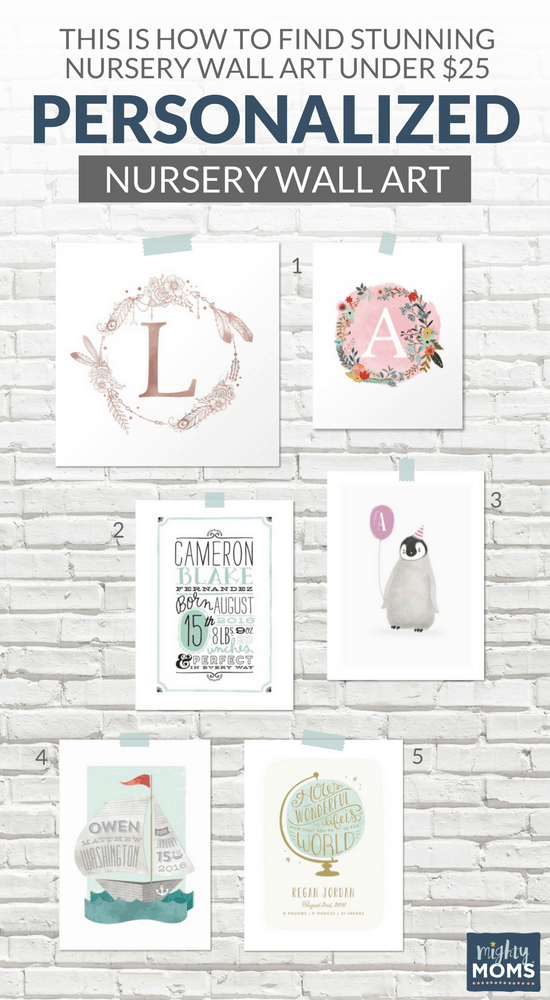 1. Feathers & Roses ($16) or the Flower Wreath ($17)
2. Vintage Birthday ($24) |  3. Penguin Initials ($24)
4. Newspaper Ship ($24)  |  5. Wonderful World ($24)
These prices may change, but these are the current prices for the unframed,
small nursery wall art versions of each!
Nursery Wall Art that
Matches Your Nursery Theme
What if you've worked really hard to design your baby's room around a theme? Your nursery wall art will need to slide into the items you've already chosen and tie the whole arrangement together like a bow. Here are three examples of popular nursery themes, and the nursery art that best matches those designs.
Nursery Art Theme: Baby Animals
Why not increase the cuteness factor of your baby's room by tossing some adorable baby animals on the walls? It will fit your Woodland Nursery Theme perfectly! These are the nursery art collections that I fell in love with: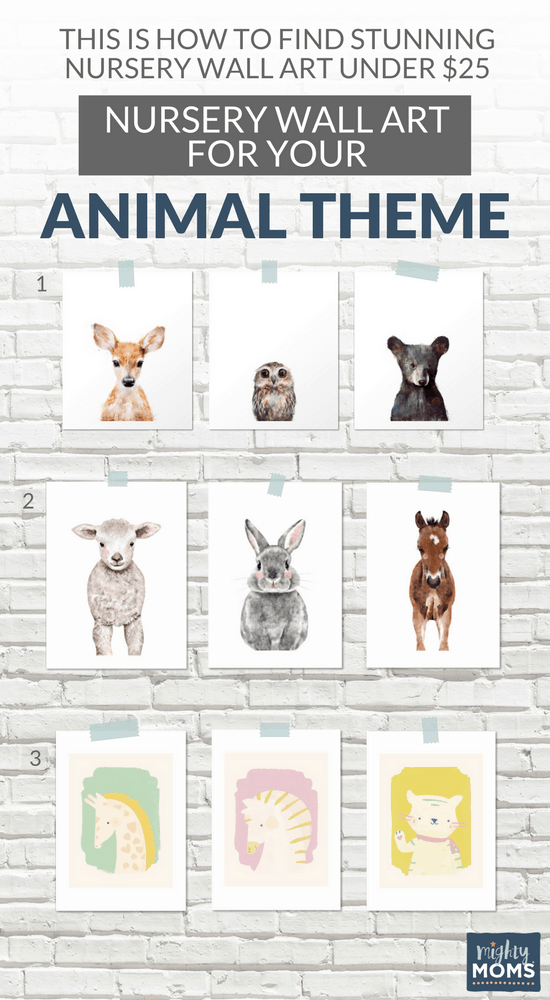 1. Little Animal Collection: Deer ($20), Owl ($20), and Bear ($20)
2. Rosy Cheek Collection: Lamb  ($21), Bunny ($21), and Colt ($21)
3. Valentine Zoo Collection: Giraffe ($21), Zebra ($21), and Tiger ($21)
These are the current nursery art prices for the unframed, small versions. They may change!
Nursery Art Theme: Stars & Moon
I love the stars & moon nursery theme idea. There are so many different ways you can capture the galaxy! From silly nursery rhymes to serious science, it's an opportunity for whimsy and inspiration. Even better, it's incredibly easy to make this theme gender-neutral.
Here are several budget-friendly ideas that will fit perfectly into your intergalactic nursery.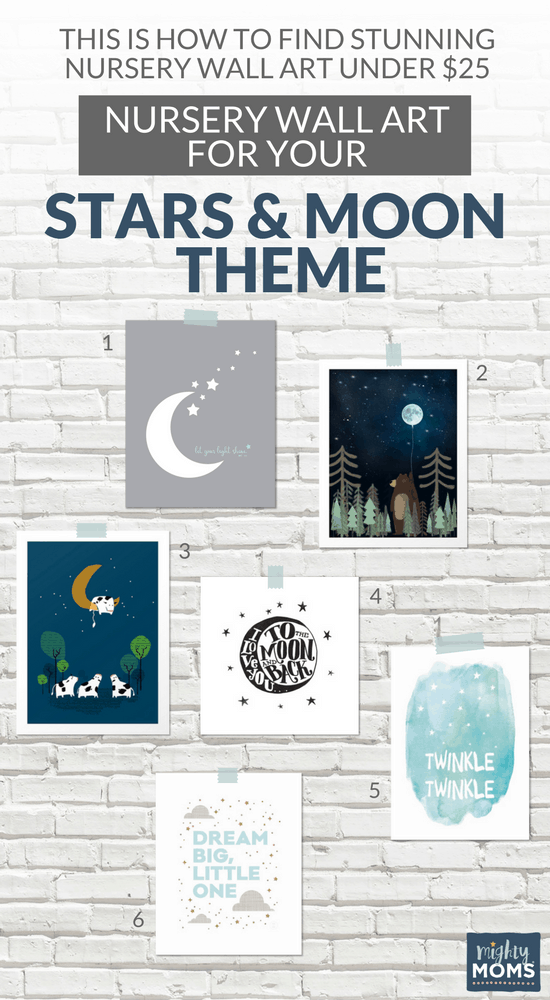 1. Light Shine ($4) | 2. Moon Balloon ($19) 
3. Cow Jumped Over the Moon ($23)  |  4. Love You to the Moon ($23)
5. Twinkle Twinkle ($21) | 6.  Dream Big ($21)
These are the current prices for the unframed, small versions of each piece of nursery art.
Nursery Art Theme: Biblical Scripture
As Christians, Cameron and I always chose a Bible verse when our children were young to use as a prayer-anchor in the years ahead. We would pray this verse frequently in the middle of the night, rocking, singing, shushing those little ones through teething and sickness.
Nothing extends your patience at 3am like reading a Bible verse on the wall and remembering that there's more going on than just a sleepless night. 🙂
In case you're curious, here are the verses we chose for our girls:
Lauren – "Commit to the Lord whatever you do, and your plans will succeed." Proverbs 16:3 (This was also the verse we used when we started dating, as we were trying to determine whether marriage was a good idea, asking God to lead is in the right direction.)
Elena – "…That according to the riches of his glory he may grant you to be strengthened with power through his Spirit in your inner being, so that Christ may dwell in your hearts through faith…" Ephesians 3:16-17a
Isabella – "The Lord your God is in your midst, a mighty one who will save; he will rejoice over you with gladness; he will quiet you by his love; he will exult over you with loud singing." Zephaniah 3:17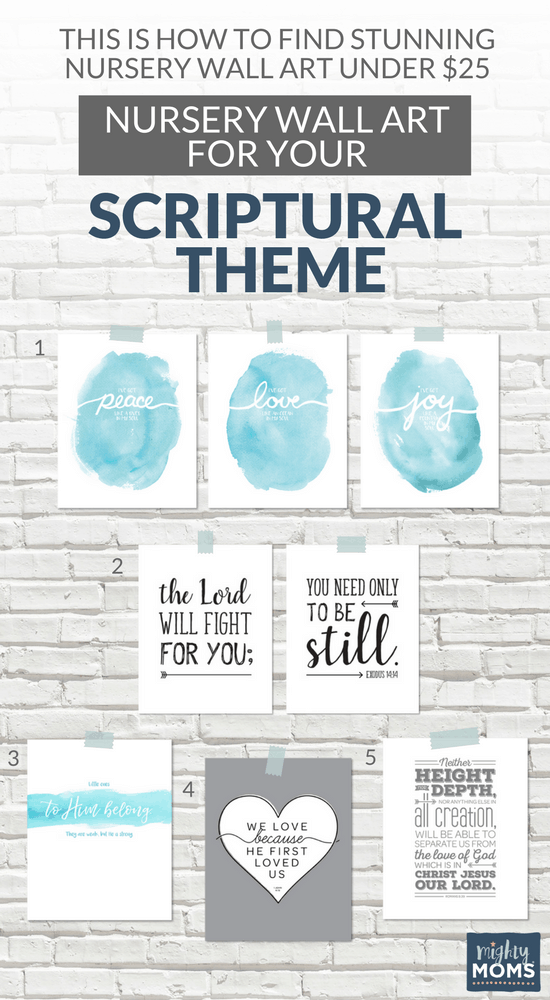 1. Love, Joy, Peace ($8)  |  2. The Lord Will Fight ($7)  
3. To Him Belong ($4)   |  4. We Love Because ($5) 
5. Height Nor Depth ($5)
These prices may change. These are the current prices for the unframed, small versions of each.
Getting Your Nursery to "Feel" Right
In many ways, your nursery is like a lighthouse, a beacon shining to mark the end of one journey and the beginning of another. It's a marker indicating the new adventure on the horizon ahead, showing that the world is about to change in amazing and exciting ways.
Whether this is your first baby, your second, or your even twelfth, setting up the nursery is a rite of passage that helps you emotionally and mentally prepare for the new land you're about to trek across.
Memories are going to be made in this room. A whole new life launches and grows from this little room.
Fill this room with the type of nursery wall art that is going to inspire your heart to get through another day. Decorate the walls with prints that will follow your child as she grows, and push him to greater depths of imagination and wonder.
While you're at it, why not do all that for less than $25?
No one has to know that the eye-catching piece on the wall was so cheap.
It's our little secret. *wink*
Have You Read These Yet?