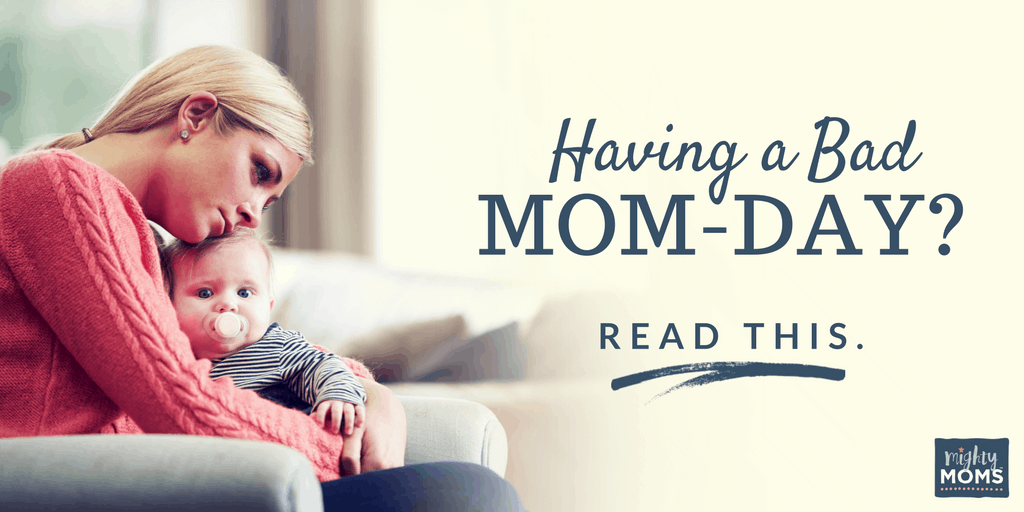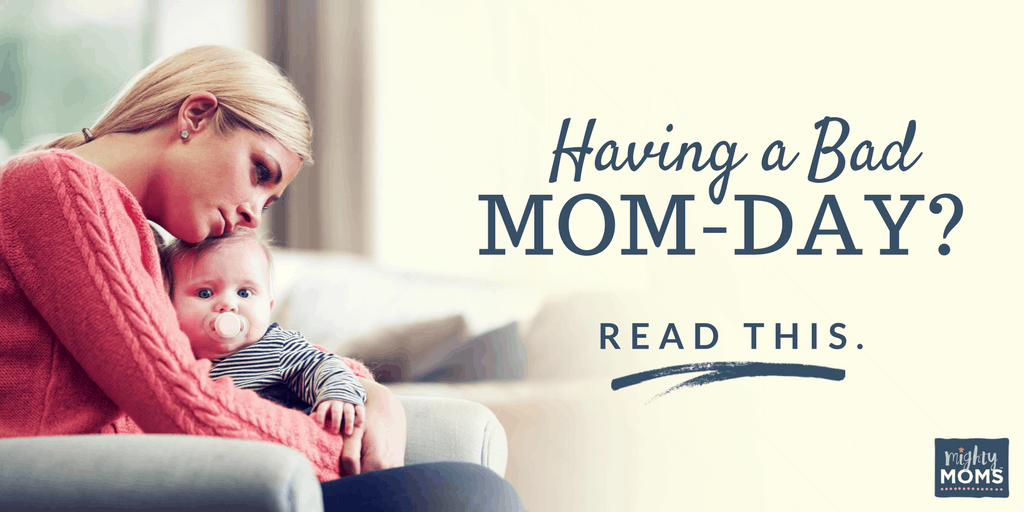 I was a perfect parent.
…and then I actually HAD KIDS. Then it all went to *foghorn sound*
I've shared some of my worst mom-days before. (Remember this one?) After all, no one is exempt from Motherhood in Real Life Syndrome, which strips away all those good intentions we all had during pregnancy.
One of my finest bad mom-days came about six months after my second, Elena, was born.
This Mom-Thing is HARD
She wasn't sleeping.  Like at all.  (In fact, that's how I first started exploring the world of sleep coaching.)
Breastfeeding was backfiring.
She wanted to be picked up. Wait…No she didn't! She wanted to be put down! Wait… No she didn't! She wanted to be picked up!
And on and on and on it went. Day after day.
I called my mom, blubbering all over my "utter failures" at momhood and why I just wasn't getting this second child of mine. Lauren had been so easy compared to this tempermental little person.
As I stopped to take a breath, she quickly jumped in with the advice that is still encouraging me, ten years later:
Heather, you are the best mother for this little girl. Despite how lost you feel, no one on the planet knows her as well as you do. You were chosen to be her mother, and no one would or will do a finer job at it.
Life.
That's what those words were. It was as if I had slept for 18 hours. I felt the all the stress associated with what I thought motherhood should look like, roll right off my shoulders.
Those words were magic.
Gathering Your Own Magic Mom Words to Fight that "Bad Mom" Feeling
Today, I want to share the "magic" words the Mighty Moms Facebook Friends reported as being the most life-giving and encouraging. The ones that stirred hearts, dried tears, and lifted a few chins.
Break out a box of tissues, and let other mothers remind you of something important…you are not alone. You aren't failing. Everyone else has these days too.
Here's how other moms, just like you, get past their own worst Mom-Days
"Throw the do-it-this-way books out the window. You'll have a lot less stress." ~ Nicole H.
"God made you and your baby for each other. You are the best mommy for your little one, the one they need, personality, talents, quirks, and all!" ~ Danielle M.
"Whatever it is, it is a stage and it will pass." ~ Melody C.
"My mom constantly reminds me to treasure the moments holding them, hugging them, rocking them, wiping their tears. For these are the things that are really important and will be remembered. The laundry and cleaning, etc. will be easily forgotten and can alway be done another day." ~ Katie Y.
"Listen to your heart. Everyone is different and this is YOUR child. You know your child better than anyone else." ~ Amy A.
"You will never know how much you have in your little ones until they're grown and on their own, so cherish each exhausting, exhilarating moment." ~ Megan M.
"Remember no one is perfect and your child loves you unconditionally!" ~ Margaret H.
"I think of this quote – 'Perhaps my contribution to the Kingdom of God isn't something I do, but someone I raise.' " ~ Sammy A.
"My best friend reminded me that I am perfectly imperfect." ~ Nora P.
"'The nights are long, but the days are short.' They were too short indeed." ~ Amanda A.
"Accept the help offered. Take everything day by day, hour by hour, and don't sweat the small stuff." ~ Chelsee L.
"A woman once told me a tidy house is a neglected child. I try to remind myself of that when I stress about the mess and all I have to do." ~ Hannah M.
"My mom shared the poem, 'Cooking and cleaning can wait til tomorrow, for children grow up, we've learned to our sorrow. So quiet down cobwebs, dust go to sleep. I'm rocking my baby and babies don't keep!" ~ Danielle Y.
What are Your Magic Words?
Think of the burdens we carry each week…
sleep deprivation
stress from work
financial pressures
fear of failing as a parent
insecurities of friendships
meeting the emotional and physical needs of our families
There's a lot on our shoulders! Personally, I find my own personal devotions help keep my mind at peace and my weary shoulders at rest.