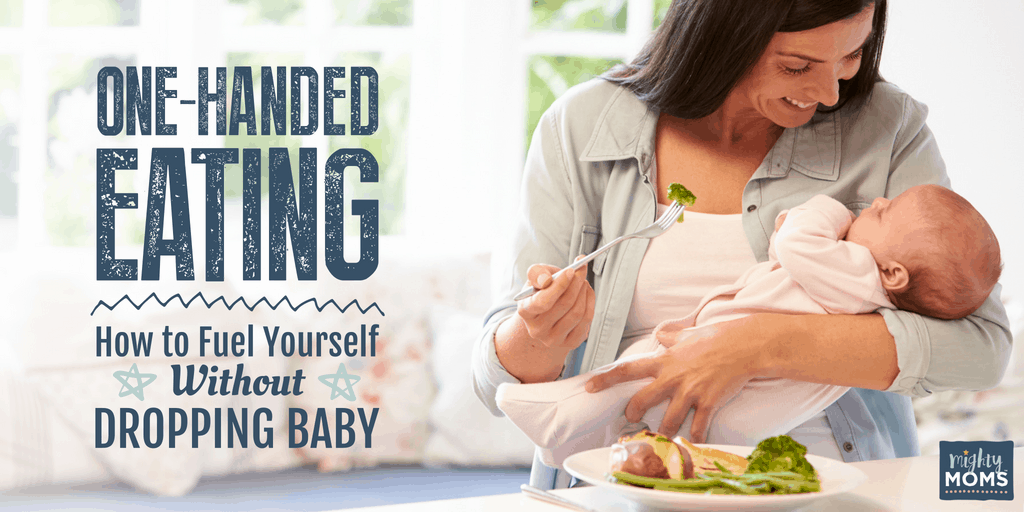 You are the life support system for your baby. That little bundle is counting on you to keep her alive and happy(ish).
How do you do that when you're running on fumes?
You gotta fuel up!
Rev Your Engine, But Don't Drain Your Tank:
EASY Ways to Prep for Postpartum Eating
Before the baby comes, some parents chop, bake, slice, simmer, and freeze meals. (Wow!) Others of us (ahem) are tired and hormonal and have no patience for trying to cram lasagna-shaped pans into the tiny space left in a disorganized freezer.
"Freezer Tetris is so much fun!" said no mom EVER.
Your refueling efforts need to be streamlined and quick, like those crazy fast pit crew stops at car races. (They've got nothing on new moms! You are raising a PERSON!) And they should only require one hand to eat. In the throes of post-baby-life, no one has hands to spare.
So let's forget about all those labor intensive (ha, labor) pre-made/slow cooker meals. Most of these one-handed food solutions are basic pantry/fridge items, with just a few "make aheads" mixed in.
These super foods will meet all your nutritional postpartum needs while minimizing prep-time and keeping one hand free. Select snacks from each section to help you get all the nutrients you and your baby need.
Buckle up, mama. We're off to the races!
Power Up With Protein
Pregnancy "dilutes" your blood. Moms make around 50% more blood volume during pregnancy, but we don't make 50% more red blood cells to populate all that new liquid. At the starting line, pregnant women are short on red blood cells. Then we lose some of our "diluted" blood during birth. Basically, we're left with a low fuel light on.
Pregnant and postpartum moms need more than the usual grade of food fuel! You need the premium stuff with extra protein and iron to accelerate your recovery and give you more energy. (Who couldn't use more energy?)
Beef/chicken/ salmon jerky: Many newer versions cut down on extra sodium and preservatives.
Burritos: Beans for fiber and protein, cheese for calcium and yumminess. Buy the frozen kind; or open a can of beans, cover with shredded cheese on a whole wheat tortilla, microwave, and eat.
Cheese sticks: These will be a staple in your life for the next 8+ years, might as well start now.
Hard boiled eggs: You can buy these refrigerated and pre-peeled, so they're "one-handed" contenders.
Nuts: They're high in heart healthy fat and fiber too! Nuts are calorie dense, so just a handful does the job. Try pre-portioning them into snack bags (or save a step and buy these).
Pro Racer Tip: If you have a toddler at home, recruit him for your pit crew! Have him fill the snack bags and practice his counting and fine motor skills during the dog days of pregnancy.
Amazon Prime Pantry: A Postpartum Paradise
Save yourself another brain-step by selecting these items inside Amazon Prime Pantry. Amazon will ship these items (for free!) whenever you need them, so you can make sure you're well-stocked on snacks without actually having to drag yourself to the store.
You can even set up an auto-shipment for things you know you're going to run out of.  (In my house, it's Goldfish!)
Fight Your Fear of the Toilet:
Fiber-ful Fuel
Your birthin' parts may be sore, sore, sore (or even stitched up!) for a while. C-section mamas, you are recovering from surgery – a procedure that slows digestion to a crawl. Narcotic pain relievers taken after birth also make it tough to pass stool.
No matter how her baby comes into the world, nearly every new mom is worried about the idea of pushing anything out of her body once she's made and delivered a human.
Make nice with pooping again by eating enough fiber. Because worrying about your first postpartum "pit stop" is a real energy sucker!
Fruit: You can eat apples, pears, plums, bananas, and grapes all with one hand.
Veggies: Snack on baby carrots, pepper strips, sugar snap peas, or grape tomatoes. Add some extra fiber (and flavor) with hummus for dipping.
Pouches: If fresh is too much hassle, try these organic superfood pouches. Squeezable convenience is not just for little ones anymore!
Crispy chick peas or Edamame: Make a big batch in advance or enlist a friend or family member to make them for you.
Fiber One Bars or Brownies: For the mom with a sweet tooth.
Mama Mix: I am literally never without a small container of "Mama Mix." I throw bran flake cereal, Wheat Chex, raisins, freeze-dried strawberries, peanuts, crispy chick peas or edamame, and some chocolate chips in a giant zipper bag. Shake, put in a smaller container (or your hand), eat up, and feel amazing about the variety of nutrients you just consumed!  Of course, Mama Mix ingredients can vary widely depending on what's in your pantry, but always be sure to put in chocolate chips for vitamin H(appy)!
Speed Through the Days (and Nights!)
with Something Sweet
Life can't be all laundry and legumes. Craving sweet 'reward foods' is normal in any tough time, and postpartum definitely qualifies! (Maybe it's the yumminess of new-baby smell, but I always wanted something sweet when cuddling my kiddo.) These options hit the mark, and still get a (mostly) green flag for nutrition. They incorporate some fiber and protein, so you won't get the high/low that is common with processed sugary treats.
Energy Bites: No cooking required. Plus they sound like something Pac Man would eat. Win!
Ice Pops: Healthy enough to have for breakfast! Toss some frozen fruit, yogurt, and honey into an amazing Ninja food processor, pour into some popsicle molds and freeze for these ice pops from Betty Crocker.
Muffins: There are so many freezer-friendly healthy muffin recipes out there to whip up easily (like these from Greatist). Better yet, ask someone who loves you to make them for you. (Muffins for baby shower presents!?! Yes, please!)
Frozen Multi-Grain Waffles: Smear with peanut butter to add protein and healthy fats.
Whole-Grain Toast with Nutella or Cookie Butter: 'Nuff said.
Fruit and Nut Bars: Make your own (like these cranberry-date delights from Today's Parent) or just buy a box of these all-natural caramel and sea-salt KIND bars.
Throw it in Reverse:
For the Mom Who Craves Salty Savories
Some mamas can ride right by sweet stuff without slowing down, but throw a potato chip in their lane and it's brake-light city! Too much salt can make your body retain fluid, though, so indulge your salt craving without going full-throttle with these better-for-you suggestions.
Hybrid Vehicles:
Smoothies
Smoothies are a one-handed choice somewhere between drink and meal. You can mix up a smoothie pre-baby, freeze it in ice cube trays and store in the freezer. Then, just take out individual cubes, blend and slurp away!
Leafy greens are post-delivery hero foods, offering both iron AND calcium (as well as fiber and a slew of vitamins.) Combine them with high vitamin C foods – citrus, strawberries, kiwi – to help your body absorb the iron.
Jenny Torino, Registered Dietician (RD), often recommends a new-moms blend:
Spinach (frozen is fine)
Strawberries
Orange juice
Reduced-fat yogurt
Add ground flaxseed, if they're your jam, for a dose of omega fats and more fiber.
Start Your Engine!
Mama, it's time to start your engine. With just a few clicks and Amazon Prime Pantry, you can order what you need for these snacks right now, without getting up off the couch.
Here's your challenge: put that nesting instinct to good use and prep at least ONE of these snacks before your next OB appointment (or you can just send this article to a friend and ask her to throw you a 'fuel the family' shower with a registry full of muffins, sandwich pockets and fruit/nut bars!)
Already had your baby? Congrats! Amazon Prime Pantry is now your friend. Get to clickin'!
This motherhood thing is the most important race of your life, mama. So start it out right by fueling up on the good stuff. You and your baby deserve it.
Have You Read These Yet?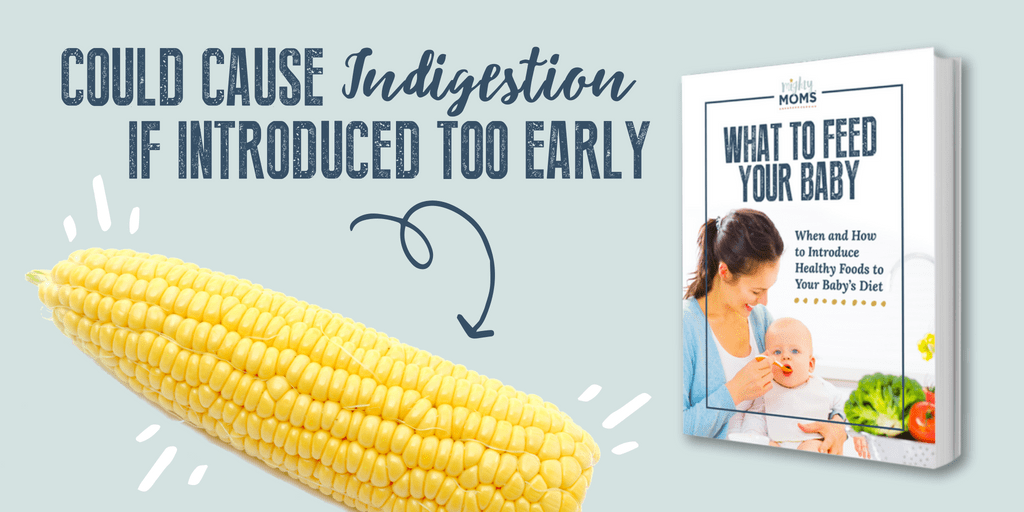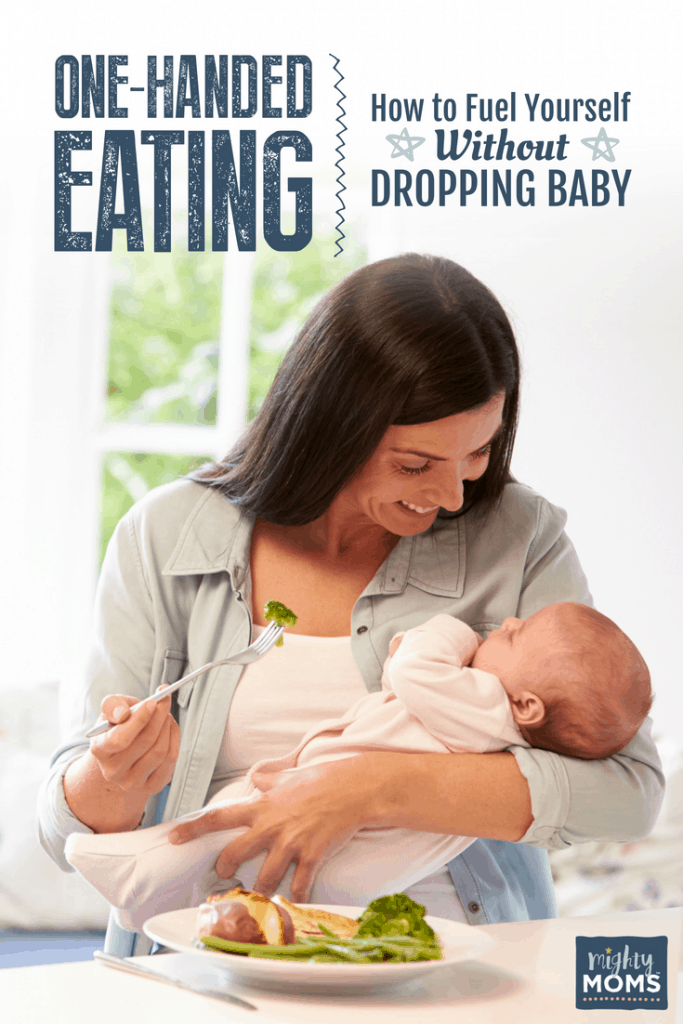 We ♥  honesty!  This post contains affiliate links that provide extra money for our mutual coffee habits addictions. Click here to learn more. As an Amazon Associate I earn from qualifying purchases.