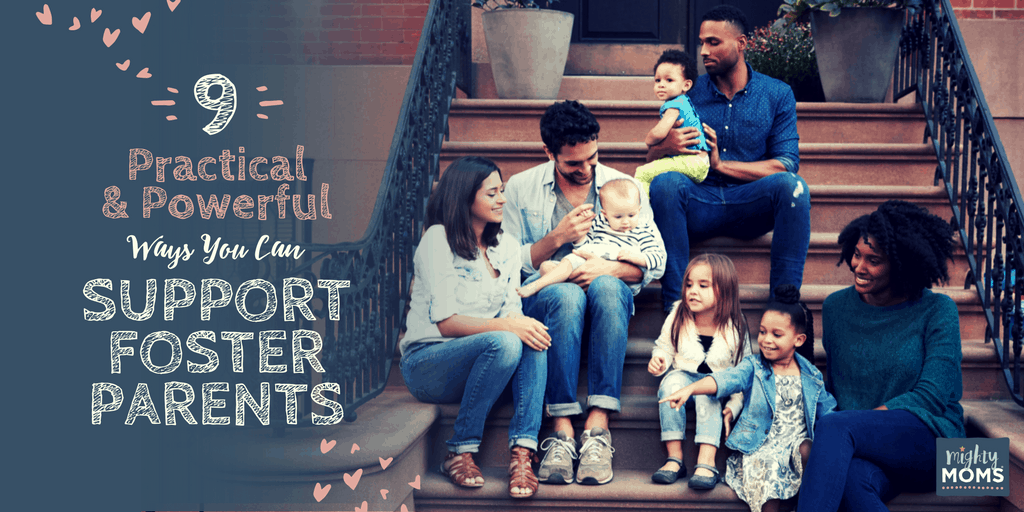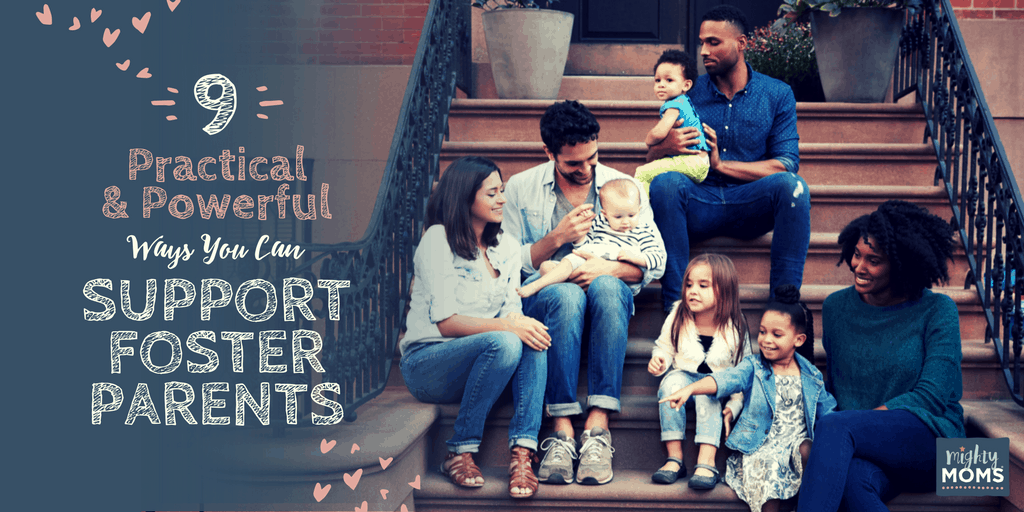 Motherhood takes heroic strength. That's what makes us Mighty Moms!
As hero moms, we may be called on to fight a variety of villains. Some of us fight:
Clearly, each of us, in our own right, is a superhero. We all deserve a little recognition. But there's another category of superhero parents that is often lost in the shadows.
I'm talking about foster parents.
Honestly, they take "superhero parent" to a deeper level. They welcome children they've never met into their homes, and tenderly care for those tiny broken spirits. These children come with a battalion of social workers and case managers, a whole host of emotional/physical challenges, and (perhaps worst of all) may have to leave far sooner than the foster parents are prepared for.
Surely, if regular parents need a cup of support, these Foster Parents need buckets. So, how can we work together and spread those buckets around?
Well, why don't we ask them directly?
I talked to Candice, Molly, and Wende—current and former foster moms—about some of the fantastic ways you and I can be the hero's hero when a child is placed, when a child leaves, and all the days in between.
Foster Parent Support Tip #1:
Invite Them to Kid-Friendly Places
The #1 wish I heard from these superhero foster moms was simply this: Please don't forget about us!
Be aware that inviting foster parents out for time away from their kids may sound like a great way to help them de-stress, but it might do the opposite.
Depending on your home state's laws and local resources, they may not be able to leave their children with 17-year-old Erica down the street while you meet up for dinner and board games. It may take serious planning for the parents to find alternate, state-approved care, which can be a huge source of stress.
If you want to continue hanging out with your bestie after foster kids come into her home, focus your time together on kid-friendly activities. Invite them to:
The zoo/aquarium
Storytime at the library
The park
Vacation Bible School
Shopping trips to the mall
Bowling
The beach/public swimming pool
Not only will this show the foster parents that you support their new family, but it's a great way to show the foster kids that you care for and support them too!
Foster Parent Support Tip #2:
Involve Your Own Kids
If you have a child the same age as your friend's foster kid, arrange for a playdate! Help the children become friends, and don't paint the foster child as a supervillain.
Many times, foster parents find that their friends don't want to introduce their kids to those who are in the system due to concerns about behavioral issues. They're worried that their own kids will pick up undesirable habits.
If this is your concern, please remember this: Children aren't in foster care through any fault of their own.
Children are in foster care because the adults in their lives are struggling, have failed their children in some way, or simply need temporary help. This does not reflect on the child—it reflects merely their situation.
Do kids in foster care sometimes have behavioral issues? Of course. And so do many kids who aren't in foster care. (Alert the Daily Planet on that one!)
Kids in foster care have frequently experienced trauma, and the last thing they need is to feel blamed and stigmatized for something they had no control over.
But what if behavior issues are a known concern for a particular child?
Wende—who adopted her oldest daughter from foster care—suggests that when you invite a child with known behavioral problems to a party, invite the parent too!
I can guarantee that the foster parents are trying everything they can to parent through the behaviors. -Wende
I encourage you to show love, grace, and a welcoming spirit to kids who maybe aren't used to experiencing such virtues.
And, who knows? Maybe your son or daughter can reach a foster child in a way that no adult can.
Foster Parent Support Tip #3:
Celebrate a New Placement
Some foster parents may prefer to keep the placement of a new child under wraps their capes for a couple of different reasons:
They may be concerned that a child they hope to adopt might be taken from their home.
They may sense that the child needs a quiet, low-key transition to their new home following a traumatic event.
If that's the case, acknowledge the new arrival in a quiet, respectful way.
Send flowers
Send a card of congratulations/welcome. (Check out this Congratulations! card for foster parents!)
Send a meal via HelloFresh. (Save $40 off the first two boxes with code 

HF40NOW. Expires 8/30/18)
However, if the parents are overjoyed and ready to celebrate a new member of their family, throw a party! If the new placement is a baby, offer to throw a baby shower. Babies require a lot of stuff (don't we know?), and cute clothes and boxes of diapers are always a welcome sight!
Families growing and love expanding are joyous things. Even if the circumstances surrounding the child stem from tragedy, discovering heroic love in a new place is something worth acknowledging and honoring. Where possible, treat the new family member with the same joy and excitement that you would treat the birth of a new biological son or daughter.
Foster Parent Support Tip #4:
Grieve With Them on Tough Days
If foster parents are superheroes, then goodbyes are their kryptonite.
Saying goodbye to a child you've had the privilege of parenting is tough! It's even worse when it's been a long-term placement or one where you were hoping for the chance to add a permanent family member.
The goal of foster care is first and foremost reunification of families–as well it should be.
In a perfect world, all children would get to be loved and raised by the parents who first welcomed them into life. Reunification can be a beautiful and sacred event!
But that doesn't mean it isn't hard for the foster parents who are left behind.
When a child moves on to a new placement or gets to go home to his first family, foster parents need someone to acknowledge and validate their grief.
You can support these local heroes on the hard days by:
Letting them know you're thinking about/praying for them.
Sitting with them and letting them cry.
Become their Latte Fairy! Remember their crazy quad-shot, sugar-free, soy latte order and drop one off from time to time.
Providing meals. (Again, sending meals via HelloFresh is a great option if you aren't local!)
Also, showing concern for any other children still in the home is especially meaningful. Young children may have a hard time understanding why they have to say goodbye to their friends and siblings.
It's an adjustment for our entire family. Teaching kids to cope with losing a sibling is tough. -Candice
Foster parents sometimes hear things like, "I'm sure it's a relief that he's gone. I know it was hard having him around." [insert *cringe*]
On the contrary, while foster parenting is hard, saying goodbye is harder, and having friends acknowledge that and care can mean the world to a foster parent.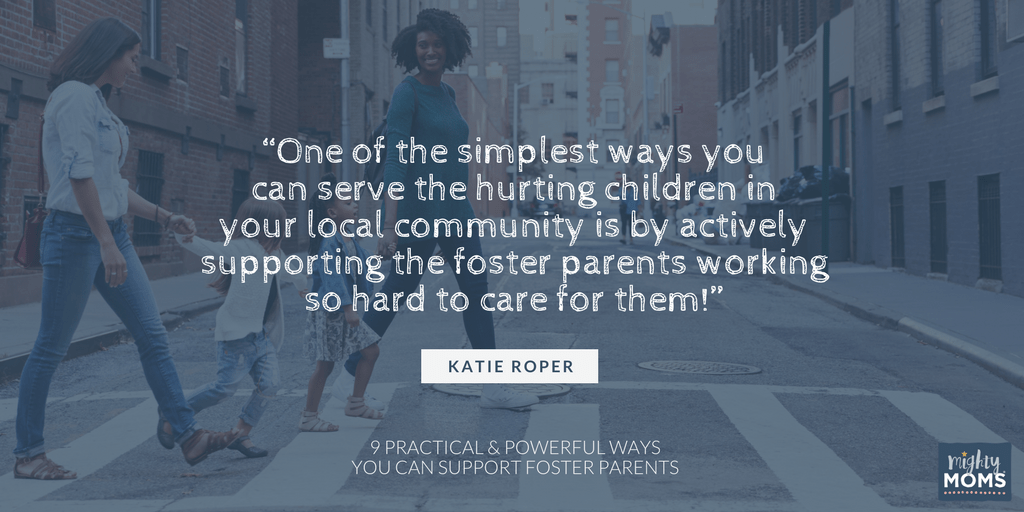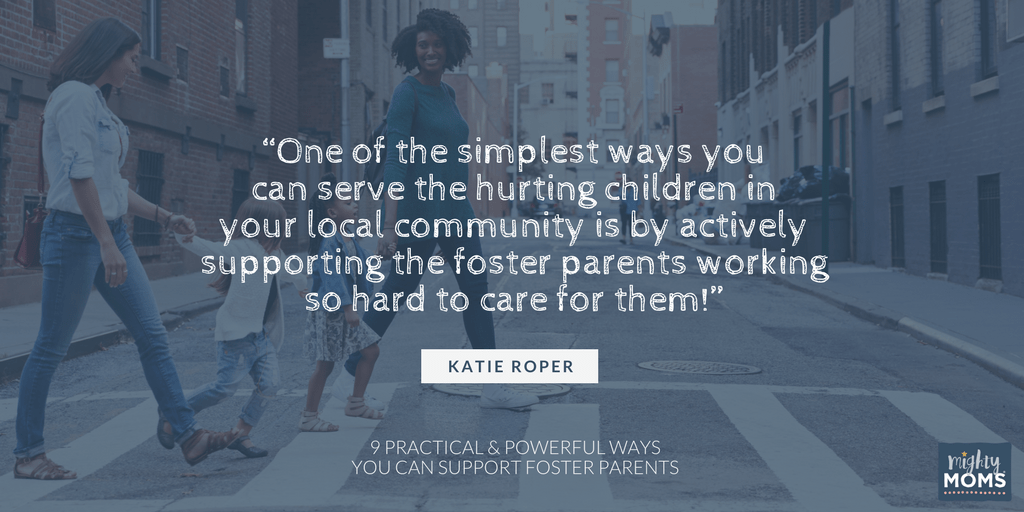 Foster Parent Support Tip #5:
Provide Them With Children's Basic Needs
Foster families are provided with stipends to help defray costs for things their children will need, and depending on the child's age, they may also receive WIC assistance. However, the physical needs of the children often far exceed what these services cover.
Foster children often arrive in their new homes with nothing except the clothes on their backs.
That's where you can really step in and be the hero's hero. You can support a foster family by helping them acquire:
Infant formula
Diapers/wipes
Clothing
Shoes
You could even consider gifting them a year of Amazon Prime, so they have easy access to online ordering for some of their most basic daily needs.
Another great gift for foster families and their children are books to help them understand their situation, especially when the kids involved are very young and struggling to comprehend what has happened and who these new adults in their lives are. Check out these titles:
Love You From Right Here—This book includes a journaling section so the parents and child can record memories of their time together.
Maybe Days—This is a great kid-friendly explanation of what foster care is and who the key players are in the life of a foster child (i.e. judges, lawyers, social workers, etc.).
Kids Need to Be Safe—This book reassures children that the goal is to keep them safe and that it is not their fault that they've had to find a new place to live.
Families Change—Written by the same author as Kids Need to Be Safe, this one tackles the difficult topic of the termination of parental rights.
Any physical need you can meet for your local superhero is a surefire way to help her feel seen, remembered, and appreciated!
Foster Parent Support Tip #6:
Treat The Children as Gifts, Not Victims
Foster parents want their children to be seen for who they are and their potential–not for their past! It's natural to be curious, but try to avoid asking questions about any trauma the kids may have experienced or about the situation with their biological parents.
The foster parents may not know much about their children's history, and even if they do, they may not be at liberty to discuss it. Or they may not want to, out of respect for the children involved.
I don't think it's fair for my foster daughter to one day be seen for her difficult start in life. I want her to be able to give her own first impression. -Molly
No matter their beginnings, children are full of promise and deserve to be regarded with hope and optimism for their future.
Foster Parent Support Tip #7:
Become a Respite Provider
Depending on where you live, there may be strict regulations on who is allowed to care for and babysit foster children. This can make it extremely difficult for foster parents to have any time away from their kids.
Or what about when there's an event or situation that requires the parents to travel out of state? Sometimes foster children aren't allowed to cross state lines without significant red tape and permission from the biological parents.
A respite care provider is basically a part-time superhero—someone who has been approved by the state to care for foster children on a short-term, periodic basis. While the requirements and the expectations can vary from state to state, becoming a respite care provider will put you in a position to offer to take the kids so the parents can have still have date nights or even spend a week helping an older child relocate to an out-of-state college.
This is a great option if you have an extra bedroom or two in your home but are not in the position to commit to a long-term placement due to work or family obligations.
Foster Parent Support Tip #8:
Help Them Find a Support Team
If you're reading this, you can already consider yourself part of your foster parenting friend's support network. Way to play Robin to her Batman!
Still, being a foster parent can be a lonely road, especially if you don't know any other foster families.
If you have multiple friends who are foster parents, and they don't already know each other, introduce them!
Better yet…offer to host a support group for them!
If you have access to a quiet space in your home, church, or local club, invite foster parents to utilize it on a regular basis to gather and discuss the types of joys, frustrations, and heartbreaks that only other foster parents will understand.
Simply provide a pot of coffee or pitcher of lemonade, and give them the breathing room they need to connect and share with one another.
Foster Parent Support Tip #9:
Provide a Helping Hand to the Biological Parents
At first, this may sound counterintuitive, like you're rooting for Lex Luthor over Superman. And in some cases, such as abuse situations or other dangerous circumstances, this tip could be highly inappropriate.
But in an ideal fostering situation, both the biological and foster parents can be on the same side, pursuing health, safety, and happiness for the children involved.
Many parents who have temporarily lost custody of their children have the potential to be amazing providers and outstanding role models for their kids; they may just need a helping hand for a while.
Perhaps you can be that helping hand by:
Helping the biological parents find work.
Mentoring them on financial matters.
Providing transportation to required services and meetings, such as NA or AA.
Helping them find a safe place to live.
Reunification happens, and although it's always hard to let go of children you've loved and cared for, knowing that they are going back to parents who are well-equipped to meet every one of their emotional and physical needs will make a world of difference to your foster parent friends.
Let Your Local Superhero
Know You Have Her Back
Obviously, every foster child and foster family has unique individual needs, so the best thing you can be is understanding and vigilant. Invite your local foster mom into your "mom tribe" and offer an extra helping of grace every chance you get.
There are hundreds of thousands of children in foster care.
And with just a little attention and effort, you can help meet the needs of the heroes who are meeting those children's needs.
Share this article today to add an extra dose of awareness, thoughtfulness, and kindness to your community. Help your friends discover ways you can support foster families together.
Have You Read These Yet?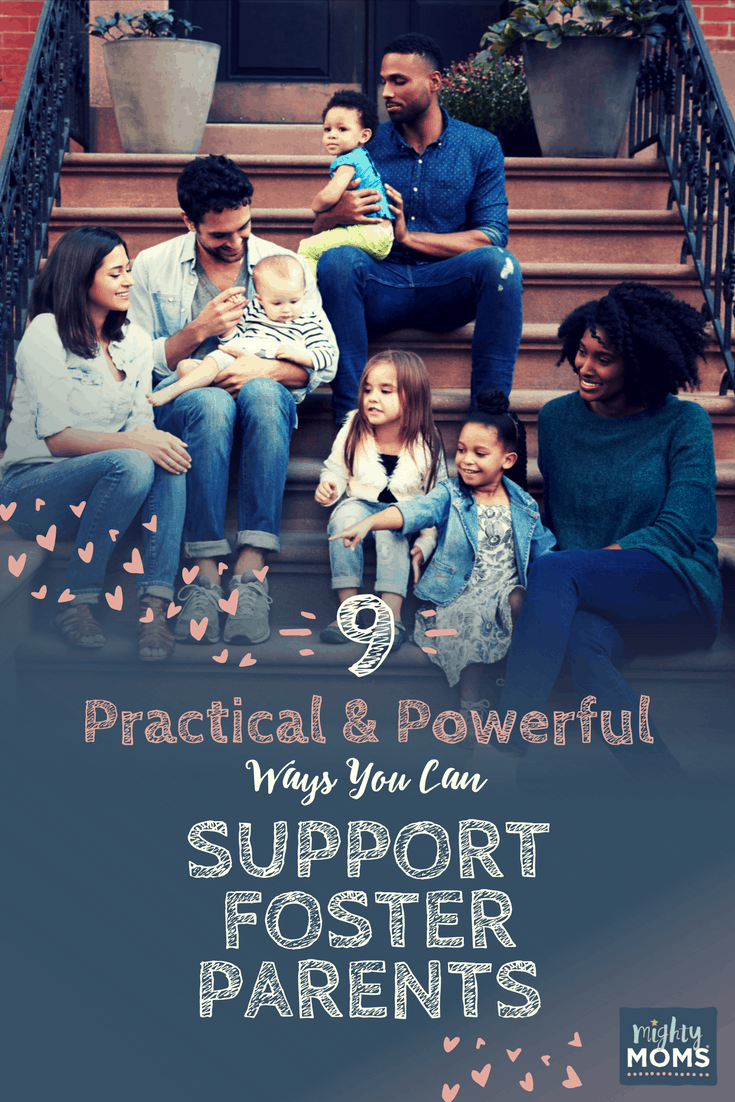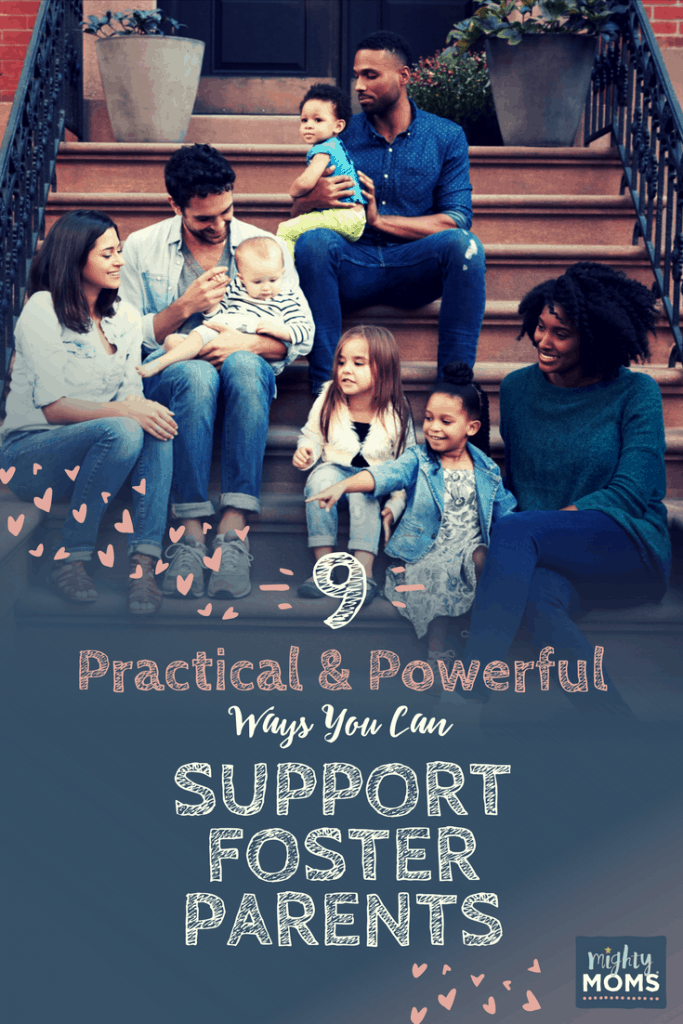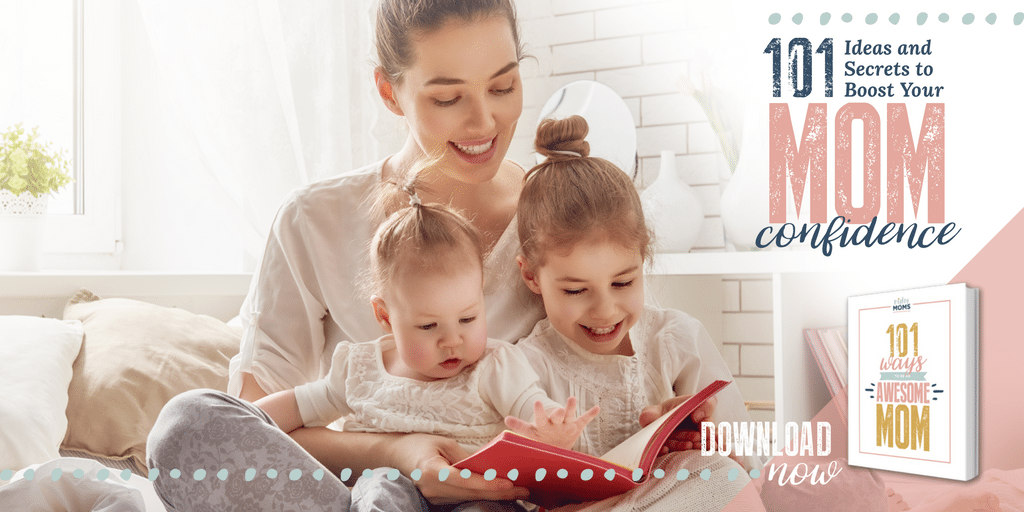 We ♥  honesty!  This post contains affiliate links that provide extra money for our mutual coffee habits addictions. Click here to learn more. As an Amazon Associate I earn from qualifying purchases.