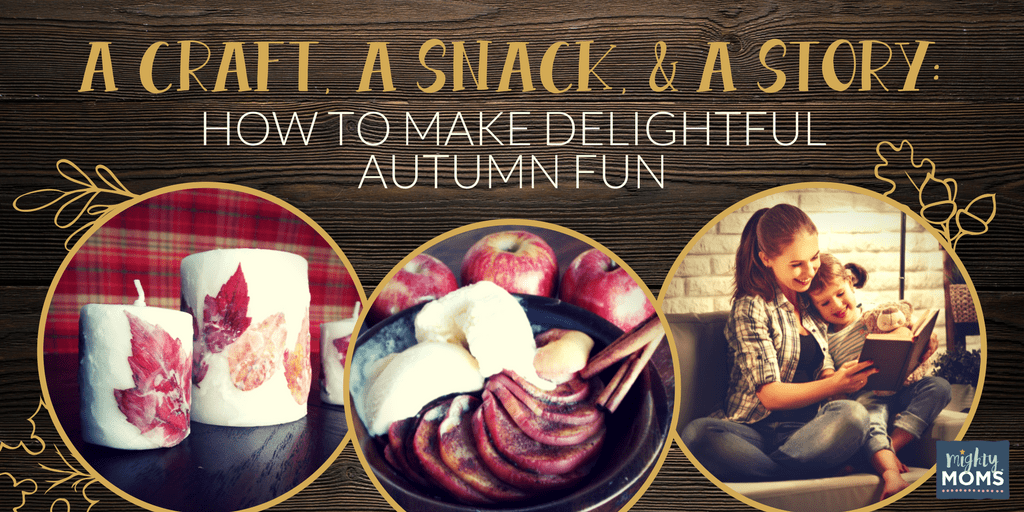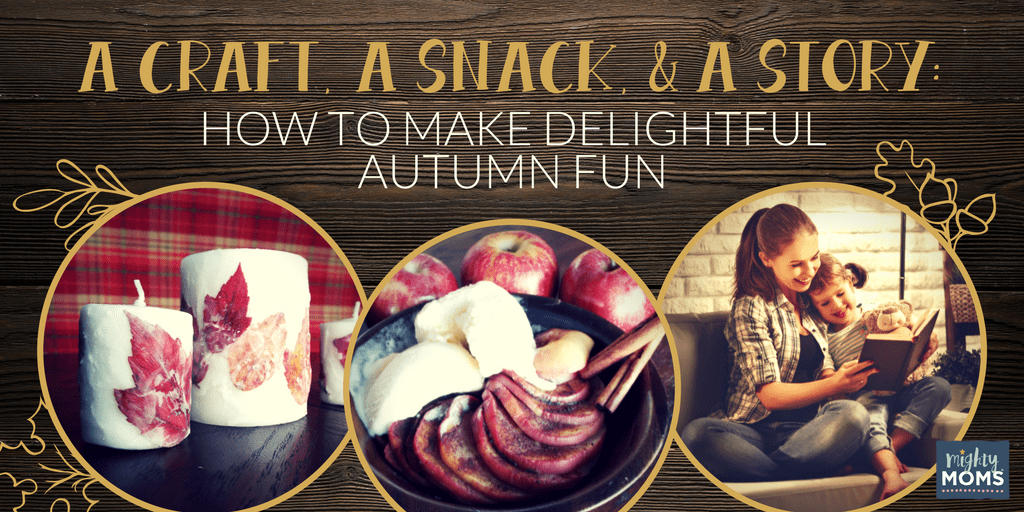 As fall blows in, there's no doubt the days are getting shorter.
So why do the afternoons still feel SO long?!
I know—The clock's hour-hand seems to continuously "fall back,"  and you're desperate for some new autumn activities to do with your little preschool scarecrow.
Well, hang in there, mom! We've got some EASY, fun fall ideas for you that will fill his hands, his mouth, his imagination, AND his afternoon.
Fun and Easy Autumn Activity #1
Make a Craft: Harvest Leaves Candle
With all the shades of fall, it's hard to find something more pleasing to the eye than that palette of vibrant autumn colors—unless it's the look of wonder on your child's face when she gazes at them.
So as temperatures start dropping, why not bring those fall hues into the warmth of your home and light up her heart? You and your little Miss Michaelangelo can "paint" those leaves right onto the sides of a pillar candle using melted wax. And to make it even EASIER, you can melt that wax right in the MICROWAVE. (Can't get any easier than that!)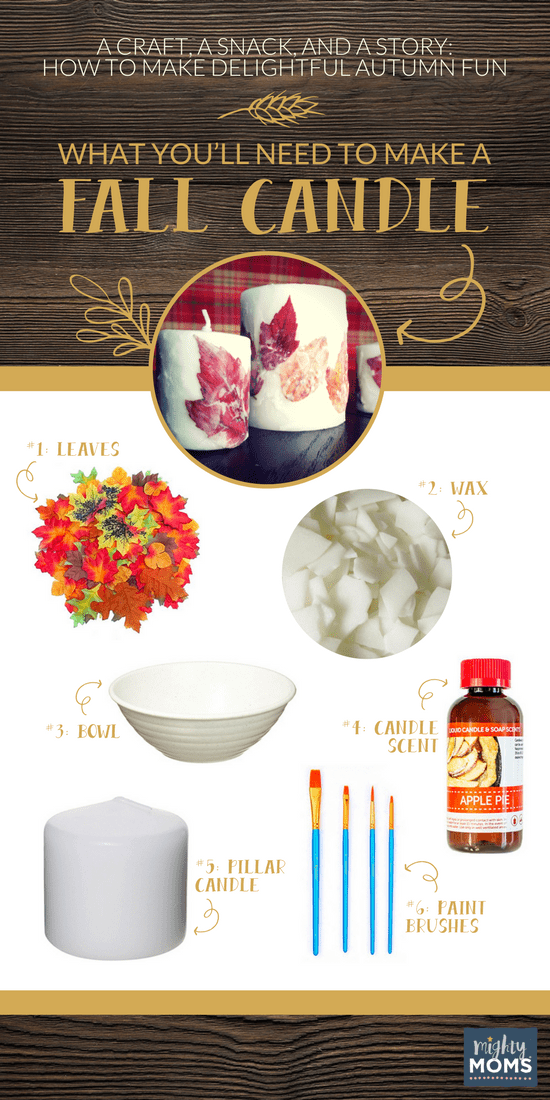 What You'll Need:
Step #1: Go on a Leaf Hunt
Grab a bag and your child's hand and set out on a walk around your neighborhood. Choose a wide assortment of sizes and colors, so you have  plenty of options to decorate your candle. (This is also a great chance to practice naming all those colors that she's enjoying.)
Now, IF you happen to live in some place like Hawaii, you may be staring at your palm trees wondering, "What do I do?!"
Never Fear!
You can order some beautiful artificial leaves with a few clicks.
Helpful hint: You may want to wash and perhaps dry them with a dryer sheet before using.
Step #2: Melt Your Wax Pieces
Once you're back at home, you're ready to start assembling your candle.
Start with melting your wax pieces:
Let your preschooler place about two ounces (1/2 cup) of wax pieces in the microwavable bowl.
Microwave on full power for 3-4 min, and then, checking each time, add an additional 45-60 seconds until melted (CAUTION: Be sure to remove the bowl with a hot pad like one of these cool silicone ones. Chances are, it WILL be hot!)
No microwave? No worries! But, before using your stove, check out this video about how to melt wax safely on an electric burner.
Step #3: Add Autumn Liquid Candle Scents
This step is optional, but most pillar candles are scentless and so are the wax pieces. So, why not add your own favorite autumn aroma like this sweet apple pie fragrance?
Your nose will thank you!
Pro Tip: Follow the directions on your bottle, but the rule of thumb is often 3/8 teaspoon fragrance to 2 oz. candle wax. (Need a new set of measuring spoons? This stainless steel set has all your usual measurements, plus some extra helpful ones!)
Step #4: "Paint" Fall Leaves on Your Pillar Candle
Now here's the fun part! Follow these final four steps, and you'll have a beautiful candle to show for it:
Protect your table with a durable tablecloth.
Using a craft paintbrush and your melted wax to act as glue, help your little harvester position autumn leaves one at a time on the sides of the pillar candle.
Have her smear a good layer of wax on the candle where she wants the leaf and place the leaf on top. Some spots didn't stick? Just use the brush to stick more wax under it.
Let her paint the melted wax on top of the entire leaf. A nice THICK layer will give it that rustic, textured look. A THIN layer will let the bright autumn color shine through.
Of course, little hands sometimes take a while to do their work. If the melted wax starts to solidify, no sweat. Just throw the bowl back in the microwave for a minute or two. (Or try this great candle warmer plate. It will keep the wax warm until she's through.)
Did she drip a drop where she doesn't want? No biggie! Just use a butter knife to peel them away.
Did the paintbrush get all choked up with wax? Use that same butter knife to scrape off the extra. Then wash the brush in hot water. Voila! It's ready to use again.
Yep, mom, clean up is a BREEZE because the wax just melts away! When her masterpiece is done, if you have a lot of melted wax left over, just pour it into a glass container, ready to melt again another time.
There you have it: Your own warm harvest of colorful memories that you can both enjoy throughout the season–long after all the other leaves on the trees are gone.
Wise Mommy Thought: This project will also give you a great opportunity to talk to your little Smoky Bear about fire safety. ("We made it together, but only Mommy or Daddy should light it.")
Fun and Easy Autumn Activity #2
Bake a Snack: Easy Baked Apple
All that crafting has your little Pumpkin starving—especially since his nose has been tickled with his candle's apple pie scent.
NO problem!
For your next autumn activity, the two of you can whip up this easy-as-pie recipe that's even easier—It only takes 5 MINUTES!
Seriously. No trick—It's ALL treat!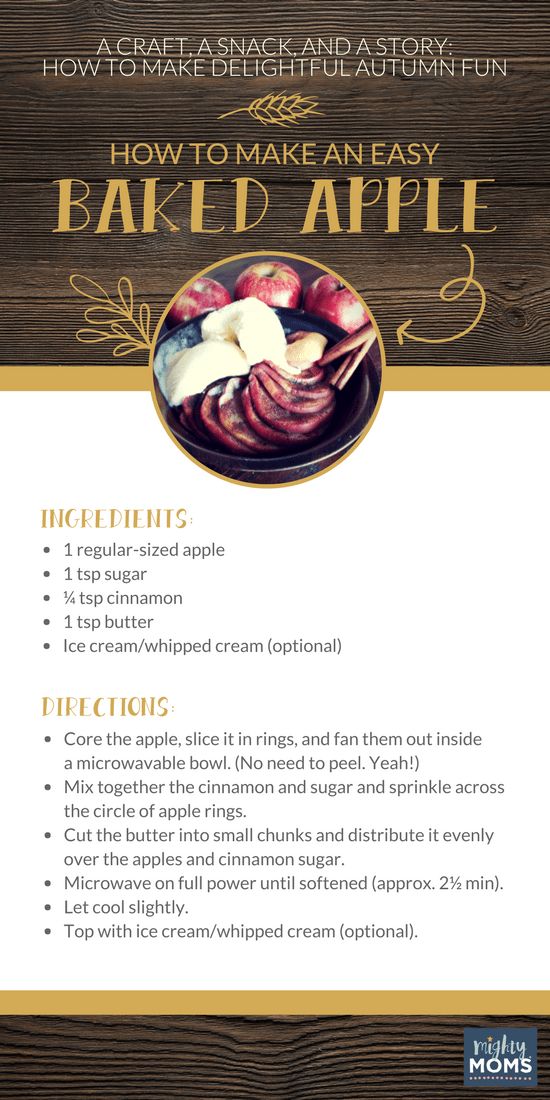 Yep, with a snack this easy and delicious, you might even have Mr. Appleseed begging at your door!
And here's some more good news: As the afternoon sun starts to droop, you and your little Johnny still have time for one more autumn activity. How about some quiet reading and cuddle time?
Fun and Easy Autumn Activity #3
Break for a Story: Fall Picture Book
The air outside is crisp and the wind is blustery, but the two of you are cozy inside with a beautiful scented candle and a bowl full of yummy "baked" apples to share.
Time to grab two spoons, light that flame, and snuggle on the couch with your snack, a fuzzy blanket, and some giggles.
What could go better with all that than a wonderful fall book like Marty Kelley's Fall is Not Easy. This fun, wacky picture book shows fall leaves like you've never seen them before—I guarantee it! As the story sparks your little bud's imagination, it will also introduce the different seasons and the changes a tree goes through in each. (Apparently, fall is the hardest. *wink*)
Another Afternoon…
Successfully Filled Up!
Yes, fall afternoons can feel long—no matter what Mr. Autumn Sun says. But with EASY, fun, yummy autumn activities like these, those minutes will just fly by till your little one is ready to hibernate…and you'll have raked in a LEAF PILE of blessings.
So, which one of these autumn activities will you jump into today?
Have You Read These Yet?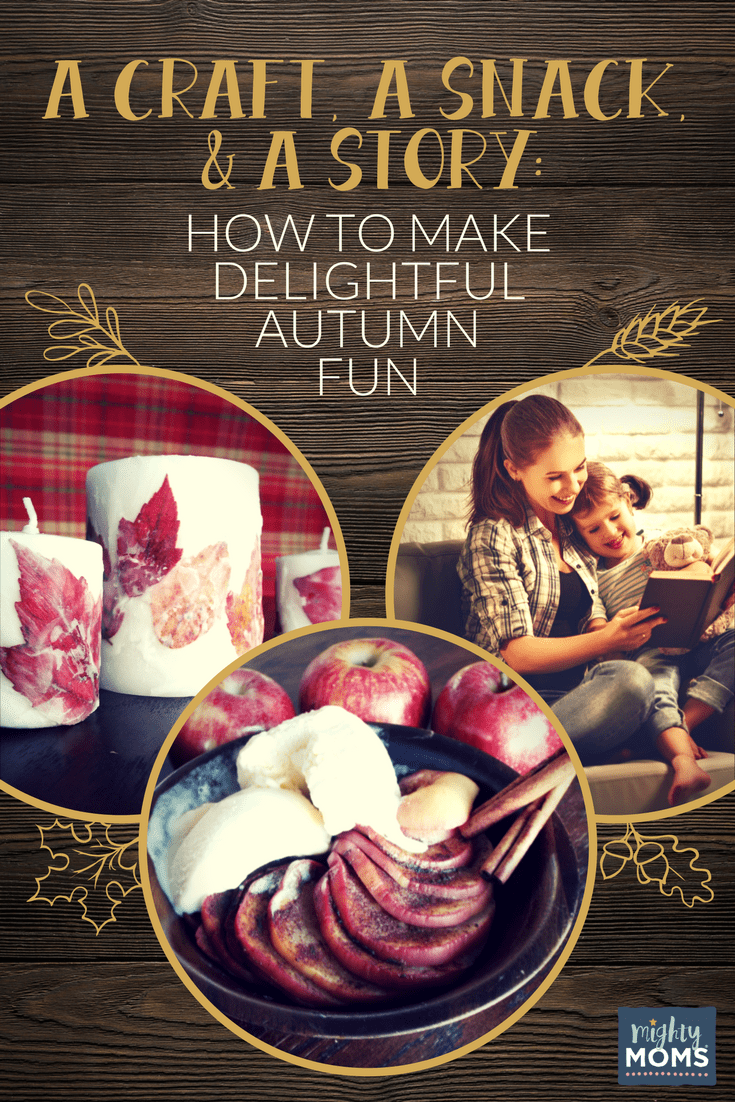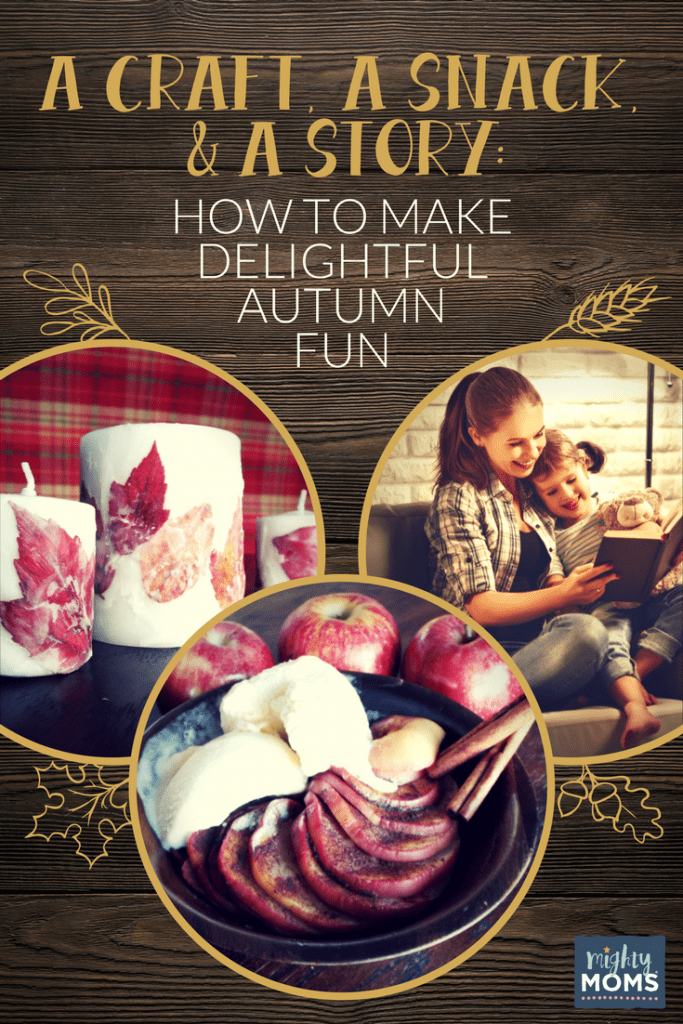 We ♥  honesty!  This post contains affiliate links that provide extra money for our mutual coffee habits addictions. Click here to learn more. As an Amazon Associate I earn from qualifying purchases.