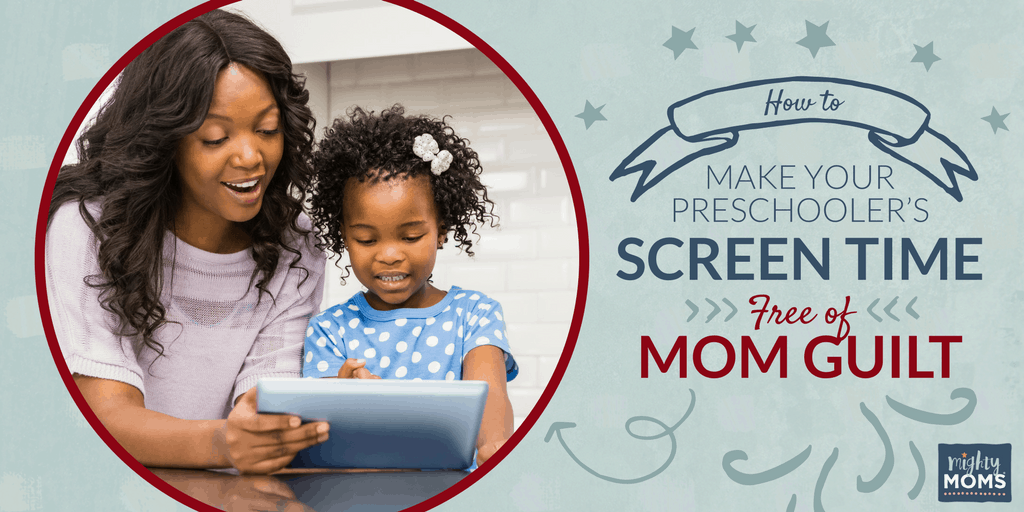 Does parenthood ever feel like a bad superhero movie to you?
You're constantly defending your little ones against evil forces and sneaky villains, and just when you finally think you've gotten the hang of it… POW! an unexpected enemy gets you right in the gut.
No? Just me? I find that even the most confident Super Mom can be taken down by an enemy of her own creation: Mom Guilt.
It can appear at even the slightest misstep, but there is one area Mom Guilt never fails to emerge. Can you guess what it is?
Yeppers. Screen Time.
Well, mama, we're here to banish the Mom Guilt once and for all. Screen Time doesn't have to be your enemy.
Setting healthy boundaries and choosing high-quality material  will help you get screen time on your side, and you'll get to feel once again like the Super Mom you really are.
So let's get you started!
Guilt-Free Screen Time for Kids
Step 1: Define Your Expectations
Before you can make Screen Time your ally, you need to decide what your goals are.
Think of it like a job description for your superhero sidekick: How should it help you and your family?
Or in other words, what do you want out of your preschooler's screen time?
Here are some possible answers to kickstart your brainstorming:
A chance to get dinner on the table.
A few minutes to drink your coffee in peace. (No judgment here!)
To help prepare your little one for kindergarten.
To occupy your preschooler on a long drive to Grandma's.
Once you figure out your goals for screen time for your kids, you can start to think about how you will achieve those goals. This will also help you in the process of deciding the when and what of screen time.
For example, if one of your goals is to make dinner during your preschooler's screen time, you already know when it should happen (i.e. during your dinner prep).
Guilt-Free Screen Time for Kids
Step 2: Do Your Homework
A good superhero knows when to ask for help.
Trying to sort through and analyze all the research on screen time for kids? Yup, that's when I'm throwing my hand up and asking for help!
Thankfully, the American Academy of Pediatrics (AAP) releases helpful age-specific screen time recommendations for children. You can find the full articles in the November 2016 edition of the AAP's Pediatrics Journal, but here are some relevant points for our discussion:
Children ages 2 to 5 years old should have screen time limited to 1 hour per day of high-quality programs. Ideally, parents should watch with their children to help understand and apply what they're seeing.
Children ages 6 and older should have consistent limits placed on their media use – concerning both the time spent and the types of media. Be careful to keep media use from interfering with adequate sleep, physical activity, and other healthy behaviors.
Parents should also make sure to create healthy boundaries, such as screen-free dinner tables and bedrooms.
Oh, and don't forget to consider how your child behaves during and after screen time. Kids are all unique and respond differently to various stimuli. If your child seems sensitive to screen use and often has a noticeable mood change afterwards, consider tweaking your family's plan.
Guilt-Free Screen Time for Kids
Step 3: Choose Quality
One way to rescue your preschooler's screen time from the grips of overbearing Mom Guilt is to use screen time to your child's advantage.
Empower your tiny superhero by helping him choose interactive, educational, and age-appropriate TV shows and apps.
Remember, educational can mean more than just reading, math, and science! An educational program could be one that helps your child develop emotional intelligence, one that encourages creativity, or one that requires problem-solving.
Psst! If you have an Amazon Prime subscription, you already have access to hundreds of PBS Kids shows for free! Check out their award-winning educational programs like Tumble Leaf or Creative Galaxy!
When it comes to apps, however, the seemingly endless number to choose from can be overwhelming! Here are a few of our favorite tips and resources to get you started:
Narrow your search by looking for a specific topic at a time. The goals you set in Step 1 may come in handy here – for example, if you're looking for something to help your preschooler learn to read, you'll have a smaller pool of apps to look through.
Utilize Common Sense Media for helpful ratings and reviews of apps, movies, and TV shows.
For an all-in-one experience, an excellent resource is ABCMouse.com, which has hundreds of educational games and activities for children ages 2-7. It's customizable, so you can focus on particular subjects, and it will track your child's progress through the curriculum. It's accessible on your computer, tablet, or smartphone, so it's great for travel!
If you're reluctant to fill your phone with children's apps, consider having a dedicated tablet for your child. We love the Kindle Fire Kids Edition because of the protective case and parental controls. Grab these adorable headphones and you're set!
Stir up interest in a future career with CodeSpark, which teaches young kids the fundamentals of coding while playing a series of fun games and activities. Heather's youngest Bella loves this app! Click here to try it for free.
Guilt-Free Screen Time for Kids
Step 4: Make A Plan
You've made a goal, you've chosen high-quality shows and apps for your child, you've brushed up on the current AAP recommendations… now it's time to make a plan.
In my own experience, having a loosely defined plan "in my head" is functionally like not having a plan at all. A plan that is well-defined, written down, and agreed upon by the whole family is much easier to remember and enforce.
Luckily for us, the American Academy of Pediatrics comes to the rescue again! They've put together a super handy tool to guide you through making a detailed and specific media plan for your super family.
Here are a few things it will help you do:
Designate screen-free zones
Brainstorm non-screen activities
Establish rules for media use
Implement safety precautions
Plus, there's also a calculator to help you figure out exactly how much screen time is appropriate.
It's also helpful to make a schedule, designating when screen time happens each day. That way, your preschooler will know what to expect and they won't need to ask you a hundred times each day… though they probably still will.
Guilt-Free Screen Time for Kids
Step 5: Keep a Healthy Balance
The best way to manage screen time like Super Mom is to make sure you and your family are using your non-screen hours in a healthy way.
Consider this from the AAP:
"For school-aged children and adolescents, the idea is to balance media use with other healthy behaviors… Problems begin when media use displaces physical activity, hands-on exploration and face-to-face social interaction in the real world, which is critical to learning. Too much screen time can also harm the amount and quality of sleep."
Screen time should part of a healthy balance of activities for your family.
Make sure you're incorporating plenty of outside play and physical activity.
Prioritize toys that are educational and engaging.
Encourage your children to let their boredom inspire creativity and imagination.
Screen time should be just one of the many things your child enjoys. Why not encourage him to go on a backyard adventure when he's done?
Say Sayonara to Mom Guilt!
Screen time for kids can be a sensitive subject. The opinions on the subject vary across a wide range, and you probably have friends with opinions different than yours.
So pay attention to the recommendations, but also do what feels right for your family.
Common Sense Media encourages parents with this:
"If [your children are] using high-quality, age-appropriate media; their behavior is positive; and their screen-time activities are balanced with plenty of healthy screen-free ones, there's no need to worry."
So put on that cape, because you're about to kick Mom Guilt out of the Screen Time scene!
A well-informed and balanced plan regarding your preschooler's screen time will allow both you and your child to enjoy screen time guilt-free!
And if that doesn't make you feel like Super Mom, I don't know what will!
Have You Read These Yet?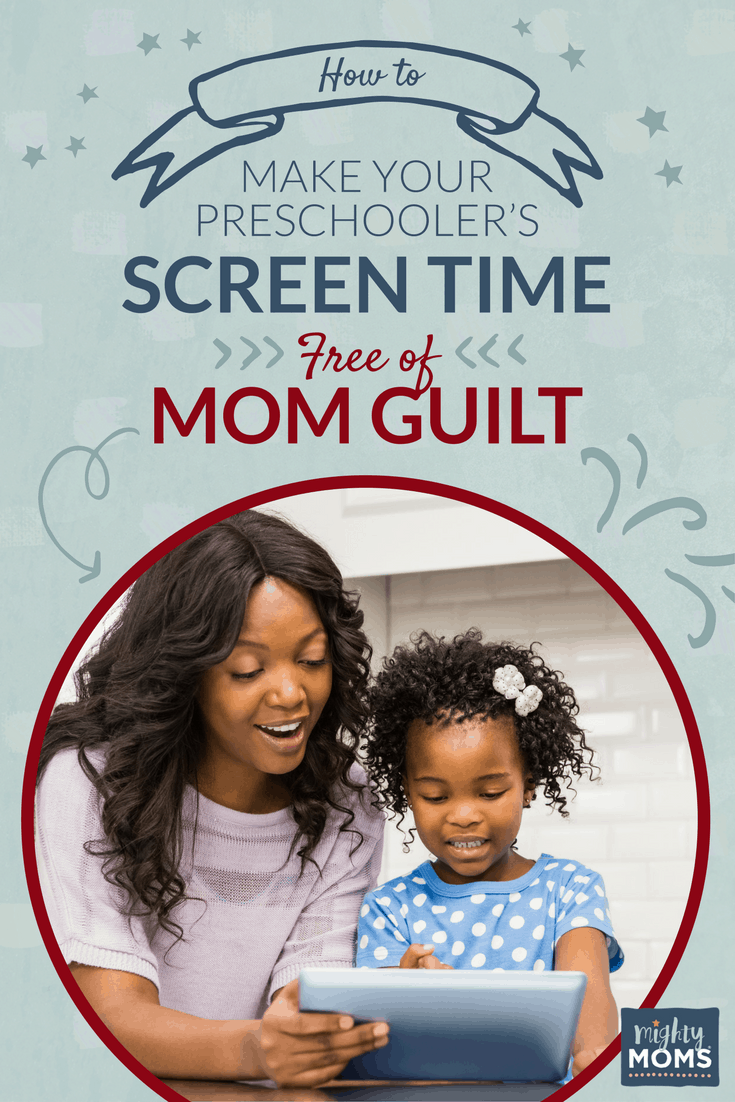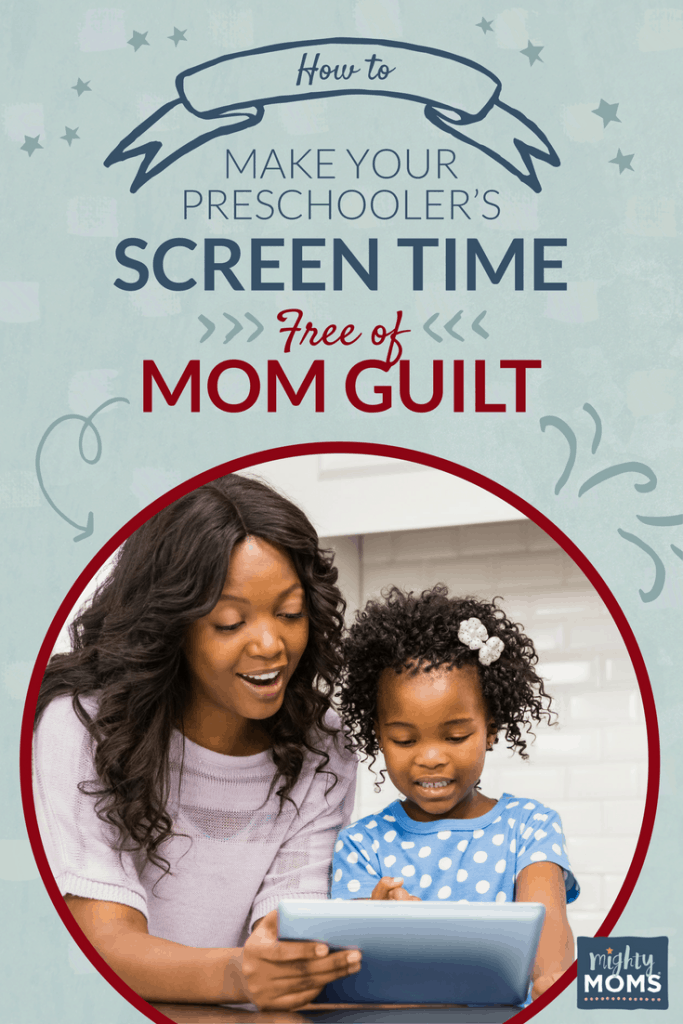 We ♥  honesty!  This post contains affiliate links that provide extra money for our mutual coffee habits addictions. Click here to learn more. As an Amazon Associate I earn from qualifying purchases.