3 Ways To Soothe Swollen Feet During Pregnancy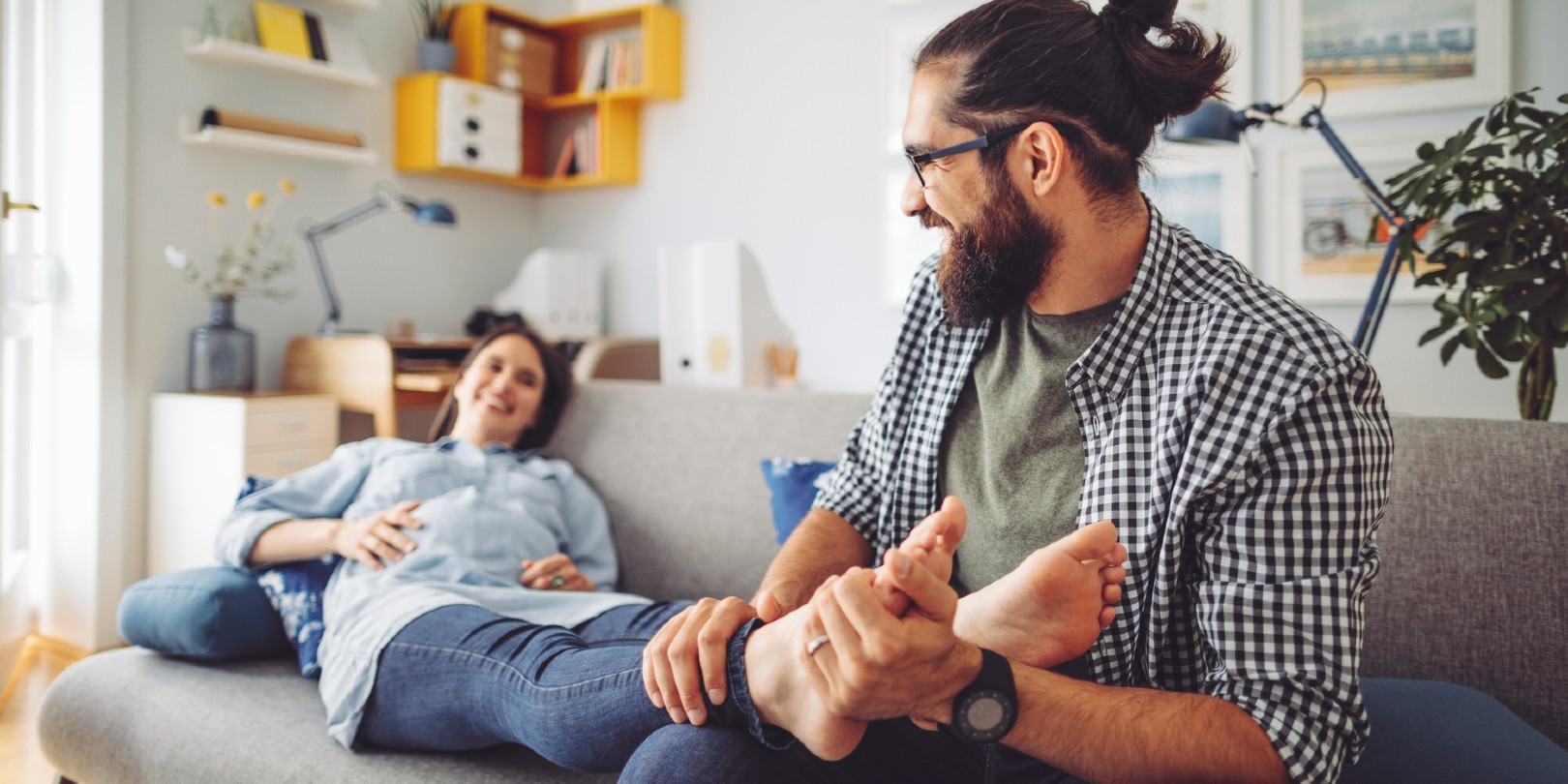 Swollen feet are a common discomfort experienced by many pregnant women. Your body undergoes many changes during pregnancy, including increased blood volume and hormonal shifts that can lead to fluid retention and swelling. In particular, swelling during pregnancy tends to occur in the feet and ankles. Fortunately, there are several effective ways to soothe swollen feet and find relief. 
In this blog post, we'll explore three practical and natural methods to alleviate swelling and discomfort during pregnancy. By incorporating these helpful techniques into your daily routine, you can keep your feet comfortable and minimize inflammation and soreness during this special time.
Elevate and Rest Your Feet 
Elevating your feet is one of the simplest and most effective ways to reduce swelling. Whenever possible, take breaks throughout the day to prop up your feet and rest them on a cushion or elevated surface. Elevating your feet above heart level helps facilitate better blood circulation and reduces fluid buildup. Aim to rest your feet like this for at least 15-20 minutes, a few times a day. Additionally, when you sleep, try placing a pillow under your feet or using a pregnancy pillow that supports your legs to keep them elevated during the night.
Stay Active and Exercise
Engaging in regular physical activity during pregnancy can help improve circulation and reduce swelling in your feet. Low-impact exercises such as walking, swimming, and prenatal yoga can promote blood flow and help prevent fluid retention. These activities also support overall health and well-being during pregnancy. Consult with your healthcare provider to determine an appropriate exercise routine based on your individual circumstances. Remember to wear comfortable, supportive footwear that accommodates your expanding feet and provides cushioning. Avoid prolonged periods of sitting or standing, as they can contribute to swelling. Instead, incorporate short walks or leg stretches into your daily routine to keep your blood circulating and minimize fluid buildup.
Proper hydration also plays a crucial role in reducing swelling during pregnancy. Drink plenty of water throughout the day to help flush out excess fluids from your body. Adequate hydration can help maintain a healthy fluid balance and prevent water retention. Additionally, be mindful of your sodium intake. High sodium levels in your diet can contribute to water retention and swelling. Opt for fresh, whole foods, and limit your consumption of processed and salty foods. Incorporate fruits and vegetables rich in potassium, such as bananas and leafy greens, as they can help regulate fluid levels and reduce swelling.
Practice Self-Care and Soothing Techniques 
Taking care of your feet with self-care techniques can provide relief and reduce swelling. Start by soaking your feet in a basin of warm water with Epsom salt, which can help relax muscles and reduce inflammation. Massage your feet and ankles using gentle circular motions or with a cooling gel to promote blood circulation. You can also consider wearing pregnancy compression socks or stockings, which help support your veins and prevent fluid accumulation. Choose ones specifically designed for pregnancy that offer graduated compression. Additionally, avoid tight-fitting shoes and opt for comfortable footwear with adequate arch support. Pamper yourself with regular foot massages or treat yourself to a prenatal pedicure to indulge in relaxation and luxury foot care.
Conclusion
Swollen feet during pregnancy are a common and often uncomfortable symptom. However, by implementing these three effective methods – elevating and resting your feet, staying active and exercising, and practicing self-care techniques – you can find relief and minimize swelling. Remember to consult with your healthcare provider if you experience excessive swelling, pain, or other concerning symptoms. With a combination of self-care, rest, and gentle exercises, you can keep your feet happy and comfortable throughout your pregnancy journey.