When Should Babies Start Wearing Shoes?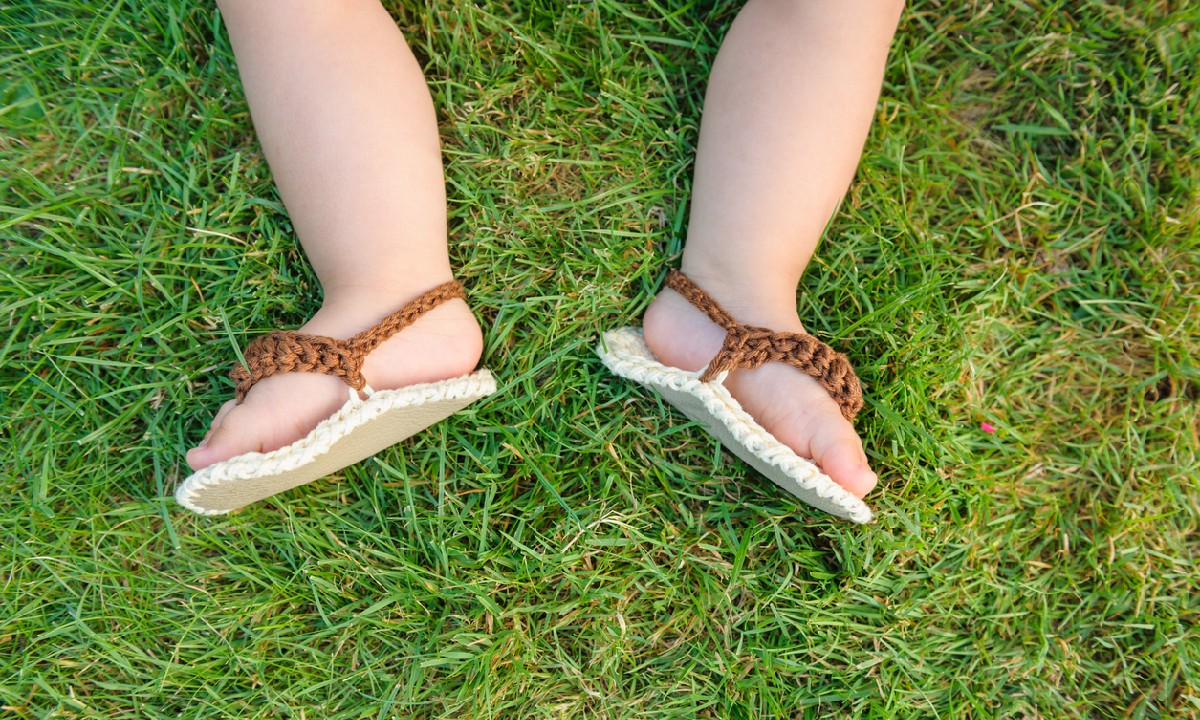 Tiny booties, mini baby sandals, and small ankle boots — baby shoes are super cute. It's almost impossible not to buy them all! But just because they're adorable doesn't mean they should go on your little one's feet. In fact, it's recommended to not use any shoes on your baby's feet at all before a particular age.
So, when exactly should your child start wearing shoes? Is it okay for babies to wear shoes when learning to walk? Are there some particular shoe styles that should be avoided at early stages? It's natural to have all these questions in mind, especially for new parents. Today, we'll be breaking down everything that the little feet need.
AT WHAT AGE SHOULD BABIES START WEARING SHOES?
Though the urge to dress your baby in adorable footwear is irresistible, it is best not to do so in their first few months. Though occasionally putting on a pair of matching booties with an outfit shouldn't be much of a concern, it is still better to let them roam around barefoot when possible. A pair of socks should offer most of the protection that the little feet need.
The soft bones in a baby's feet don't stop hardening till they're five to six years old. Putting rigid shoes before this can restrict the bones from developing properly. You can, however, opt for pre-walker shoes or crawlers that are designed specifically to get your baby familiar with the feeling of wearing something on their feet.
You may, once again, find yourself drawn to getting a cute pair of baby sandals as soon as your baby starts to stand, balance, and take its first steps. It's important to keep in mind that being shoeless will help your child to develop strength, balance, and coordination as they start to learn to walk.
Once your baby starts toddling successfully, you can go ahead and introduce a flexible pair of walking shoes to their wardrobe. Look for shoes that have a soft upper and comfortable soles that won't restrict natural movement. Try to pick shoes with rubber soles instead of leather as they are less slippery.
TIPS FOR BUYING SHOES FOR BABIES
When it comes to choosing the right shoes for babies: comfort is the key. You don't want anything that's uncomfortable or ill-fitted for your baby's sensitive feet. Let's have a look at some things to keep in mind while picking a pair of shoes for your baby.
Check the fit
Make sure that the shoes fit snugly without being too constricting on the feet. There should be some space present in front for your baby to wiggle his toes comfortably. While shoes that are too big for small feet can cause your baby to slip, whereas shoes that are too small can cause blisters, ingrown nails, and calluses.
To make sure this doesn't happen, take accurate measurements of your child's feet. If you're unsure of how to do this correctly, don't hesitate to ask the shoe store's associate since they have the proper equipment for measuring the correct shoe sizes.
Anti-skid
Look for baby shoes that come with anti-skid soles. Children tend to fumble and trip a lot, especially when they first learn to walk. To protect your baby from slipping and injuring themselves, it's recommended to pick infant shoes with soft anti-skid soles only.
Washable
Practically, you can't head out to buy a new pair of shoes every time your baby gets theirs dirty. If you plan to take your baby outdoors for them to practice walking, you should prefer to pick a pair of shoes that are washable. Also, for hygiene purposes, it's recommended that you wash your baby's shoes frequently.
FINAL THOUGHTS
Getting the right footwear for your baby at the right time can help prevent several health issues. Remember, it's always better to let your baby remain barefoot for most of the time during the first few months he's born as this will help the baby's feet develop naturally.