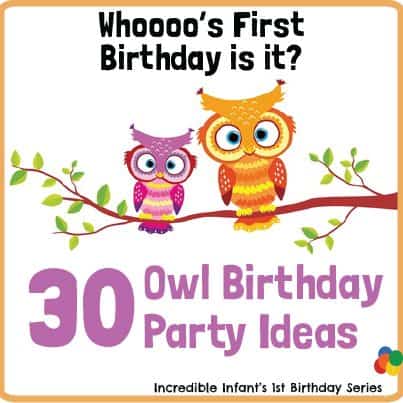 You know how some things are better in our imagination than in real life?
For example: owls.
Real owls have two expressions:
You are stupid.
You are dead.
Their bird call isn't the sweet morning chirp chirp, but a haunting hooo hooo that echoes through the darkness to inform you: you are being watched.
Not to mention the whole eat-and-barf habit.
Yeah, I'd say, all things considered, owls are definitely on my "Top 10 Animals to Cuddle Before I Die" list.
(Note to Sheldon: Sarcasm.)
The problem with owls is that they should be so much cuter than they actually are.
Which is why God gave us graphic designers.  *clapping*
They take those grumpy nocturnals and transform them into cute balls of imaginary down feathers that we slap on blankets and backpacks and wall art and necklaces and even ties. (I know what SOMEONE'S getting for Father's Day!)
Owls are the new black.
Cartoon Owls: The Patron Saints of Baby Showers and Birthdays.
Is it any wonder I chose Owls as this month's first birthday round up?  I mean, really, what choice did I have?
Here are 30 owl birthday party ideas for you to ponder, pontificate over, and propagate in your own home.
Extra bonus?  None of these creations will eat the cake and then barf it all up later!
Your baby on the other hand…
6 Owl Themed Birthday Party Invitation Ideas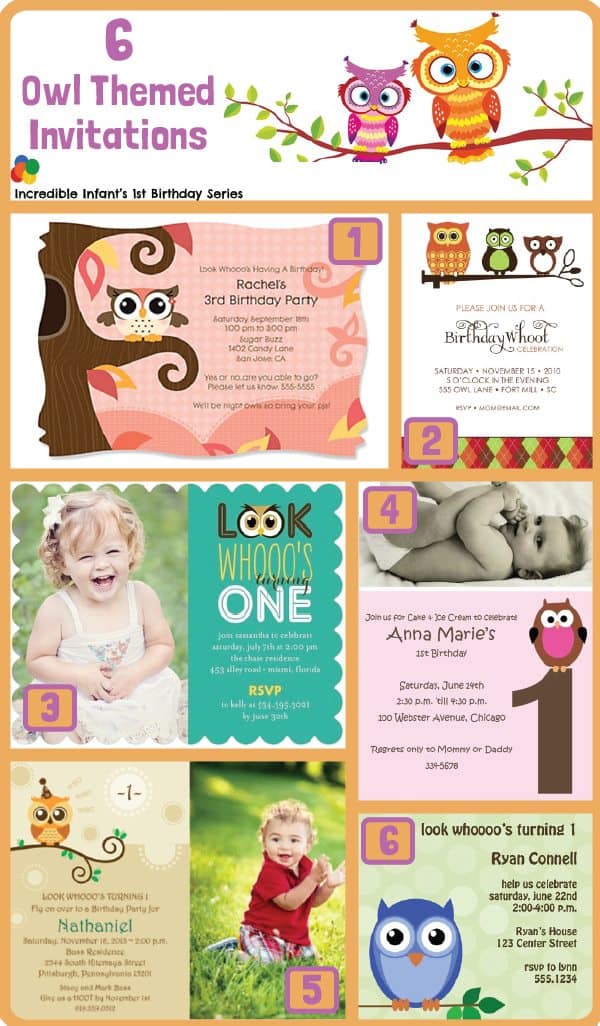 No. 1: Tree and Owl on Pink ~  These invitations take cuteness and add a dab of whimsy to become my favorite invitation on the list. If you like the design you can order matching decorations. Extra bonus, these are on sale right now for 30% off. (Expires ?)  Also in blue.
No. 2: Plaid Owl Printable Invitation ~ A printable design from Anders Ruff.
No. 3: Scalloped Edge Invite ~ Unique scalloped or trimmed owl themed birthday party invitation from Tiny Prints.  (Tiny Prints does everything: From sending you birthday/anniversary reminders, to addressing, stuffing, and mailing.)
No. 4: Pink Owl Perched ~ A pink photo invite from Invitation Box.  Matching envelopes and stickers also available.
No. 5: Brown Owl ~ This cute invitation from Storkie comes in brown (shown), gray, and light blue.

No. 6: Blue Owl with Green Polka Dots ~ This sweet little square invite is from Invitation Box.
10 Owl Birthday Party Ideas for Decorations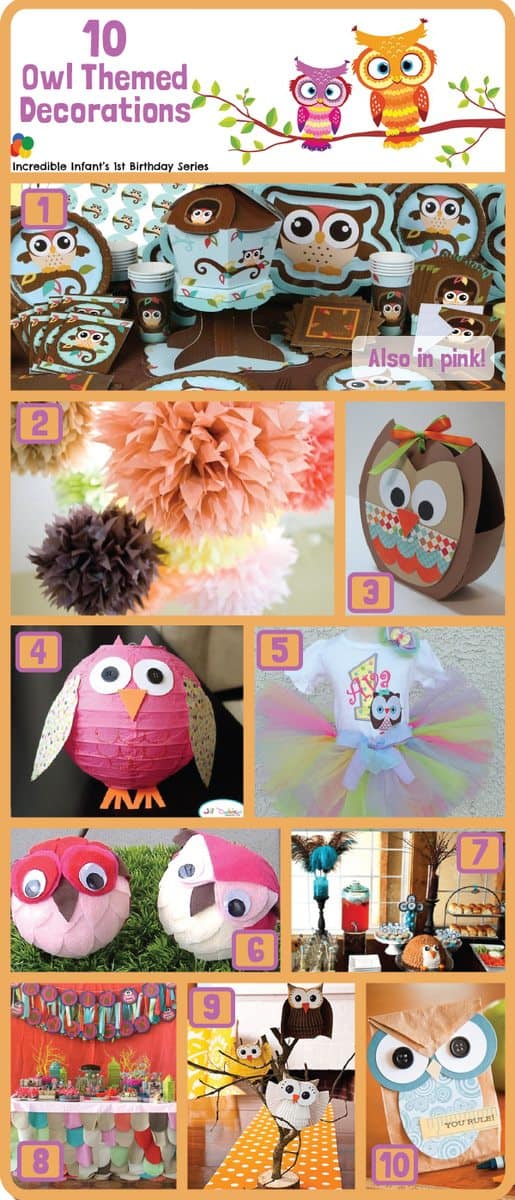 No. 1: Blue Owl Paper Goods ~ Perfect for busy moms, this is a one-and-done set of boy owl birthday decorations.  Just select the number of guests and all the napkins, cups, plates, banners, balloons, streamers, candy bouquets…everything sent in one box.  Easy peasy. Also comes in pink (like the invitations above).
No. 2: Giant Hanging Poufs ~ Add height to your party room by staggering giant colored poufs like Cyd did here.  Get the poufs pre-made and ready-to-hang here. (That is linked to pink, but there are many colors to choose from.)
No. 3: Owl Homemade Bags ~ Advanced crafters who know what a "Silhouette Cameo" is, can make this adorable paper bag from Crafting for Fun.
No. 4: Owl Paper Lantern ~ Another DIY decoration project is this sweet owl paper lantern.  Get the how-to instructions at Meet the Dubiens. 
No. 5: Birthday Tutu & Owl Shirt ~ Having three girls, I had to showcase this birthday owl tutu set from Posh Baby Boutique.  Have a birthday boy?  Check out this adorable lime-green birthday jumper from B. Swanky. 
No. 6: Hanging Felt Owls ~ Hang these sweet little felt owls around the room for a "in the woods" feel to the party room.  Learn how to craft them at Not Just a Mommy.  
No. 7:  Birds of a Feather Tablescape ~ You may have noticed that I really like the feather look in party decorations.  (I also featured that suggestion in my circus birthday ideas.)  This tablescape from Creative Mommas caught my eye for it's delicate balance between playfulness and sophistication. 
No. 8: Owl Fabric Feathers ~ Isn't this table design creative?  Using alternative fabrics to mimic owl feathers. Brilliant! From Kara's Party Ideas.
No. 9: Cupcake Holder Owl Craft ~ Choose matching colors to your overall design and take 10 minutes to take these cute tree centerpieces!
No. 10: Owl Gift Bag ~ This is a design borrowed from A Muse Studio as a back-to-school craft, but I think you could easily transform it into cute owl birthday gift bags. 
Owl Birthday Party Ideas for Snacks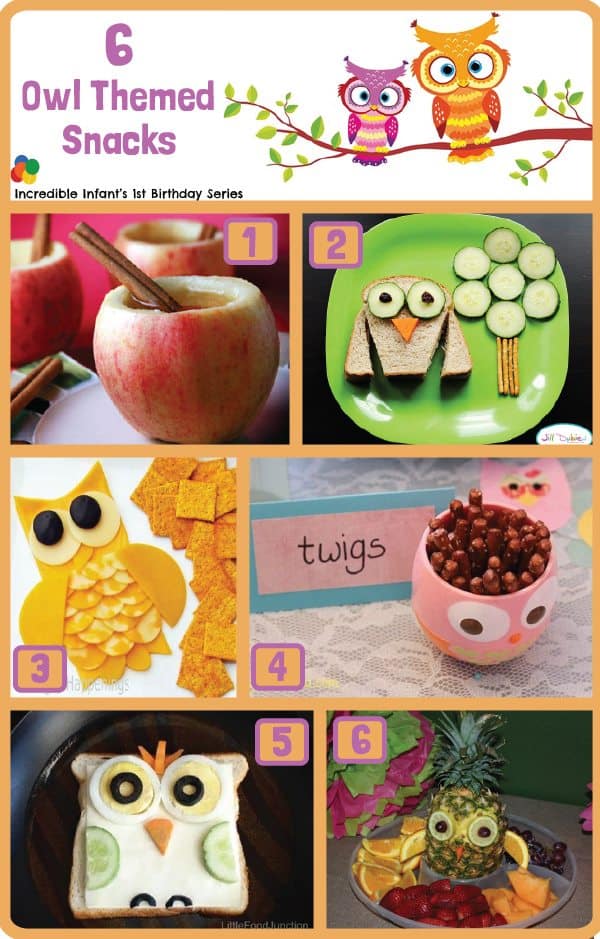 No. 1: Warm Cider in Apple Cups ~ You'll obviously need a woodsy drink to go with your owl birthday party theme, and cider is just the thing.  Busy Mommy teaches you how to make them.
No. 2: Owl Chicken Sandwich and Tree ~ An easy way to bring some nutrition to the party.
No. 3: Cheese and Cracker Tray ~ I love this sweet owl cheese tray by Hungry Happenings!  Although, in my Wisconsin household we'd need a parliament. (That's what a group of owls is called.  *wink*)
No. 4: Pretzel Twigs ~ Such a great idea that I totally stole borrowed from Salty Cinderella.  (Don't you just love that blog name?)

No. 5: Whootie Sandwich ~ Sandwich art at it's finest.   
No. 6: Simple Fruit Tray ~ The pineapple.  Whoooo knew it was the perfect canvas for an owl-themed fruit tray?  See this and other owl foodie ideas at Tales of a Trophy Wife. 
8 Owl Birthday Party Ideas for Cakes & Sweets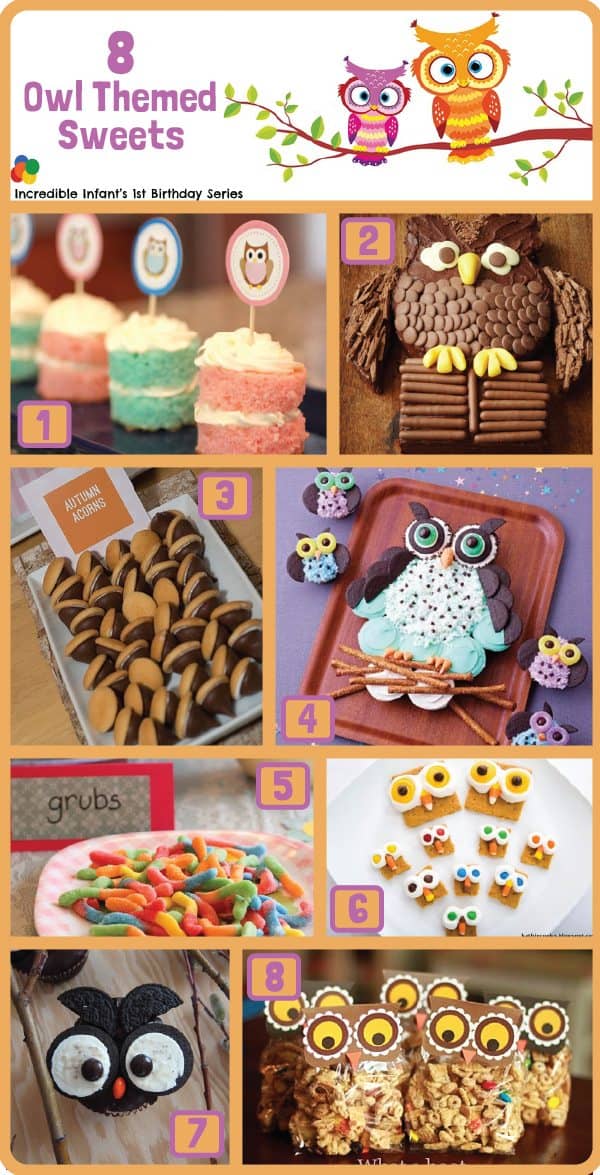 No. 1: Stacked Cakes w/ Owl Topper ~ These look so sophisticated…but really it's just typical cake cut into rounds and filled with frosting!  See how Sarah made them.
No. 2: Chocolate Owl Cake from BBC ~ Just for my British mum- friends, and really, now that I think of it, pretty much every mother in the world who's not American…, this requires no measurement conversions! Huzzah!  Get the recipe from the BBC.
No. 3: Autumn Acorns ~ These are Nilla wafers, a dab of frosting, and Hershey kisses.  *mind blown* All creativity credit goes to Holli.
No. 4: Night Owls Cupcake Cake ~ The coconut is the perfect feathering effect on these cupcakes, all lined up and designed to look like a single cake.  See the recipe at Spoonfuls. 
No. 5: Worm Grubs ~ Another awesome idea I had to steal borrow from Salty Cinderella.  
No. 6: Owl S'mores ~ What can make a S'more s'more than a S'more?  Turning it into an owl. 
No. 7: Big-Eyed Baby Owl ~ Great for busy moms, bake a chocolate cake, open up an Oreo, add some Reese's Pieces, and you've got this adorable little guy!
No. 8: White Trash Owl Treats ~ Wonderful little take-home snacks for the car rides home, see how Work in Progress creates the bags, and makes the mix!
Capturing the Moment
I know this is rather "granny-ish" of me, but I can't help myself:  These days go by sooooo fast.
Don't make the mistake I did.  Don't put so much effort into the party and then let the photo memories fade into forgetfulness on the hard drive, until your computer crashes and you realized that you've lost them forever. DOH!

Make a commitment to, within a month of the party, take 30 minutes to upload those photos into a high-quality photo book.
This way your baby can re-live this party all over again when she's older!
Go beyond the birthday and create a photo book on the entire first year, adding the memory notes you jotted down in The Milestone Marker, and check off that Baby Book in one fell swoop!  Guilt Begone!
Did any of these owl birthday party ideas inspire you? 
Which ones?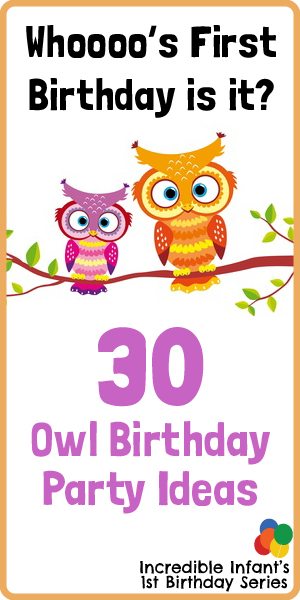 We ♥  honesty!  This post contains affiliate links that provide extra money for our mutual coffee habits addictions. Click here to learn more.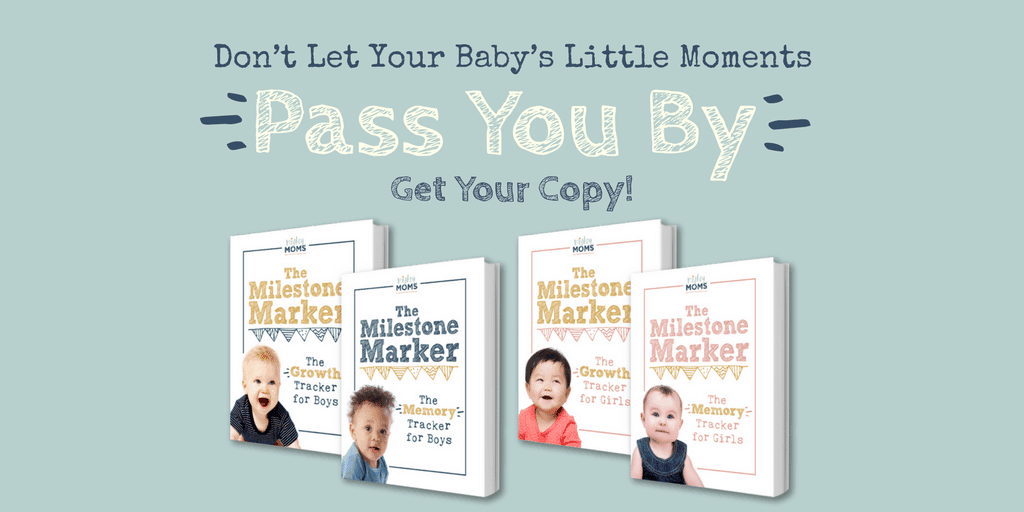 Comments