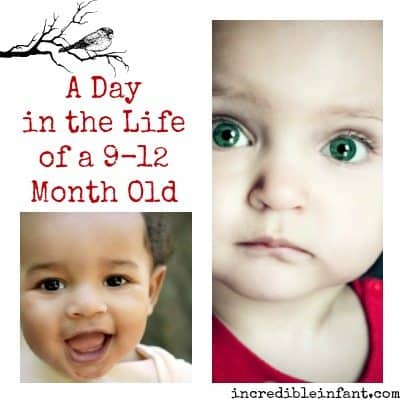 Oh, the joys of being 10 months old!
You get to discover all kinds of new ways to drive Mom crazy.  
Things like:
emptying every cabinet, basket, and drawer that's not already baby proofed.
holding the spoon by himself, and watching the food fly, and fly, and fly…
pulling off his socks at every opportunity
And plenty of other fun (video-worthy) milestones you'll definitely want to watch out for.
Appointments vs. Rhythms
I don't encourage parents to make rigid schedules for their babies.  You should never push back a feeding, for example, just because the "schedule" says lunch is at noon.
Instead, I always encourage parents to see these schedules as more of a daily rhythm, and with the times as a "clue" to see what your baby's cues may be trying to tell you.
If you're new to the Mighty Mom Universe *highfive* you should know that I have done similar "Day in the Life" posts for…
I know I'm missing the 4-5 month age range in this series.  That age is very special, there's a TON of things going on in those months.  It's coming, I just need to finish up some reading and research first.

In the meantime, I would encourage you to acquire a Napping Session from one of our Certified Gentle Sleep Coaches and she will help you establish a good daily rhythm.
I have got give a shout-out to Naomi C., who emailed me last week asking if I could do a rock-out-the-rhythm post for 9-12 month olds.  Thanks Naomi, for the gentle nudge!
A Sample Schedule for 9-12 Month Olds
The "Ned Normal" 9-month old baby will sleep…
11 hours at night
3 hours during the day (2 naps)
The "Sue Standard" 12-month old baby will sleep…
11 – 11.5 hours at night
2.5 hours during the day (2 naps)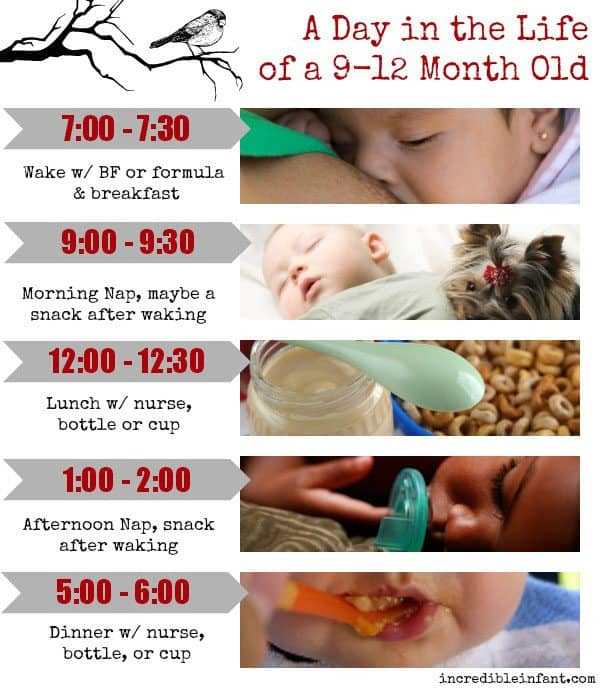 Nutrition for 9-12 Month Olds
It's usually a good idea to start introducing your baby to a cup during mealtimes around 9 months old, so that by the time she's 12 months old she'll be ready to ditch the bottle completely.
Obviously, if you're still breastfeeding, you'll want to stick with that.  But if you're pumping, 12-months is a good time to start putting that expressed milk in a sippy cup.
I've written several posts about nutrition and your baby's health, here are a few that can help you double-check that your baby is getting the right nutrition:
Brain-Boosting Toys for 9-12 Month Olds
Now that your baby's awake so much during the day, how can you stimulate that brain into becoming a Megamind?
By giving him toys that are perfectly matched with the skills he'll be working to conquer.
Here is an article that readers have used to do just that.  See the most innovative and brain-boosting toys on the market.
A Birthday Party is Coming!
Can you believe how fast this year is going?
In just a little while you're going to have a toddler terrorizing your home!  
Every month I scour the internet for fantastic first-birthday party themes and ideas to celebrate your baby's first year!
True, she won't remember it.
But by showing my girls the photos and watching the videos years later (they LOVE watching their baby videos), I'm letting them know that they were worth celebrating before they even knew what a celebration was. 
That doesn't mean I go Martha-Stewart crazy every year.  You can make memories without petit fours. (Although if you enjoy throwing parties, these are pretty darn cool!)
Some years, I only had the energy for a quick-bake-cake and a tablecloth.
That's okay.  It's the memories that matter.
These little love-deposits are going to be great to have in the bank as "Teen Insurance" in the years to come:  See honey?  We do love you!  Just look at that party we threw you when you were a baby!  Now go back upstairs and change your clothes…
Comments