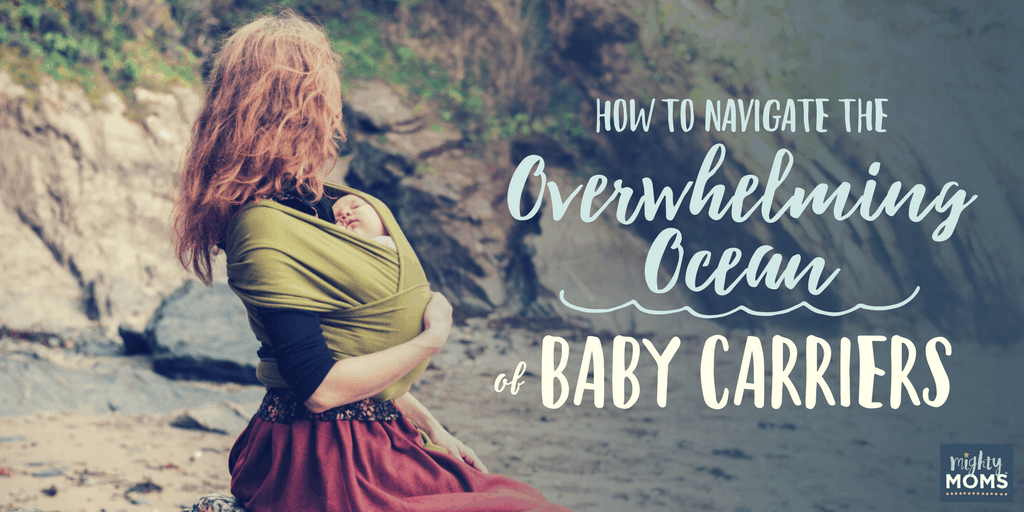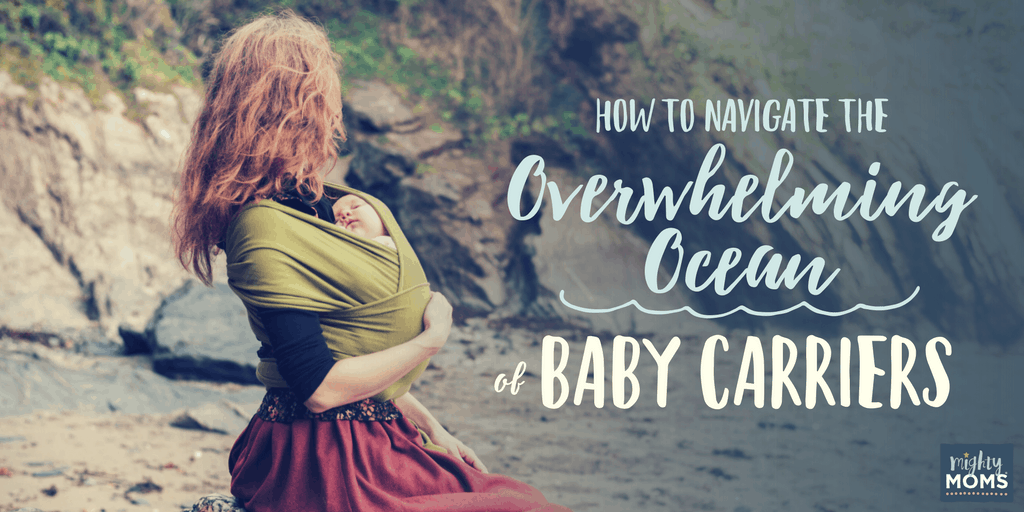 A couple of weeks ago I talked about why babywearing should be kicked out of the crunchy moms category.
ALL parents can benefit from carrying their baby once in a while.
Sometimes it's about the baby.
I babywear to soothe King Crankpants during the dreaded "witching hours" of 6-9pm.  
Sometimes it's about the parents.
Hands.  They're nice.  
The obvious problem here is choosing which carrier to buy.  
There are several styles of baby carriers, and each of those styles has hundreds of brands…and then you have to choose on a fabric….  It's a classic case of "Can't see the forest for the trees."
Today's post is going to help you zoom back to see the big picture.
We will highlight the 5 types of carriers.
We will then narrow down the top-reviewed brands for those styles.
We leave you with links to choose the features and fabrics that fit your family best.
But first, let me go over some "ground rules" when it comes to making a smart overall purchase.
Smart Buying Tips for Baby Carriers
Make sure the one you're choosing is machine washable.  All of the major brands are, but if you're going the Etsy route, you'll want to triple check.
Don't be afraid to move beyond "basic black".  Pick one you think is pretty, after all this is a tool and an accessory!
Many parents will purchase more than one type of carrier, depending on the age of their baby.  Don't get overwhelmed thinking this is it.  Pick for your current situation.  You can always borrow a friend's or purchase a different style later on.
Check the return policy and keep the receipt.  Nothing is worse than using it for a few days, only to realize it's not a good fit and you can't return it.
Now those basics are out of the way…time to set sail!
Stretchy Wrap Baby Carriers
This carrier is a long piece of fabric that is tied around your body, creating a pocket and straps and securing the baby to your chest.
With ALL newborn carriers, it's vital that you occasionally check your baby's position to make sure that he has space to breathe in between the wrap and your body.  You want it tight enough that he doesn't fall, but not so tight that he cannot find a clear breathing spot.
Pros of the Stretchy Wrap
Very cozy – gives a "swaddle" feel
Best for newborns – 6 months (under 20 lbs)
Can be used with toddlers on the hip
Distributes the weight very well over your entire torso, so it won't strain a sore shoulder or weak back
Also hides the "mommy tummy" paunch well!
Cons of the Stretchy Wrap
There's a learning curve to get the hang of the tie.  Use the brand instructions, youtube videos, and a mirror for practice.
It's not fast to put on or take off.
If you want to use it while out of the house, be sure to put it on at home first.  It's not easy to do in the car or public bathroom, where some of the fabric may touch the floor.  (In other words, wrap first, coat second.)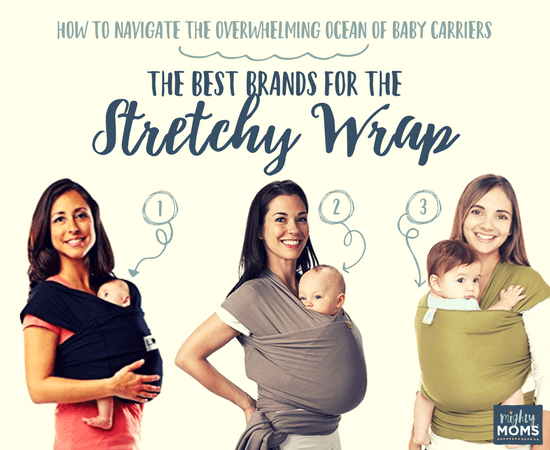 1.  The K'Tan Wrap
The K'Tan Wrap does not involve any tying, making it the easiest stretchy wrap to learn to use.  That said, you will want to be careful with your sizing, since it may shrink slightly in the dryer.  It will eventually stretch out again, but it's generally recommended that you air-dry it.  (Also comes in a lightweight mesh fabric.)
2.  The Boba Wrap
The Boba Wrap has been reported to have a stretchier fabric than the Moby (below).  It my also be uncomfortable in warmer climates.  It ties in the front, making it more comfortable to sit. 
3.  The Moby Wrap Original
Over 700 parents gave the Moby Wrap Original a five-star rating.  It does take practice in the mirror to get it right, so don't be discouraged when you open up a long piece of fabric!  This is a very comfortable wrap for plus-sized or well-endowed moms.  The fabric is a tad on the heavier side, so if you are in a warmer climate you may want to choose a different brand with a more breathable fabric. 
Pouch Baby Carriers
These carriers are a tube of cloth that you fold and put on like a homecoming queen sash, opening up a pocket for you to put your baby in.  You can use them to carry in the front or the hip, but it really shines as a hip carrier.
Pros of the Pouch Carrier
Quick and easy to put on
Easy to fit into the diaper bag when not using
Very cute gender-neutral patterns for Dad
If baby falls asleep, it's easy to take it off without waking him
Cons of the Pouch Carrier
Not as supportive for heavier babies or for longer periods of babywearing.
You have to be careful about sizing it correctly to your body.  (Do measure!)
All the weight is balanced on the shoulder, so if you have chronic shoulder/back issues you'll want to pass on this style.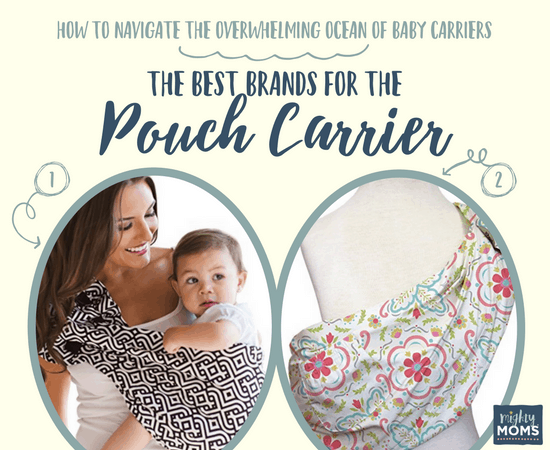 1.  Hotslings Pouch Carrier
The Hotslings Pouch Carrier consists of a very light material, making it a good choice for warmer climates.  Some parents have complained that it's hard to find the right size, so break out the measuring tape and then keep the receipt, just in case. 
2.  Peanut Shell Pouch Carrier
The Peanut Shell Pouch Carrier is recommended for babies 6 to 26 pounds.  It is great for the cradle hold or the hip carry, but not so much for babies who have reflux and need to be carried upright.  Very easy to pull on and off and has a soft, breathable fabric. 
Ring Sling Baby Carriers
This is a close sister to the Pouch Carrier, the difference is that this sling has a ring.  (I do love to point out the obvious…)
A strip of fabric is connected to a ring that you wear in "corsage position" on your shoulder, allowing you to adjust the pouch of fabric to fit you perfectly, every time.
Pros of the Ring Sling
It's very quick to put on.
The position makes this a great sling to breastfeed in
Wide variety of fabrics to choose, from water fabrics to linen to silk).
Highly adjustable to fit every size and body type
Cons of the Ring Sling
There is a learning curve on how to adjust it properly.
The rings can sometimes slide down and  make the baby's pouch seem smaller than it should.
You'll probably want to watch the instructional video that your chosen brand offers to make sure you're getting it right.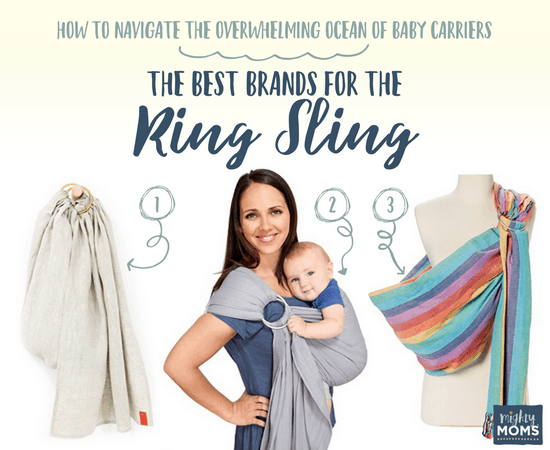 1. Sakura Bloom Ring Sling
The Sakura Bloom Ring Sling is made from über comfortable Belgian linen. (Which also makes it more expensive.) It's designed to hold babies from newborn to 35 lbs. 
2.  Maya Wrap Ring Sling
The Maya Wrap Ring Sling actually has a little pocket with a zipper, a unique and useful feature.  The padded version (linked here) offers a small pad on the shoulder, which is nice.  Who's going to say no to more padding? 
3.  Hip Baby Ring Sling
The Hip Baby Ring Slings are eco-friendly and fair trade. Made with non-toxic dyes in India, these works of arts are very lightweight and can be stuffed in the corner of even the smallest overpacked diaper bag. Good for babies 8 to 35 pounds. 
Mei Tai Baby Carriers
This is an Asian-inspired carrier (not a delicious alcoholic drink – that's Mai Tai) consisting of a rectangular body and four straps of fabric that tie around your waist and then tie on the shoulder straps.
Pros of the Mei Tai Carrier
Adjustable for different sized (or gender) caregivers.
Can be used for front, back, and hip carries.
Several petite mothers shared this style felt more comfortable than the Buckle Carriers.
Works for a newborn all the way through toddlerdom
Cons of the Mei Tai Carrier
Tying the longer straps can be cumbersome.  You may need a helper's hands until you get the hang of it.
The 3-5 month age can be tricky, since they are too big to curl their legs in, but too small to spread their legs outside. (Rolling a receiving blanket under baby's knees can help with this.)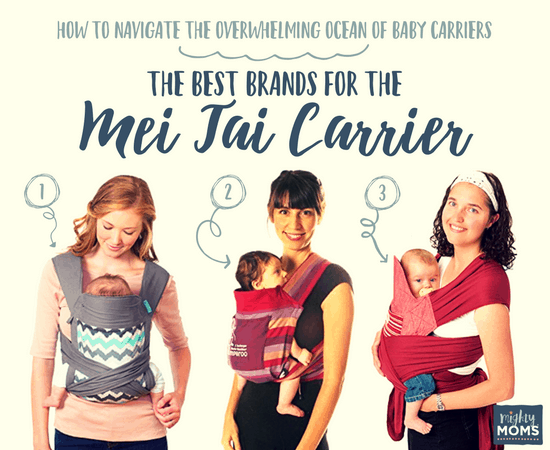 1.  Infantino Sash Mei Tai Carrier
The Infantino Sash design has a detachable hood for baby, which is a helpful perk.  The straps are extra wide and padded to help distribute the weight and support the back.  It's also much less expensive than most mei tai style carriers.  
2.  Chimparoo Mei Tai Carrier
The Chimparoo uses a very soft fabric, which is different than other mei tai style brands, which tend to prefer a stiffer blend.  Because of this, it can feel more like a wrap than a carrier, molding the baby around the carrier's body, rather than holding against.
3. Maman Kangourou Asiatik
Maman Kangourou may have a funny name, but it's super serious when it comes to offering your back some support. This Made-in-Canada carrier can be used from birth up to 35 pounds.
Buckle Baby Carriers
This type of carrier is also known as the "Soft Structured Carrier" or SSC.  It's extremely popular, primarily because it's very easy to put on and can be used past the 2nd birthday.
Pros of the Buckle Carrier
Extremely easy to use – just put baby in and buckle.
Great for all ages, and especially comfortable for active babies and toddlers.
Easily adjusted for quick switches from mom to dad (or vice versa).
A wide variety of colors and patterns to choose from.
Many brands are designed to allow for front/back/hip carries, but not all, so check the description carefully if you want all three options.
Cons of the Buckle Carrier
Not everyone likes buckles.
Very petite parents (5′ and 100lbs or smaller) may find it difficult to fit well into this style.
Has a similar "awkward stage" for 3-5 month old babies, similar to the Mei Tai carrier.  Most brands come with inserts to help with this stage.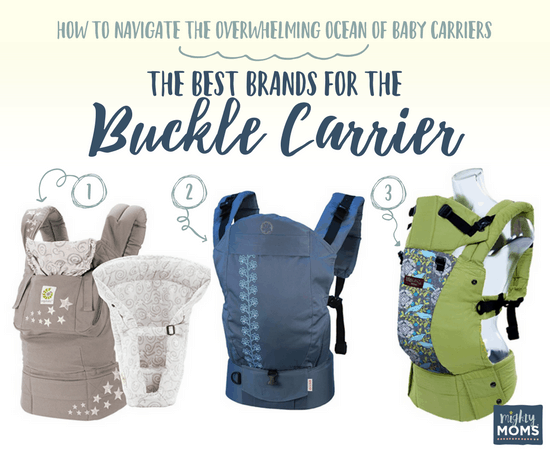 1.  Ergo Original Baby Carrier
The original Ergo Baby Carrier has a wide band across the belly provides additional back support.  You can use it to carry on the front, back, and hip.  It's easily adjustable for all sizes and shapes.  It has been a top-seller for almost a decade now, since it has a hood for baby when it's sprinkling outside (or for nursing), as well as a special insert for newborns who need to face inward. Useful for newborns through up to 45 pounds (20kg).
2.  Beco Baby Carrier
The Beco Baby Carrier allows for front facing in, front facing out (not available with Ergo), back and hip carries. Use for newborns – 35 lbs (16 kg).  You can also choose a variety of patterned fabrics.  It's easy to buckle up by yourself. 
3.  Lillebaby Complete Carrier
Lillebaby carriers are made with organic fabric that's very lightweight and breathable for summer wearing.  Baby can face in or out on the front, hip or back.  No infant insert is required for newborns. It also has a lumbar support attachment to help relieve back pressure.  The hood (for nursing in public) is detachable.  Men of all sizes have reported to find this carrier comfortable (in their Amazon reviews).
The Lighthouse Beckons…
If you have a child who HATES being put down, or if you're trying hard to encouraging bonding with a foster or adopted child, a comfortable baby carrier is the way to go, especially in those early months!
Do you see the lighthouse ahead? It's promising you something.
I know it feels like your life has been stuck in the swirls of storm after storm, but you should take heart…this is just a Stormy Season! Your job is to cuddle and kiss, and then sleep as much as possible.
There's firm steady ground ahead, I promise. Just a few more weeks…
Have You Read These Yet?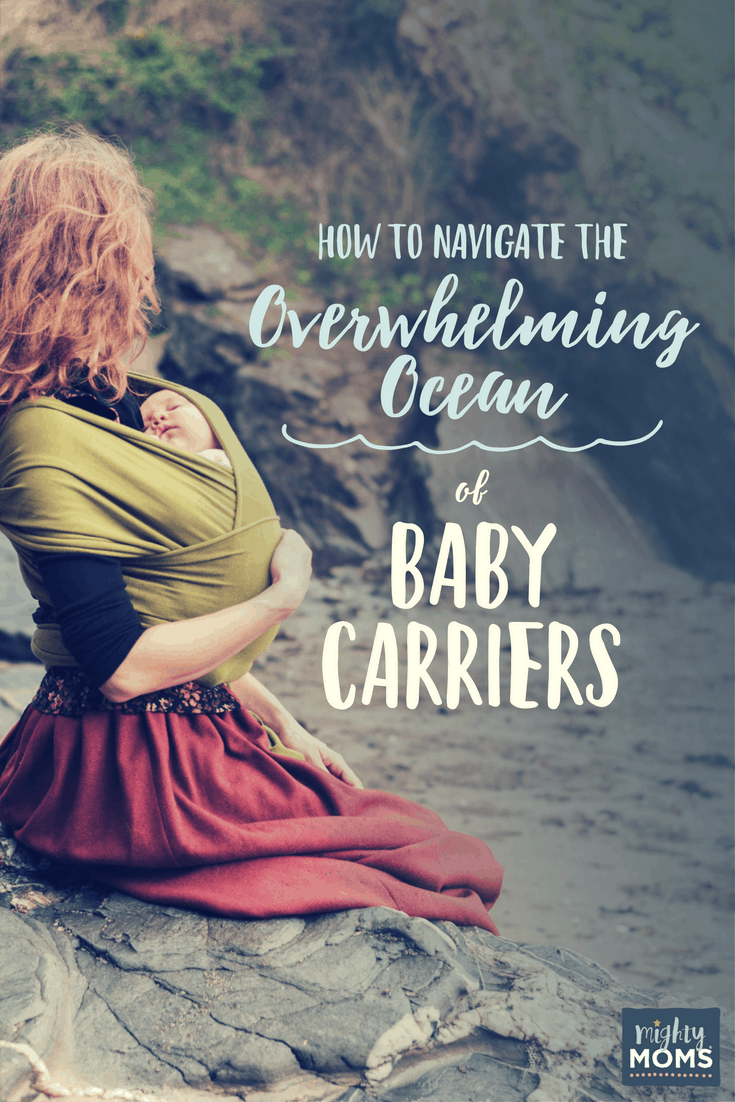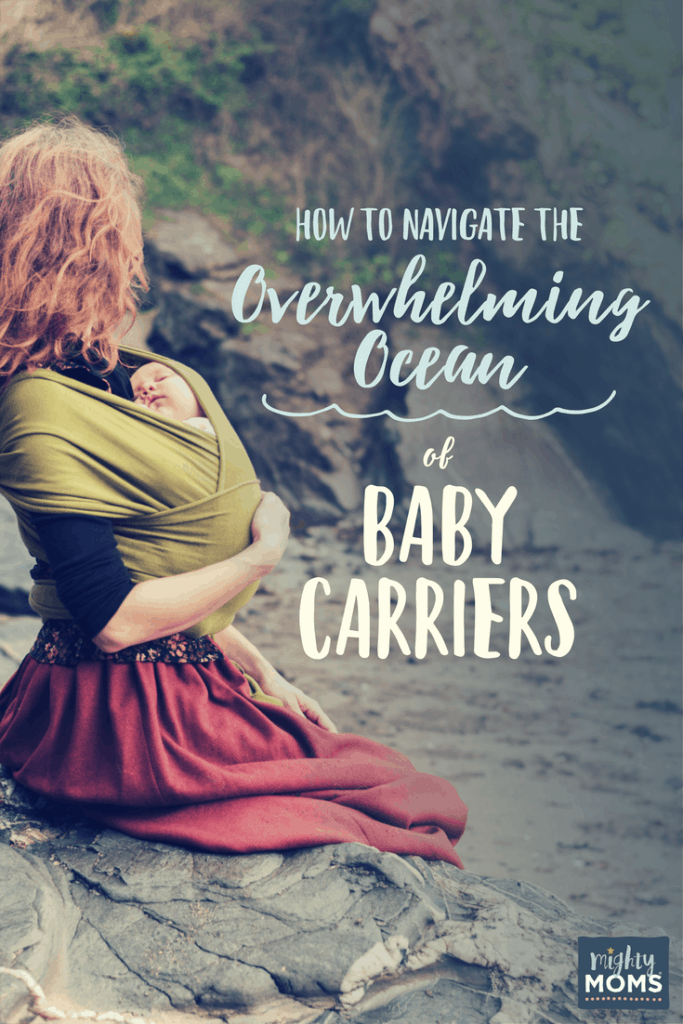 We ♥  honesty!  This post contains affiliate links that provide extra money for our mutual coffee habits addictions. Click here to learn more. As an Amazon Associate I earn from qualifying purchases.