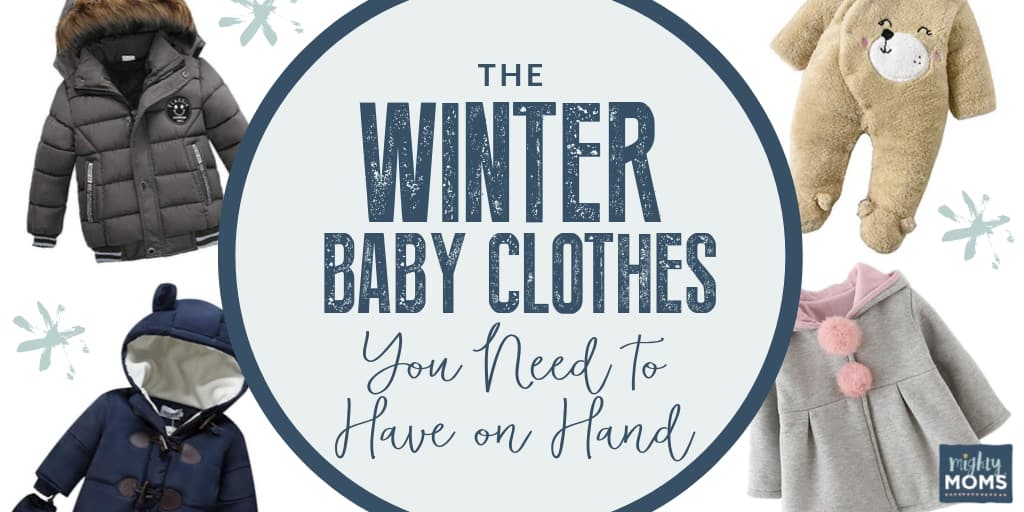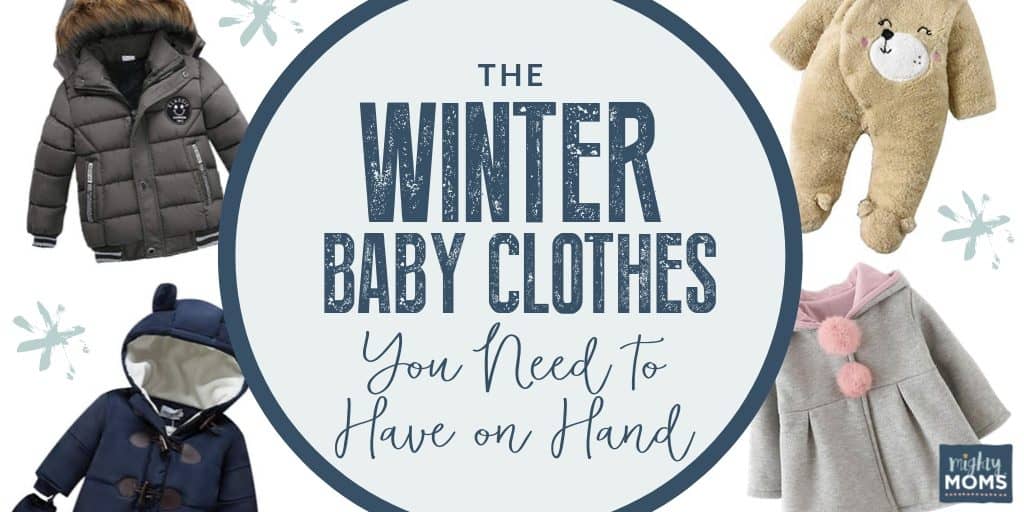 Did you sense that? The slight chill in the air…the delicate frost on the grass…
Winter is coming. Are your tiny Starks ready?
Make sure you've got the right winter baby clothes to subdue it, or the White Walkers will march all over your family's health and leave you desperately digging through your baby's fully-stocked medicine cabinet.
The Winter Baby Clothes He Really Needs
As a Wisconsinite, I'm well-versed in winter. Here's what your baby should have hanging in the closet to keep Old Man Winter as far aways as possible.
Cuddly Coats—for delicate breezes and deep freezes
Adorable Hats—Making ears toasty and warm
Darling Boots—Keeping tiny toes nice and dry
Car Seat Covers—Don't take your newborn out without them
Cute Baby Clothes for Winter:
Cuddly Coats
When it comes to picking out your baby's winter coat, it's wise to start your search by asking a few questions:
Do I take my baby for walks all year long? If so, a full body snow jumper would be a smart buy.
Will my baby primarily be wearing the coat from the house to the car, and the car to a building? If so, avoid the full-body coats that will overheat your baby in the car seat.
Do I need a nice baby coat for church or special events? Or is function more important than form?
Is your winter typically below-zero? If so, make sure you're looking at a winter baby coat with a good lining. In your case, a light winter coat is going to be a useless winter coat!
Once you've got an idea of exactly what you need your baby's cuddly coat to do, you can start shopping! Here are a few suggestions to get you started.

Cute Baby Clothes for Winter:
Adorable Hats and Caps
We've all heard (probably from our own mothers) how most of the body's heat escapes through the head and the best way to ensure a visit from the Cold Colossus is to keep the head uncovered.That means, despite what your baby may think, he needs to have a hat on!
I remember an epic-hat-battle with my Elena. She'd throw it off, I'd put it on…lasted 20 minutes in the parking lot to Old World Wisconsin, but I DID win that battle eventually. 🙂 Finally, my stubbornness pays off! Here are some adorable hats to get you browsing.

Should You Splurge on Baby Mittens?
Little fingers get just as cold as little ears! The biggest struggle for me, when it came to baby mittens, was keeping the pair together. I like to pretend there's a group of animals somewhere, nesting inside all the mittens my kids have dropped over the side of the stroller over the years.
Still, hands need covers! The two highest-rated mittens out there were…
N'ice Caps: These soft baby mittens have a strong strap across the wrist to help them stay in place.
Goumikids: Their mittens are made from organic cotton and are scratch-free.
Cute Baby Clothes for Winter:
Darling Boots
I'll be honest with you. If your baby is a newborn and wears footie pajamas all day long, don't waste your money on baby boots. He just doesn't need them.
Now, if your baby is starting to move around more, wearing regular pants and socks and even *gasp* toddling, a good set of winter boots should be near the top of your list. The question is, how "bootie" do you need your boots?
If you always carry your child from the car into the house, a soft-soled boot will do just fine in keeping her feet warm during playdates.
On the other hand, if your child insists on walking himself to Grandma's front door…make sure those baby boots are waterproof, because he's going to explore every single snow pile and puddle on the sidewalk!

Snug as a Bug:
The Perfect Car Seat Cover for Winter
Okay, there's one more thing you should really have in your arsenal to keep your baby toasty warm this winter, especially if your baby is younger than 9 months and spends a lot of time being toted around in a car seat.
Do your little bambino a favor and get a car seat cover to block the biting wind. Nothing will make your sleeping babe grumpy like a sudden gust of freezing rain in his face!
Kicking Old Man Winter
in the Snowballs
Don't let Old Man Winter's current feeble appearance fool you. He packs a really mean punch come February!
Get on the offensive and build a barrier around your baby that will withstand anything he tries to send your way. Now is definitely the time to make sure your hall closet or mudroom is well stocked with that cute baby clothes that will keep him toasty warm all winter long.
Those White Walkers won't know what hit them.
Have You Read These Yet?
We ♥  honesty!  This post contains affiliate links that provide extra money for our mutual coffee habits addictions. Click here to learn more. As an Amazon Associate I earn from qualifying purchases.